📢 New Contest: Steem Wedding Diary || Story Of A Memorable Wedding Day Yours Or You Have Ever Attended | Bangladesh-বাংলাদেশ Contest | 10 Steem In Prize Poll
Greetings and Welcome to our Bangladesh-বাংলাদেশ community
As you can see our community moderator @tulip1 running a weekly contest and now here I'm announcing another contest of the week. Every Sunday night I'll try my best to come with a new contest to #promo-steem and I wish you all will enjoy attending our contests.
More or less we attend weddings every year and there we definitely make fun with friends, family and relatives. A wedding is not just a wedding it also a memory which mostly saved in a diary.
If its your own wedding, let us know the feeling as a bride/groom. Many people has dream of a wonderful wedding function so you can also talk about your dream wedding too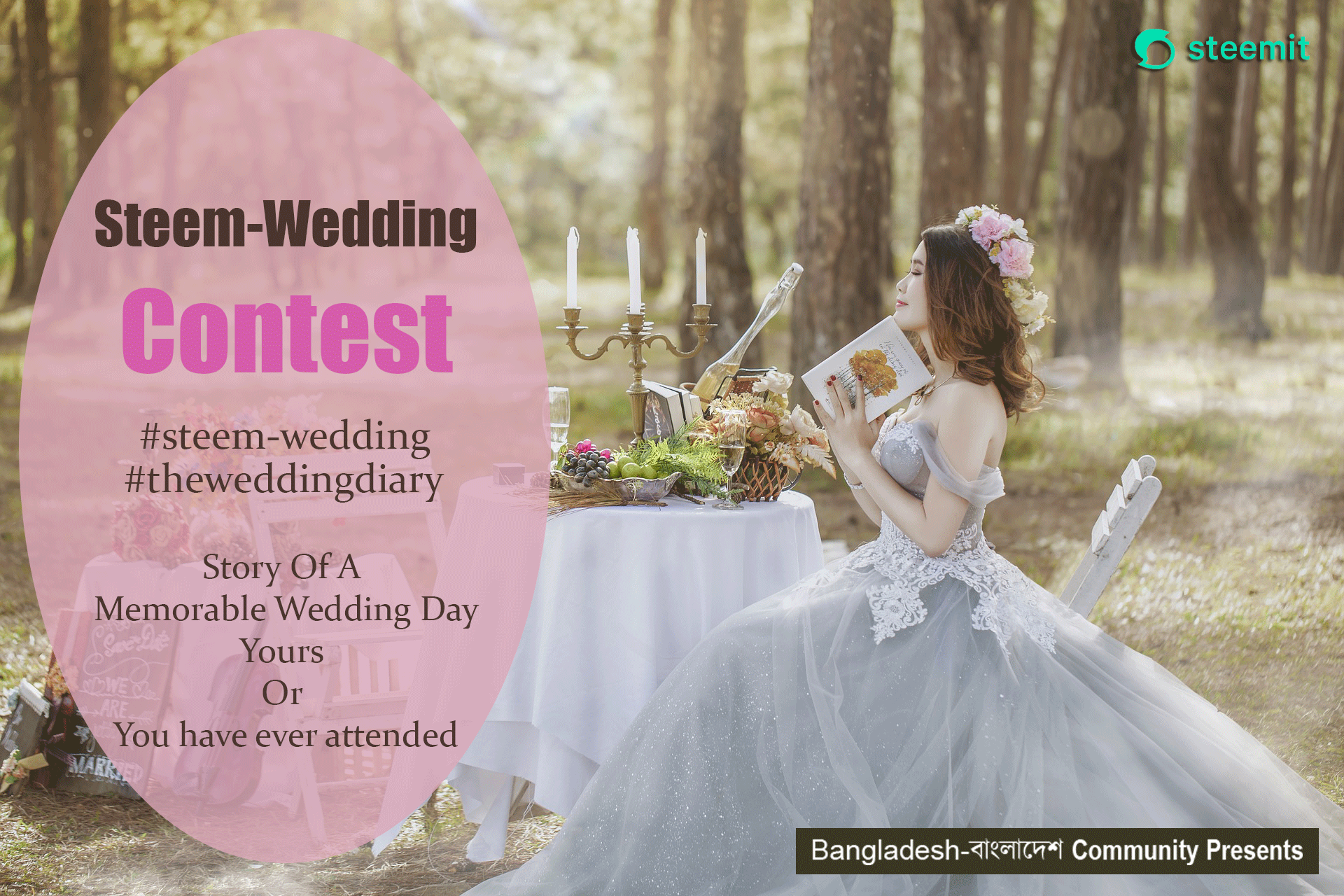 Source of the Background image Design- My Own
You Also Can Add :
What is the name of Bride & Groom ?
What's your relationship with couple? Or it would be your own wedding diary.
Wedding date, time and location
Its a love marriage or arranged marriage?
The way you enjoy the function, your dress color, hair style and more you may love to add
Any memorable incident that you may like to share with us
The relation status right now of the couple
These are just sample questions to help you to describe the wedding, you can add out of these questions above.
Simple Contest Rules:
Plagiarism Strictly Prohibited, your content should be #steemexclusive and it means your content or post only for steemit don't share it on hive or anywhere else.

The title of your post must be : New Contest: Steem Wedding Diary || Story Of A Memorable Wedding Day | Bangladesh-বাংলাদেশ Contest | Your DesiredText

SUBSCRIBE & Make sure to put your entry in Bangladesh-বাংলাদেশ community and put your entry link in the comment section of this post or else your entry won't be count.

Tag minimum 3 of your friends to participate in this contest, Supports other participants by upvoting and comment on their post (Give Support Minimum 1 entry and comment on that post and you can tag me like @shohana1)

Wedding Pictures minimum 3 and max your wish

This contest is open for anyone who interests in this.

Try to be more creative in your work.

Make your contest with at least 300 words.

Try to share your Original Images with us. If collected image must mention the source.

Must use these tags #theweddingdiary #steem-wedding your country ( Its #Bangladesh for me)

Make sure you Comment the Link of your Entry under this Post. MUST

Upvote & Resteem this post, so more people find out about the contest.

Share your post to social media (Facebook, twitter or others)

Only one entry per person
This contest begins at April 12 and will be running till the 20th of April at 11:59 pm Bangladesh time Get Bangladesh Time Here
Winners will be announce April 20th- Tuesday after the contest ends.
Prizes:
Total 10 Steem in prize pot:
1st place= 4 steem
2nd place= 3 steem
3rd place= 2 steem
4th place= 1 steem
Prize will increase next time
Would like to thank sir @stephenkendal who motivate me to #promo-steem and run a #contest so here I come.
CC: @steemitblog & @steemcurator01
Thank You