Achievement 1/my Introduction Post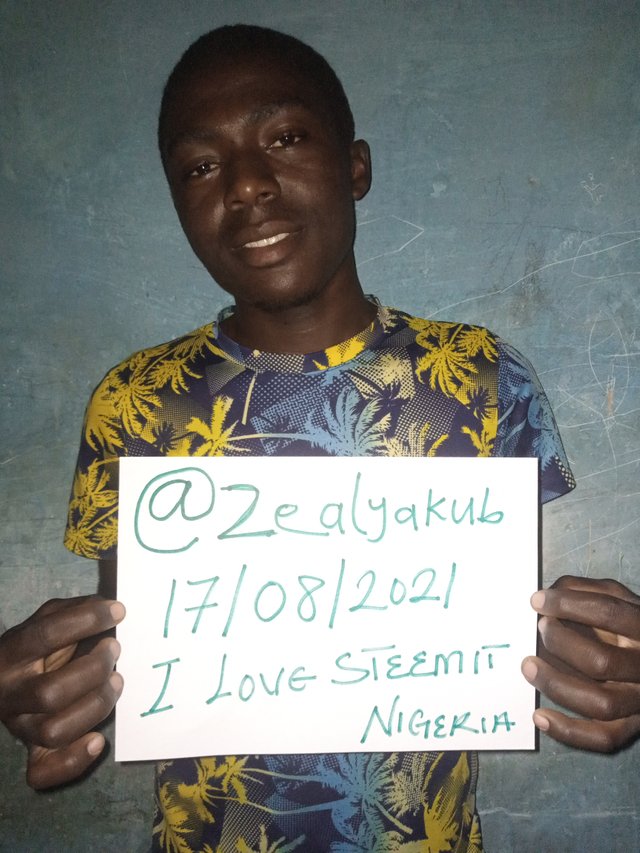 INTRODUCTION
Hello everyone am so happy to be here in this great platform, I'm Zalani Yakubu am 22years old, and I'm from Taraba state Jalingo Nigeria. And I'm the second child of my parents I have two siblings and we are all living in Jalingo.
I'm a graduate of Taraba state polytechnic, I studied computer engineering. And now I have applied to continue my studies at the federal University wukari Taraba state to acquire my B.sc in computer engineering. For now I'm at home still waiting for admission.
My hobbies are : reading, writing motivating others and researching.
I got to know about blockchain over a year but it was so complicated to me, after which I begin to give it a little time by researching to know more about it, which I was able to gain a little knowledge about how the market works.
How I got to know about steemit I got to know about steemit through my friend
@yakspeace
who introduced me to it, she actually told me today an I decided to join and she was able to mentored me an put me through all I needed to know about the platform, I really appreciate her for introducing me to steemit and I believe I will learn more new things about the crypto world. And I will also share my own ideas in the platform as well.
My plans for this great platform is that I really want to explore more in steemit to meet new friends world wide and I'm willing to learn new things most expecially the crypto world. And I will try my best to see that I hacken to all the rules of this great platform and also introduce my friends to the platform.I will also share my own ideas in the platform. If I'm giving a chance to be in this platform I will be so delighted.
Conclusion
I sincerely appreciate this great platform for the opportunity given to me to join. I'm happy to be here.
Best regards: