How to put TAGs on your Steemit Post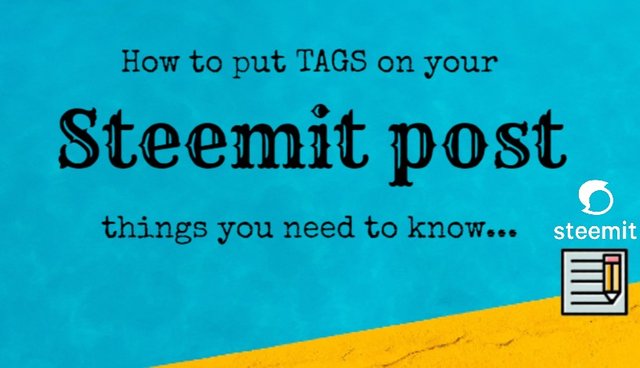 Hello Newcomers of Steemit, in this post I will show you how to put tags on your post on Steemit.
What is Tag?
Tags are a way to categorize your content so that others can find it. The more relevant the tags are to the post, the more like-minded people will come across it.

Reader will have more chance to discover your content through usage of relevants tags in your post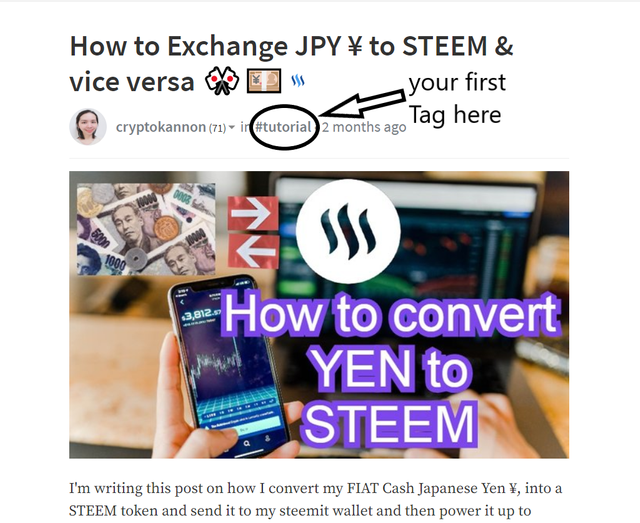 The first tag/main tag will appear under your post title on Steemit
You can add only 8 tags on Steemit per post. Think of tags here as hashtags on Instagram or Twitter. People finding your blog posts or entries on Steemit largely depend on the tags you put into your post.
Most of the contests on Steemit Community also use "tags" as a way to identify the post entries for a particular contest. For example thediarygame tag for The Diary Game contest.
How do you put Tags on your post?
You can add the tags or relevant words/topics that related to your content on this rectangle box at the end of the page where you write your content. This is where you enter the tags for your post.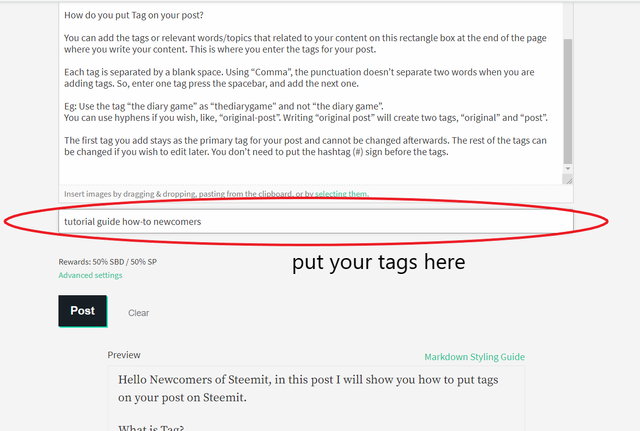 Each tag is separated by a blank space. So, enter one tag press the "spacebar" key, and add the next one.
Eg: Use the tag "the diary game" as "thediarygame" and not "the diary game".
You can use hyphens if you wish, like, "original-post". Writing "original post" will create two tags, "original" and "post".
The first tag you add stays as the primary tag for your post and cannot be changed afterward. The rest of the tags can be changed if you wish to edit later. You don't need to put the hashtag (#) sign before the tags.
How to Search Post on Steemit with certain Tag using the search browser
In this section, I will show you how to search for a certain tag in your search browser, we will use #art tag for this demonstration.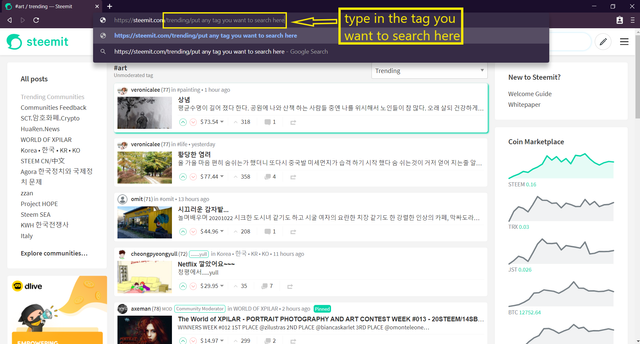 First, go to your search bar browser and type
then just add the tag you want to search by adding another slash "/" next to "trending" then finally your tag, for example, to search for "art" tag would be

the post that contains certain tag sorted into 4 different categories/mode,
for example for "art" tag, you can search by categories on the dropdown tab if the post that has this art tag is on "Trending" popular post or
"New" the post just created
or "Payouts" the post that almost reaches the 7 days payout window and
the "Muted" post, a post that for some reason not approved by the community members.
In conclusion, there are four ways to search for a tag with this feature, let us use #art for example.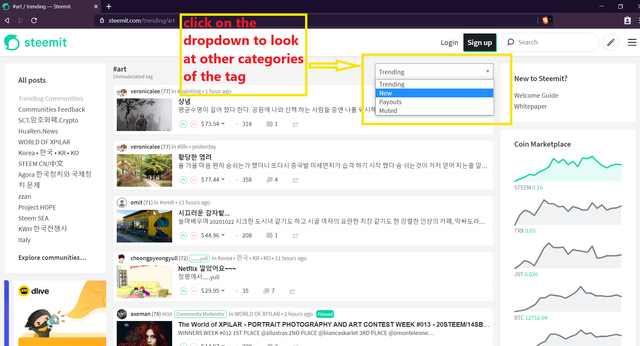 Tags Manners
Please only use the tags that relevant to your post or tags that widely use on Steemit that related to your post. You may get downvote for misusing tags multiple times after being warned by the Steemit Community members. For example, using steemcryptochallenges tag for your post that about cooking.
Or any other misuse of tag like "introduceyourself" tag to get attention to your post that have nothing to do with being a newcomers on Steemit.
---
May you get some ideas on how to use proper tags , how to put tags into your post on Steemit, and also how to search for a tag on Steemit through this tutorial.
Happy steeming!