Steemit Engagement Challenge / S11W2 - "The worst enemy, Sugar."
Introduction
---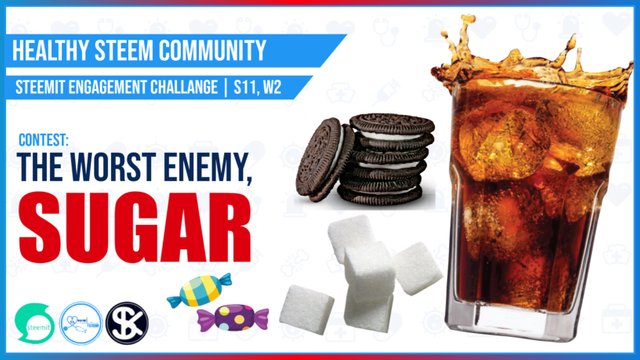 We thank God for allowing us to share with you this week of the interaction challenge. On this occasion we dare the task of raising awareness on a particular issue.
Today , we started the second week, and what better way to do it with the best spirit. We hope you are enjoying what we have prepared with great care. To develop this contest we will delve into the sugars that we consume daily.

" The worst enemy, sugar."
---
Most people who are diabetics did not inherit it intentionally but rather it was generated by bad eating habits. Our body needs glucose for metabolism, but processed sugar can be harmful to our health.
There are two types of diabetes, type 1 diabetes and type 2 diabetes. The first is inherited from the ancestors but the second is due to damage to some cells in the pancreas that produce insulin.
When we damage the cells that produce insulin, our body will not be able to fully metabolize them. It is there where type 2 diabetes originates, an excess in the consumption of sugar can work the pancreas more than normal, causing physiopathological wear.

What do we expect from the Challenge?
---
As in the beginning, we said that sugar might not be necessary for our body, today we want you to answer the following questions based on your experience. Please note that the purpose of this challenge is to encourage a reduction in the consumption of processed sugar.
👩⚕️ Do you know how much sugar you consume per day?
👩⚕️ Do you have a family member who has problems with diabetes?
👩⚕️ Have you had a problem with sugar?
👩⚕️ What do you think about sugar as the worst enemy?

Guidelines and Rules
---
Post must be #steemexclusive.

Participants must not use any bot voting service. Do not be involved in vote-buying.

The participation time is between Monday, July 31th, 2023, 00:00 UTC to Sunday, August 06th, 2023, 23:59 UTC.
Participants must be verified and active users on the platform.

The community moderators would be leaving quality assessments on your articles and probable upvotes.
The publication can be in any language.

Post must be over 350 words. (350 to 500 words)

The images used must be the author's own or free of copyright. (Don't forget to include the source.)

Plagiarism and the use of AI is prohibited.

Upvote and resteem this contest post. Follow @hive-168205 if you have not done so.
Use the following title: Steemit Engagement Challenge / S11W2 - "The worst enemy, sugar."

Use the tags #healthysteem-s11w2 #country (example- #venezuela, #pakistan) #steemexclusive.

Use the #burnsteem25 tag only if you have set 25% beneficiary to @null.

Post the link to your entry at the comment section of this contest post.(very important).

Invite at least 3 friends to take part in this contest.

Endeavor to leave valuable comments on other people's entries.

Share your publication on Twitter and drop the link as a comment on your post.

In addition, your article must get at least 10 upvotes and 5 valid comments to count as valid in the contest, so ensure you interact with other users' entries.

Winning Criteria & Reward
---
Top 3 users will get 10 SP Reward.

SC01 and SC02 would be checking on the entire 7 participating communities and upvoting outstanding content. Upvote is not guaranteed for all articles. Kindly take note.
At the end of the week, we would nominate top 3 users that had performed well in the contest and they would be eligible for votes from SC01/SC02.
Important Notice: The nomination of the top 3 users in our community is not based on good grades alone, it includes their general engagements (quality and quantity of their interactions with other users' articles) to measure the overall performance. Also note that generally, you can only make one post per day in the Steemit Engagement Challenge.
Good luck to everyone!
Thank you!
The Healthy Steem Community
👉Join us on Discord !👇