UYO ROAD SHOW DAY 7 WAS AWESOME||I SIGNED UP 3 PERSONS ON MY OWN AND ASSISTED 2 NEWBIES TO WRITE HIS ACHIEVEMENT 1 AND 2||10% TO @STEEMALIVE
Hello dear members of steemalive and the whole steemit family at large, I am back again to report my road show which is the 7the road show I have done for steemalive community. It therefore means that this is the 7th week of for me ever since this road show was initiated by
@focusnow
. I am also eagerly looking forward to Fridays because it is the day I have mapped out to do promotion via road show. This week 7 was successful as always. See how it went.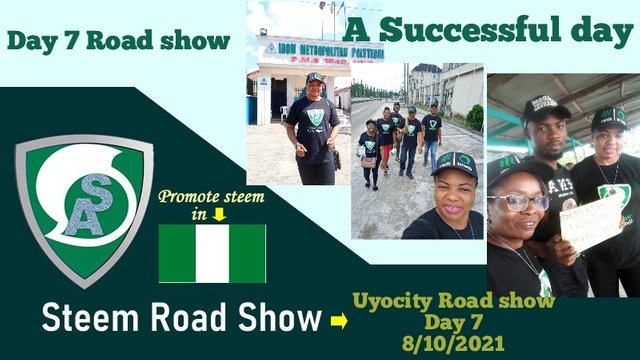 ##UYOCITY ROAD SHOW WEEK 7
Following the announcement I made for this week 7 promotion which I announced that will take place at IBOM METROPOLITAN POLYTECHNIC close to Akwaibom State Secretariat, I got myself ready to do the show. I prepared my mind that I was going to be there.
On the said day which was yesterday, Friday, October 9th 2021, I and @benton3 got ready to leave. But we branched to make a cash out from my friend whom I had told about steemit ever since more than a year now to join me. She then complained that she will not have phone battery to do that, that her battery is what she use for the POS since she is an agent. I have always been reminding her of how beautiful steem is, but she seems not to be interested. Well, I left her to take her time to make decisions about whether she will join or not.
Each time I wear my steemit T-shirts which are of different designs, she will always admire it and tell me, " your look beautiful on this t-shirts, is like that your steemit is good on you". I will reply, "thank you so much, if you join me you too will look like me if not more". We will smile and part ways.
To my surprise, seeing I and @benton3 on our steemalive t-shirt, she then told me, "I have bought a new phone and I will like to register so that I will shine like you two". "I replied, but you will use the phone for your business, won't it drain?". We smiled! I noticed that she was very serious. I had to sign her up that morning and showed her how she can write her introduction post. I gave her a sample, then opened the material by @cryptokannon for her and told her to study them and write her own. I also opened a writing page for her. I told her I have someone else in the office waiting to sign up, that when I return I will assist her make the post.
But the zeal didn't allow her to wait till I return. While still at the promotion location, she chatted me up that she has made the post but that someone made a comment which she didn't understand, that I should come and rescue her. Let me attach the screenshot of our conversation,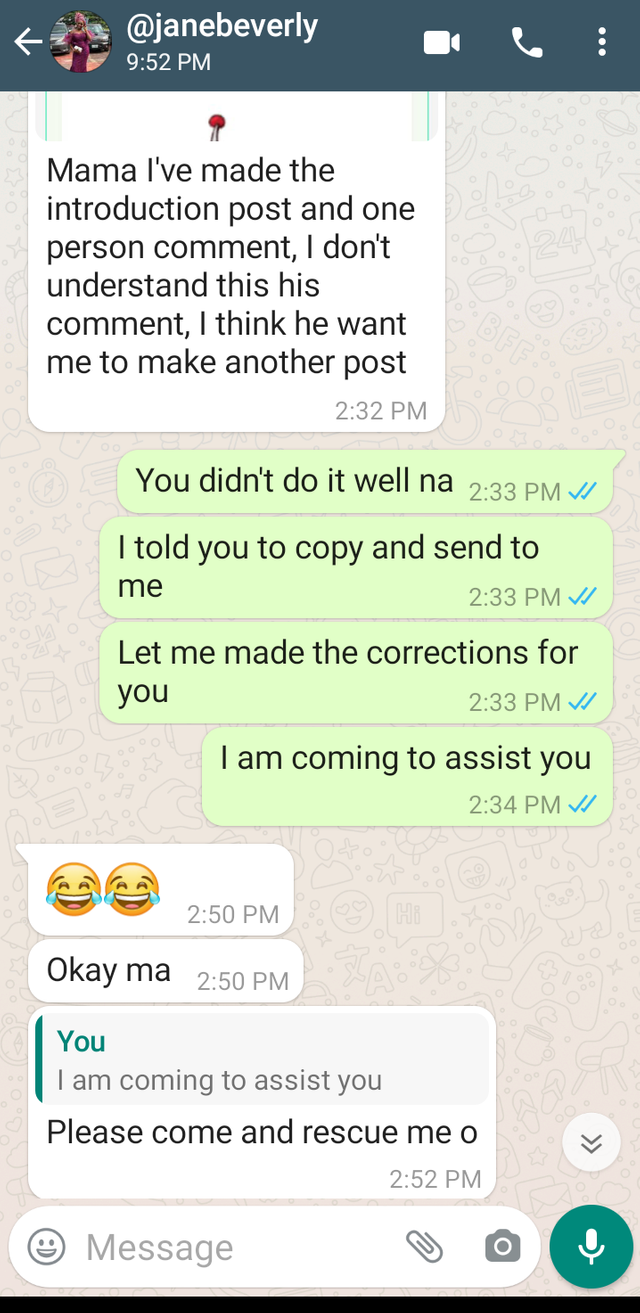 Her Username is @janebeverly. The post has no picture and no hashtags. I told her to wait when I come back. As soon I I closed from the road show, I went back home straight instead of going to the office. I assisted her to make the corrections. Her introduction post link
Another case I attended to was that of a boy who was sent by a friend of mine and by husband. We also told her about steemit but she wasn't interested then. But from all she has been seeing and the movements we have been making about promotion, she decided to let her brother do it first. She gave my husband's number to him and he called us that morning while I was still helping @janebeverly to sign up.
We went to the steemit office where we had told him to go. On our arrival, we saw him there. My husband explained steem and steemit to him, then I added my own and he became willing to join. He then tried to sign up on his own but got stucked. I called him to come closer to my table do I can assist him. After which, I guided him to write introduction post while we were still waiting for other steemians to join us in the office before our departure to our location. He was done with it before long and posted. His is @splendidumoh and this is his Introduction post. We took pictures with him along with the steemians who were on group d for the promotion and they are @chichieze @zomatex @esthyfashion @benson6 and @benson6 as you can see in the pictures below
| | |
| --- | --- |
It was after that that we went to the road show location. It was a new environment to me because I had not been there before. But we met responses that were positive. Most tertiary institutions in the city were having their matriculation that same day. We reasoned that it will not be a good day to go to those schools that were doing matriculation, they may not give us attention. So this place was where we went.
Here are our pictures before departure
We spotted a group of boys and went straight to them. They were all happy and they listened to us. There and then, we signed persons up and helped them set us their profile.
@chichieze assisted her recruit to make his introduction post. The rest had lectures and they left soon after setting their profile. They said they can pick up from where we stopped but we got their contact to assist them.
This is the newbie that did his introduction post assisted by @chichieze.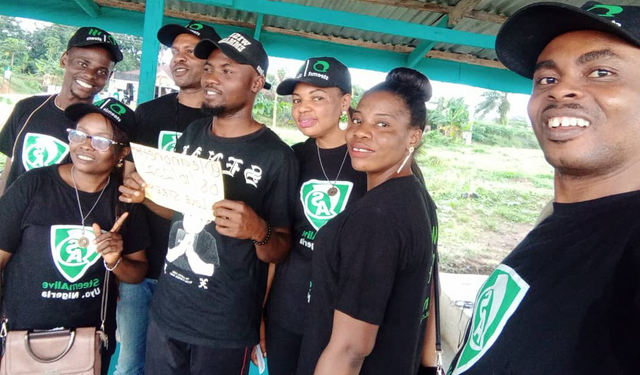 Here are some of the pictures we took during the promotion
The steemians that joined the road show were as follows
@benton3
@benson6
@goodybest
@chichieze
@zomatex
@ngoenyi
The sun was much. So we went to a place where we can chill out. We enjoyed cow meat and drinks to download the meat.
After we left, I went straight home where I assisted @janebeverly I told you about at the onset. Thereafter, I went home. Around 7pm was when I got a chat from @fundcraft that I should help him check the achievement 2 he just posted. I checked it and saw that he needed to add screenshots to answer questions 4 and 5, I assisted him with that and helped him change the picture he got from the internet which he didn't source properly. I told him to rather take a picture of the keys he has at home. He did that and the achievement post was ready to be verified and it was that night. Below are the screenshots of our conversations
That was how I wrapped up my day but that wasn't all. But that is all for this post. Thank you so much for going through. This promotion is thrilling! It is really attracting more people to the ecosystem.
So whether people repond at the moment or not, we need to keep promoting steem. If someone I prospected last year signed up this day after more than a year, then anyone can still join. Don't be discharged that you spoke to someone and they didn't sign up. Consistency is the key. Radiate with joy and your cheerfulness about steem will attract people to join you.
Special mention
@focusnow
@steemitblog
@stephenkendal
@cryptokannon
@kiwiscrypto
@whitestallion
@bright-obias

This is my introductorypost here


Subscribe:::Discord.
:::Whatsapp :::join trail :::Steemalive Website