Tips to Always Get Creative Ideas for Writing on the Steemit Platform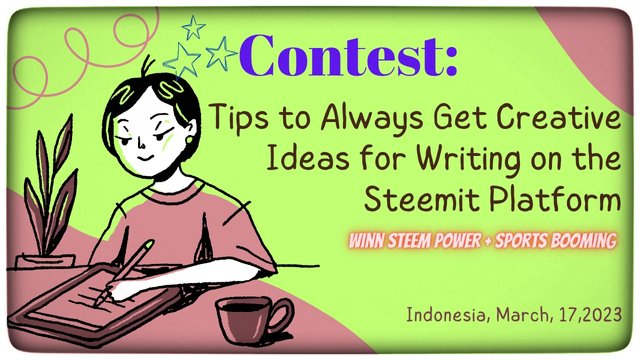 Since joining the steemit platform, I have met many steemians from day to day, not only steemians who come from one area, even steemians who are outside the area, I meet only for the purpose of learning from each other and trying to build. communication in order to interact with each other.
Of the many steemians I've met, I always find out the reasons why they rarely post, even most of them look inactive for a long time, you know? nearly all responded that they had run out of ideas or didn't know what to write about a particular theme to make it acceptable to readers.
Therefore, I present this contest as an effort to be able to share simple tips on how to generate creative ideas in writing. With the hope that it can be a motivation for newcomers or users who have been in a vacuum for a long time to be able to actively work together again on this platform that we love.
As usual we will provide several points that can be followed to make it easier for you to participate;
Share with us at least 3 points the most effective ways to generate creative ideas in writing.
Do you think there is a special way to get creative ideas? Explain...
Subscribe to the STEEM FOR BETTERLIFE Community
Must join at least #club5050
Participants are only allowed to use any relevant language.
Original or exclusive content and open to the public.
Post in the STEEM FOR BETTERLIFE Community
Unlimited creativity, make writing as interesting as possible.
Use post title Tips to Always Get Creative Ideas for Writing on the Steemit Platform
Use the hashtag #contest-idea, #creativewriting and #yourcountry in the first three tags
Plagiarism is prohibited. Participants who commit plagiarism will be immediately disqualified
Use at least 300 words (use photo with source if not original file)
Put your post link in the comments field below.
Resteem this post so that many other users see it
Invite three of your friends to join.
Distribute 10% prizes to @worldsmile / @steembetterlife as a form of support for the World Smile Project Program which will be implemented in various countries. (optional, but it will help a lot of people in need)
9 Steem Power for the top 3 participants + Booming Support (conditioned and if eligible for support eligibility)

All eligible participants have the possibility to get Booming Support and February Curator Team (conditioned and if eligible for support eligibility)
Contest posts are valid from 17 March - 21 March 2023 (Post Schedule refers to 23.59 WIB)
All entries will be judged by the Community team
The jury's decision is final and irrevocable
Contest entries will be found with the hashtag #contest-idea by the organizers and judges
We can't guarantee that the winner will get support from @steemcurator01 and @steemcurator02, but we will apply for support from the March curator team.
Thank you for your attention, and a big thank you to all those who have supported the WSP project so far.
Cc: @pennsif @disconnect
Signed, Contest Organizer
sofian88
---
---
We invite you to support @pennsif.witness for growth across the whole platform through robust communication at all levels and targeted high yield developments with the resources available.

Click Here
---
---
Best Regard
No friendship is good, except for a conversation that never ends