SteemFoods X Steemit Engagement Challenge Contest 1️⃣ | Prepare Your Most Practical Recipe ! 🧑‍🍳 | +25 STEEM Reward ⭐️---Expired---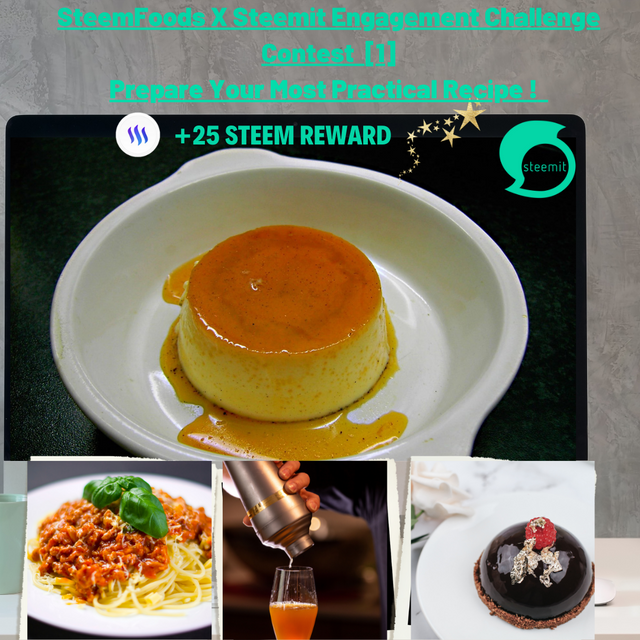 ---
Hello Everyone:
Today I will share with you our detailed announcement about SteemFoods X Steemit Engagement Challenge Week -1- & Contest -1-
As you know, the new project Steemit Engagement Challenge, started by the steemit team, will start work as of April 25, 2022. SteemFoods Community is one of the 6 communities selected for this project and I shared the detailed announcement about it from @steemitfoods account.
All information about the Steemit Engagement Challenge project will be shared in detail by @steemitblog on April 25, 2022. That's why I recommend you to check the new announcement to be shared by @steemitblog.
With this project, I will organize special competitions in the SteemFoods Community for 4 weeks, and today I will share with you the subject and rules of our first week competition.
➡️ I definitely recommend you to participate in this competition, because the content to be shared for the competition will be controlled by the steemit team. If you produce quality content and comply with the rules, you have a high chance of receiving votes, but as usual, we do not guarantee it.
Now, below, I will share with you all the information about our first competition in the Steemit Engagement Challenge project of the SteemFoods Community.
What is the Subject of the Contest?
⭐️ The subject of this competition is "Prepare Your Most Practical Recipe".
The subject of our competition is much easier than other competitions I have organized. You can participate by sharing your favorite, creative and practical recipe that you prepared at home on the SteemFoods Community. It could be a recipe, a dessert recipe, or a cocktail recipe. We do not have a limit on this, just make sure that the recipe you prepare is practical.
I am organizing the competition so that all our active users on the steem blockchain can easily participate and everyone can try how you can produce quality recipe content in the SteemFoods Community with this competition.
I recommend you to review the following announcement about how you can prepare the recipe you have prepared in the form of a high quality post. This will guide you.
---
What are the Rules of the Contest?
➡️ We have a total of 7 rules for the competition at the moment, but these rules should not worry you, if you are a user who is already active and knows how to produce quality content, they are very simple for you. 🙂
---
1️⃣ Share your contest post on the SteemFoods Community.
2️⃣ You can share your contest post as early as Monday 00:00 (UTC). The last time to join is Sunday 23:59(UTC).
3️⃣ You should add photos of the steps of the recipe you prepared, how you prepared it, and a selfie photo with the recipe you prepared.
➡️ In addition, you can add information such as the ingredients you use for your recipe and the cost of your ingredients in steem to your post. Why did you choose this recipe, is it your favorite practical recipe? Add how many minutes you have prepared this recipe.
4️⃣ Include the hashtag #sf-practicalrecipe as one of the top 5 tags of your post.
Otherwise, we may not be able to see your participation in the competition. Please pay attention to the tag writing.
5️⃣ Handwrite a piece of paper next to your recipe so we can confirm that your post is exclusive to this competition, and include your #sf-practicalrecipe, date and steemit user. (As in The Food Diary Game Event)
6️⃣ Only users who provide at least #club5050 hashtag can participate in the competition. No matter how high quality your post is, if you do not provide at least #club5050, your participation will not be approved and you will not receive vote support.
7️⃣ As an extra rule added by the Steemit team, your post must receive votes from at least 10 different users and comment from at least 5 different users. So check posts within the contest, comment, vote and interact. Detailed information about this will be shared by @steemitblog, and I will help you with the announcements I will share from @steemitfoods.
📌 [ comments like "great" "good" "nice" etc. simple words are not eligible]
---
Awards :
Besides voting support, I will send 5 STEEM to each of the authors of the Top 5 Posts prepared for the contest. 🏆
---
Contest Start and End Date:
➡️You can share your contest post on Monday, April 25, 2022 at 00:00 (UTC) at the earliest.
➡️ The last day to post your contest post is May 1, 2022 at 23:59 (UTC).
---
Contest Tips🕵️‍♀️
In order to be one of the winners of the competition, you must follow the rules and recommendations in order to receive vote support + be selected among the "Best SteemFoods Posts of the Day". The more creative and practical the recipe you prepare, the better your chances will be. Check the posts shared for the contest, vote, comment and interact.
I wish Everyone Success... 🙂
You can support us by resteeming this announcement, following @steemitfoods, and tagging your friends in the comments section of this post... 🤗
To Join SteemFoods #club5050 Telegram Group:
By joining the SteemFoodsXClub5050 Telegram Group, you can ask your questions. I will help you as fast as possible...
https://t.me/joinchat/qdF-zXCJ0YgxMGI0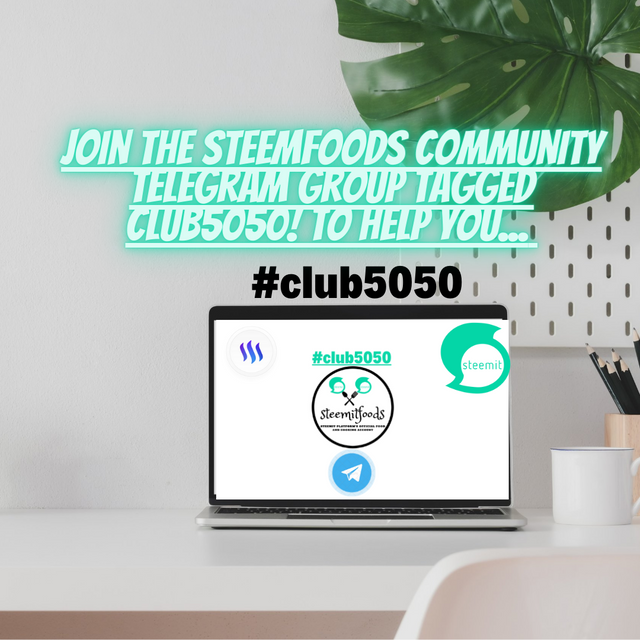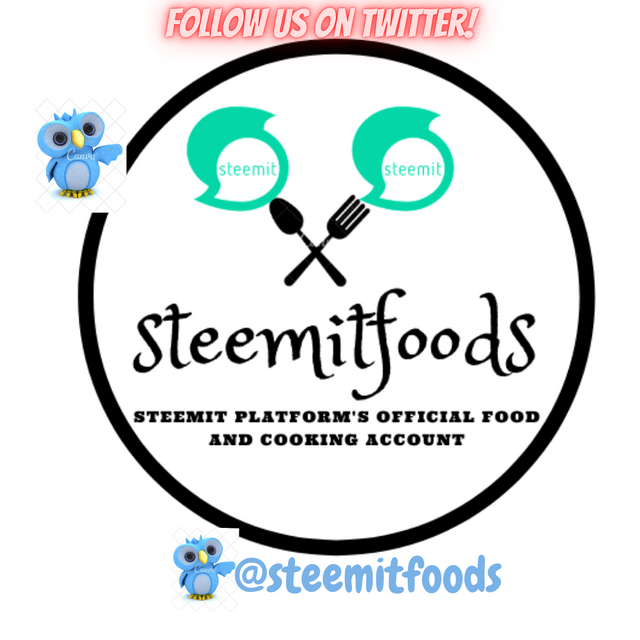 Quick Delegation Links: