Contest Alert: What doesn't kill you make you stronger || 10 SP Reward Pool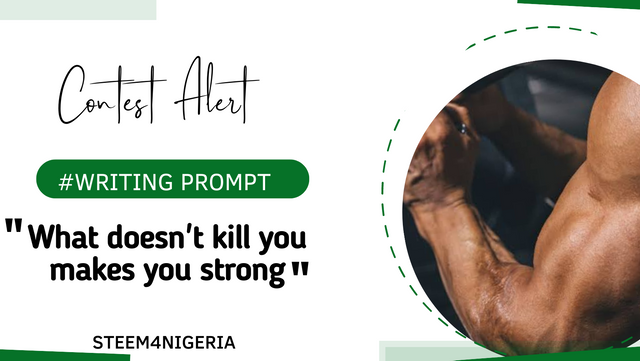 ---
---
Hello friends and famz,trust you're good. It's a fresh week which also comes with fresh energy. Today we bring to you another contest which we believe you would find interesting.
It's a prompt and we wish to see how creative you are sharing your thought about this prompt.
The statement "what doesn't kill you,makes you strong/stronger" is a statement we must have heard countless times in our lives.
This statement is figurative,in other words,it has a deeper meaning ,which I want to believe you understand. So let's rub minds and share our thought on this statement.
---
A little guide for your entry
---
What is really your thought about this statement,do you agree with this statement.

Do you have any personal experience or from someone you know to back up your claim? Do share with us.

What are the lessons from your experience or that of someone you know which you would like to share with your audience.
Note: this is just a guide,you could present outside the box but just ensure it's in line with the subject matter.
---
Contest Guidelines
---
Your entry on the subject should be not be less than 300 words,we would even appreciate if it more than..smiles.

If you haven't subscribed to the community,ensure you do that and also follow our official account @steem4nigeria.

Engage and interact with entries from other participants by leaving quality and reasonable comments on their entries.

Use the tag #lhorgic-cp1 #steemexclusive, #creativewriting, and club status in the first four tags.

Do well to Invite your friends by mentioning them in your comment on this post and at the bottom of your entry.
---
Contest reward and Distribution
---
The contest's reward pool is 10 SP and this will be distributed to our top 4 winners.
Also note that quality entries also stand the chance of getting booming support from the community.
---
Conclusion
---
I would not want to assume that this statement is believed to be acceptable by all,who knows,there might be contrary opinions from people based on their experiences.
Although there is this general believe that this statement is true. Well let's see what we would have even as we anticipate entries.
I will be looking forward to your beautiful entries.
Regards:
@lhorgic♥️
Image credit : Designed by me...