(ENG/ESP) Steemit Engagement Challenge S11-W4 | Happy World Cat Day / Feliz día mundial del gato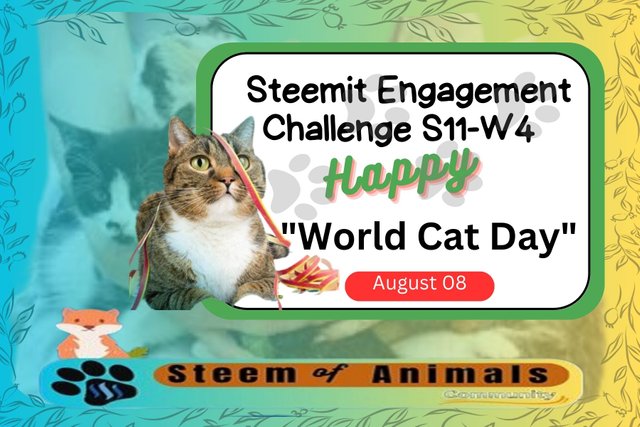 [ENG]
Hello steemian wherever you are. We have passed 3 weeks in this exciting event. We're getting better. With our experience, we will become a growing and developing community so that we can stand on our own feet.
Entering Week 4 Challenges for the 11th season. We are back to presenting topics that will make your days even happier.
Background
We have just passed the 08th of August which is the day every country celebrated as World Cat Day. It is a good opportunity for us to express our love for one of these fluffy pets. Many people have Beautiful Cats as pets. Because of their affection and unconditional love, they have become a part of the family that fills our home with joy and happiness.
Nowadays we can see how cats are considered cute and fun pets. Various types of cat races have been present in our environment. But on the other hand, the fact is that there are still many abandoned and hungry kittens on the streets.
What should you do?
We will see how you love this Creature with the guide of some questions below.
Are you a cat keeper or are you a cat lover? Tell us !
Do you think Cats are unconditional friends? Give your reasons!
What is your understanding and effort regarding animal welfare for cats?
Are there myths that develop in your community about cats? Share with us
[ESP] By @mini80
Hola steemian donde quiera que estés. Hemos pasado 3 semanas en este emocionante evento. Estamos mejorando. Con nuestra experiencia, nos convertiremos en una comunidad en crecimiento y desarrollo para que podamos valernos por nosotros mismos.
Entramos en la Semana 4 de Desafíos para la 11ª temporada. Volvemos a presentar temas que alegrarán aún más tus días.
Antecedentes
Acabamos de pasar el 08 de Agosto que es el día en que todos los países celebran el Día Mundial del Gato. Es una buena oportunidad para expresar nuestro amor por una de estas esponjosas mascotas. Muchas personas tienen hermosos gatos como mascotas. Por su cariño y amor incondicional, se han convertido en un miembro más de la familia que llena nuestro hogar de alegría y felicidad.
Hoy en día podemos ver como los gatos son considerados mascotas lindas y divertidas. Varios tipos de razas de gatos han estado presentes en nuestro entorno. Pero por otro lado, lo cierto es que todavía hay muchos gatitos abandonados y hambrientos en las calles.
¿Qué deberías hacer tú?
Vamos a ver cómo quieres a esta criatura con la guía de algunas preguntas a continuación.
¿Eres cuidador o amante de los gatos? Cuéntanoslo.
¿Crees que los gatos son amigos incondicionales? ¡Da tus razones!
¿Qué opinas sobre el bienestar animal de los gatos?
¿Existen mitos en tu comunidad sobre los gatos? Compártelos con nosotros
Mandatory Regulations Followed
Must be posted in the Steem of Animals community.
Write in the relevant language.
Write at least 300 words
Use at least 3 of your own or copyright-free photos. Remember to include the source of all images properly.
Use post title "Steemit Engagement Challenge S11-W4 | Happy World Cat Day"
Use the tag #steemofanimals-s11w4 #cat #pet #yourcountry among your first 4 tags.
Posts must be steemexclusive. Any form of fraud, Plagiarism, Recycling, Use of artificial intelligence and farmer accounts will be automatically disqualified from contest participants.
Keep in mind!, Use the hashtag #burnsteem25 only if you have allocated 25% of the prize to the @null account.
Upvote and reesteem this post so more people know about it.
Mention at least 3 other active users.
Actively comment on other engagement participants from various communities included in the engagement community.
Place your contest post link in this post for easy search.
Share your publications on your social networks.
if you are a new user of the Steem of Animals community page, include your achievement link as a condition for our verification process that you as a user are entitled to the Activist label in our community.
Contest Period
Monday, 14th August 2023 at 00.00 UTC to Sunday, 20th August 2023 at 23:59 UTC.*
Assessment of all entries will be carried out by our Team via Verification comments according to the following pattern,
| club status | of clubs 5050 ,75, 100 |
| --- | --- |
| Verified user | YES or NOT |
| Plagiarism free | YES or NOT |
| Bot-free | YES or NOT |
| Tag #steemexclusive | YES or NOT |
| Support #burnsteem25 | YES or NOT |
| CSI voting | last 7d |
| Score | 00/10 |
| Verification date | Date. Month and Year |
Club Status Determination : https://steemworld.org/transfer-search
| Note | Development Notes from the Verifier. |
| --- | --- |
Contest Assessor
All admins and Moderators STEEM of ANIMALS
---
Contest prizes
15 Steem which will be sent in the form of SP as a prize to each winner in the following categories:
| Best 1 | best 2 | best 3 |
| --- | --- | --- |
| 6 Steem | 5 Steem | 4 Steem |
| | | |
Contest Notes
Much appreciation from us if participants want to support community development by delegation or by sharing at least 10% of the income to the official community account @steem.ofanimals.
We do not guarantee that every participant will be supported by steemcurator01 or steemcurator02
The jury's decision cannot be contested

Open opportunities for all steemians to support community development. Whatever the value of your delegation is very valuable for community growth.
Visit our discord Server : https://discord.gg/K8uKm9W3
August 13, 2023
Greetings
The Steem of Animals Community Team