STEEMKIDS COMMUNITY WORD DEFINITION CONTEST SERIES WK 1|| WHAT DOES FAMILY MEAN TO YOU? 40 steem price
Hello dear kids and kids lovers, today, I will share a new contest idea that will be a series and will continue to be hosted so long as we have new word to be defined. I am grateful to
@psicoparedes
for this initiative. We want all to participate. It is very simple. For this week, I want to know what family means to you.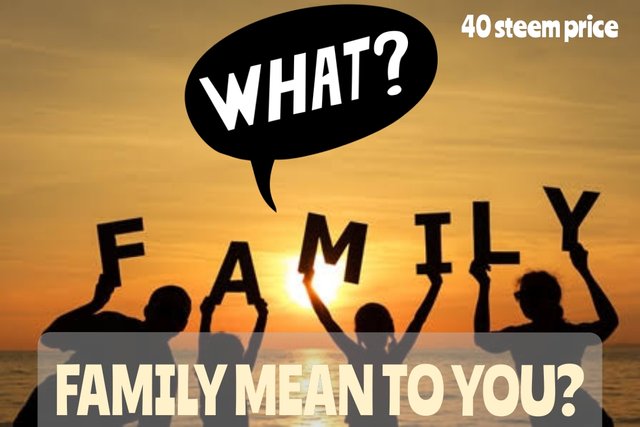 Background image source
CONTEST TOPIC
What does family mean to you?
All of us came from a family and we all are having first hand experience what it looks like. Is you family the ideal type or are you wishing to belong to another family? Tell us your own definition of family. Use your own family as an example and let us know how you feel about it.
CONTEST TIPS
✓ Tell us what family mean to you
✓ Can 2 families be the same?
✓ Do you currently belong to a family?
✓ Is your family the ideal type you will like to always belong to or are you just managing it?
✓ How can you improve your family?
✓ what advice can you give to other families that is working for you?
✓ Anything else you will like us to know about family. We want to exhaust all.
CONTEST RULES
✓ Be creative and original.
✓ plagiarism will not be tolerated and you will be banned if cought
✓ The contest is open to everybody
✓ pictures must be your own .
✓ your publications must be at least 250 words but if it is not, you can drop it as a comment on this post.
✓Subscribe to steemkids community, it is a must.
✓ Vote and resteem
✓ you must join steemkids community curation trail
✓ Invite at least 3 friends to participate especially those who have not subscribed
✓ Use harshtag #steemkids-wordserieswk1, #steemexclusive #contest, #steemit #yourcountry
✓ Mention @steemkidss in your post
✓ Drop your entry post link under the comment section of this post.
✓ please apply all the rules
✓ duration is one week from the date of this contest Friday (8/09/2021)(8pm Nigeria time)

Reward pool- 40 liquid steem
1st place- 12 steem
2nd place- 10 steem
3rd place- 8 steem
4th place- 6 steem
5th place- 4 steem
Winners will be those who apply all rules and are detailed. Remember to join steemkidss curation trail, don't forget, it is very important.
I wish you all the best!
Special mentions
@pennsif
@disconnect
@arie-steem
@stephenkendal
We, at steemkids community are mostly grateful to @steemitblog and @steemcurator01 for all the supports given to us so far.

Support us by delegating STEEM POWER.

Best regards
@steemkids Community


Join our discord channel::::::Join our telegram group::::::subscribe to our community