New Contest Alert - Tell Us About Your Hobby | 10% to @steemkidss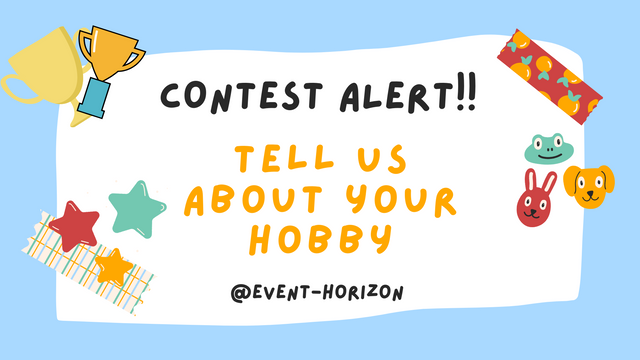 ---
My warm greetings to little fellas, parents and guardians!
Steem Kids has been doing an amazing job in developing creativity, educating some serious skills and much more among kids. Today, I am going to add my contribution in this good work by organizing another interesting contest for you all.
---
The topic is:
Tell Us About Your Hobby
---
Having a hobby is very important in life. Everyone has some passion. Some discover it earlier and some take some time to figure it out. Without a hobby or a passion, one may feel directionless. So today, I am organizing a contest in which you are going to tell us about your hobby or something that you love to do in your spare time.
What you will have to do?
Write a post in which you will have to:
Describe your hobby
Why you like that hobby
Show us some pictures if it's a collection of something or your creation(e.g. art related).
A small video would be good, if it's something like singing or dancing. ( Video is not mandatory though)
---
Who can participate?
Verified Kids should participate but if you are a parent or a guardian, you can tell us about what your child loves to do. Introduce us to his/her hobby.
---
Rules to Follow
Anyone can participate but the content should be strictly for kids.
Write atleast 200 words.
Title should start like this : Hobby Challenge...
Use the tags: #kids-hobby #yourcountry #steemexclusive. The sequence should be the same.
Drop the participation links under this post.
Invite and tag your friends to participate.
Upvote and resteem this post.
The post must be made in the Steem Kids community.
Follow @steemkidss and Subscribe Steem kids.
Follow our curation trail
Give beneficiary to @steemkidss.
---
Rewards
Top 5 participants will be awarded with 5 steem per person OR they may win booming votes.
---
Deadline
Oct 20, 2021 - 00:00 UTC time
---
Waiting for your participation.
Thank you!
Kind Regards,
event-horizon