CONTEST ALERT || BIGGEST ACHIEVEMENT OF YOUR LIFE || 30 STEEM REWARD POOL || READ THE POST TILL END FOR SURPRISE REWARDS || ONLY FOR #CLUB5050 USERS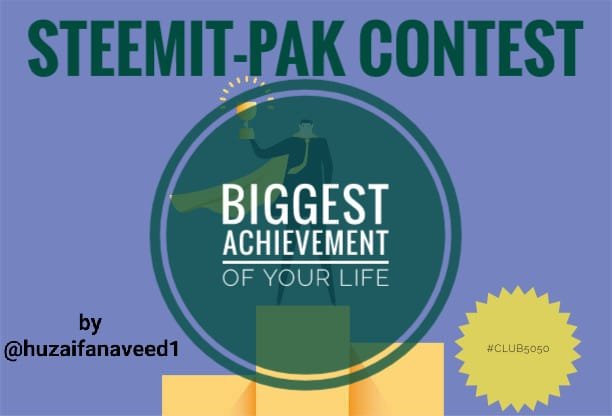 ---
It's always good to hear about people and their achievements. As much as people enjoy reading what people have achieved, it also motivates them to do better and better. So to motivate all of us in here I have decided to come up with a competition where all the participants will have to write about Best Achievement of your life
---
POINTS FOR CONTEST
what was the achievement

Why was it your biggest achievement?
Did you lose anything to achieve it?
What impact did it have on your life?

Make it interesting. You're allowed to use as many pictures as you want, but make sure they're relevant.
---

---
Who can participate?
only #club5050 members can participate in this contest.
---
How to make a valid entry?
The post must be published in STEEMIT PAKISTAN Community.
Try to cover all the above questions in a detailed way.
All the answers should be your own, copying others' work will lead you to disqualification from the contest.
Your publication should be at least 250 words long.
Invite your friends to the contest (at least 3 friends).
Use tag #sp-contests and #hn-contest in your first five tags.
Also, use #steemexclusive and #pakistan tags in your publication.
Be sure to post a link to your post in the comments of this post.
Any language is warmly welcome.
Prize Pool
| | |
| --- | --- |
| Rank | Prize |
| 1st place | 10 STEEM |
| 2nd place | 8 STEEM |
| 3rd place | 6 STEEM |
| 4th place | 4 STEEM |
| 5th place | 2 STEEM |
10 EXTRA STEEM TO 1 USER WHO HAS THE MOST POWER UP AMOUNT IN THE LAST SEVEN DAYS
---

---
Deadline for the contest
This contest will run for a week so that all the #club5050 members can participate in it, the contest will end on the 7th of November till 11:59 pm.
---

---
Best Of Luck With The Contest Guys!
Thank you for your time.
Regards,
@huzaifanaveed1
---

---

Subscribe STEEMIT PAKISTAN
Quick Delegation Links To earn delegation rewards