Steemit Engagement Challenge - S8W3 || Fashion Trends Impacts on Society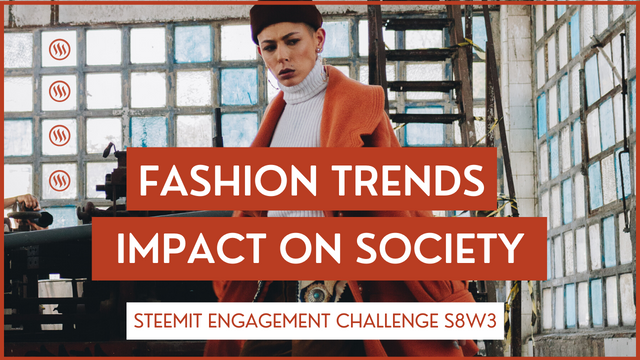 Praise God, on week 3 of Steemit Engagement Challenge Season 8 - I have the opportunity to participate in the contest : Fashion Trend Impact on Society. This theme is very interesting because fashion can be said to be one of the main human needs that reflects the way of life of certain groups of people and becomes an expression of one's personality as an identity. Therefore, the various choices of clothing models for each person can be influenced by various factors or different preferences. Then what is the impact of fashion trends on society? Before I elaborate on my personal opinion according to the statement required by the contest, I first shouted inviting my friends @heriadi @sofian88 and @dederanggayoni to participate in the contest. Please check this link : SFS | Steemit Engagement Challenge - S8W3 || Fashion Trends Impacts on Society - Thank you for attention.
The dynamic and fast-changing development of fashion trends also influences people's social life to always follow and adapt to the latest fashion developments. These demands often form consumptive and wasteful behavior in society. For some of them, fashion is a place to show off to place them in a certain social status. Urban communities are very vulnerable to being intimidated by fashion trends, especially teenagers. But on the other hand, fashion trends are a necessity along with the times. Even in Indonesia in particular, the fashion business is increasingly mushrooming and being cultivated by various groups of people. Advances in the world of technology also have an important role in how fashion trends change so quickly with increasingly competitive product prices. Business competition is getting fiercer and this is a challenge for fashion business people or designers in observing people's wants or needs for new products they like so that they can become fashion trends. Creativity is required to present innovation as a whole from a fashion product.
What would be the future of fashion? this statement is very interesting.
I am one of those people who don't really follow fashion trends, but from my observation, more and more fashion products are environmentally friendly. I see concern for the environment will also change the direction of the fashion business going forward. Uniqlo a fashion brand from a Japanese fashion manufacturer has adopted a circular fashion business or sustainable fashion that aims at improving the environment. I am sure that more and more fashion industry players will adopt and become the fashion of the future. Of course that is our hope for a healthier earth in the future.
Dressing appropriately is a form of respecting yourself. I'm the type of person who doesn't really care about every fashion trend. There are times when I follow fashion trends if they like and suit me and some are left out. But it must be admitted, the preferred fashion trend provides positive changes psychologically, especially in increasing self-confidence and it really helps to influence attitudes and actions more positively.
Fashion trends certainly have positive and negative impacts on society. This is greatly influenced by mindset, environment or other things that influence. Waste, pressure, identity can have a negative impact on society, especially teenagers if you focus too much on branded brands in following the latest fashion trends. But on the other hand it also has a positive impact such as being able to increase self-confidence, wide open business opportunities and others.
Thank you for taking your valuable time to visit and check this post. Best of luck to the other contestants. Many blessings.
---
We invite you to support @pennsif.witness for growth across the whole platform through robust communication at all levels and targeted high-yield developments with the resources available.

Click Here
---