Steemit Engagement Challenge S4-W2 | My Favorite Product : My Choice of Smartphones and Laptop
The thing that caught my attention this week's Steemit Engagement Challenge Season 4 Week 2 held by the community Steem Entrepreneurs. Where users have to tell about the products or items they like. There is no one who does not like the products that we have, of course everyone has a product that they like. To see the original post of this Challenge can be seen here Contest - Steemit Engagement Challenge Season4 Week #2 | Why Do You Like The Product ?.
---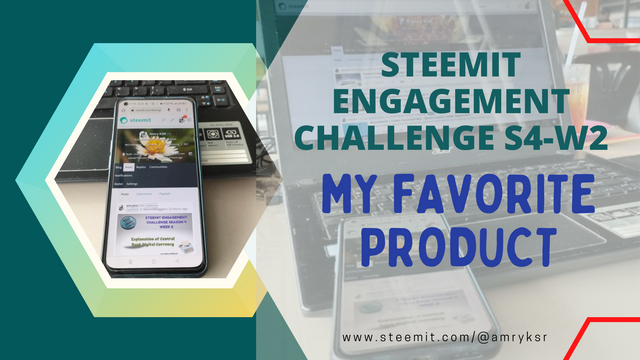 ---
Everyone certainly has an item or product that they like, among the many that they like. Of course it can't be separated from myself who has the most favorite item among the other items that I currently have. Of all the items that I have so far, only 2 are my favourites, because they help me do many things.
Oppo Reno Ram 6 is one of my favorite items, where this smart phone really helps me in everyday life, both at home and outside the house. With the sophistication of existing technology, the Oppo Reno 5 is my favorite product of choice.
---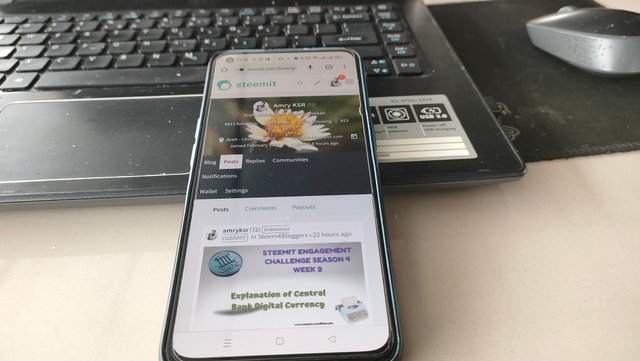 ---
From the first time I got to know smart phones, I always used a smartphone with the Oppo brand. From Oppo A5w, Oppo F1s, Oppo F5 and lastly and currently I have the Oppo Reno 5 RAM 8. Indeed, there are many similar products that are more sophisticated than Oppo, but I am captivated by Oppo products. Indeed, when I bought the Oppo Reno 5, my friends harassed me not to buy the product, but I am still happy with the product from Oppo.
Here are the specifications of the Oppo Reno 5 :
| Specifications | Rating |
| --- | --- |
| Screen Size | 6.43inches |
| Body | Dimensions 159.1 x 73.4 x 7.9 mm, Weight 172 gr, Front and back glass with aluminum frame |
| Processor | Snapdragon 720G |
| Memory | RAM 8 + 128 ROM |
| Brand Name | Oppo |
| Main Camera | Quad camera 64MP, f/1.7, (wide); 8MP, f/2.2, (ultrawide); 2MP, f/2.4, (macro); 2MP, f/2.4, (depth) |
| Front camera | Single 44 MP (f/2.4), Video resolution 1080P/720P 30fps |
| Battery | 4.310 mAh, Fast charging 50W |
| Feature | Dual SIM, USB Type-C , In-display fingerprint, Reverse charging |
| Purchase price at that time | 4.700.000 IDR (1,468 Steem) |
The reason why the Oppo Reno 5 smartphone is a favorite product is because with this product I can do everything. Whether it's doing the main job with a cellphone, or making a publication on steemit. I even use a smart phone to browse some exchanges.
---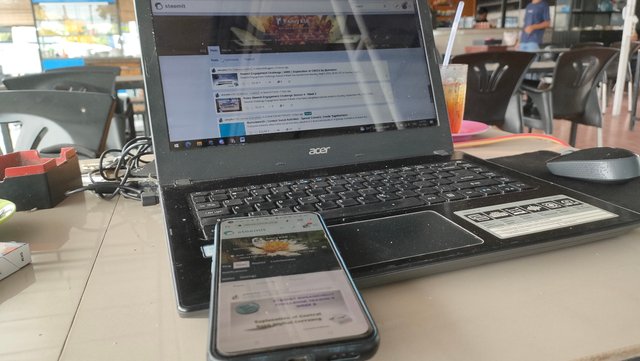 ---
If I forget to bring my laptop, my smart phone becomes the prima donna for browsing, viewing news on Facebook, Instagram and Twitter. With this smart phone, I will not miss any information. For the moment I only have my cellphone, be it for calls or other access, I only have the Oppo Reno 5 smartphone that I have.
---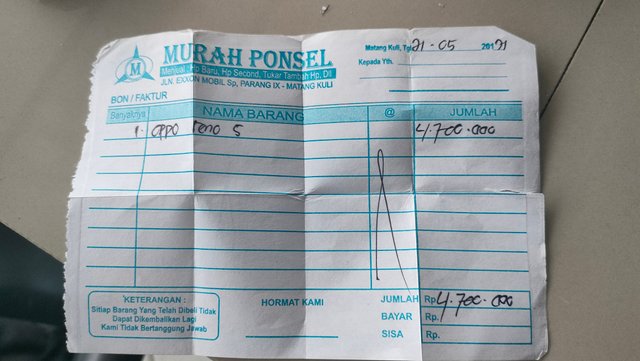 ---
Oppo Reno 5 purchase receipt
---
As for battery life, I usually charge it at night. If I continue to browse during the day, the battery power until the afternoon. For the smartphone that I have, I made a purchase on May 21, 2021 or 15 months ago and for the time being I have no intention of buying another smartphone, because the smartphone I have now is still worth using.
The second product that became a favorite product is the Acer Aspire E14 laptop. Where I have used this laptop since the end of 2017 and until now it is still feasible to use. I used this laptop for the first time when I worked on the election supervisory committee or during the presidential election and parliamentary elections. When we worked at that time, we were required to have a laptop as a work tool.
---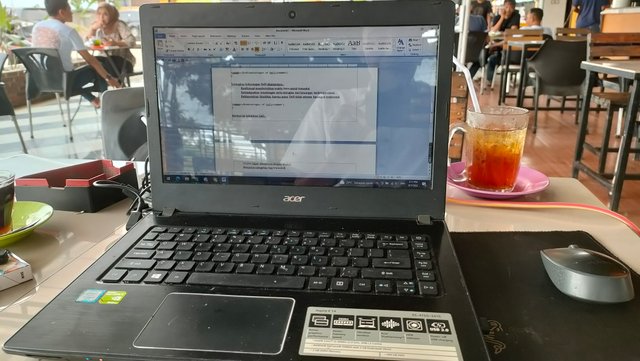 ---
Here are the specifications of the Acer Aspire E14 :
| Specifications | Rating |
| --- | --- |
| Processor | Intel Celeron (2.16 GHz, Dual Core) N2830 |
| Memory | 4 GB DDR4 SDRAM |
| Operating System | Windows 10 Home |
| Display | 14" HD (1366x768), LCD CineCrystal |
| Graphic | Intel UHD Graphics 620, DDR4 SDRAM 2 GB |
| Storage | 500GB SATA |
| Optical Drive | DVD-writer |
| Keyboard | Ciclet keyboard |
| Card Reader | Multi-format card reader (SDXC/SD/SDHC) |
| WebCam | Web Camera |
| Networking | Wireless LAN Standard, Ethernet |
| Audio | Microphone, Built-in Stereo Speakers |
| Battery | 4 Cells Lithium Ion Battery 2800mAh |
| Power Adapter | Output : 45 W |
| Dimensions | 30 x 343 x 248 mm |
| Weight | 2.1 Kg |
| Interface | 1 x USB 3.0, 2 x USB 2.0, 1 x HDMI, 1 x LAN, 1 x VGA |
| Purchase price at that time | 8.000.000 IDR (2,500 Steem) |
From the specifications I mentioned above, there are some additions that I did, where I added a 240 GB SSD, DDR4 RAM. This means that currently the RAM in my Acer Aspire E14 has 6 RAM.
---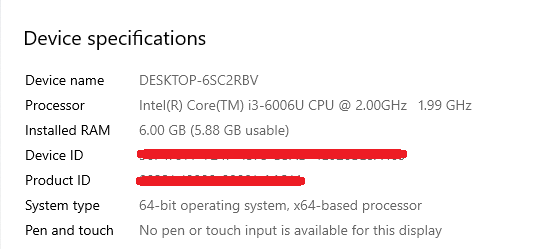 ---
Laptop specifications after modification
---
With the ability that is classified as faster than before, this laptop has become my favorite product for work. Whether it's when I do my own work, help my wife work as a teacher and browse on steemit or do other things.
---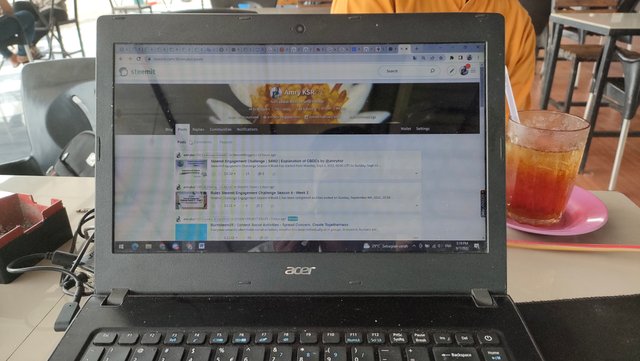 ---
Of course, the laptop that I have is faster than before and this laptop is my choice for work. Before I added RAM, the laptop's speed when connected to the internet was very slow. When I modified it, the speed of this laptop when connected to the internet exceeded the speed of other new laptops with higher specifications.
Of the favorite items I have, I like the Acer Aspire E14 and Oppo Reno 5 RAM 8 laptops that I currently use. Why do I like these two products, because indeed these two products are petrified and support my daily activities, whether it's doing my main job or in steemit.
If I had to choose one, I would still choose both. I have nothing to choose from with the two items I mentioned above. If I wanted to buy a similar product from the two products, then I would not sell these two items, because these two products are very useful in supporting my daily activities. Honestly, the product brought sustenance to me and I don't want to throw away the memories of the two products that I currently have.

---
---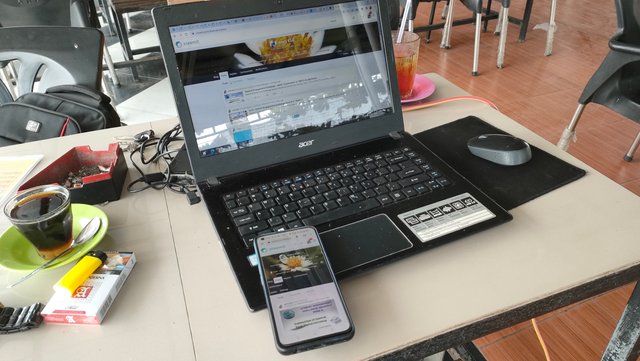 ---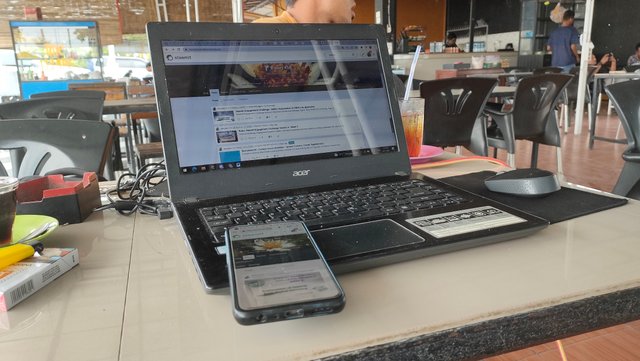 ---
For that I invite other friends to be able to participate in the Challenge held by Contest - Steemit Engagement Challenge Season4 Week #2 | Why Do You Like The Product ?.. I invite @liasteem, @husaini, @jufrimj, @ridwant, @ayijufridar, @zainalbakri, @sofian88, @musdezal, @klen.civil, @irawandedy and other friends. Thank you admin and community moderators for the time and opportunity given and thank you to SC01 and SC02 for their support so far.
BEST REGARD
About me @amryksr
Achievement 1