Incredible India Creative writing Contest #9|| Write about your best friend|| Prize Pool 20 steem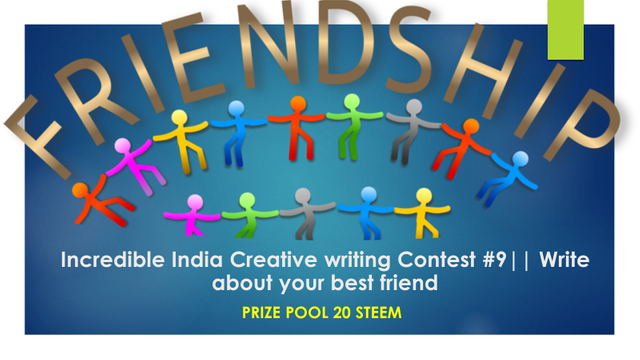 Hello Friends,
After a prolonged recess, we are again here with another contest of Incredible India. We stopped the contest for a few days because of not getting considerable entries.
But now we are again here with the hope that;
This time we will get some decent entries.
Relationship is the most valuable thing in our journey in life, and when it comes to friendship;
We feel privileged to earn a friend with whom we can share everything.
Several problems and feelings we can't disseminate to any other person but our best friend. So now it's time to show your regards for your best friend.
THINGS THAT YOU CAN SHARE ABOUT YOUR BEST FRIEND
When did you meet each other for the first time?
How did your friend become your best friend with several others?
Which qualities do you like in your friend and which thing do you need to change in your best friend?
If there are any such stories or situations that your best friend helps you to overcome!
Any stories or situations that could separate you from your best friend?
Are you still in touch, if so then how far have you met with each other?
Any other stories related to you and your best friend, you can share with us.
If you are still in touch you can share current selfies with your best friend, but if not and somehow you lost touch then you can share old pictures with your best friend.
HERE ARE A FEW RULES FOR THE CONTEST:-
1.Only subscribers of the community get the chance to participate.
2.Share your post inside the community. Share your post links in the comment section of the contest post.
3.Visit and make insightful comments on each other's posts.
4.Use #micontest #mybestfriend #creativewriting #club #steemexclusive #countryname and other suitable tag related to post.
5.Only club members are
allowed(#club5050/club75/club100), and a steemexclusive post will be eligible for the contest.
6.Plagiarism is strongly banned.
7.Describe your post in at least 350-500 words.
8.Use only original photographs(at least 3- 4 pictures), you can share old pictures if you are not in touch.
9.You can share your post in any language.
10.Re-steem the contest post. (people from any country can participate in the contest).
11.Invite three friends at the end of your post.
12.Only bot-free entries are allowed to participate.
THE CONTEST WILL END ON 21TH OF AUGUST
First Prize- 9 steem.
Second Prize- 7 steem.
Third Prize-4 steem.

OUR QUICK DELEGATION LINK:-
50 Sp 100 Sp 150 Sp 200 Sp 250 Sp 300 Sp 350 Sp 400 Sp 450 Sp 500 Sp 600 Sp 700 Sp 800 Sp 900 Sp 1000 Sp
1500 Sp 2000 Sp 2500 Sp 3000 Sp

Please join our discord to share your suggestions and views.
OUR COMMUNITY DISCORD LINK:-
incredible India community
We will evaluate the contest post on the basis of a few criteria
Hello friends,
We are glad to see your participation in our community and would like to appreciate your engagement.
| Criteria | Scores | Review |
| --- | --- | --- |
| #verified User | 1/0 | ✅❎ |
| #club100 | 2 | ✅❎ |
| #steemexclusive | 1/0 | ✅❎ |
| Bot Free | 1/0 | ✅❎ |
| Plagiarism free | 2/0 | ✅❎ |
| Post Quality including Markdown | 2/0 | ✅❎ |
| Total words350+ | 1 | ✅❎ |
| Total score | | 10/10 |
We hope this time we will get some riveting and ingenious entries for the contest;
at least more than ten entries will give a chance to win the contest, so invite your friends to increase your chances of winning.
Our main motto is to give a chance to those creative people who can bring some positive changes to this platform.
BEST OF LUCK TO EVERY STEEMIAN.
Cc:-@disconnect