NEW CONTEST: 🎭Your favourite CHARACTER 🎭 // NUEVO CONCURSO: 🎭Tu personaje favorito🎭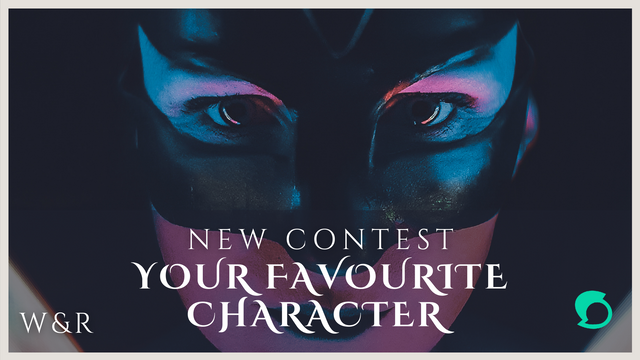 NEW CONTEST: 🎭Your favourite CHARACTER 🎭
---
First of all.... welcome back!!
We have taken a break to discuss some community issues, but we are back!
We hope that you'll continue to join the Writing & Reviews contests and some other activities that we will be presenting.
---
Intro to the contest
In our life, we ​​have read stories and novels, and we've watched movies, and TV shows, many of which have given life to beings that have inspired us by their acts of courage or love, or with whom we have identified, for some reason.
In this contest you'll have to choose 1 character (it doesn't have to be a real-life person), and tell us:
Who is it and what history does it belong to?
Who created it?
When did you meet him (or her)?
Brief description of the character (PLEASE DO NOT PLAGIARISE AT THIS POINT)
Why did you choose it?
Consider these questions as general guidelines, not that you have to answer them verbatim.
---
Rules are the following:
Any language is welcome. Your post must contain a maximum of 250 words.
Resteem this post, so that more people find out about this contest
Make sure to tag us! (@belenguerra, @writingnreviews & @fendit)!
Share the link of your post in a comment. We won't consider entries that aren't in this post or posted in other communities.
Share your post on Twitter, tagging @steemit, or on any social media you want (you should be able to show proof!)
---
Entries will be received until June 3rd, 23.59 Argentina time
---
Prizes... 25 Steem:
Prizes will be as follows:
1st prize = 9 STEEM
2nd prize = 7 STEEM
3rd prize = 5 STEEM
4th prize = 3 STEEM
5th prize = 1 STEEM
---
We hope you like this new proposal!!
Greetings,
Team Writing & Reviews

---
Español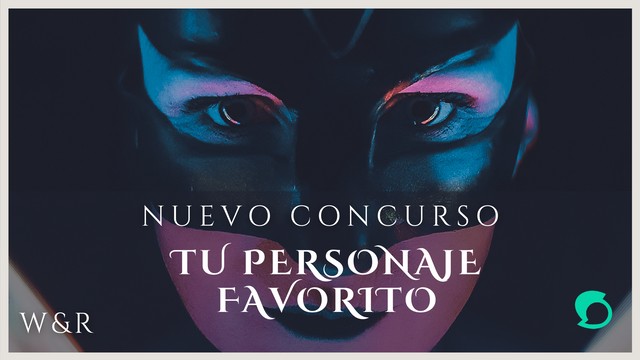 NUEVO CONCURSO: 🎭Tu personaje favorito🎭
---
En primer lugar.... bienvenidos otra vez!!
Nos hemos tomado un descanso para analizar algunos temas de la comunidad, pero ya estamos de vuelta!!
Esperamos que se sigan sumando a los concursos de Writing & Reviews y a alguna que otra actividad que iremos presentando.
---
Intro al concurso
En nuestra vida hemos leído cuentos o novelas, y hemos visto películas y series, muchas de las cuales han dado vida a seres que nos han inspirado por sus actos de valentía o amor, o con los cuales nos hemos identificado, por algún motivo.
En este concurso tendrás que elegir a 1 personaje (no tiene que se una persona de la vida real), y contarnos:
Quién es y a qué historia pertenece?
Quién lo creó?
Cuándo lo conociste?
Breve descripción del personaje (POR FAVOR NO HACER PLAGIO EN ESTE PUNTO)
Por qué lo has elegido?
Considerá estas preguntas como guías generales, no es que tengas que responderlas al pie de la letra.
---
Las reglas son las siguientes:
Aceptamos publicaciones en cualquier idioma. Tu posteo deberá contener como máximo 250 palabras.
Resteemea esta publicación, así más personas se enteran del concurso.
Asegúrate de etiquetarnos (@belenguerra, @writingnreviews & @fendit)!
Comparte el link de tu publicación en un comentario. No tendremos en cuenta las entradas que no se encuentren anunciadas en este posteo o que estén publicadas en otra comunidad.
Comparte tu publicación en Twitter, etiquetando a @steemit, o en cualquier red social que prefieras (deberás mostrar prueba de ello!)
---
Las publicaciones se aceptarán hasta el 3 de Junio, 23.59 hora de Argentina
---
Premios, 25 Steem:
Los premios serán dados de la siguiente forma:
1er lugar = 9 STEEM
2nd prize = 7 STEEM
3rd prize = 5 STEEM
4th prize = 3 STEEM
5th prize = 1 STEEM
---
Esperamos les guste esta nueva propuesta!!
Saludos,
Team Writing & Reviews