Steemit Crypto Academy | Season 2: week 7 - The Swing trading style
This is another trading style that is often used by traders with a motive of making short-term to medium-term profits. Unlike day trading (Scalp trading), Swing trading involves holding trades for a few days, weeks or even months. Swing traders use technical analysis in making their trade decisions. They carry out multiple time frame analysis which involves the reading of different charts of different time frames as they seek to establish a good entry and exit strategy.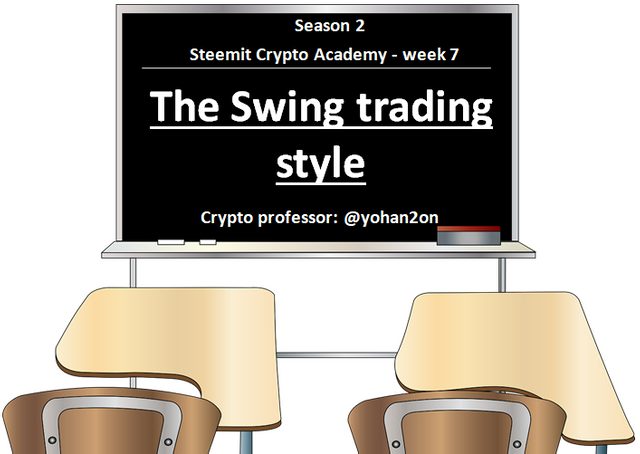 Background image:Pixabay
Crypto market prices don't move in a straight line. They do move in zigzag, up and down, make waves or swings following the fluctuations in the prices. Swing traders capitalize on making profits from these upward or downward swings in the market. In the process, Markets take on trends could be a downward trend where the bears are in charge or the Uptrend which shows the bulls dominance of the market.
A swing trader first looks for a major trend in a bigger time frame chart such as the weekly or Monthly, then comes down to as low as an hourly or 4 hourly chart to have a good entry position. They make profits from the short-term swings that markets tend to make as they continue in the direction of the major trend.
This trading style consumes less time as opposed to the day trading style. Swing trading does not need a trader to over-focus on the charts. He simply places his trades following his well-established trading strategy and waits for days, weeks or even a month for the trade to hit his take profit or stop loss according to his trade set up.
Ideally, the minimum time frame a swing trader looks at while seeking trade entries is the 1-hour time frame.
Swing traders use technical analysis tools such as the Japanese candlesticks, moving averages, Fibonacci retracement coupled with some fundamental analysis of a Crypto asset pair in establishing a more concrete trade decision.
Since trades are held overnight, for a few days and weeks; Swing trading is, therefore, a less stressful type of trading. A Swing trader is not too stressed like a day trader who places multiple trades in minutes within the day and has to keep watching and monitoring them. Swing traders use smaller lot sizes that protect their accounts from the would-be unprofitable trades.
Swing traders seek out and trade chart patterns such as the header and shoulder chart patterns, Cup and handle chat patterns. Once these are discovered, they are a good opportunity that aids them in making some good number of pips if they are well spotted and traded with good management skill.
Multiple timeframe analysis involves the establishment of the major support and resistance zones in the higher time frame charts as you continue downwards to the smaller time frame chart where you want to place your trade entry.
Ideally, the risk-reward ratio is supposed to be 1:2. Implying for every $1 risked trade your target is to make a $2 profit.
That's a good risk to reward but if you risk $2 in order to make $1, that's a bad risk to reward. As swing traders design their trade setups, they put the best risk to reward ratio into consideration.
However all trading styles are risky, mastering the swing trading style comes with continuous practice, using different trading strategies. The practice has to be done on a demo account. It is advisable to backtest a particularly strategy and also constantly try it on a demo account until you have attained a certain level of confidence to begin trading it with your real money.
Example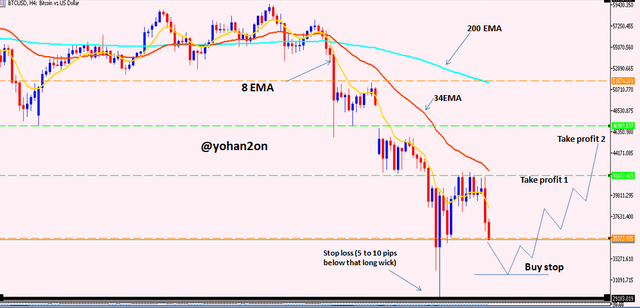 A 4-hourly chart of BTCUSD
Swing trading on the BTCUSD pair
I will first identify the major trend of the market
Monthly = Uptrend
Weekly chart = Uptrend
Daily chart = Downtrend
4- hourly chart = Downtrend
I will then establish my support and resistance lines on the various Time frame charts starting with the biggest to the smallest.
The biggest time frame I am looking at is the weekly chart as I seek to hold my trade for a couple of weeks. I plotted my support and resistance lines and I gave them a dark thick colour to make them different from other support and resistance lines in the lower time frames. On the daily chart, I used the Lime dotted lines to plot my support and resistance lines. I scaled further down to the 4-hourly chart, where I plotted the support and resistance lines with the dark orange dotted lines.
The plotted support and resistance lines become my watching points. I watch price action on those particular areas. Usually, whenever the prices reach a support zone, they may either reverse proceeding in an uptrend or break up the support zone by forming a close below that support zone hence proceeding in a downtrend.
Reasons for my entry
In trading, we buy at support and sell at resistance. Bitcoin is heading for a retest of a former low of $29,320 before making a trend reversal. I will therefore set a buy stop at $32,169 so that the market picks me up at that particular price point before reversing and proceeding in an uptrend.
My stop loss = $28,362
Take profit = $42,176
Trailing stop loss = $36,159
Homework task
Using your knowledge of technical analysis demonstrate your understanding of Swing trading
My expectations
A clear trading plan
A Crypto asset pair
What's your Entry and exit strategy?
Multiple time frame analysis
Candlestick analysis and use of other relevant supporting indicators for your trade decision.
Trade management ( Setting stop loss, trailing stop and take profit)
Rules and Guidelines
Post your homework article in the steemit Crypto Academy
Only steemexclusive articles will be curated
Your article should range between 300 – 1000words.
Use an exclusive tag #yohan2on-s2week7 and also tag me @yohan2on so that I can easily find your article.
Clearly reference your work in case you have directly borrowed any content from other sources. Otherwise, be original and as creative as possible.
Plagiarism and spinning of other users' articles will not be tolerated in the homework task. Otherwise repeat offenders will be blacklisted and banned from the Crypto Academy.
Use only copy-right free images and showcase their source.
To participate in this task, your reputation should not be less than 50.
Your article will not be reviewed nor curated if you are powering down at the same time.
You should have a minimum of 100SP to be eligible to participate in the Steemit Crypto Academy
This homework task runs till 29th/05/2021 (Saturday), Time: 11:59 pm UTC.