Steemit Crypto Academy | Course 7 By @stream4u | Money Management & Portfolio Management.
---
---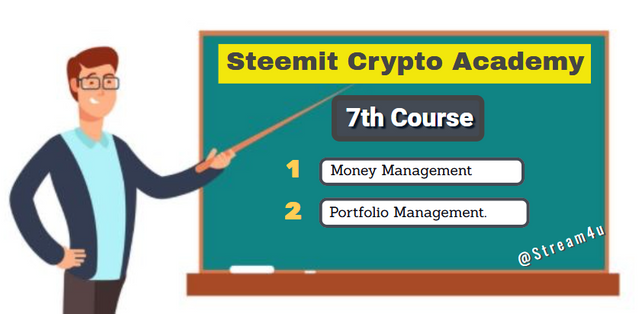 This Thumbnail Created From snappa.com

Hello All,
My self @stream4u, I am from India and one of your crypto professors, welcome you all to my class. This is my Seventh lecture on Technical study, Crypto Market. In this course, we will discuss Money Management & Portfolio Management.
It's a humble request to all interested, first understand the course then please read the homework task 2-3 times, make a homework task that includes all requested topics, and before publish make sure all topics are covered. Give your best to explore it as much as possible and in simple terms.
For your future, try for the information, charts, graphs available in your post is not taken from other sources and it is your own.
Let's begin our 7th class.
---
Money Management.
Even we follow technical, fundamental, news, forum, and articles, but while investing or trading we need to know how to manage our total capital and how Portfolio should be.
It actually does not matter whether you have a small or big capital for investment as everyone earns different and can able to take a small part from it for an investment.
One of a coin may be your favorite but this thing will not help you in investing just because I like that Coin. As I mentioned whatever the amount/capital you manage for investment, but it is not the right way to put all that money in just one or two assets, crypto coins.
So, How To Manage The Total Capital?
Once you confirmed the total money that you would like to use for investment, first you will need to divide that total capital into 2, 3, or 4 parts, Why?
We seen many crypto coins perform well in a short or long time, it is hard to comment whether the coin which performing well in a short time will become huge in a long time.
What We Can Do In This?
As we learned in a technical study and chart patterns how to find support where we can go for buy, Then based on the technical study we need to monitor, find and select the assets which have given buy indication. When you find any particular assets then we have to invest only one part of our total investment. After that and similar to this, we need to search other assets and according to their buy signal, we will use other parts from the balance investment money.
What will happen with this?
Normally due to a lack of knowledge about technical, we blindly invest complete capital in just one or two assets, after that, we keep hold that till it gives good profit.
In this, there are chances that assets will be in a downward direction due to that your entire money gets blocked. Also, if you have invented some huge amount then losses will also look big.
When you invest your total capital in parts and in different assets at the right time, so considering false indication and manipulation in the market it will difficult that all assets to loss.
If you have 5 assets on which you invested money in parts at the right time according to their buy indications, then it is also possible that a couple of assets may go in negative but the rest of all will good which also covers the loss in other assets.
To understand this better now we see how to manage the portfolio and for this, as an example, I will show my portfolio from WazirX Crypto Exchange since I am from India so it is INR.
---
Portfolio Management.
Portfolio Management is simply the collection of assets on which you have invested. But as we learn above in Money Management, the portfolio should be like there have to be 3-4 assets in which you have invested your total capital in parts but at the right time when there is a buying opportunity.

My Portfolio On WazirX Crypto Exchange
Here is my portfolio, there are 3 assets you will see, according to very small Investment but at the right time. I would like to show you that while managing capital and a portfolio like this, it is possible that one of or a couple of assets may pump huge and give a good return.

Portfolio History
From the above images are my trade history, I would like to show that how patiently we can work and buy assets in a portfolio. All these details are in INR, you can compare the total investment and their current status. The point in this that I want to highlight is even if you have a small capital but by dividing them and investing in different assets at the right time, few assets can give you a good profit and also cover the loss of other assets if they are in negative.
Below is another example from my Indian Stock Market holding.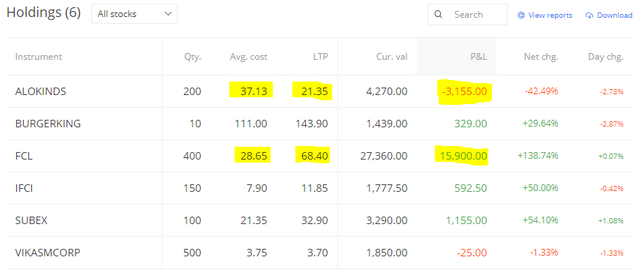 My Indian Stock Market Holdings.
You can see as mentioned above by considering false indication, so here one stock fall but majority stock in positive and one of that is high up and covered loss from other stock.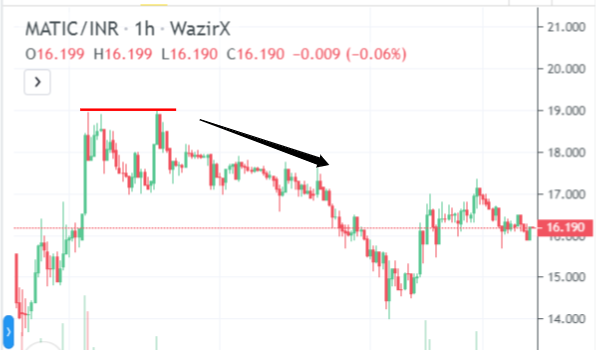 MATIC Chart: Double Top.
Currently, these are not available in my portfolio as a couple of weeks ago, I have to sell some assets to pay a Credit card bill, but I would like to show you the history, below is the same. Another reason to sell Matic is the Double Top pattern which is one of our topics in the previous course.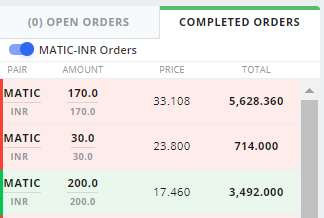 MATIC Chart: Double Top.
After few days I found buying opportunity again so enter with some small quantity and then in a week I sold it again.
So above first respect to the technical pattern I sold, then enter again because of a new buying opportunity found, then after week sell that too.
This is the benefit of Money Management and making the right Portfolio will boost your investment. It does not matter how much capital you have but yes if it low then you may need to hold more. But even if you have a low capital, you need to manage them in multiple assets at the right time so that either they will up/positive or except one or two rest of all in up/positive, and you will hardly see a loss, until there is no big movement like a complete market down or up.
Never invest all capital in one asset expecting that the next day you will rich.
After all, it is our capital so before entering a market we have to do well study and research.

Thank You.
Will stop here, Thank You for attending the Steemit Crypto Academy Course 7.
If it possible for you then I would like to know your view on this course in the comment section.
If you have any topic regarding the technical concept and on the market in which you are getting difficult for understanding, so feel free and you can share that with me in the comment section and I will surely give my views on it through next courses.
If you have any concerns, doubts, questions on this topic, you can ask me in the comment section and I will try my best to address them.
If you like to give me any feedback then that also you can give it from the comment section and I will surely review it and see the possibility to work on it from the next course.

HomeWork Task 7.
Make a Homework Task 7 Post on the below Topics which you can also discuss according to your views on it, and try to explore it as much as possible but in simple terms.
Discussed Money Management.

Future plan on your Money Management.

Discussed Portfolio Management, if you have an investment and if it is okay with you then show portfolio and explore it briefly.

Future plan on your Portfolio Management.

When was the last investment failed and Why? (those who have experienced this can provide views.)

Conclusion.
For any concerns, doubts, questions on homework task, you can ask me in the comment section below.

RULES
IMPORTANT- All homework posts should be posted in the community Steemit Crypto Academy .

For Homework Task 7, add tag #cryptomanagement, #stream4u-week7, and #cryptoacademy in the first 3 tags. Also, tag me as @stream4u somewhere in a post. (Tagged Correctly)

PLAGIARISM Will Not Accepted, hence make sure content in the post not copied and pasted from certain sources.

Post Require a minimum of 300 words. Tips On a minimum of 300 words!

Submit Homework Task 7 Post between 22nd March 2021 To 28th March 2021.

If your Homework task 7 post does not get reviewed by @stream4u within 24 hours after you published it, please send your post link under the comments on this post.
Thank You.
@stream4u
Crypto Professors : Steemit Crypto Academy

---
---