Steemit Crypto Academy Contest / S7W6 - Careful, Has your Steemit account been hacked?
Introduction
---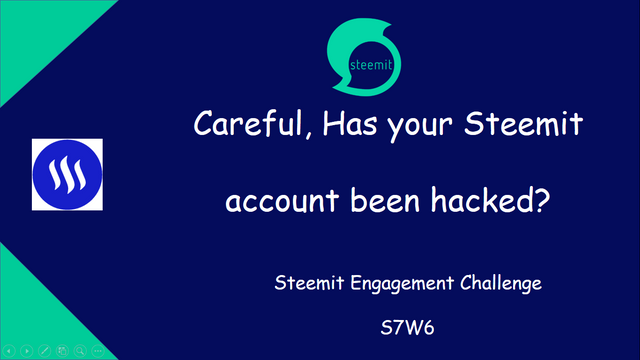 Greetings friends of Steemit, we hope everyone is well and enjoying this 7th season, a very special greeting to each of the members of this great community Steemit Crypto Academy, we welcome you to this 6th week of Steemit Engagement Challenge. We are coming to the end of the fifth week and in this sixth week, we want you to tell us about the security you should have in your Steemit account.
---

Contest theme: Careful, Has your Steemit account been hacked?

---
Many people are dedicated to doing wrong and in any case to stealing what is not theirs, in the cryptographic world there are many hackers, who are users with knowledge of computer security and can detect any error or failure in the system or the user and steal, in this case, important information so that they can access your account and steal everything you have accumulated for a long time.
You are the only owner of your Steemit account, your security is important, therefore, you must have mechanisms that help you to keep your passwords and account always safe from these attacks.
Lately, we have often seen that Steemit users have been stolen by hackers, you need to understand, your security depends on you. This week we want you to give us your opinion on how to take care of your Steemit account.
---

What is the expectation of this challenge?
---
Have you had your Steemit account hacked? What do you think about dubious links offering rewards? Give us your opinion.

What are your recommendations to prevent your account from being stolen or hacked? Give us your opinion.

Why do some accounts get hacked? What would you say to people whose accounts are hacked?

If you find out that your account has been hacked, what are the steps you should take immediately to prevent your tokens from being stolen?
---

Contest Guidelines
---
Post your articles in the Steemit Crypto Academy community. The participation time is between Monday, February 13th, 2023, 00:00 UTC to Sunday, February 19th, 2023, 23:59 UTC.

The article should be at a minimum of 500 words. You can write more. Your article must be free of any form of plagiarism.

Your article title should be Steemit Crypto Academy Contest / S7W6 - Careful, Has your Steemit account been hacked?. Add the tag #cryptoacademy-s7w6 and other relevant tags.

Participants must be verified and active users on the platform.

The community moderators would leave quality assessments on your articles and probable upvotes.

In addition, your article must get at least 10 upvotes and 5 valid comments to count as valid in the contest, so ensure you interact with other users' entries. Do not be involved in vote-buying.
Rewards
SC01 would be checking on the entire 7 participating communities and upvoting outstanding content. Upvote is not guaranteed for all articles. Kindly take note.
At the end of the week, we would nominate top 3 users that had performed well in the contest and they would be eligible for votes from SC01/SC02.
---
Important Notice: The nomination of the top 3 users in our community is not based on good grades alone, it includes their general engagements (quality and quantity of their interactions with other users' articles) to measure the overall performance. Also note that generally, you can only make one post per day in the Steemit Engagement Challenge.
---

Conclusion
---
Many people want to steal your account, you should keep your passwords safe and never click on dubious links that make you think you will be rewarded. You are the only one who must take care of the security of your account.