7 .How To Invest in Cryptocurrencies - A beginners Guide - Part 2 | Steemit Crypto Academy | Lesson 7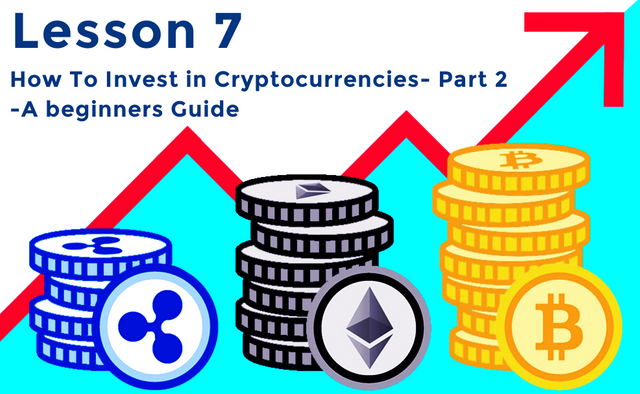 Dear Friends,
Last week we discussed about how to conduct a fundamental analysis on a crypto currency before investing on it. We discussed the importance of doing a proper analysis before purchasing an crypto asset and how to identify a reliable project based on a fundamental analysis. Last week was our sixth lesson of the course and up to today we have discussed lot of topics and also we were able to learn lot through home work tasks. Following are the lessons we discussed up to now and I like to welcome you to go through them if you missed the relevant week.
Trading Lessons for beginners
Lesson 1 - Introduction to cryptocurrency trading
Lesson 2 - How to setup a trading account in a Cryptocurrency Exchange
Lesson 3 - How to spot trade ? Everything a beginner need to know
Introduction to Crypto Currency Mining
Lesson 4 - Introduction to Cryptocurrency Mining
Lesson 5 - b Introduction to Cryptocurrency Mining - Part 2
---
Investing in Crypto Currencies
Lesson 6 - How To Invest in Cryptocurrencies - A beginners Guide
Lesson 7 - How To Invest in Cryptocurrencies - A beginners Guide - Part 2
---
Today we are further discussing on the topic we discussed last week. We will discuss about how to consider the financial metrics like Market capitalization, Liquidity and trading volume , Circulating supply ,Active addresses , Maximum supply, Transaction count etc. Most of beginners who are entering this crypto world have only one question in their mind. Where should I invest or what crypto currency should I buy ? I get this question from many of my friends frequently. So after properly understanding to conduct a fundamental and technical analysis on a crypto currency you will get the answers by yourself. That is the main objective of this lesson and it will protect your money from bad investments.

Overview
---
In which crypto currency should I invest to gain a profit ? , this is the question I get from most of the newcomers to this industry who are interested in crypto currency investing. Now after going through lot of lessons you have a idea how difficult to answer such question with the unpredictable nature of crypto currency markets. But with a proper analysis of a particular project we are able to predict the future up to some extent. Not with 100% probability , but at least with 70 %. So let's start the lesson. When buying crypto currencies we do not need to start from large amounts. Fragmentation is a positive quality of crypto currencies for investors. We do not need to buy 1 Bitcoin or 1 BNB to invest. We can invest even using few cents as majority of crypto currencies can be fragmented up to 8 decimals at least.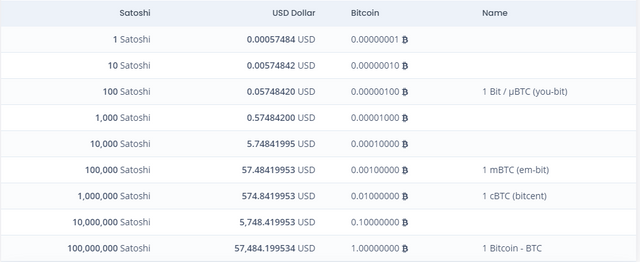 As you can see even with few cents you can invest in Bitcoin. That's the advantage of Fragmentation . So simply what I wanted to tell you is price of a crypto currency is not a matter to invest in it. That's the first point.

Market capitalization
---
A crypto currency can be over valued or undervalued in the market. The best way to decide that is to check the market capitalization.
Market Capitalization = Current Price * Circulating Supply
Circulating supply means number of tokens which are active on the market or circulating in exchanges. This circulating supply change with time. You can very easily calculate the market capitalization data from coinmarketcap.com for each crypto currency.

So now you know how to find out the market capitalization of a crypto currency. Now let's see how to consider this parameter when taking your investment decision. We can basically categorize these in to Large cap ( Above 10 billion ) , medium cap( 1 billion to 10 billion ) , small cap ( lesser than 1 billion) . Large-Cap crypto currencies like Bitcoin , XRP ,TRON , ETH are considered as lower risk investments. And Small-Cap crypto currencies are considered as high risk investments. The chances of sudden breaks of the price of a Small-Cap crypto currency is higher than a Large-Cap crypto currency. But when considering the potential profit the story is totally opposite. The probability of Small-Cap crypto currency gaining a large market price gain is higher than that of a Large-Cap crypto currency. Small-cap projects will sometimes give you very high returns. It's simply high risk high profit.

Liquidity
---
Liquidity is a parameter which tells us how easily we can buy/sell a particular crypto currency. The liquidity of a currency is affected by the trading volume, number of exchanges , applications / use cases of the particular currency and regulations for payments , transactions etc. So it's very important factor to consider for your investment. When the liquidity of a currency is high , the market stability is of that currency is higher. So your investment is low risk when the liquidity is higher. When you invest in a lower liquidity token it's difficult for you to turn them in to fiat again. So the coins which are ranked in the bottom are currencies with lower liquidity. You can get a clear idea of the liquidity from the following tutorial.
https://www.youtube.com/
There are lot of other parameters we must consider , one such is Active addresses

Active Addresses
---
We can consider the number of active addresses of a particular blockchain network within a particular time interval as a parameter to decide whether that coin is a good investment. Normally we count both number of senders addresses and receivers addresses over a time interval. So this is a significant measure to determine the activity of the particular blockchain. When the number of active addresses are high , that network is more stable in the market.


https://etherscan.io/



https://tronscan.org//
You can check all the transaction details using the particular blockchain data. And from there you can get a clear idea how all the transactions are happening. And there is a another important parameter you can get from here Transaction Value , This is not the transaction count. This transaction value is a measure of how much of assets were transferred within a particular period. It's the transaction volume over time. There are parameters which gives us the idea about the stability of the particular crypto currency.
Conclusion
---
There are number of advanced parameters to consider before investing in a particular crypto currency. Even the crypto market is very unpredictable . But these parameters will help you to predict the future of a project up to some extent. Market capitalization, Liquidity and trading volume,Circulating supply ,Active addresses , Maximum supply, Transaction count are some of the parameters we can consider and there are lot more. So I decided to give you a oppertunity to find them through a self research for our homework task 7.

Homework Task 7
---
You need to select two crypto currencies and do a fundamental analysis comparing each other. When selecting the two crypto currencies try to compare two currencies which are competitors to each other ( Optional) Compare the factors we discussed in lecture 6 and this lecture 7 decide which will be the best investment option. ( coinmarketcap.com : Token Rank Should be between 100 - 400 range )
1. Read the project whitepaper and compare the concept
2. Compare the social reach , project purpose , team , response from the market
2. Compare Market capitalization, Liquidity and trading volume,Circulating supply ,Active addresses , Maximum supply, Transaction count etc.
Decide which coin will be the better currency form the selected two currencies. Support your decision with above facts
---
Guidelines
---
• Your homework post should be posted in crypto-academy community.
• Your article should be at least 300 words.
• You have to create a simple guide in a way a newbie can understand and follow the steps.
• No plagiarism please . You can use images taken from copyright-free sources mentioning the source.
• The final submission date will be 28/03/2021
• Add tag @besticofinder in your post, it will help me to find your submission. Use #cryptoacademy and #besticofinder-week7 , so that Steemit Team can find you.
Thank you.



Cc:-
@steemitblog
@steemcurator01
@steemcurator02

#cryptoacademy #trading #begginers #introduction #besticofinder-week7 #investing