Lesson 3 : How to spot trade ? Everything a beginner need to know ...
Lesson 3 : How to spot trade ? Everything a beginner need to know ...
---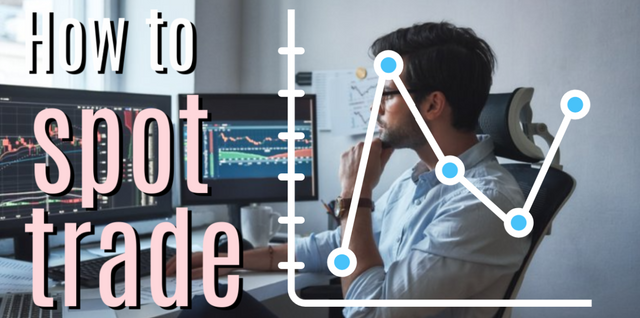 Dear Friends,
This is the third lesson of my lecture series. Today we will discuss about how to do a simple trade and all what you need to know as a beginner. My lecture series is completely designed for beginners , where I started from the basics and wanted to give you a practical knowledge. In my first lecture, Introduction to cryptocurrency trading , we discussed how to select a crypto currency exchange and a crypto currency to trade. And in our second lesson , How to setup a trading account in a Cryptocurrency Exchange , we discussed how to create a trading account in a crypto currency exchange , how to deposit assets, how to withdraw assets etc... And all of you practically did that through the homework task 2 for different exchanges. Today we will go one step further. Let's trade !
---

What is a Cryptocurrency Spot Market ?
---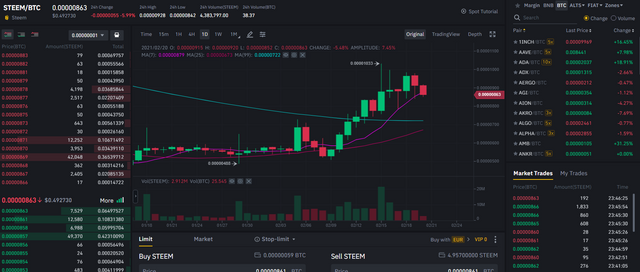 source :https://www.binance.com/en/trade/STEEM_BTC
A crypto currency spot market is a place where crypto sellers and crypto buyers get together to trade their crypto assets. A spot market means a place where the exchange or the trade initiated instantly. In a spot market , a trade is instantly settled when the buyers offering price and sellers bid price are equal. This price is called the spot price or current price.


source : https://www.binance.com/en/markets
These spot markets are active 24/7 and they operate continuously. And your digital funds can be deposited and withdrawn at any time you need. Majority of the crypto traders will manually place their buying and selling orders and some traders use automated trading tools to place orders. We will discuss about them in our future lessons. Now let's identify the basic things you need to know in a spot market.

Let's Trade...
After logging in to your Binance account , navigate over to the BTC/STEEM trading pair. In this page you can see partitions like Order book , which shows the buy and sell requests placed by buyers and sellers. The graph at the center shows the variation of Steem price over Bitcoin over time. And in the right hand side you can see the Trade History , which shows a records of individual trades which are executed on this trading pair Steem/Btc . The main characteristics of the crypto spot market is that when you're placing an order to buy or sell cryptocurrency the order is executed instantly. When you place a order for one bitcoin the exchange will instantly execute that order to buy one bitcoin on the order book that you're currently looking at. That means there's essentially no settlement period. When the order is placed with the exchange , it executes that order between the buyer and the seller instantly. The way that spot markets work is there's an order book and on that order book people can place orders to either buy or sell their cryptocurrency. The orders on the bottom down are the bid orders the people that are looking to buy bitcoin. The top orders in red color are the asking prices for bitcoin essentially the people that are looking to sell bitcoin for Steem. However if we don't place an order above or equal the current best asking price , the order won't execute immediately it will get placed on the order book and it will remain on the order book until somebody takes that order. but as soon as somebody comes along and takes that order the order is executed instantly. The trading process is very simple , you need to learn it buy trying by yourself. It's the best way to learn.


Trading fees
---
The newbie traders who start trading sometimes pay unnecessary payments as fees. You must find out all the information about fees and rates for the exchange you have selected. In leading trading platforms , the trading fee varies in-between 0.05% and 0.2% per one trade or a transaction. Trusted exchanges make these fees public always. If trading fees are hidden in an exchange platform ,you should think again before trading.
We need to pay a fee for the exchange platform for each and every trade we make. Different exchange platforms have different trading fees. Binance platform has the lowest trading fees compared to other exchanges. The trading fee schedule of Binance is as follows. Reference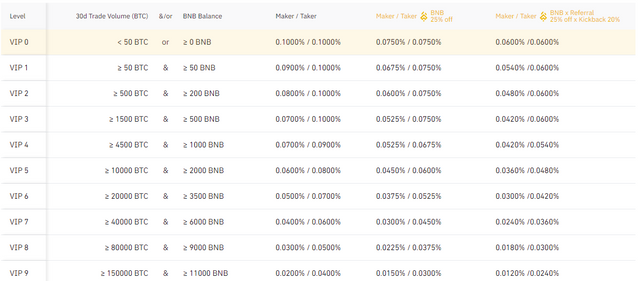 And exchange platforms charges a fee for depositing and withdrawing assets. For majority of the there is no deposit fee but there is a withdrawing fee. And depositing and withdrawing fees varies on the crypto currency. You can find the rates here for Binance where almost all the coins deposit is free and there is only a fee for withdrawing.


A word before start trading ..
It's a great challenge for a beginner to trade cryptocurrencies and obtain a profit. For an experienced trader , even with a small capital , has the ability to increase it with correct predictions. A trader must perform a correct fundamental and technical market analysis before placing an order. At the same time you should monitor all the news related to each and every blockchain based project. One single news can change your life. But trading based on news is risky too as this crypto industry is running with gossips. People are very cleaver and they create news and profit. A trader must follow the significant characters who plays a crucial role in this crypto industry. Their actions and decisions make significant change in the crypto market prices. As a beginner you should learn to perform a technical analysis and predict the market. A traders is someone who learn with experience.

Homework Task 3
You need to do your own research and create an article discussing following topics,
(1) Explain Spot Trading and Margin Trading
(2) Discuss the advantages and disadvantages of Spot Trading and Margin Trading
---
Guidelines
---
• Your homework post should be posted in crypto-academy community.
• Your article should be at least 300 words.
• You have to create a simple guide in a way a newbie can understand and follow the steps.
• No plagiarism please . You can use images taken from copyright-free sources mentioning the source.
• The final submission date will be 28/02/2021
• Add tag @besticofinder in your post, it will help me to find your submission. Use #cryptoacademy and #besticofinder-week3 , so that Steemit Team can find you.
---
---
Thank you.



Cc:-
@steemitblog
@steemcurator01
@steemcurator02