Steemit Enagement Challenge || Season2, Week #2 || Language.How language connects an individual to his family,glob or specific socieity.?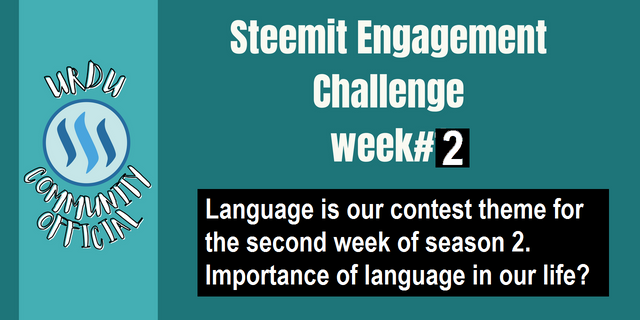 Hello & Assalam-o-Alaikum !
As you all know that Urdu-community is selected for the Steemit Engagement Challenge for the month of June in the collaboration with Steemit team. For this very month, the Urdu community is be organizing weekly contests for all the people around the world. The second week of season two has started under the steemit engagement challenge. The entire team of Urdu Community is thankful to all of you steemit family that you have fully participated in the contest of the first week of season two and we hope that you will also fully participate in the challenge of season two of the second week. The following is the contest theme of Second week Urdu Community. All the steemit members can participate in this contest without any limitations and restrictions

Contest Theme:
Language is our contest theme for the second week of season 2. Importance of language in our life?
Language is one of the great blessings of Allah Almighty. No matter how much we progress in human life, we need languages ​​to convey our message and to understand what others are saying. Humans speak different languages ​​in every corner of the globe, and there are many regions on every planet where dozens of languages ​​are spoken and understood.
As much as the world today has taken the form of a global village, language also has a special significance. The curriculum in our institutions is taught in different languages ​​and thus classes for regular language classes are organized in schools and universities all over the world today.
People are learning different language . so today we will try to talk importance of languages in this contest. every one will share own real thoughts and experience related language.
But important point of the contest is that every participant will share its own experience, that he/she is facing in his own country and observed in global. There is one major points is that do not think, why people are speaking or learning the any language, just we want to know about your thoughts , choice and need about language.

Highlight the following topic/Points in this contest.
Language plays an important role in any society and community. You have to highlight the following topic in this contest.
---
What is meant by language? Define language in your own words.

How language connects an individual to his family,glob or specific socieity.

Which is yours mother tongue? and which languages ​​are spoken and understood in your home other than your mother tongue?

How many languages ​​do you know and how did you learn more than one language?

In which language did you study in school to university and which language do you prefer in the education system in your country and why?

How one language or more than one languages plays an important role in the development of society.?

How does culture relate to language?

Would you like to prefer writing in your own language at the time of writing posting on steemit, if yes why and if not why not?

If you want to promote your language in the world, how will you do it? and if you already done, then how much success have you achieved?
Requirement of the contest is that we need original thoughts that you have about above topic .


Mandatory Rules to Follow
Your article title should be Urdu community Contest / S2W2 – Title by @username.
Your post must be original, and free from any kind of plagiarism.
Your profile should be free from any kind of bot usage.
Subscribe to Urdu Community and follow the @Urdu-community official account.
You need to post your entry to the contest in the Urdu community.
The participation time is between Monday, June 13th, 2022, 00:00 UTC to Sunday, June 19th, 2022, 23:59 UTC.
Invite three of your friends to the contest and add the link to your entry in the comment section of this post.
Plagiarism will not be tolerated moreover, they will be set disqualified from the contest.
Use copyrighted free images.
Add the tag #urducommunity-s2w2, #language-s2w2 #country #club #steemexclusive and other relevant tags.
The article should be a minimum of 300-500 words you can write more.
The contest is open to everyone, all languages are warmly welcomed.

Grading of entries:
The grading of all the entries will be done according to this pattern, the more score you get the more support you will get.
| Post information | Status | Grades |
| --- | --- | --- |
| Steemexclusive | ✅ / ❌ | 1 |
| Plagiarism / Bot Free | ✅ / ❌ | 1 |
| 300 words/Source | ✅ / ❌ | 1 |
| Quality of Content | ✅ / ❌ | 3 |
| Club status | ✅ / ❌ | 2 |
| Markdowns | ✅ / ❌ | 2 |
| Total | | 10 |

Contest Reward
The top three entries of the contest will be rewarded with booming votes from the community.
| Rank | Prize |
| --- | --- |
| 1st place | 7 Steem |
| 2nd place | 5 Steem |
| 3rd place | 3 Steem |

---
Join Discord Group Urdu-Community
Join Whatapps Group :Urdu Community
Join our Facebook Group Facebook Urdu community

---

Subscribe URDU COMMUNITY
---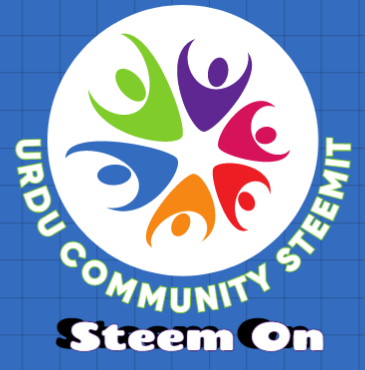 Subscribe URDU COMMUNITY
Our mission to promote Steemit in Urdu Community to all over the world
Stay together
Join the Urdu Community with more confidence.
Steem On