Auf dem Weg in die Unsterblichkeit.
Was kommt nach dem Tod?
Diese Frage beschäftigt den Menschen wohl schon seit Anbeginn der Zeit. Einen Einblick in den Jenseitsglauben und Mumienkult der alten Ägypter vermittelt das
Kunsthistorische Museum Wien
(KHM Wien). Zahlreiche Sarkophage, farbenprächtige Mumienportraits, Grabbeigaben, Totenbücher und Grabstelen, die in der Ägyptisch-Orientalischen Sammlung zu sehen sind, zeugen vom Glauben an ein Weiterleben nach dem Tod.
On the way to immortality
What comes after death?
This question has been on people's minds since the beginning of time. The Egyptian Collection in the
Kunsthistorisches Museum Wien
(KHM Wien) offers an insight into the belief in the afterlife and mummy cult of the ancient Egyptians. Numerous sarcophagi, colourful portraits of mummies, grave goods, Books of Death and grave stelae, which are presented in the Egyptian-Oriental Collection, bear witness to the belief in life after death.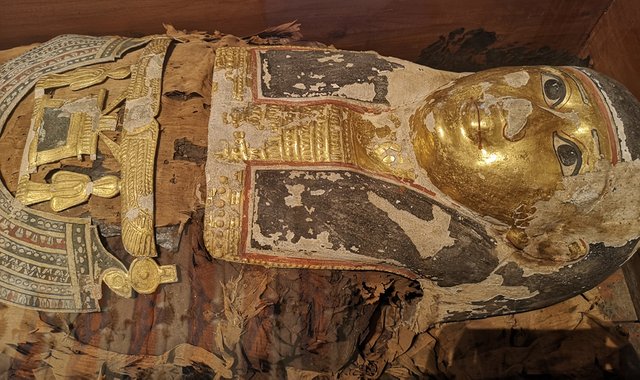 KHM Wien
Der Tod bedeutete für die alten Ägypter nicht das endgültige Ende, sondern den Übergang in eine neue Daseinsform. Das ewige Leben konnte durch Vorleistungen wie Frömmigkeit den Göttern gegenüber und Konservierung des Körpers durch Mumifizierung erwirkt werden. Nach altägyptischer Vorstellung trennte sich die Seele zunächst vom Körper und konnte erst nach der Mumifizierung und rituellen Handlungen wieder einverleibt werden.
For the ancient Egyptians, death did not mean the final end, but the transition to a new form of existence. Eternal life could brought about through preliminary work, such as piety towards the gods and preservation of the body through mummification. According to ancient Egyptian ideas, the soul first separated from the body and could only reincarnated after mummification and ritual acts.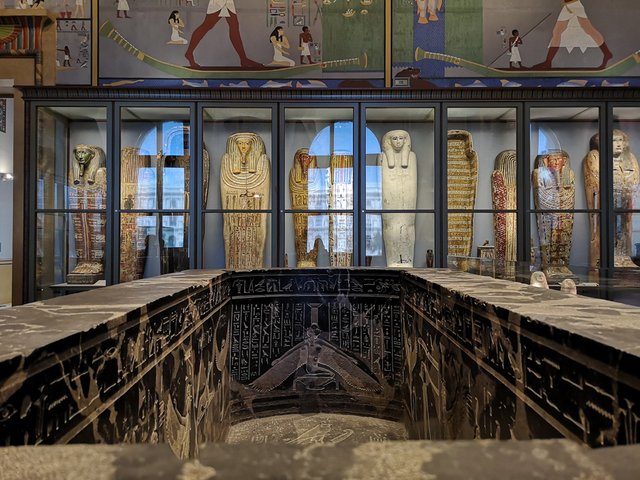 Steinsarg im Vordergrund / Stone coffin in the foreground (KHM Wien)
Als die Verstorbenen in prähistorischer Zeit in Gruben in der Wüste bestattet wurden, sorgte das trockene und heiße Klima sowie der hohe Natrongehalt des Wüstensandes für die Austrocknung des Körpers. Die Beisetzung in Särgen aus Holz oder Stein in gemauerten Grabanlagen erforderte ab etwa 3.000 v. Chr. eine künstliche Mumifizierung.
In prehistoric times, when the deceased were buried in pits in the desert, the dry and hot climate as well as the high sodium content of the desert sand caused the body to dry out. The burial in coffins of wood or stone in brick tombs required artificial mummification from around 3,000 BC.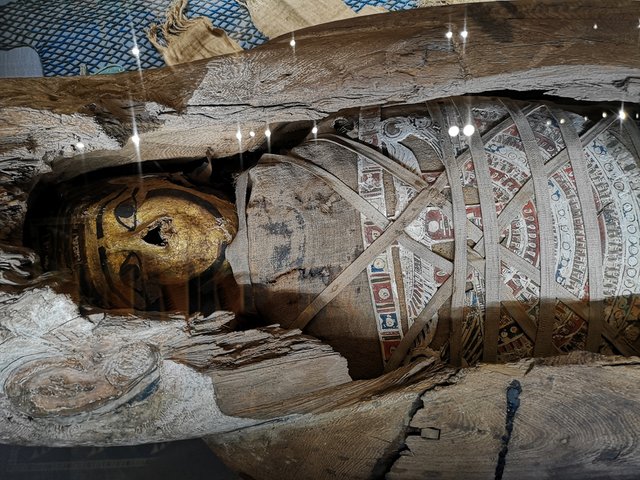 KHM Wien
Die heutigen Erkenntnisse der Mumifizierung basieren vor allem auf den Schriften des griechischen Historikers Herodot, der etwa um 450 v. Chr. Ägypten bereiste und Land und Leute studierte. Die Mumifizierung lag in den Händen von geschulten Einbalsamierern. Um den Verwesungsprozess zu unterbinden, wurden dem Körper Gehirn und Organe entnommen. Dabei musste der Kopf des Leichnams unter allen Umständen unversehrt bleiben, da der Verstorbene beim Totengericht von den Göttern wiedererkannt werden musste. Mit ihrer Methode, das Gehirn über die Nasenöffnungen zu entfernen, leisteten die alten Ägypter Pionierarbeit auf dem Gebiet der minimalinvasiven Chirurgie.
Today's knowledge of mummification is based above all on the writings of the Greek historian Herodotus, who traveled Egypt around 450 BC and studied the country and its people. The mummification was in the hands of trained embalmers. In order to prevent the decomposition process, brain and organs were removed from the body. The head of the corpse had to remain intact under all circumstances, since the deceased had to be recognized by the gods in the Judgement of the Dead. With their method of removing the brain via the nasal openings, the ancient Egyptians did pioneering work in the field of minimally invasive surgery.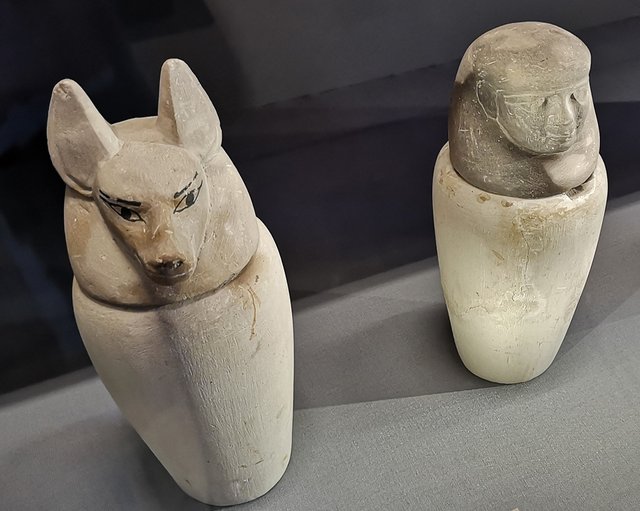 Kanopen / canopic jugs (KHM Wien)
Das Herz verblieb meist im Körper, da es als Sitz des Fühlens und Denkens angesehen wurde und außerdem unerlässlich für die Prüfung beim Totengericht war. Nach der Organentnahme wurde der Körper gereinigt und die Hohlräume mit Duftstoffen gefüllt. Durch Einlegen in ein Natronbad wurde dem Leichnam und den Organen Flüssigkeit entzogen und so dem Zerfall entgegengewirkt. Die Organe wurden in speziellen Gefäßen, den sogenannten Kanopen, aufbewahrt.
The heart remained in the body, since it was regarded as the seat of feeling and thinking and was also indispensable for the test in the court of the dead. After the removal of the organs, the corpse was cleaned and the cavities filled with fragrances. By placing the body in a soda bath, liquid was removed from the corpse and the organs, thus counteracting decay. The organs were stored in special vessels, the canopic jugs.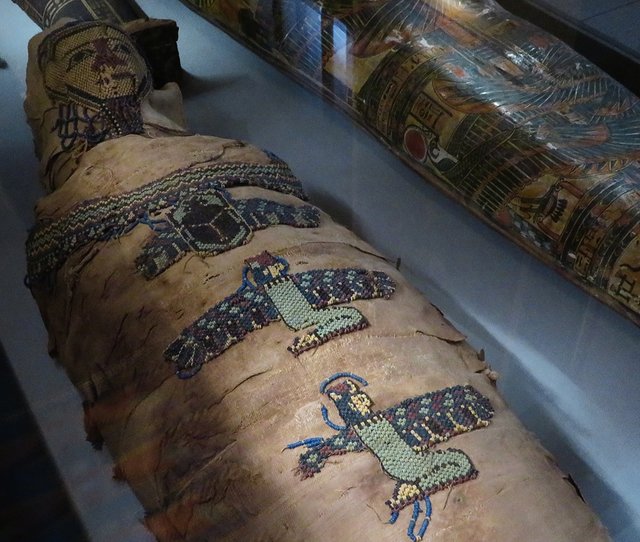 KHM Wien
Nach rund 40 Tagen waren Leichnam und Organe vollständig mumifiziert und die Balsamierung mit duftenden Ölen und Harzen konnte beginnen. Um den vom Wasserentzug eingefallenen Körper wieder aufzufüllen, wurde in den Hohlräumen Sägespäne oder sonstiges Füllmaterial deponiert, das mit duftenden Gewürzen, Harzen oder Bienenwachs vermischt wurde. In den eingefallenen Augenhöhlen ersetzten bemalte Steine oder Leinenbäusche die geschrumpften Augäpfel.
After about 40 days, the body and organs were completely mummified and the embalming with fragrant oils and resins could begin. The body had shrunk strongly from dehydration. To replenish it, sawdust or other filling material mixed with fragrant spices, resins or beeswax was put into the cavities. In the sunken eye sockets, painted stones or linen pads replaced the shrunken eyeballs.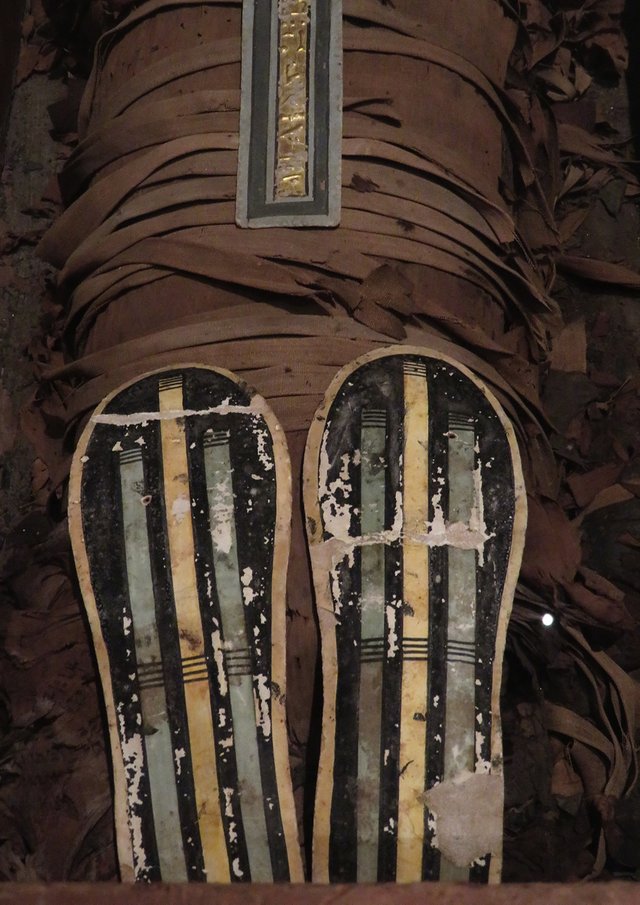 In einem weiteren Schritt wurde der Körper mit Leinenbandagen umwickelt. Zum Schutz des Verstorbenen wurden zahlreiche magische Amulette aus kostbaren Materialien beigelegt.
In a further step, the body was wrapped with linen bandages. For the protection of the deceased numerous magic amulets from precious materials were enclosed.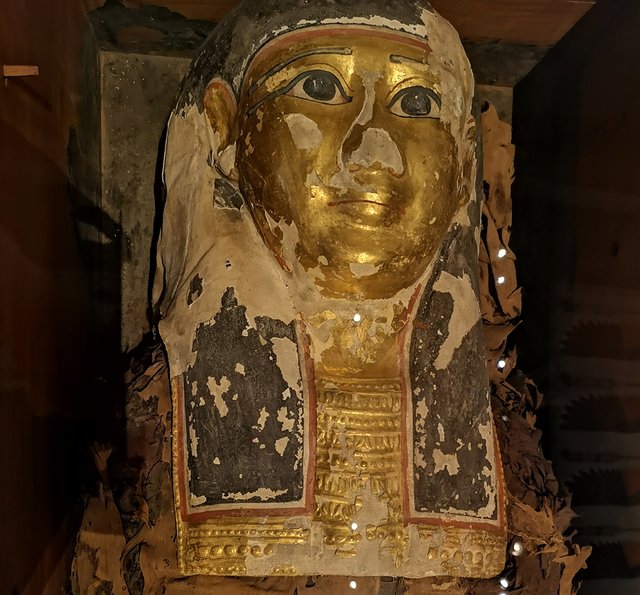 Auf dem Kopf wurde eine Mumienmaske aus Kartonage oder ein auf einer dünnen Holzplatte idealisiert dargestelltes Porträt des Verstorbenen befestigt.
A mummy mask made of cardboard or an idealized portrait of the deceased, painted on a thin wooden plate, was attached to the head.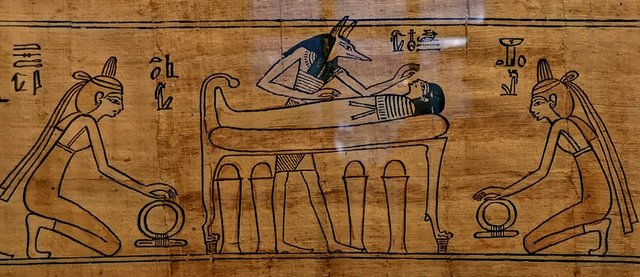 Die letzten Vorbereitungen für die Reise in das Jenseits wurden nach einem vorgegebenen Ritual vollzogenen und meist von einem Priester in der Maske des schakalköpfigen Gottes Anubis beaufsichtigt.
The final preparations for the journey to the afterlife were carried out after a given ritual and mostly supervised by a priest in the mask of the jackal-headed god Anubis.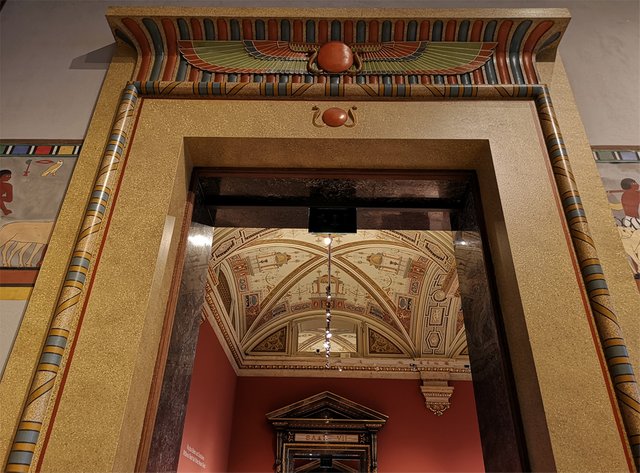 Im nächsten Teil geht es um das Bestattungsritual sowie um Jenseitsglauben und Totengericht im Alten Ägypten.
The next part is about the burial ritual as well as about the belief in the afterlife and the Judgement of the Dead in Ancient Egypt.