Conditions on the reservations were so deplorable that many Apache worked for the Army as scouts like this happy bunch: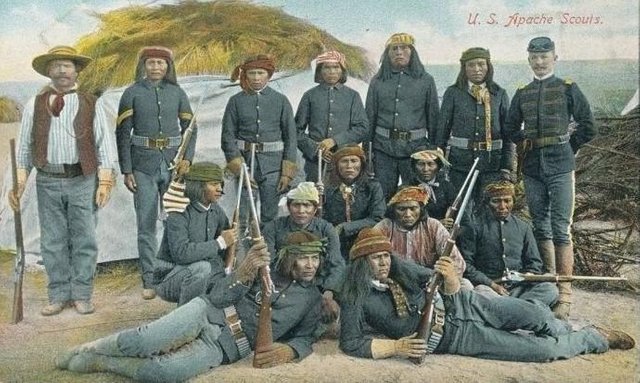 source
Howdy folks and greetings from the Great Plains of North Texas!
We're in a series about the Wild West and the incredible story of an 11 year old German boy, Hermann, who was captured by an Apache war party from his family's farm in 1870 in Central Texas.
He's now about 15-16 years old at this point in the story and has become a full blown warrior and is terrified of the White man and also hates him.
Yesterday's post
In the last post his band had once again escaped the reservation after fighting with another unfriendly band of warriors. Hermann's band had traveled a day and night away from there and set up camp at a nice location under the trees.
Attacked by their own tribe members
They were settling in when 12 warriors from the unfriendly band rushed them and wanted to fight, so 12 of Hermann's band agreed to fight them.
This 12 that approached them were of their tribe, just a different band. But while Hermann's 12 were getting ready to fight, the other group shot one of Hermann's braves with an arrow and killed him and then they rode off.
It was a trap
So the chief, Hermann's adopted father, told Hermann and a few others to mount up, they were going after the cowards. So they did. They rode about 5 miles but it was right into an ambush that had been set for them.
Hermann said it was like some of them rose out of the earth.
Other warriors charged them: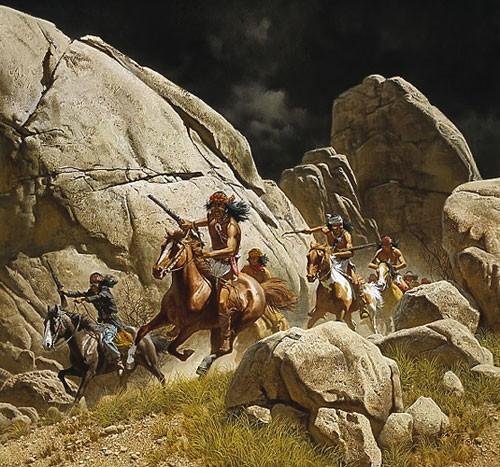 source
Most of their comrades were killed so they were retreating and slowly making their way back to their camp, a running fight.
They were almost back to camp when two or three overtook them and then it was hand-to-hand combat with spears, lances and tomahawks flying.
A warrior raised his spear to kill Hermann but the chief pierced him through with a lance but at the same time the medicine man shot the chief in the back and killed him!
Now, this was the same medicine man that had harrassed and tormented Hermann from the first day he arrived at their camp. And while the rest of the tribe had accepted him, the medicine man never did and always made his life miserable whenever he could so Hermann hated him, he called him "that old devil."
The medicine man didn't think he could be killed in battle, he was supposed to be supernaturally protected as long as he didn't eat pork. Hermann didn't think he could be killed either.
I imagine the medicine man looked something like this:

source
Dyin time's here
But Hermann felt such a rage rise up in him when the medicine man killed his adopted father that he swore to kill that S.O.B. no matter what. Or die trying.
The medicine man had a Winchester rifle and came toward Hermann waving his shield and said with a snarl.. "This is your last day, for now you die."
Hermann only had his bow and arrows(and trusty shield) but was determined to avenge the death of his chief. The other warriors had gone ahead to the camp because they knew Hermann would be no match for the medicine man.
You don't pick a fight with a medicine man, that's suicidal. But who was being protected his whole time with the Apaches? Countless times. And who was Hermann's family interceding to on his behalf? Hermann didn't realize the spiritual warfare going on.
This was Hermann's type of fight
The medicine man started shooting at Hermann, 2 or 3 bullets being deflected by hitting Hermann's shield (thank God for bullet-proof shields).
There was a big rock which Hermann started dashing around, the medicine man chasing him and firing. So around in circles they went but Hermann had great confidence because of his speed and strength.
The chief is avenged
After a few times around the boulder Hermann suddenly turned and fired an arrow under the medicine man's shield and hit him in the stomach. As he threw up his arms Hermann shot again and got him in the side.
At that point the medicine man fell down and asked Hermann not to shoot anymore, that he was killed. Hermann shot him again in the chest just to make sure and his eyes rolled up, he let out a groan and then was gone for good.

The insanity of fighting each other was brought on by losing everything they had...and by frustration, anger, and going crazy from the poisoned whiskey.
And now Hermann was totally alone and isolated. Killing the medicine man was a death sentence and his best friend, protector, and chief.. was gone. His story continues in the next post.
Thanks for reading folks, God bless you all!
-jonboy
Texas