We Double Our Steem Power Upvoting Ourselves Every 181 Days!
Will hard fork 20 limit the ability to self upvote because of the data shown here? Definitely because every Steemit user with at least $100 in Steem Power after hard fork 19 can now upvote their own posts enough to double their Steem Power in 181 days or less!
What is the big motivation to avoid doing this? Happiness. While it feels good to give to others, voting our own posts up repeatedly brings a feeling of greed, selfishness, and being alone based on my experience already doing this during the first few days I joined. Today I choose not to pay myself $1,600 in my own upvotes every 5 days which I could easily do in about an hour of time every day. Given the temptation, I understand if anyone does want to simply vote their own comments up because of the data shown below.
What about inflation?
The numbers I share are based on today's voting power and actual inflation because all the rewards produced come from inflation and because most Steem Power is not used for voting! The more voting power used, the less each vote is worth meaning that if every single user only upvoted themselves, we each would receive an interest payout equal to our Steem Power at the current inflation rate. When considering the SBD conversion rate which effectively adds 20% or more to every reward payout at 50/50, the amount of rewards are actually higher than what I show here. As more whales get excited with the ability to vote comments up for $5, $20, and $100+, the value of voting power is likely to continue to drop and get focused at the top more meaning that it will take longer realistically than 180 days to double money with no change!
To show how this works in detail, let's start with my account which is currently worth $83,459.76 because of your generosity here in voting my posts up and the profits from selling my Dash masternode just days before the value went up $100,000!
In 181 days just by voting my own posts up and the laws of compound interest because of getting my own rewards and therefore a higher vote, I could double my account value to over $166,000 without one other user giving me even one vote. See for yourself based on using this spreadsheet which shows me burning all of my voting power every five days on my own comments.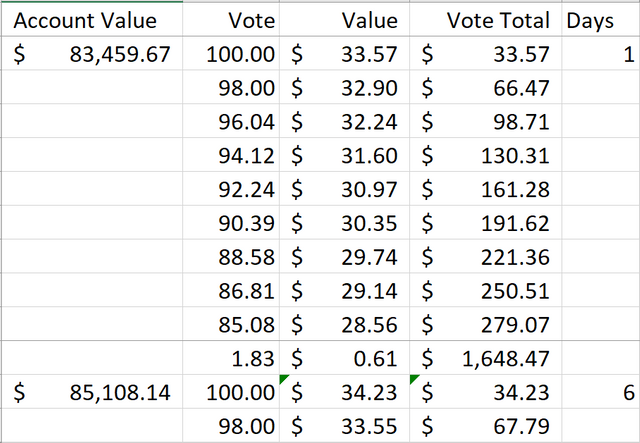 You see after just six days, I already have an extra of almost $1 on my 100% vote with an account value up $1648 from 5 days earlier. Technically you might argue I need to stretch the days to seven because that is how long it takes to get the rewards and while you would be right, there is also the SBD extra payout when converted to Steem plus Steem Power interest to consider. In other words, my example here is conservative and realistically would happen much faster.
Keep it going and ...


In 181 days roughly with no Steem price increase and counting only my own self upvotes, I will have double the amount of Steem Power as I did before. Just for fun, let's say this went on for longer ...

In less than two years, I would have 10x what I started with just upvoting myself. In less than three, $86,000 becomes over $2 million with only self upvotes. Think this just works for whales? How about starting with $100? Same result! Less than $100 might get the payouts so small they would be rounded out. If you figure in the SBD are worth more than a $1 and all those are reinvested, this actually is possible way faster than in the example I used because SBD effectively increase the payout of each vote around 20% to 40%. If you figure in taxes, it might take a bit longer unless you opted for some sleepless nights of worrying about an audit.
Long story short, until there is a change users can just literally power themselves up providing a huge temptation for whales and dolphins alike plus adding a huge incentive to invest in Steem Power right now while this is possible for those purely seeking to make some money without any regard for the community. While this might not include many of us, just a few users doing this strategy especially whales will reduce payouts for everyone else across Steemit and make us all look like we need a shower.
Fortunately there are a few simple solutions to this available for us to implement in hard fork 20 which is one of my main motivations for this post with a secondary motivation being that because I am not going for the self upvoting strategy, this is the only way I can double my Steem Power and feel good about it!
Limit the number of user upvotes total per day. 4 is probably plenty because that would still allow me to make $130 upvoting my own posts every day with payouts increasing daily after the first seven days. This change would reduce my possible self upvoting gain by 60% meaning it would take more than a year voting up 4 of my own posts every day to double my Steem Power
Provide a lower value vote on our own posts and comments automatically such as maybe 10% or 20% with a reduction in voting power used also. Combine this with the first strategy for maximum effectiveness such as reducing voting power on my own upvotes with each upvote I use daily. My first post might be 100%, the second 90%, etc until after 10 upvotes on my own posts per day, I could only vote at 10% of my available voting power on my own posts.
Remove the ability to upvote comments which are much easier to spam and upvote than posts. As things are, I could probably do 60 comments in thirty minutes a day without getting flagged on 99% of them which would earn me $1,600 every five days in self upvotes. Tempting ... removing comment self upvotes would also help any user have a better shot at the highest reward. Spamming 60 posts a day to maximum upvotes would be significantly more difficult even without any other changes.
Thank you for reading this because I hope it was helpful in giving us the ability to continue adapting Steemit to provide the greatest value to the world!
Nerd alert! To calculate these numbers, I made a Microsoft Excel spreadsheet using the fields shown where the account value is pasted in to start and multiplied to calculate the value of the vote based on my current 100% vote being worth 1/2486 of my Steem Power. I then multiply by the voting % and simulate spending the majority of my voting power every five days. After five days, the reward from the previous posts is added and the cycle runs again on the new account value. Copy and paste down a few thousand rows and add 5 days every time the vote is up to 100% again and you get the numbers seen here. Change the account value and the numbers match.
Answers to questions!
What about inflation? The inflation of Steem is built into my example and is responsible for this possibility because I calculated the current ratio of Steem Power to upvoting earnings which is all based on the new Steem being paid out at rates it is actually paying today. If more Steem is powered up or powered down or the amount of voting power used changes, then the numbers would change. The fact is I can pay myself $400 USD a day every day just voting my own posts up out of the inflation! Currently the majority of Steem Power is not used to vote meaning those voting can easily assign themselves a significant portion of the voting pool. So far I have not done this and I would be happy to demonstrate if anyone has doubts!
Earn more by voting down to 80% each day? Yes and I will be starting to vote in the 70% to 95% range most days now because yes this pays more than voting to nearly 0% and then waiting for voting power to come back up!
Is less regulation better? In theory yes but practically it will only take a small amount of users upvoting their own comments and earning Steem Power and SBD from those votes to significantly reduce all earnings available to other authors. While it is nice to be able to pay ourselves back, should it be possible for me to pay myself $400 a day upvoting my own comments or should this be limited?
If you think it is important we take action on the data here and make changes which limit the ability of users to double Steem Power just upvoting themselves, would you please upvote this because it will help the message be shared widely in our community?
Love,
Jerry Banfield