On 2/09/2014, Yagoub Mosaab was born.
Everyone was happy with him and everyone loved him because he seemed so handsome and so clever...
He was a source of happiness in the house, everyone loves to play with him and some love to make him cry...
Everything was normal even he became 16 months old, strange symptoms appeared on him, his eyes stopped, he could not stand then total paralysis...
I felt a lot of fear for him... I took him to doctors and they all didn't know what happened to him.
This lasted for more than a month then Mosaab returned to normal and he became walking and speaking naturally.
All those symptoms vanished from him until we forgot that he was sick...
He became playing with children in the street. loves running, football and love animals and everything became very normal...
But after a year... When he became more than two years old, the same symptoms returned again ... Stop walking, talking than paralysis total...
I took him to the hospital where was under intensive care in the neurology department, Doctors did a lot of medical tests, and eventually, they found out that there was inflammation in his brain, but they didn't know the cause of the inflammation.
This lasted for two months, then Moussab returned to his normal condition and all the inflammation from his brain disappeared... He started walking and moving but hardly...
On 16 June 2018, the same symptoms returned but it was more severe.
Everything in his body stopped and there was involuntary movement in his hands, feet, and sometimes all his body. Just crying and can't tell me where the pain is... Because he cannot speak or move...
He became in a very bad condition, his face changed then his feet and hands were mutilated...
I thought he would inevitably die....
I took him into the hospital, but there's nothing new in the hospital. All the neurologists around him but no one knows what happened to him...
They gave him some sedatives to make him stop involuntary movements and then they did a lot of medical examinations and returned to the same result: encephalitis.but this time it is more intense...
Mosaab stayed in the hospital for three months and when I felt that they would not be able to cure him.i asked to take out him from the hospital and bring him in the home...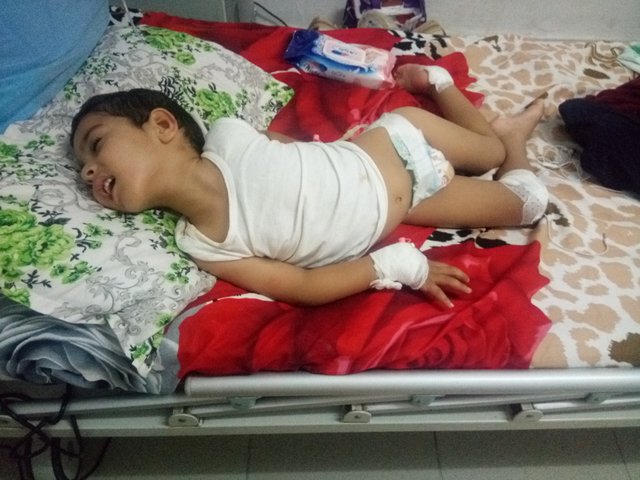 Everything changed for me and my wife...
We live a very sad life...
A life close to death...
Days like water. No taste no smell...just forced to live it
But I did not lose hope...
I asked the hospital management to give me a comprehensive medical report about my son's condition .i waited a month to get the report and found in the report that The diagnosis of ADEM (acute disseminated encephalomyelitis) is the most probable.
I searched on the internet about this disease. the result was shocking for me... A very serious disease. thought to be due to vaccines. I made sure of this when I checked the health file of Mosaab and found that he was exposed to this disease less than a month after the vaccine was taken.....
On occasion, ADEM occurs after a vaccination. This is rare overall, but when it happens, it usually occurs after the measles, mumps, and rubella vaccination. In these cases, ADEM may occur up to 3 months after the vaccination.https://my.clevelandclinic.org/health/diseases/14266-acute-disseminated-encephalomyelitis-adem
"ADEM also attacks the nerves of the central nervous system and damages their myelin insulation, which, as a result, destroys the white matter. It is often triggered after the patient has received a viral infection or, perhaps exceedingly rarely specific non-routine vaccinations."
https://en.wikipedia.org/wiki/Acute_disseminated_encephalomyelitis
Most cases of ADEM begin about 7 to 14 days after an infection or up to three months following a vaccination. In some cases of ADEM, no preceding event is identified. https://www.nationalmssociety.org/What-is-MS/Related-Conditions/Acute-Disseminated-Encephalomyelitis-(ADEM)
===============================================================
Now I want to catch any thread of hope. I don't want to lose hope...
The only solution for me is to take my son abroad...
I thought about migrating to any country and then treating my son in it, but all countries impose very strict laws on us to enter their territory...
I must prove that I am able to speak English or get a contract of employment... This is impossible because no company in the world can employ a person who lives in Algeria and does not speak fluent English...
Then I thought about creating a fundraising campaign, although this solution made me feel some humiliation, there's nothing else to do for my son.....
I found only two sites where I can create a fundraising campaign... I have created a campaign but no one can donate me... I think because I am not American, Canadian or German.....
Now I've thought of relying on Steemit because everyone here has believed in freedom like me and believe in peace like me and can help restore my son's life.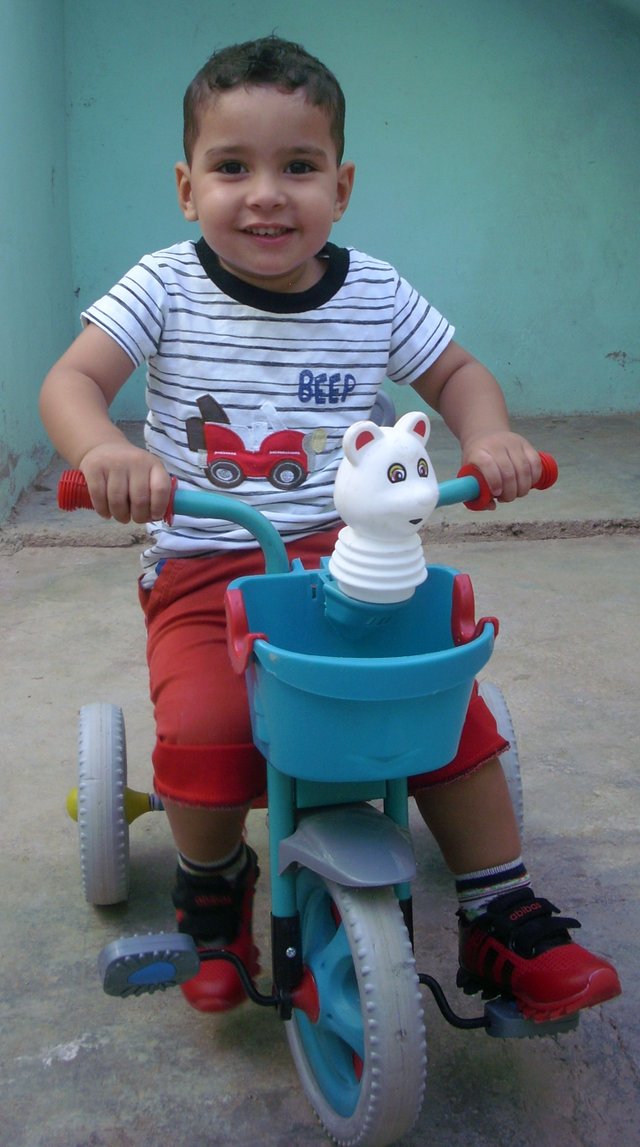 ---
To help Mousaab:
---
---
---
paypal : Yagoub_d@outlook.com
Bitcoin : 13EhVj4QUSPfKL3agJqaMKTmgKpe1AKnjZ
---
Ether : 0xeeBa3b203B8E911309148983f59e454090dffAc6
---
Bitcoin cash : qqvgwan6ux7fltaaezqrzz43ucfk3vw6cqggqrqq24
---