img
In general there are 6 different types of sugars found in modern day foods. Some of these are much more unhealthy than the rest :
Fructose - The main sugar found in fruits, easy to remember because of the name. This sugar isn't bad for you because it comes with fiber and nutrients also found in the fruit. The problem is once its refined, its just highly concentrated sugar, this is where people get confused and think its still the healthy sugar with the goodness from the fruit.

Glucose - Most people have heard of this. This is the sugar found in your blood, which is biochemically the same as Dextrose - which is also Glucose but made from corn artificially.

Lactose - These are the sugar's found naturally in Dairy products like milk and yogurts

Maltose - Believe it our not this is sugar from grains, and contains no Fructose, which could be a better sugar to use instead of HFCS.

H.F.C.S (High Fructose Corn Syrup) - This is the man made, consisting nearly half sucrose and half fructose. In the USA its an epidemic that not everyone knows of yet sadly of which they eat way to much of causing the huge obesity problems there. Its not the people's fault, its the food supply in America that's available to them.
This is the craziest one that is made for humans consumption, the corn in USA is since years genetically modified and one modification I know of that's happened is that American corn has the sterilizing chemical also built with it that made the second generation of test rats in-sterile. (But that's one for you to go check out).
Sucrose - This is the standard refined sugar we use in sweetening tea that was once pure sugar but was processed, and also it can be found in fruits naturally. We refine Raw sugar and take out the molasses, which can be found in organic food shops and sold at a dear price, leaving the white refined sugar very cheap in every country.
---
For a much high price in the shops, you can buy Sucrose that has been much less refined, or not refined at all - which means it has the fiber at least still from the sugar beet or cane. Commonly this granulated sugar is Brown and different types of brown sugar are all the same sugar, but just with more or less refining procedures - the lighter brown they are the more they were tampered with. Some examples are Demerara Sugar & Turbinado Sugar.
Left - Turbinado Sugar & Right - Demerara Sugar.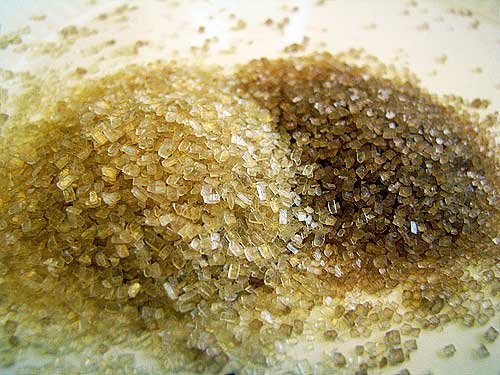 img
You can make your own Brown Sugar and do like company's do to make more profits for healthier sugars from consumers.. Go buy a pot of Molasses and mix some in with standard white refined sugar, and then you have nice smooth brown sugar for a much cheaper price!
---
The Good & The Bad Sugars
The Bad ones that are hidden in foods..
Its quite confusing but can be made quite simple. Today we are eating foods that have seen a machine, instead of staying as they would be naturally. Anything that is ready made, like lasangne for example - a pop it in the oven job - has been processed (made) in a factory. During the processing of it, it has had a lot of added sugar (the lowest of quality) which makes it very bad for us to eat and wont really keep us full for a long period of time.
Bad sugars are what mother nature didn't add in, but what the food company's added in to keep consuming levels high.
---
Good Sugars- found naturally..
These are what nature put in there, and are only good for us because they are joined with nutrients like fiber, vitamins and minerals and also some with antioxidents, which all work together to create goodness for you. Refined sugar has had the goodness taken away from it. They are found in fruits and vegetables and grains.
The browner, the better
We can literally grade sugar by its darkness in colour. White granulated sugar being the worse ever -yes, the one that everyone is using as "normal sugar". Its cheap in every country and its always one of the standard things that you can by in a supermarket in Europe or a shack shop on a dusty African side road - Its everywhere and its affordable.
If you have ever seen the ingredients label for Molasses and other types of darker sugars then you would soon realize that you are just eating the very final waste product left from real sugar, and have been tricked all these years into believe sugar is just that white stuff found in granule or cubed form.
A typical nutrients of mollasas.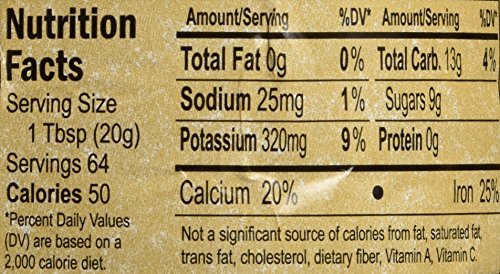 img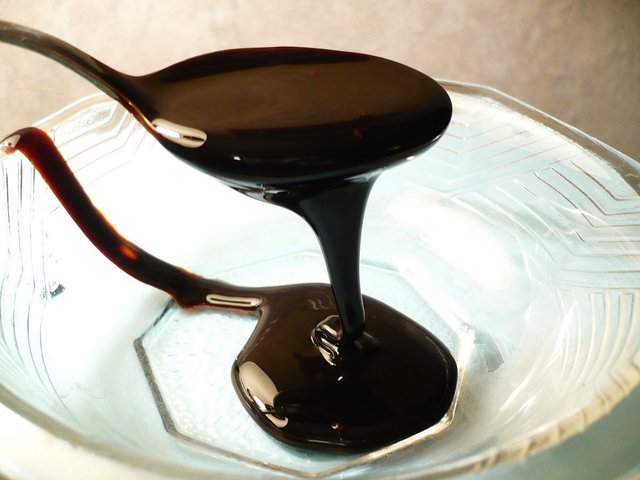 img
Its a thick syrup, the raw form of sugar. You would most likely dislike it as its nothing like you know sugar to be!
Its packed full of goodness and contains hardly any calories, the complete oppersite of your average white sugar.
---
I hope readers will be getting a better overstanding of what the problem is and to try to stop with eating excess sugars. We need to be our true selves and not controlled by the food company's into becoming sick form the added sugars they are adding to our food supply.
This post is part of a series and the last part's can all be found here :
*The Effects of Sugar on Our Mood
---
In the next post, Ill hit upon Daily sugar amounts and the amounts examples of sugar amounts that are added into foods.
Big Love and Abundance