On how I became an social Internet invalid
Hello
I hope you are all doing fine!
I haven't been posting anything online lately, and I thought some sort of explanation would be in order.
Since a child, I've had the condidion of dry skin, or commonly known as atopic exzema.
I was relatively free of any symptoms between early childhood and my teenage years, but when I was 15, I got a rash similar to hives, every time I got a contact with water.
Sadly no-one could precisely tell me what I was affected with, until I turned 18 years of age, when a skin specialist identified it as atopia (weird/dry skin in greek), or so-called atopic exzema.
I have since been hospitalized three times, and subjected to treatments ranging from light therapy and corticosteroids (external and internal) to immunosuppressants like takrolimus salva and orally administered stuff that are normally given to people with organ transplants.
These last years, I've been relatively free of symptoms, but did have a sudden rash last Winter, that was fortunately beaten away with some light therapy and cortisone.
Then, in the last two weeks, this happened: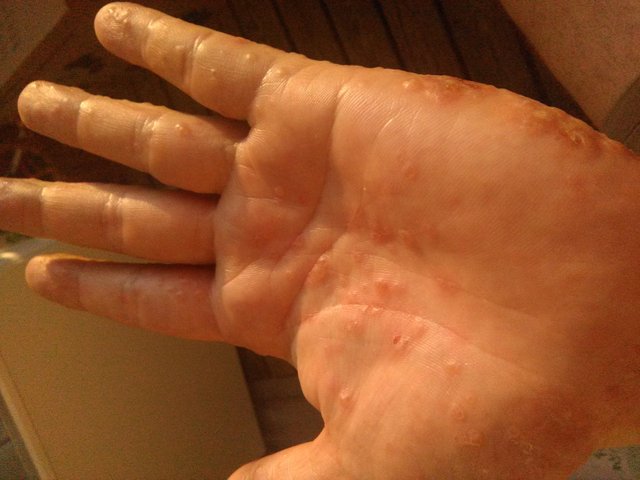 Both my hands are full of, what seem like burn blisters that are itching and burning like hell and when punctured, emit clear liquid, and then just hurt like an open wound.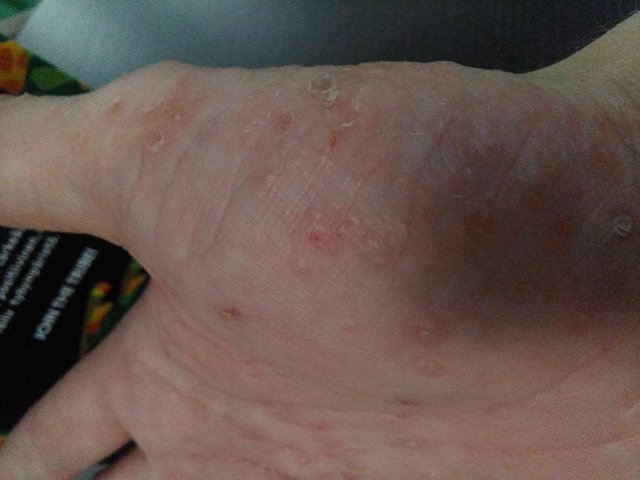 Since my hands, are full of them, I can hardly touch anything. Holding and using a camera, writing on a keyboard, holding a computer mouse all feel very awkward and cause pain, I have had a hard time being very creative, at all.
I hope this will pass. And I also hope I can keep posting... If not daily, maybe weekly, as long this keeps on keeping me from writing and creating new content regularly.
I heard the doctor telling me about a new biological treatment for atopy, but that I wasn't eligible for monetary compensation because I haven't recently been subjected to the immunosuppressants (that may cause cancer). The new treatment is not a cheap one, at 20k€ per year. So I'm kind of SOL there.
I am however going to get some light treatment starting next week. Let's hope that helps. Need to be in full 100% health before next November, as I promised to come to the SteemFEST with Leo.
Anyway, long rant but now I'm off to walk the dog. I am glad Ninnu doesn't pull too much.
See ya later!