🏆 #GooglyPrize 👀 This Week's Winners - Issue No. 115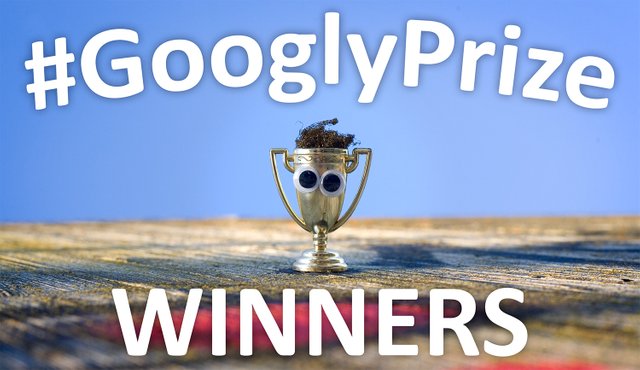 Another delayed edition of the #GooglyPrize.
I really have trouble being on time lately!
Oh my! It's been more than two weeks already since we came together the last time. This makes it the longest delay ever in the glorious googly history of this little award show. I really hope this will have been the worst of it for now.
I intended for this post to go up on Sunday, but then the tribe wallets didn't work until Monday so I couldn't do the necessary math for the prize pool until Tuesday. And now here we are: It's Wednesday.
While shooting the title image I also broke the little trophy that's been posing for us during the past two years or so. Tragic! But no worries, I have a replacement already and we can carry on as if nothing ever happened!
Enough about obstacles and excuses, we're here to have fun!
---
The Prize Pool:
carried over from last week
0.010 SBD, 4.088 STEEM,
5.806 PAL, 23.8541 CCC and 5.06656 PHOTO
in liquid funds
and an available delegation of 568.929 SP
plus
100% of all rewards on last week's winner announcement:
0.000 SBD, 4.656 STEEM, 4.658 SP
8.430 PAL, 22.3462 CCC, 5.41154 PHOTO
PAL, CCC and PHOTO pay their rewards in 50/50 staked and liquid tokens
only the liquid amounts, available for immediate prize-payouts, are noted above
staked tribe-rewards in equal amounts have been added to @googlyeyes' stake
you are welcome to join the discussion on how these funds should be used
share your thoughts on the Planet Googly Discord
and
1.234 STEEM donated by @marty-art
0.100 STEEM donated by @wesphilbin
adding up to:
💰
0.010 SBD, 10.078 STEEM,
14.236 PAL, 46.2003 CCC and 10.47810 PHOTO
in the liquid prize-pool
60% will be given out today, 40% will be carried over into next round!
1st - 30% | 2nd - 20% | 3rd - 10%
and
573.587 SP for delegations!
delegation prizes are exclusive to winners with low stake and good voting manners
 
 
Need more details and numbers about the Prize-Pool? There's a whole spreadheet for you!
---
As always, friends and family on the Planet Googly discord had the opportunity to pick up to three personal favorites from all valid entries made under the #googlyeyes tag since our last winners were announced. Three entries with the most votes win the show.
qualifying posts were submitted by:
@antoniarhuiz, @farm-mom, @prostosun, @steemean,
@cliffblank, @drakernoise and @jjprac
today's guest judges were:
@drakernoise, @krystle, @mathowl,
@qwerrie and @saboin
guest judges can never vote for their own entries
drumroll please...
🥁 HERE ARE OUR WINNERS: 🥁
🥉 Today's 3rd winner is: 🥉
@drakernoise with
"Googlyeyes Pareidolia"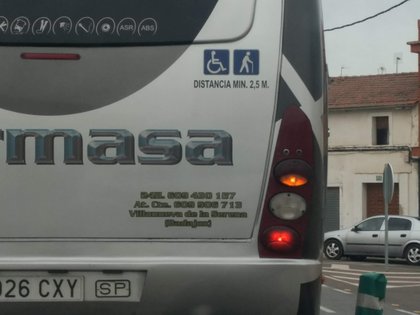 Sometimes #GooglyEyes don't even need to be googly eyes. Pareidolia is at the heart and center of this quirky form of creativity and in a case like this one... yeap... googly indeed!
🥈 The 2nd winner is: 🥈
@prostosun with
"My entry."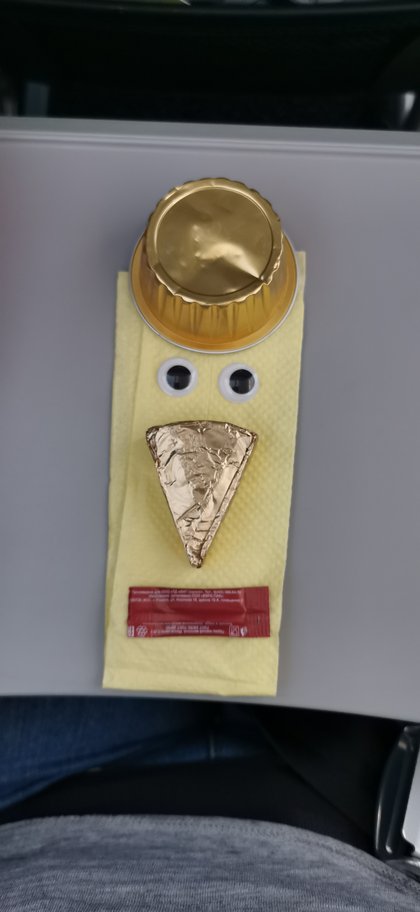 I'm always pleased when new faces make it onto the pedestal here. I mean, yeah, there's always new faces, but this is the first ones brought to us by @prostosun. Using some #GooglyEyes to turn a bland airplane meal into a fun-time feast. Awesome!!
🥇 And Our Grand Winner is: 🥇
@steemean with
"Story about the sad tin can"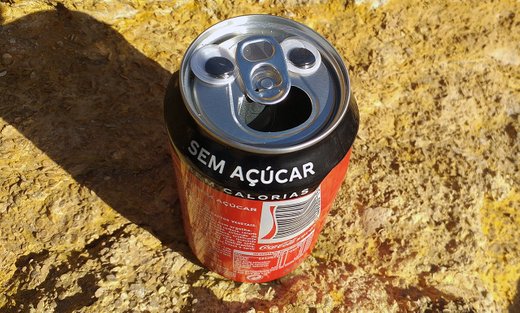 And finally. The grand winner of this show today is Jimbo. @steemean tells a great tale here with a moral to the story, too! Keep the beaches clean and make your googly friends happy!
aaaaand
another drumroll, please
🥁 the Googly-Delegation-Winners are: 🥁
you will receive delegations worth
286.793, 172.076 and 114.717 SP
for at least 9 days.
All of today's winners qualify for their delegation prizes, none of them is filthy rich already and definitely none of them is self-voting too much either. We'll do the regular 50/30/20 split for the delegation pool.
---
prizes are being awarded every 7-8 days
who am I kidding, though, might be up to two weeks ;)
No-Conditions Policy:
No mandatory resteems, upvotes or follows are required!
just:
- get some #GooglyEyes -
- stick them onto something -
- take some pictures -
- make a post with the tag #googlyeyes -
- and it must be one of the 1st five tags -
- post original content and don't spam -
- this is a creative contest and not a lottery -
- show us something special and post with passion -
More Winners Every Week!
The prize-pool for the next issue already contains:
liquid funds of 0.007 SBD, 4.031 STEEM,
5.696 PAL, 18.4803 CCC and 4.19124 PHOTO
and 560.274 SP for delegations
and
as always,
100% of ALL rewards on THIS POST!
Want to learn more about this contest? Read:
A brief History, some Updates and a few Tips for Winning
Have more questions or just want to hang out? Join:
Planet Googly on Discord
---
bonus image: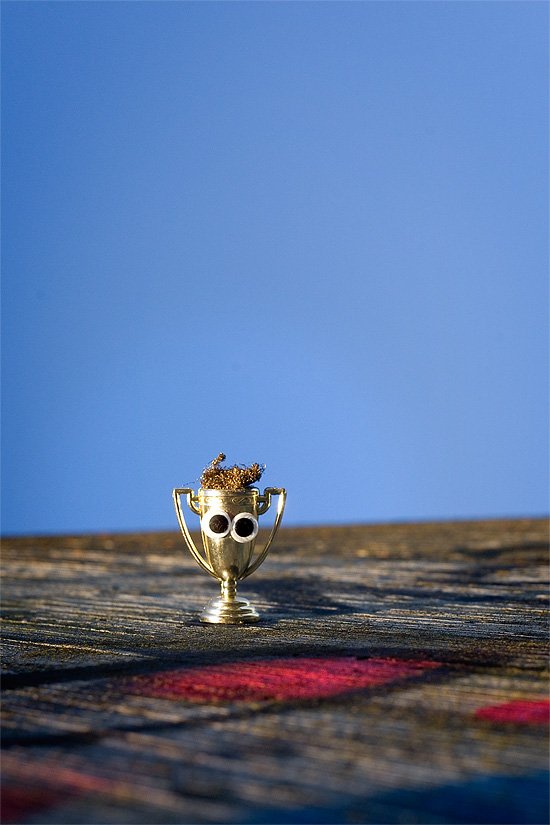 tragedy struck after this image was taken, the googlyprize will never be the same again
---
My special appreciation goes to our googly patrons:
@krystle, @ausbitbank, @reggaemuffin and @drakos!
They have been bootstrapping this contest with their ongoing support!
@ausbitbank & @drakos are also running as witnesses,
show them some love by giving them your approval!
More shoutouts go to @perepilichnyy, @smallearth, @gungunkrishu, @schlees, @suesa, @ew-and-patterns, @thecryptodrive, @saboin, @droida, @steemean, @megadrive, @steemseph, @mathowl, @kamikaze, @farm-mom, @charlie777pt, @marblely, @jasonbu, @arcange, @ewkaw, @furious-one, @yeaho, @drakernoise, @jamerussell, @shasta, @healthdear, @actisam, @krakonos, @lordvdr, @prostosun, @schlooster, @bashadow, @insaneworks, @sparkesy43, @monster-one, @debo-medstudent, @satren, @yaraha, @cryptomancer, @apsu, @artemisa7, @okkiedot, @xcountytravelers, @antoniarhuiz, @bubbleburst, @bucipuci, @samic, @marty-art, @fortune-master, @rubberhose, @upyournose, @glitterbooster, @gweern, @cuddlekitten, @robofox, @wallvater, @yo-yo, @pixelfan, @marblesz, @borbina, @brickmanbrad, @crimo, @lukasmining, @iovoccae, @steemlandia, @omstavan, @shadowmask, @misschance, @newbiegames, @thomasgift, @raili, @nako1337, @sharelovenothate, @soundworks, @caturday.curator, @alafaqueyou, @i-c-e, @steem.dach, @raorac, @retard-gamer-de, @oopsie-poopsie, @reversehitler88, @ikarus56, @sanamabeetch, @isaria-ccc, @raphaelle, @pal-isaria, @mblain, @funlands, @pixresteemer, @bcm.pal, @filebot, @rockface, @schnitte, @linkerstinker, @tokengesture, @mytunes, @pal.alfa, @canhoch, @capx, @nurah, @rmsfitness, @toni.ccc, @tomhall.pal, @techken, @iedot, @arsadulislam, @orbo, @kingnosa, @roknavy, @toni.pal, @creavoter, @themuffinman, @laissez-faire, @filipino, @shahabudin, @johannpiber.ccc, @cerd26, @mohaaking, @changeangels, @toni.photo, @raise-me-up and @vaccinusveritas for upvoting last week's announcement and thereby helping to fund this awesome award!!
---
everything is better with #GooglyEyes
Your upvote on this post is funding next week's prize!