🏆 #GooglyPrize 👀 Prize-Pool Balance Sheet - Transparency for a "104.21% fair" contest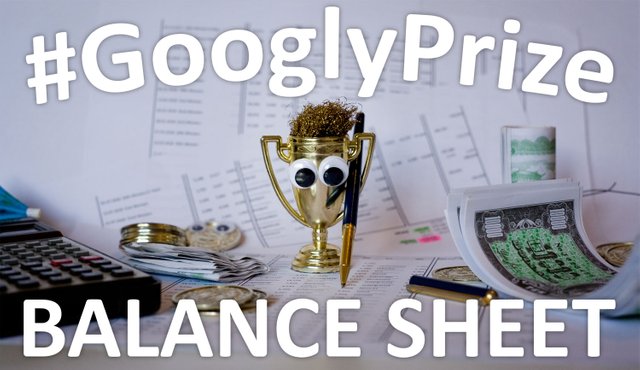 Such numbers, many wow, very spreadsheet!
The #GooglyPrize was started with a simple goal: To bring life to the tag #GooglyEyes. And with it came the commitment to use the entirety of all funds generated through running this contest to reward the community that was forming around it.
If you're new here and you'd like to learn more about what this is all about and how it came to be, here's an old post to fill you in.
Those of you who have been with us for a while, you know we've been doing this for well over a year now, rewards fluctuate and the economy around steem changes constantly. I'm always trying my best to keep you well informed about the numbers in each new winner announcement, but the drop of the SBD print rate all the way down to 0% has made things a bit confusing as of late.
The SBD-prize-pool calculation has basically become obsolete for the moment and currently all 100% of post rewards are going directly into the delegation fund while we still continue to hand out small cash-prizes from the piggy-bank and through generous donations.
We should see the SBD print-rate come back once HF20 gets activated near the end of this month, but there's no guarantees involved and it might possibly just drop back down again.
Now, in order to make the claim of running a 100%-fair-contest more than just big words, I always like to be fully transparent on the proceeds of your upvotes. But talking about numbers isn't all too exciting and it's been over half a year since the last comprehensive report on the prize-pool-balances was issued. We are going to change that now!
Your Upvotes are Funding this Show!
and you deserve to know where that money goes
I've been keeping track of things locally all this while, and technically anyone can audit the contest through all the data that's on the blockchain already, but that's not really being transparent, is it?
Yeah, that was a rhetorical question, of course it isn't.
That's why I've decided to publish a google spreadsheet containing all the historical records and calculations for the prize-pool for anyone to view.
The table is pretty extensive, it contains links to all the winner posts ever and all the numbers you could think of... and then probably some more.
I'm afraid it might not be perfectly intuitive to read on it's own but please feel free to ask me on Discord or in the comments if something doesn't make sense to you. I'll keep the sheet updated as we go and I may try to improve it's readability along the way.
For starters, here's the gist of it:
#GooglyPrize Balance Sheet Key Figures
The bottom line calculations as found in the spreadsheet.
And in case you want to cross-check those, find the field coordinates in brackets. out of date
| STEEM | earned | used |
| --- | --- | --- |
| STEEM rewards (G126) | 43.035 | |
| SP rewards (H126) | 365.82 | |
| delegation pool 1 (W126) | | 214.196 |
| delegation pool 2 (X126) | | 194.658 |
| total STEEM rewards earned (H130) | 408.854 | |
| SP used in delegation-pools (X130) | | 408.854 |
So, indeed, 100% of all STEEM tokens earned with the contest are being used to run the pool for the weekly delegations to our winners.
| SBD | earned | used |
| --- | --- | --- |
| SBD rewards (F126) | 733.490 | |
| SBD sponsored by kind souls (AB126) | 18.318 | |
| SBD paid out in cash-prizes (Q130) | | 628.911 |
| SBD invested in paid upvotes (S126) | | 145.569 |
| SBD used for bonus prizes (AE126) | | 9.000 |
| total available SBD (AB130) | 751.811 | |
| total SBD expenses (AE130) | | 783.478 |
Well, and that shows how we've been using even more than just the total SBD rewards to run this show. And it also means that we can claim to run this contest, not just 100% fair, but in fact 104.21% fair now... chuckles
Credit where credit is due.
Because YOU are making this a success!
I'm stoked to see how this contest has been able to create a friendly little community around the #GooglyEyes tag. The diversity of expression and creativity that's being presented here along with the uplifting spirit of goooglyness from all around the world is pure bliss.
My biggest appreciation goes to those who keep sharing their googly creations, their googly brainfarts and their googly creatures with us, those who are able to make anything better with a pair of #GooglyEyes .
And I also want to thank each an everyone who engages with these posts and even those who just keep lurking and supporting the show silently.
Theres also a few particularly generous souls who have directly donated to the prize-pool, so I must mention the likes of @marty-art, @bucipuci, @niko3d and last but not least of course @krystle who helped to start this whole thing with her 10SBD that were given away in the very 1st issue of the #GooglyPrize.
Then, I know I'm already shilling for them in every single post, but let's be honest, an overwhelmingly large portion of the prize-pool has been generated through the continuous support by two kind steem-witnesses who believe in making the blockchain a bit googlier with genuine, creative, original content is a good thing.
You know who I am talking about, @ausbitbank and @reggeamuffin. I'm kind of putting my words into their votes here, but I believe they would approve of this message. If you approve as well, why not go and actually give them your approval for witnesses, too.
THANK YOU ALL.
That's it for now, we'll see what the future holds and how we'll manage to deal with the ongoing SBD shortage. In the meantime we're running a little experiment with giving away SBI shares along with small cash prizes along the delegations. We'll have to stop using SP and STEEM exclusively for the delegation fund soon in order to sustain some liquid prize money and permanent rewards for our winners.
I'll keep you all updated on that and I'll appreciate to hear your thoughts and opinions in the comments or over on the Planet Googly Discord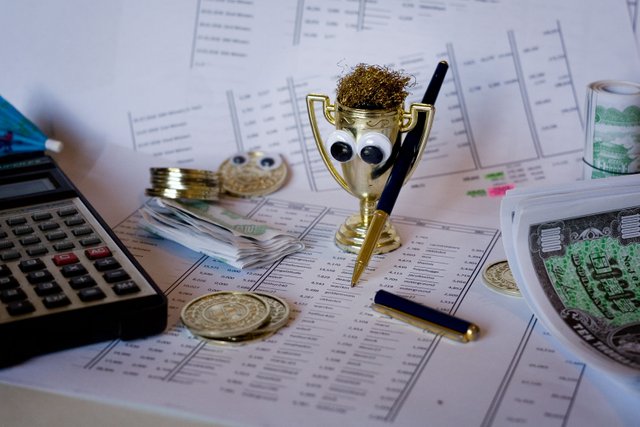 everything is better with #GooglyEyes
even spreadsheets!
New winners for Issue No 58 will be selected tomorrow!
What are you waiting for?
Join the fun and post your #GooglyEyes right now!