Part 1, Part 2, Part 3, Part 4, Part 5
Traditionally, the understanding of the relationship between resources and conflict is an acquisitive one. Wars are fought over resources. Athens fought its wars of conquest to get more timber once it had run out. Rome kept expanding because it consumed more than it produced. So on and so forth. Over the past couple of decades, however, that understanding of conflict has been challenged by a very distinct type of resource- the conflinct resources, as best exemplified by the blood diamond.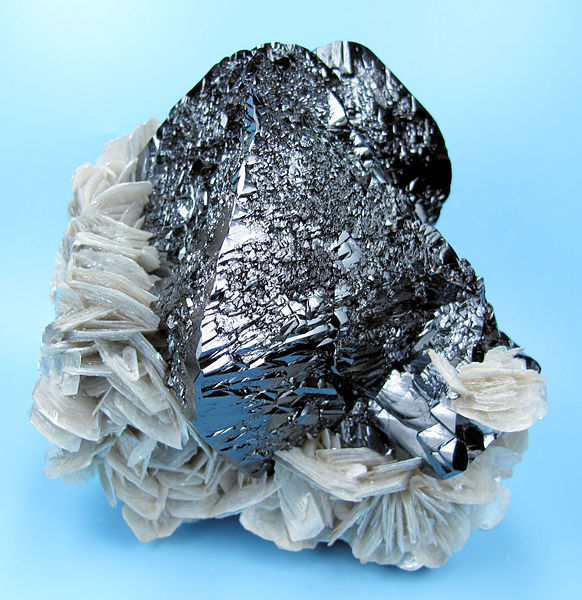 Cassiterite, the primary ore we obtain tin from, both today and stretching back to antiquity. Cassiterite is one of the primary conflict minerals. The tin from cassiterite is used for everything from tin cans to solder for circuit boards. The cassiterite deposits in the Democratic Republic of the Congo was a major cause of the decades-long conflict there. This particular sample has muscovite crystals growing on it. [Image source]
Conflict minerals are mined in, as the name suggests, conflict zones. They're then sold for the express purpose of supporting the war efforts of one side or another in the conflict. This is pretty clearly a major change from that more traditional understanding of resources and conflict.
There are six primary geological conflict resources- cassiterite, tin, wolframite, coltan, gold, diamonds, and oil. While there are plenty of other in-demand resources, none are so dependent upon conflict areas as these six. The first four are the ones properly referred to as conflict minerals, but all clearly fit in a similar category. All of the above, when present in a region undergoing a serious conflict, have the ability to prolong and worsen said conflict.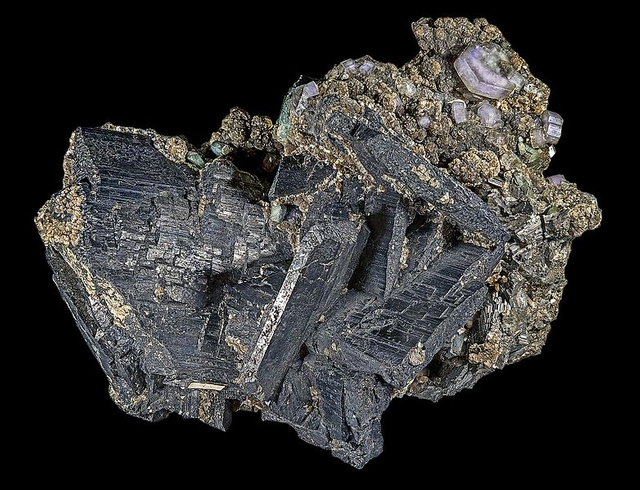 Wolframite, the world's primary source of tungsten along with scheelite. While 60% of the world's wolframite deposits are found in China, it's also found heavily in the Democratic Republic of the Congo, where it was a major cause of the conflict there. [Image source]
Many of our most serious conflict mineral examples are found in Africa. The Democratic Republic of the Congo is the site of the most serious conflict mineral related conflict- coltan, wolframite, and cassiterite are all found there and contribute to the decades of brutal conflict. Gold ore, however, is also found there, and is by far the largest contributor to both causing and extending the conflicts. The Democratic Republic of Congo lacks an exclusive claim to conflict minerals, of course- conflict minerals are found across Africa and much of the rest of the developing world. It's a depressingly wide-spread problem. If you include non-mineralogical conflict resources, it expands even farther. Cocaine, for instance, could easily be understood as a conflict resource in many senses.
Thankfully, there are some relatively easier solutions for dealing with the geological conflict resources than some of the others. Take blood diamonds, for example: Forcing companies to have full evidence of their supply chain, for instance, is a strategy that a number of nations, including the United States and European Union, have adopted. Many nations also ban the importation of any diamonds from many states, like Sierra Leone, that supply lots of blood diamonds.They're not foolproof methods, however, and quite a few blood diamonds manage to slip into the supply chain. There's always an official happy to be bribed somewhere. You should never, ever purchase diamonds online- it's one of the primary ways in which blood diamonds sneak into the consumer market. (Really, you shouldn't buy diamonds at all- they're boring, and their value only comes from their artificially enforced scarcity- we literally have several times the liquid supply of diamonds in storage.)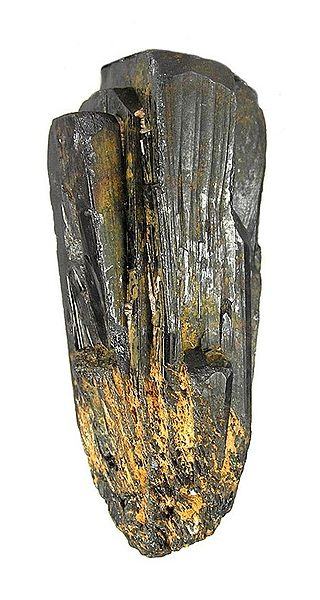 A chunk of coltan, the ore from which niobium and tantalum are extracted. Tantalum is used for capacitors and electric car batteries. (Your videogame consoles quite likely have conflict tantalum in them, fun!) Niobium is used in superconductors. Coltan is, like all the others, involved in the Congo conflict, among others. [Image source]
Conflict minerals fundamentally result from four causes. First, our society's unending obsession with growth. The basic economic theory of modern civilization is one of constant growth. In order to fuel that growth, resource acquisition must always increase. Second, the fact that resources are distributed unevenly around the world. This seems obvious in some senses, but it's an important idea- the resources a country is fated with, essentially by chance, determine much of its future success. Third, we have a depressing tendency to not want to look a gift horse in the mouth, even when said mouth might contain ethnic cleansing or other brutal internecine conflict. Finally, we have the tendency of humans today to export their problems elsewhere. This comes from a lot of places- you don't want a mine in your backyard, labor is cheaper in developing nations, environmental regulations are almost nonexistent in said nations. Japan is often lauded for its excellent forest conservation, for instance- but that comes at the cost of exporting deforestation to tropical third world nations. We'll definitely talk more about that in a later post in this series, but for now, the conclusion you should be drawing from these causes? The developed world bears most of the responsibility for conflict resources in developing nations.
---
Bibliography: