I was encouraged by my sister @crazymum to take on this challenge as she knows I am a keen gardener . I am keen but I am still a novice.
When my children were much younger I did gardening with them. We planted carrots, lettuce, tomatoes and runner beans. It was fun! We are so lucky to have a large garden to allow us to do just that!
The golden gage tree which bore us abundant juicy golden gage fruits. The fruits used to drop to the ground and we'd ignore them. We didn't realise they were edible until 11 years after!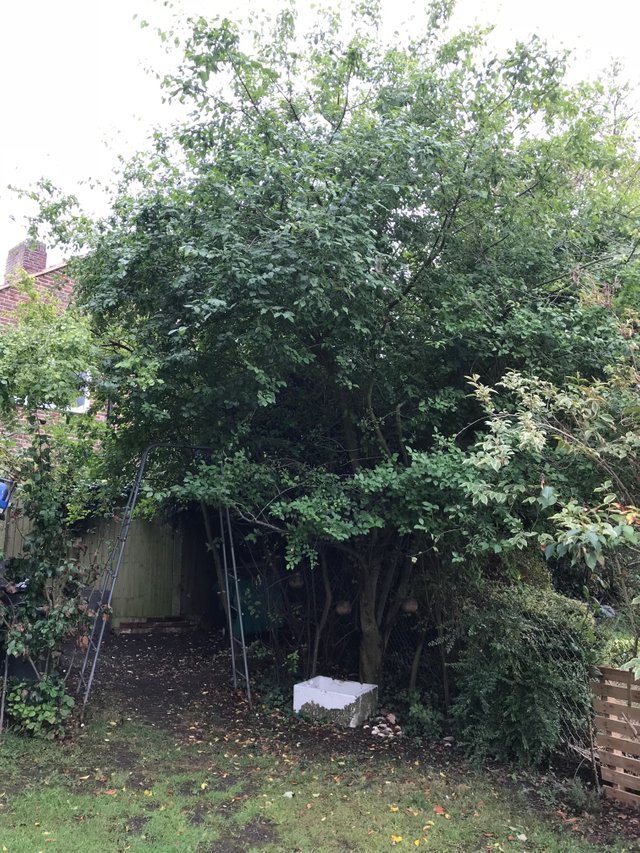 Below is a photograph of the three variety apple tree we planted more than 10 years ago gave us only one type of apple. It produced a few apples, not much.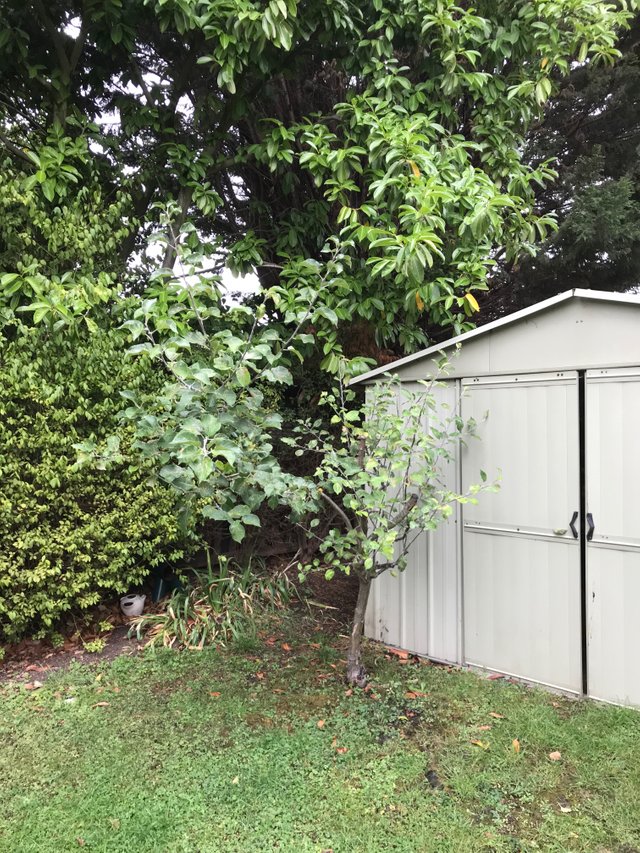 We got this dwarf apple variety to help pollinate the first apple tree. So far it has provided us with some apples but has been no help at all to the first apple tree. This year has been difficult for the second apple tree as we've had a very dry spell.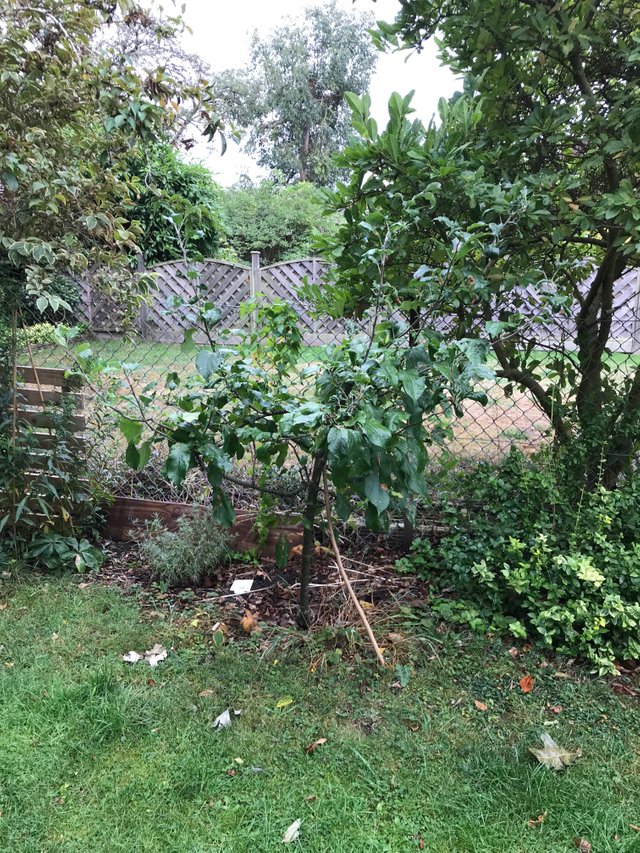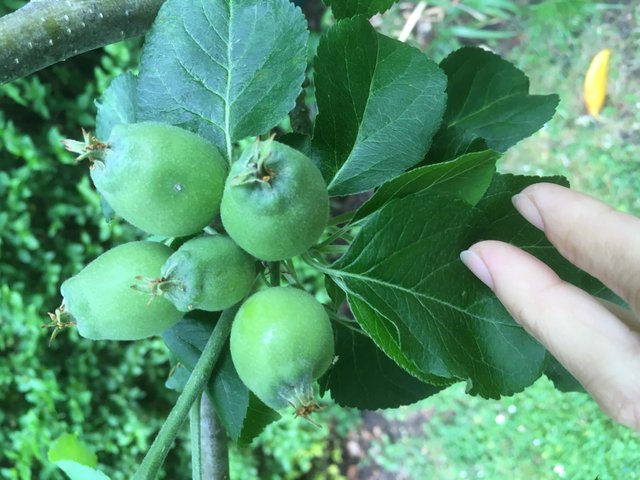 Our conference pear tree has proven to be quite challenging. It's flowered and fruited but at the end of the day the squirrels get them so I've only had probably 2 pears from its 8 years with us. The second picture shows disease on the leaves. I hacked it quite viciously after autumn. It grew back healthy but this is what happens every time and I haven't a clue, even by googling, what causes this!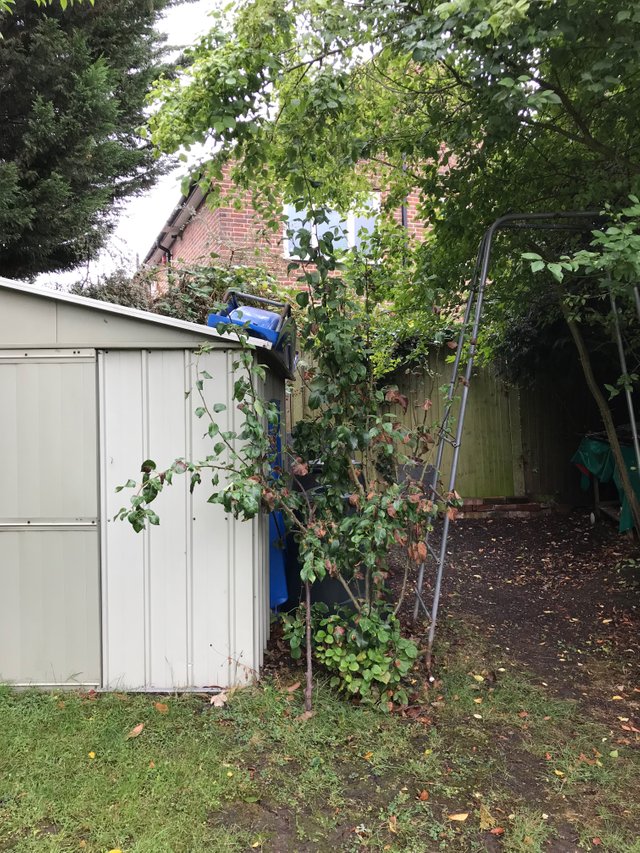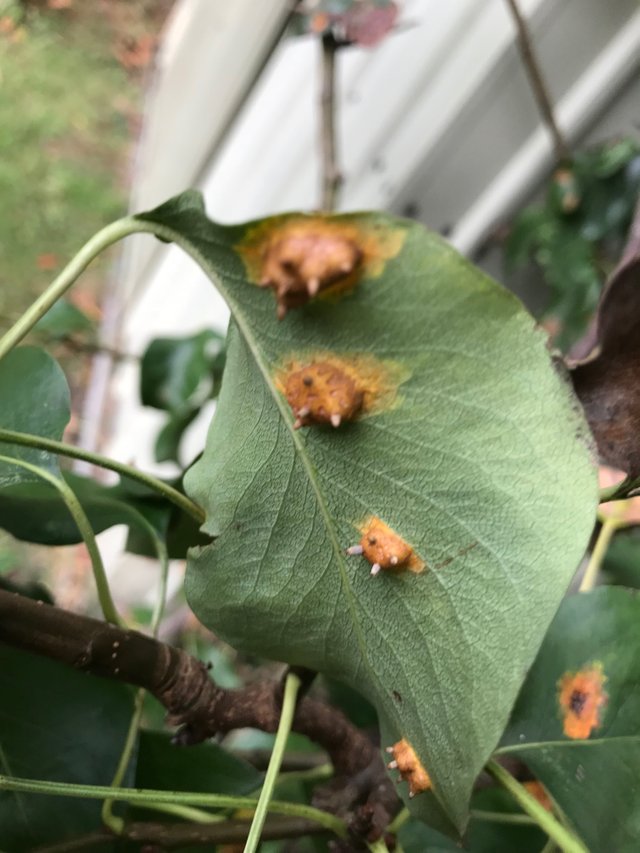 When our patio was laid 8 years ago by a cowboy builder he made such a mess of it. When the last patio installers ripped the old one up he discovered my beautiful Indian slates were laid upside down! sigh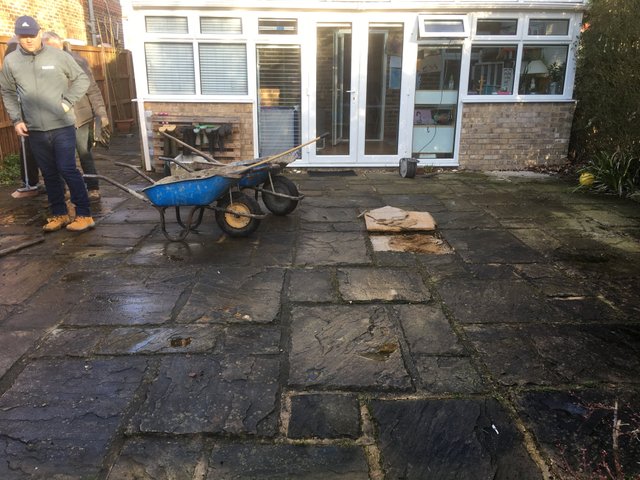 So in April of this year when the patio was relaid, I requested for a patio to end a few inches away from the fence so I could plant in it.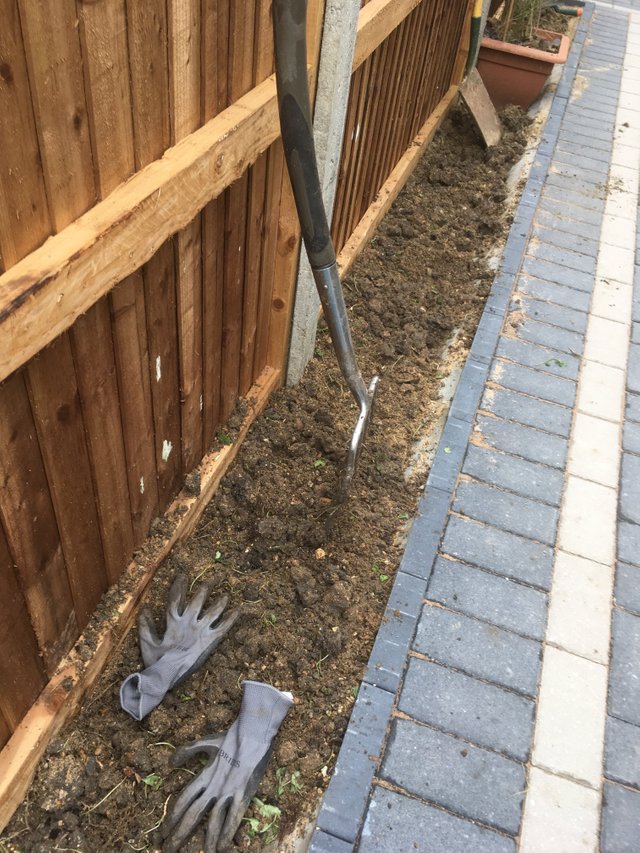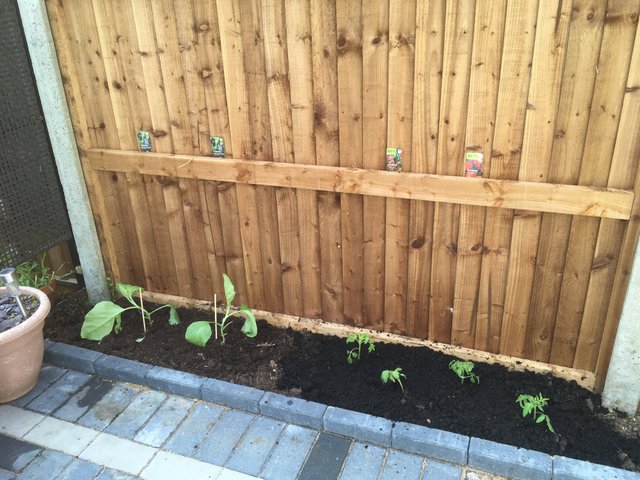 This year I was ambitious! Roll on many many years later, after a long absence from gardening due to work and other commitments, I'm back!
This was the state of my vegetable patch upon my return from Malaysia after 5 weeks. My daughter and a house sitter helped me to water them.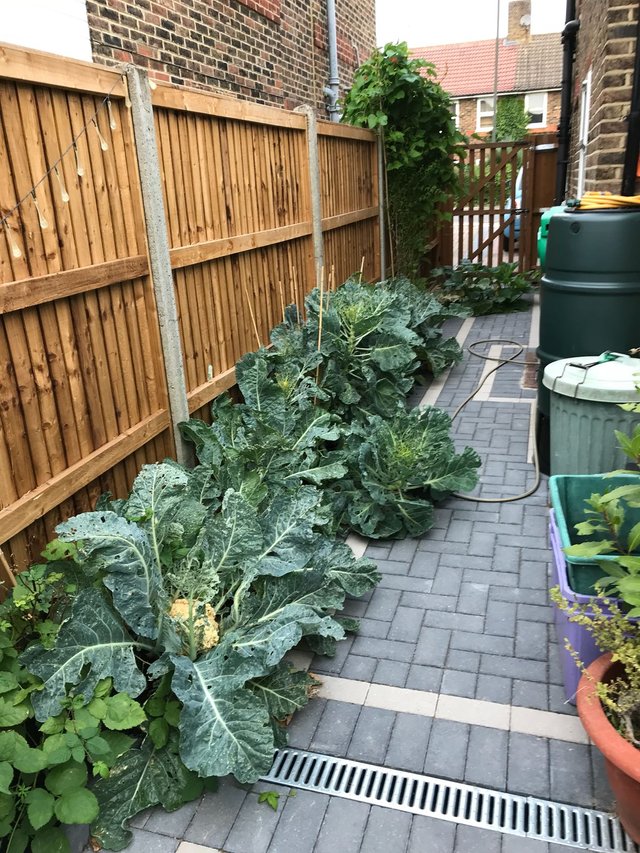 My yellow courgette plant was overgrown so I propped it up. I weaved a bamboo stick through it to prop it up as it was quite fragile & prickly to move.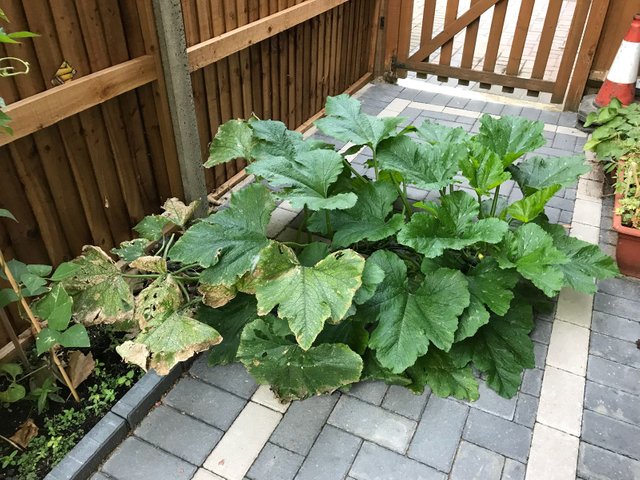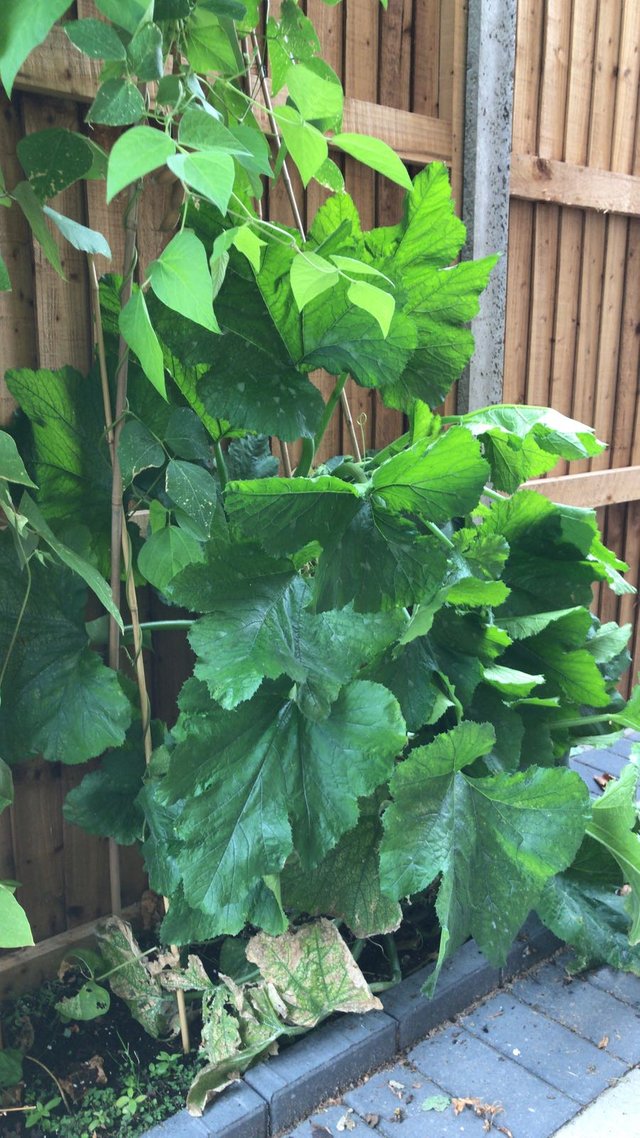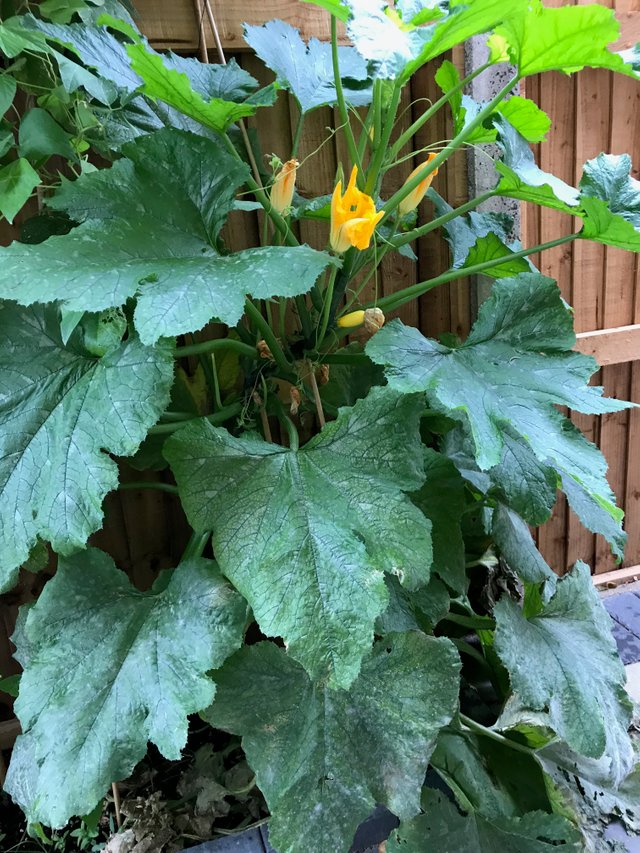 My tomato plants were so overgrown and grew in all directions. I had to sort out that out too!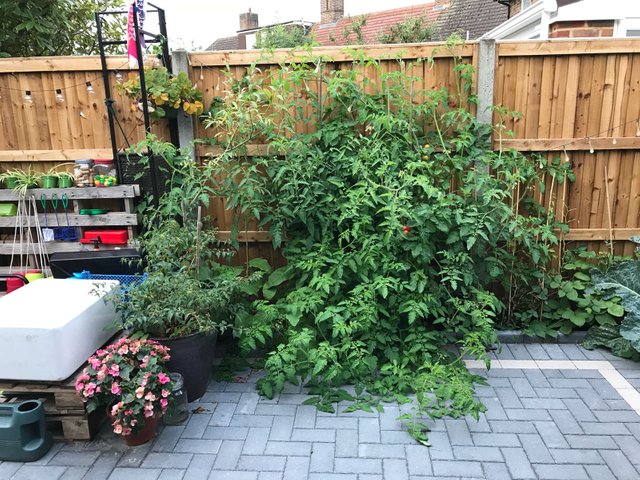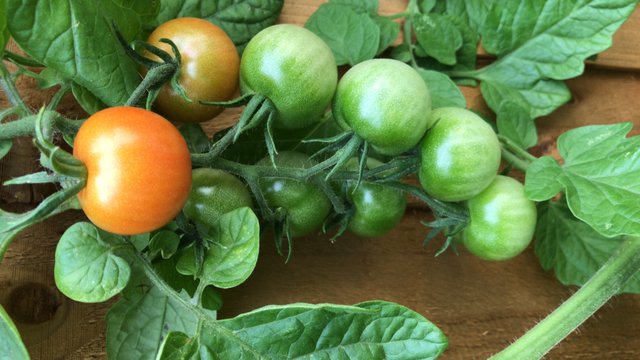 My runner beans have been doing well and are growing rampant! They have been doing well but I think I harvested them too late as the beans were quite tough to chew. I am thankful my family are not fussy with food!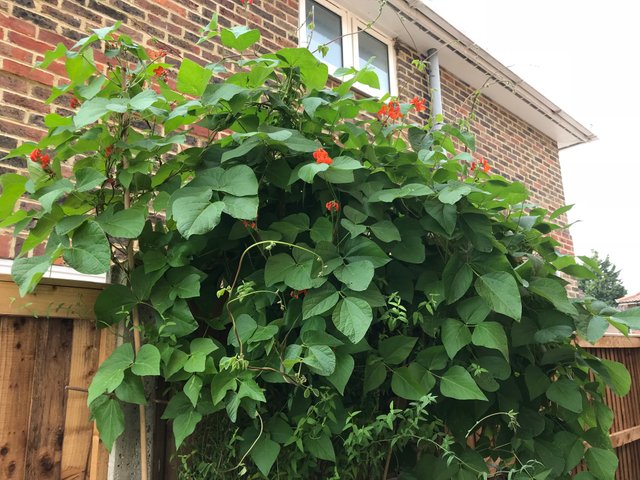 This is the first time I'm growing brussel sprouts! They were on sale! I don't think they are doing too well but I don't think they're doing bad either.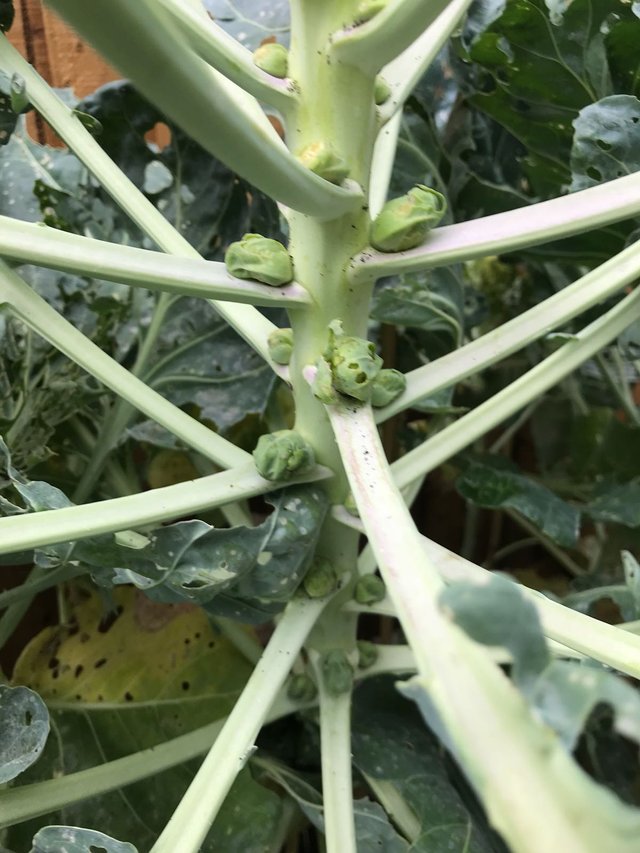 My poor cauliflowers! They were so beautiful and so precious but 5 weeks of me being away proved too stressful for them. They were infested by caterpillars! We actually picked the caterpillars out by hand, placed them in a container, fed them and they actually turned into butterflies which we released. They came back to feed and lay eggs on my vegetable patch! But of course! That's when I patiently picked them out by hand and fed them to the birds!!! Good riddance!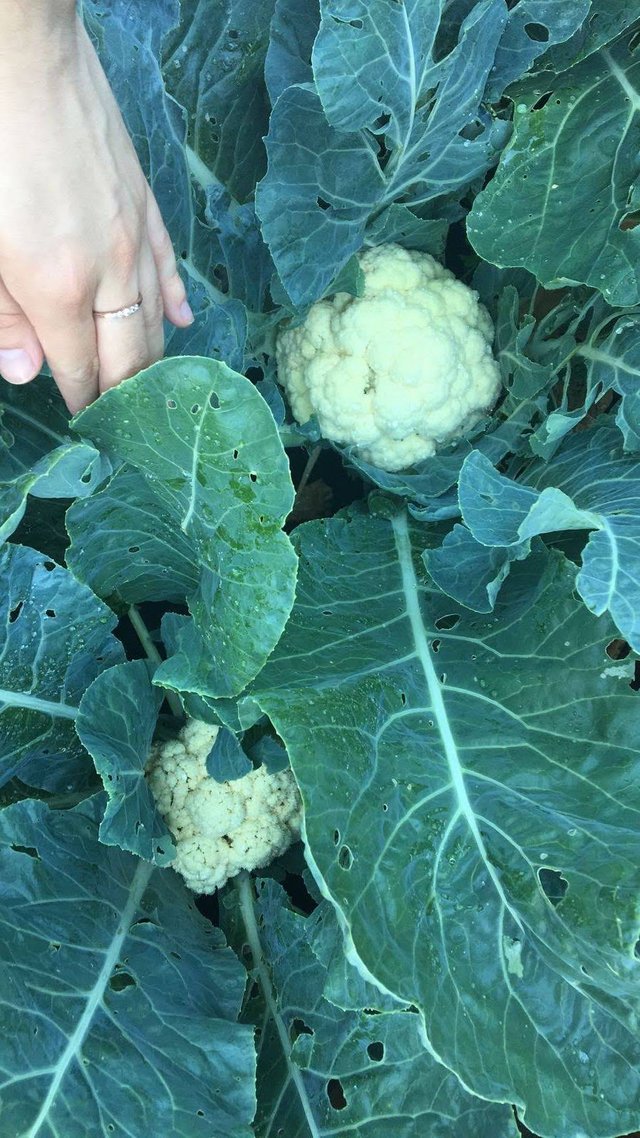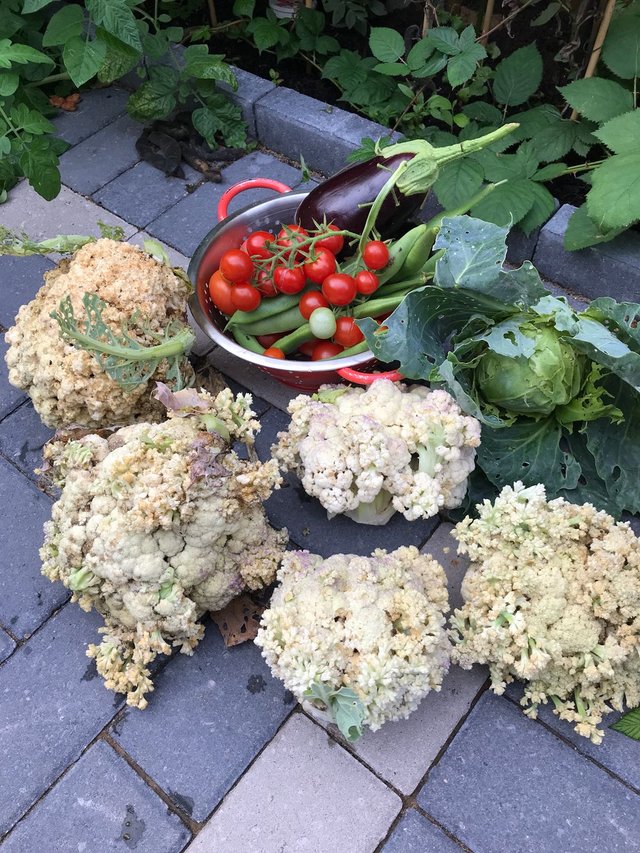 Who knew that cabbage ravaged by caterpillars could be so beautiful! Bye bye cabbage....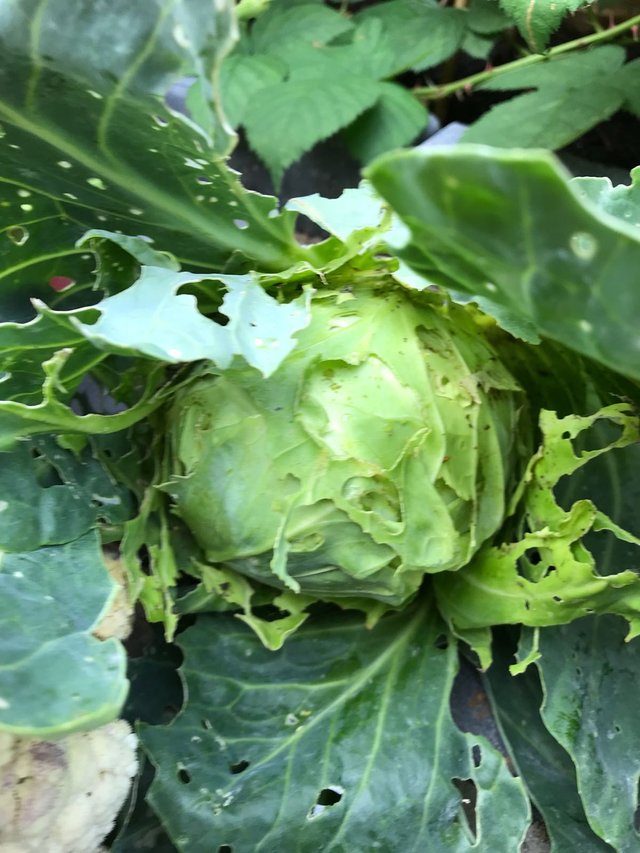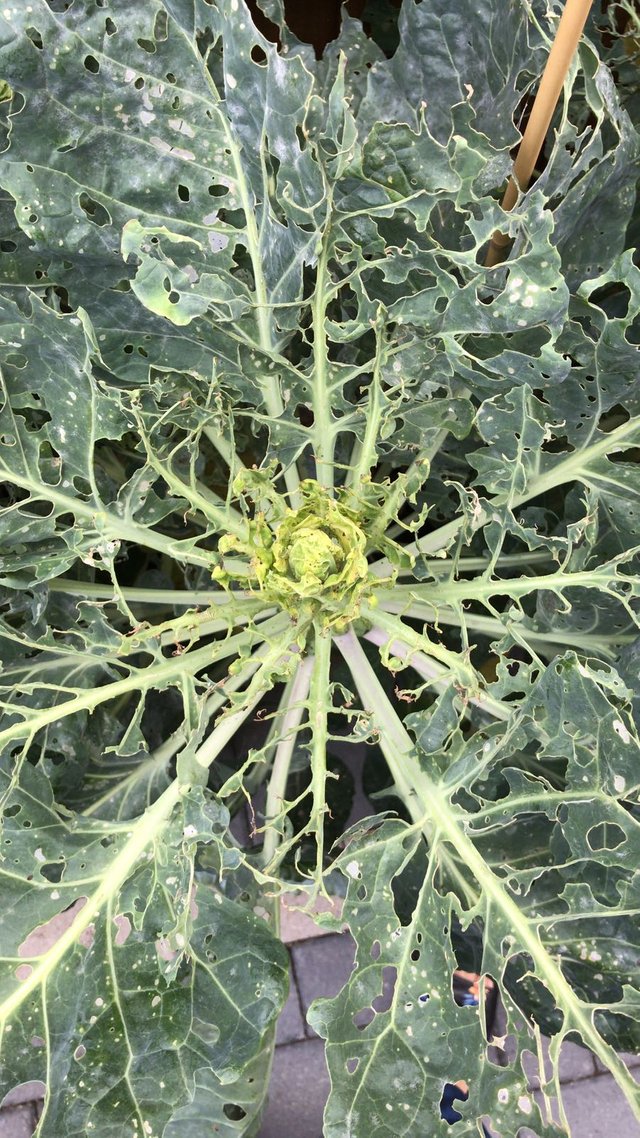 Chillies that were grown from seeds that were given to patrons of Wahaca, a Mexican diner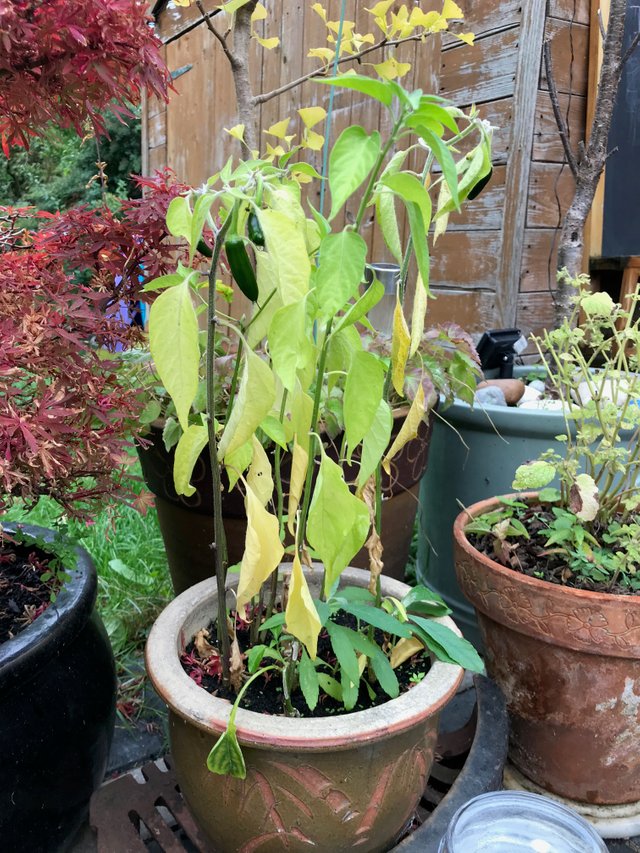 Strawberries which failed to produce last year but provided this year in abundance!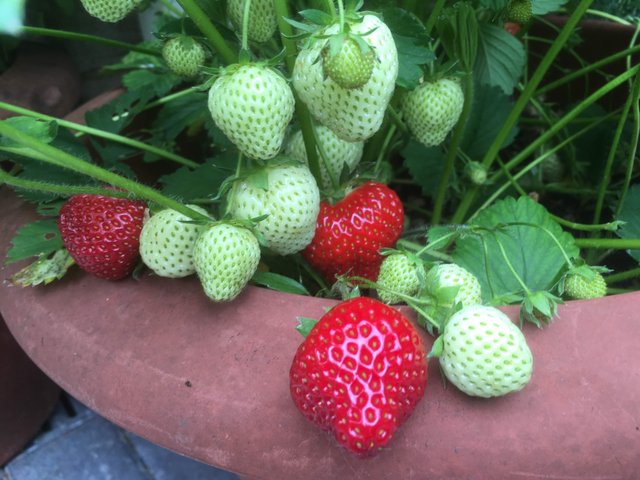 Garlic flower which I took from my husband's uncle's garden in Ireland about 10 years ago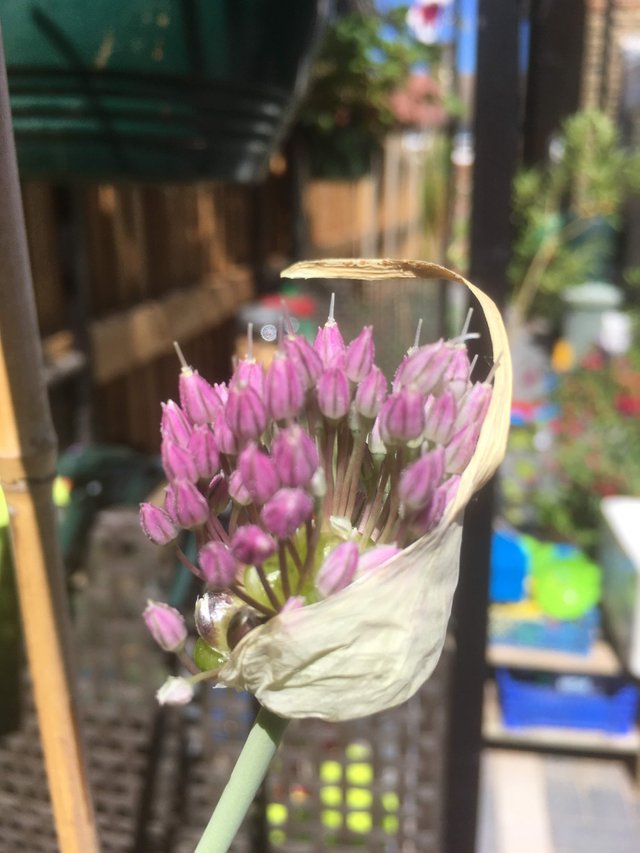 Two dwarf apple trees I acquired free from someone from a community site.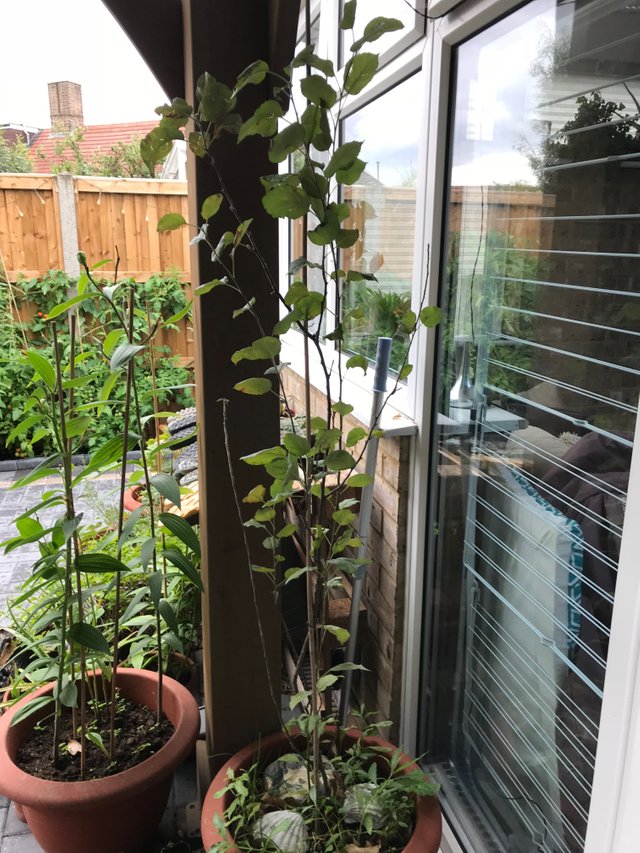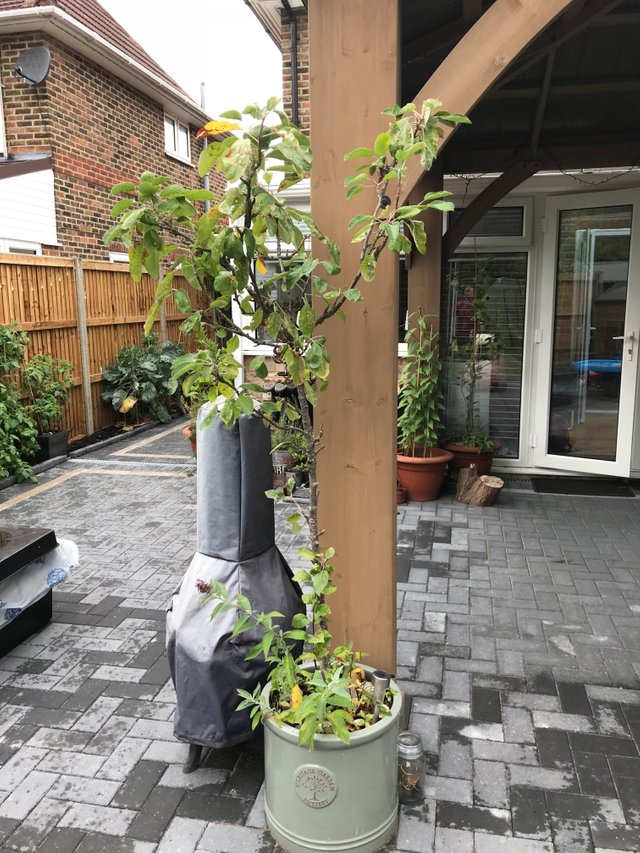 See that dead tree on the right? That was a miniature cherry tree that was given to me by the same lady who gave me those apple trees. I think it's dead but I'm hoping I'm wrong. If it is I shall replace it with an olive tree.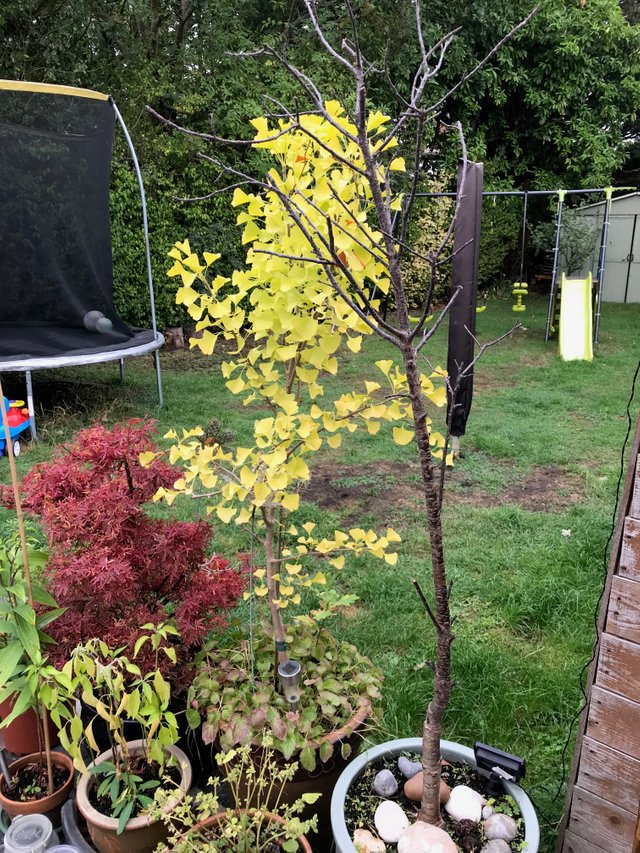 On the plus side I have avocados growing from seed. I planted the seeds straight into soil and forgot all about them. While moving some plants around I discovered them! Hurrah! I had painstakingly grown one by suspending it in a cup of water using 4 toothpicks and then potting it into soil. A discovery via Pinterest! Unfortunately it was destroyed by a... yes! squirrel!!!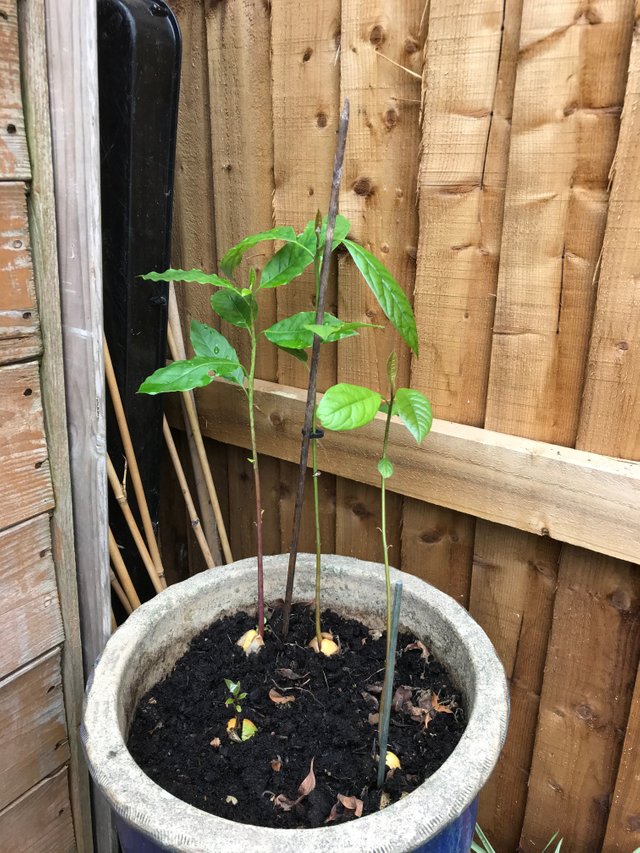 Oh my goodness! I almost forgot to show you my little herb patch. Here I have bay leaves, lemon mint, rosemary, peppermint & aloe vera. And that sums up my edible garden.