Native to the Mediterranean basin, artichoke has been used for it choleretic and diuretic properties since Ancient Roman times. Traditionally, artichoke was used to treat all types of liver problems and to stimulate liver functions.
Artichoke is choleretic, cholesterol-lowering, aperient and a liver tonic. It's a stimulant, increases bile production and recommended for congestion, nausea and an engorged liver.
An infusion made from artichoke is very bitter, with a tincture being preferable. To make the tincture, the plant's leaves are picked before the flower bud matures.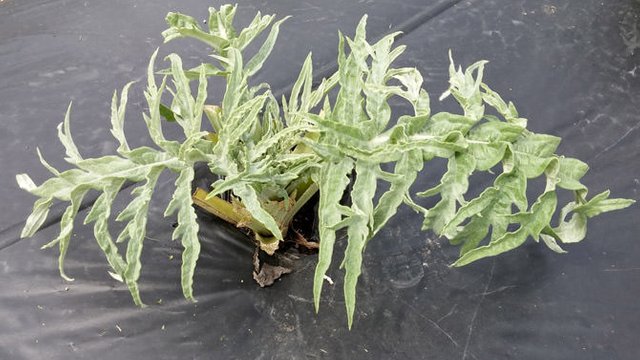 Photo by @krnel
THe scientific name is Cynara cardunculus var. scolymus. It's also known as Alcachofa, Alcaucil, ALE, Artichaut, Artichaut Commun, Artichoke Extract, Artichoke Fruit, Artichoke Leaf, Artichoke Leaf Extract, Artischocke, Cardo, Cardo de Comer, Cardon d'Espagne, Cardoon, Cynara, Cynara cardunculus, Cynara scolymus, Garden Artichoke, Gemuseartischocke, Globe Artichoke, Kardone, Tyosen-Azami.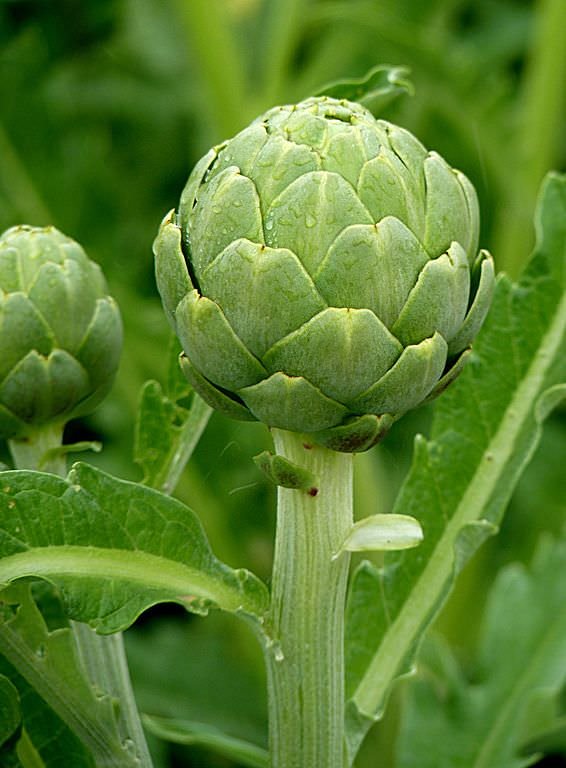 wikimedia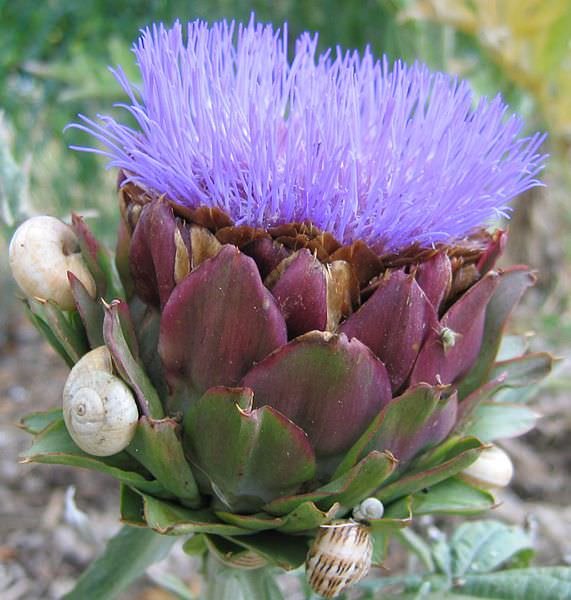 wikimedia
Globe artichoke is not the Jerusalem artichoke (Helianthus tuberosus). Artichoke is a perennial that belongs to the sunflower family (Asteraceae).
Key Points
common food source for thousands of years
important medicinal use for liver and bladder issues
bitter tasting leaves use for medicinal purposes
native to the Mediterranean
History
Homer and Hesiod form the 8th century BC mention artichoke in gardens. The Ancient Greeks and Romans have used it as a food source. Pliny the Elder grew the plant in Carthage and Cordoba. It's found in North African excavation Roman-period Mons Claudianus in Egypt. It's use has reached from Italy to Spain in Roman times. the Dutch introduced artichoke to England in the 16th century.
Where is it found?
It's native the Mediterranean area, but has been introduced into the southern US and can be grown elsewhere where it hasn't spread into the wild like those of temperate and subtropical climates such as France, Italy, Spain, Belgium, California and South Africa. It can be propagated by seed or better yet by cuttings from the rootstock.
What's it used for?
All but the roots have been used as a source of food. The flower buds are used before the flower opens, eaten raw or cooked, but usually boiled before eating. The base of each bract leading to the flowers is eaten as artichokes hearts. Flowering stems have a sweet nutty flavor. Artichoke leaves and extracts have been used to flavor beverages.
In recent years, artichoke has become more important as a medicinal herb with the discovery of cynarin. Cynarin is a bitter tasting compound that improves live and gall bladder functions, stimulating the secretion of digestive juices like bile to the liver, and lowers blood cholesterol levels. It's also used for irritable bowel syndrome (IBS), kidney problems, anemia, fluid retention (edema), arthritis, bladder infections, and liver problems including hepatitis C.
Leaves are anticholesterolemic, antirheumatic, cholagogue, digestive, diuretic, hypoglycaemic and lithontripic. They are used to treat chronic liver and gall bladder diseases, jaundice, hepatitis, arteriosclerosis and the early stages of late-onset diabetes.
Some people have treated snakebites with artichoke, as well as preventing gallstones, lowering blood pressure, lowering blood sugar, to increase urine flow, and as a tonic or stimulant.
Are there any risks?
Eating and medicinal use for up to 23 months has been researched as safe. Some people can experience side effects like gas, upset stomach, and diarrhea. Those allergic to the Asteraceae/Compositae family of plants like ragweed, chrysanthemums, marigolds, daisies, and many others might also experience allergic reactions to artichoke due to lactones.
It might worsen bile duct obstruction by increasing bile flow. Those with bile conditions should talk with a doctor first before using. Gallstones might become worse due to the increased bile flow as well.
---
References:
---
Previous posts on Getting to Know Herbs:
Butterfly Weed / Pleurisy Root | Joe-Pye Weed / Gravel Root | Valerian | Malva/Mallow | Boneset | Elecampane | Lungwort | Cramp Bark | Motherwort | Common Plantain | Eleuthero (Siberian ginseng) | Black Cohosh | Common Bearberry | Mahonia Mountain Grape (Oregon Grape) | Blue Cohosh | Goldenseal
---
Thank you for your time and attention. Peace.
---
If you appreciate and value the content, please consider: Upvoting, Sharing or Reblogging below.


me for more content to come!
---
My goal is to share knowledge, truth and moral understanding in order to help change the world for the better. If you appreciate and value what I do, please consider supporting me as a Steem Witness by voting for me at the bottom of the Witness page.