A powerful antiseptic and bitter tonic, goldenseal is used as a shock treatment for all types of infections. This plant is now an endangered species due to overharvesting in the wild. Tinctures made of the roots and rhizomes are harvested in the fall.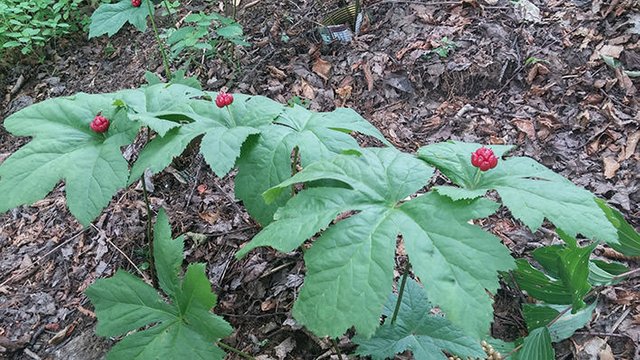 Knowledge Bits
one of the top 5 best selling herbal products
roots and buried stems are used to make teas, tinctures, extracts, tablets, capsules and skin care products
contains berberine which is shown to have several health benefits related to inflammation, urinary infections, respiratory tract infections, the heart, digestion, immunity and possibly even cancer
intended for short periods of use, not beyond 3 weeks, taking at least a 2 week break in between
What's it used for?
Goldenseal is also used for the common cold and other upper respiratory tract infections, as well as stuffy nose and hay fever. Some people use goldenseal for digestive disorders including stomach pain and swelling (gastritis), peptic ulcers, colitis, diarrhea, constipation, hemorrhoids, and intestinal gas.

Goldenseal is used for urinary tract infections (UTIs), internal bleeding, bleeding after childbirth, liver disorders, cancer, chronic fatigue syndrome (CFS), jaundice, gonorrhea, fever, pneumonia, malaria, whooping cough, and an eating disorder called anorexia.

Women use goldenseal for vaginal pain and swelling and menstrual period problems.

Goldenseal is applied to the skin for rashes, ulcers, wound infections, itching, eczema, acne, dandruff, ringworm, herpes blisters, and cold sores. It is used as a mouthwash for sore gums and mouth.

Some people use goldenseal as an eyewash for eye inflammation and eye infections called conjunctivitis, or "pink eye."

Goldenseal is used in the ears for ringing, earache, and deafness.
How does it work?
Goldenseal contains the chemical berberine, which might have effects against bacteria and fungi. For example, it can prevent the bacteria Escherichia coli (E. coli) from binding to urinary tract walls. Berberine also has properties that can lower blood pressure and improve irregular heartbeats. In addition, early research suggests that berberine can lower blood sugar and "bad" low-density lipoprotein (LDL) cholesterol.
Are there any risks?
Goldenseal is POSSIBLY SAFE for most adults when taken by mouth as a single dose. There is not enough reliable information to know if goldenseal is safe for long-term use.

Pregnancy and breast-feeding: Using goldenseal during pregnancy or breast-feeding is LIKELY UNSAFE for the infant. A hazardous chemical in goldenseal can cross the placenta and can also find its way into breast milk. Brain damage (kernicterus) has developed in newborn infants exposed to goldenseal. Do not use goldenseal during pregnancy or breast-feeding.

Children: Don't use goldenseal in newborn babies. It is LIKELY UNSAFE for them. It might cause brain damage (kernicterus).
How to use it?
Goldenseal can easily be found in tea or supplement form at your local health store or online. Depending on which product you purchase, make sure to read the label for each brand's recommended dosage.

For the powdered root and rhizome, four to six grams per day in tablet or capsule form is sometimes recommended. For liquid herbal extracts, a typical recommended dosage is two milliliters (40 drops) in two ounces of water or juice three to five times per day.

Continuous use of this herbal remedy should not exceed three weeks, with a break of at least two weeks between each use. You can also talk to your health care practitioner about what amount would be best for you and your particular health concern(s). It is best taken internally between meals.

For external use, there is no standard recommended dosage, but read the label of the topical product for instructions. Most likely, it will recommend that you use the product on the area of concern at least once a day.
---
References:
---
Thank you for your time and attention. Peace.
---
If you appreciate and value the content, please consider: Upvoting, Sharing or Reblogging below.


me for more content to come!
---
My goal is to share knowledge, truth and moral understanding in order to help change the world for the better. If you appreciate and value what I do, please consider supporting me as a Steem Witness by voting for me at the bottom of the Witness page.