Soft and delicate looking as they are, I love Apple buds. Bees go gaga on them once the blooms are open.
I could only look forward to them being apples and thanks to the mere existence of the bees, they make that happen for me.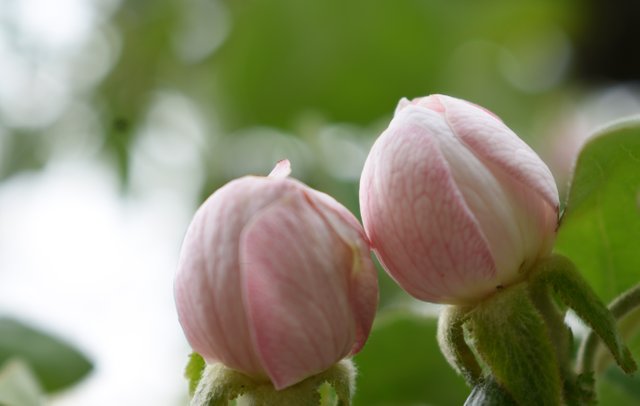 As early as January, some of my fruiting trees and plant bearing berries are already bulging out flowering spurs. Fingers crossed, I'd be having enough frozen stock of berries in autumn if all of them turn into flowers and fruits later on.
How do I know that the bulges are flowering spurs? Watch this.
Yes, the apple is the hardest to tell! I don't think I'd ever be sure about apples till they finally bulge out a delicate pink!
How about you? Which fruiting trees are already bearing flowering spurs in your garden or allotment? More so, which one is in bloom? Do you have a special trick on how to tell whether what's sprouting on an apple's a flowering spur or a vegetative spur? Please do share in the comment or better yet, post about it!
At the moment of postin' this, three of those plum flowers have already been kissed by the hover fly. I can't wait till they turn into fruits!
---
This content's 100% mine . I took the pics with my Nikon D3400 and the video with my Samsung Galaxy A3 2017.
---
---
**TIP :
ONLY Upvote POSTS THAT ARE 6 DAYS OLD below to earn yourself curation rewards.
---
---