What if we stepped back for a bit and set up our roads and paths according to a holistic design that starts with the optimum use of the land first?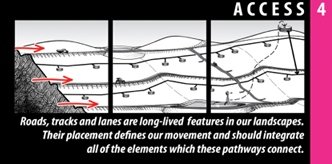 We obviously must have access to certain points on a property, sometimes from specific approaches and by various means (i.e. foot, four wheeler, truck, tractor, semi, excavator, horse and whatever else you choose to use). In typical designs we see today, landowners look at where we want to go, establish the most convenient path to get there, and put in paths, fences and gates accordingly. Then they attempt to continue their design with what's left.
Remember what we've covered so far – 1 Climate‬‬‬‬, 2 Geography‬‬‬‬ and 3 Water‬‬‬‬. We haven't considered fences yet, which, along with roads and buildings, is commonly one of the first things envisioned by new landowners. Yep, we haven't considered buildings yet either.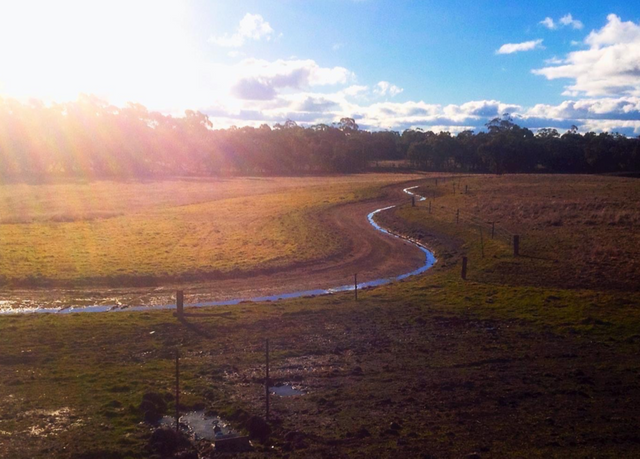 Of course, we often have to work with what we get. Fences, roads and buildings may already be in place. There's not much we can do about buildings, in most cases. But often access routes and fences can be moved, and fences can usually be repurposed more efficiently, reserving resources for other aspects of the project.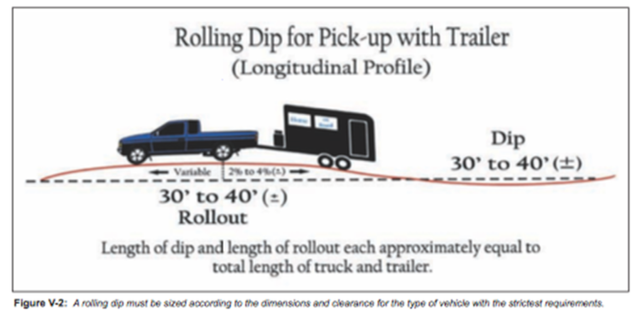 Access on land is both over and under appreciated, in many ways. We tend to put it as an initial priority, failing to grasp the opportunities of using roadways according to the structure and provision of the land. Better to consider what the land itself has to offer first, then bend the access according to what the land offers, complementing and enhancing the already present geography and permanent structure/s.
Just as with water (and in many ways because of water), we're faced with continued challenges. These can be fairly dramatic, requiring the crossing of the creek that cuts across the property or navigating other substantial obstacles. Bridges are expensive, so it may be wise to explore ways to cross streams or ravines that will allow needed regular access, but perhaps sacrifice access during large rain events. We may have utilities crossing the property in ways that inhibit our first ideas, but will require us to make do. How can we optimize these challenges so that the access feature becomes complementary to the entire design?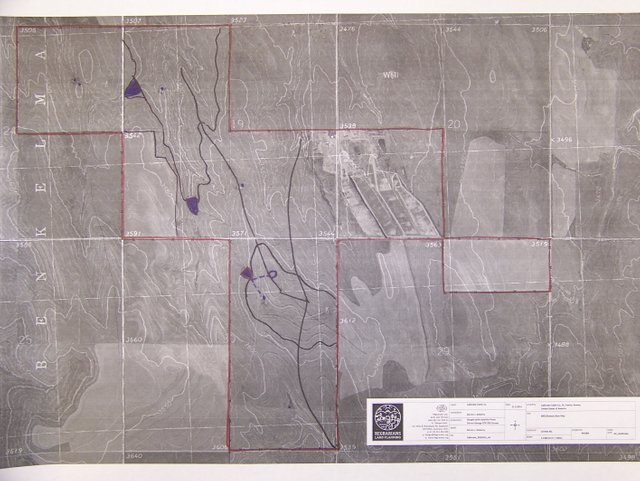 Remember that one of the goals of permaculture is to stack as many functions as possible in whatever project we're working on. Roads are almost inevitably water harvesting features. So, as we design, we want to keep in mind where our water needs to go. Often we can use the downhill side of a road as a swale (there can be huge dispersive problems with using the uphill side).
Since ridges shed water anyway, and if we're doing keyline we're working water toward ridges, they can be excellent locations for roads. Of course, the entire project must be considered and sometimes the terrain just isn't conducive to putting roads on ridges. They might not go anywhere helpful. The ridge's might not lend themselves to dividing the property in a way that is efficient. But we want to explore the possibility and take advantage, if at all possible.
Having considered water already, it's likely that we've established some of the access routes without thinking about it. Often a dam, for instance, is a great road. Next to conveyance ditches can be as well. Ideally, any water lines will be adjacent to the roads and/or paths.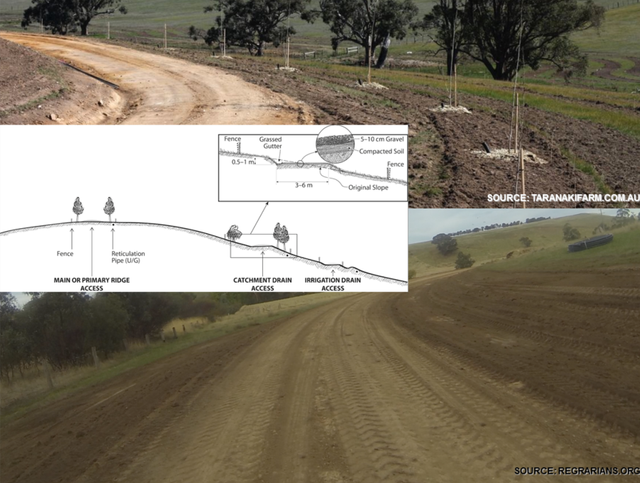 Another good lesson that must be considered is that just because something can be done, doesn't mean it should be done. I recently had a discussion with someone that thought I was against technology, because of my views on how to most effectively manage fields, pastures and soils (which we'll discuss later). My point was that, while high-tech could be used, it simply wasn't needed. Why go to the additional expense when you can spend less, work less strenuously, improve the soil conditions and enjoy healthier crops without it? The focus is more on the appropriate technology for the task and the fact that not everything that can be done should be done.
In many cases, it's possible that another pond or two would be a good idea. But we can get ahead of ourselves in desiring to put in too many ponds or other water structures. Of course, it really looks cool on the map. And it's often totally feasible. But it's possible that we have plenty of water storage, so why bother? It's also possible that we could add more later, as the project matures. These need to be considered as well as we determine our best access lanes and points on the property. And these, in turn, will determine our forestry and, if we have livestock, grazing patterns.
See full video here
This also is one of the reasons we focused so much on 1 Climate at the beginning. The goals and budget help determine what's feasible. We need to focus on making every buck count in our effort to come up with a truly restorative and regenerative design.
Feel free to contact me if you desire to discuss your project. If you're interested in hiring Darren, you can find details here.
Steemin' on,
Another Joe

---
Helpful Links
---
Previously in this series
~ Introduction - 1 Climate - 2 Geography - 3 Water ~
Chapters 1 Climate and 2 Geography of the Regrarians eHandboook are available for purchase for US$5 each on the Regrarians website.
---
Logo courtesy of @oecp85
---