Gaming Posts of the Week | Beta | Neato Burrito Indeed!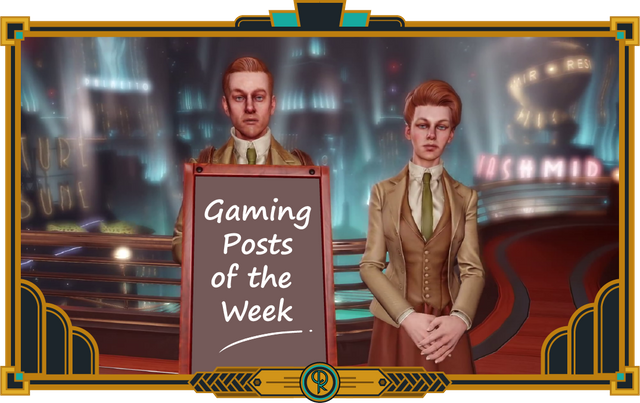 How's it going, Steemian? I hope you're having a nice weekend because I certainly am, since recently that I figured that I could play Path of Exile nicely. So far I enjoyed the game more than I expected, although I still kinda suck at it and do things clumsily. Plus looking at those high-levelled players with wicked armours and weird stuff flying around them with auras and sh*t does makes me kind of jelly. My character looks like he's straight out of the sewer. 
Anyway, maybe I'll continue babbling about my newfound drug and how I look like sh*t in it on another post. Now it's the time for some good stuff by fellow Steemians, as always, that I hope you'll enjoy reading.
---

Character development is one of the top priorities I always look for in games. Many times game characters are so well crafted that they become iconic, or lovable, outstanding, memorable, cooler than the main protagonist, and also stuck with the player. The character told in this post is the opposite of the one in the previous post, of the same game. This thoughtful [Thinking While Gaming] post series by @ahmadmanga is one of the most enjoyable posts to read, and this one made me think of the character that stuck in me. Check it out!
---

Not old things will end up dying, you know. Such as video games. They age like fine wine. The older they gets, the higher their value. Well, to the right hands at least. But then again these "right hands" are not that hard to be found. If you happen to have your (g)old retro games hidden somewhere in your closet or under your bed, you may be lucky because they might be your ticket to get rich. If you have it in you to trade blissful memories with money, that is.
---
Choo Choo! Giveaway Train passing by. Check it out, join in, interact with fellow gamers on Steemit for a chance to win a game. I think this is the only game giveaway for now, if you have one feel free to let me know in the comment.
---

Speaking of retro, here have a look back at Heretic, a game made by the same studio who created Doom. I've never played Heretic before, but looking at this post it looks like a fantasy-medieval version of Doom, that took some confusing turns in each new installment which, I'm not sure was for better or worse because the way the author wrote about them here is amusing. 
---

How about some 3D art? Here's a cool 3D art made in Blender by fellow Steemian, that is appear to be a handheld gaming console based on the original Game Boy the creator called X Station 5, a mix of Xbox and PlayStation. Neat. Question is, does it let you cross-play?
Anyway, looking at this post I feel bad for procrastinating on my self-taught Blender learning. My old Blender saved files are still there, waiting for me to get back to them. 

If you find these posts to be enjoyable, be sure to leave your upvotes, comments, resteem, and maybe follow the authors as well. Lutece Twins will be back with Gaming Posts of the Week | Alpha on Thursday. But before that, I have something that I hope you'll enjoy reading--a PS1 game starring some goofy soda mascot. Guess the game! 
Thank you for stopping by, Steemian, I really appreciate it. Steem on, and game on!

OP Gaming is a new group that seeks to help build out its members, network awesome gamers, and foster a community that is too OP to be taken down. If this sounds like a community you want to be a part of, mash that button below! And always remember: NERF THIS! 



---
Previous Posts:
---
Images credit:
Ghost Story
, and the mentioned authors.
---
DISCLAIMER: All artworks in this post (except for the cited ones) are belongs to me and I don't allow you, your partner, your cassowary, or your waifu to use them without my consent. Think I'm a smug? Fine by me. Happened before. Hate it if it happen again.