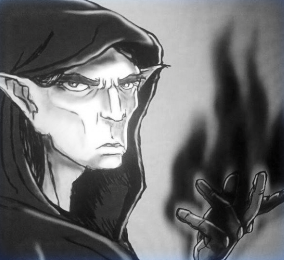 Mycroft lives a busy life.
He typically spends his days giving fundamentals classes in the 'rogue-ish arts' on the Guild grounds when there is demand, and otherwise is often out sniffing for some or other loose end, trying to find any rumor of wererats, or assassins. He also keeps tabs on certain gangs of thieves (no one could know them all) - the key is knowing which ones to avoid...
When solitude calls, Mycroft often turns to his old hobby, perhaps a habit from his past, but he can never deny the peaceful tranquility that he finds whiling away time in silence in a shrine. It doesn't typically matter to whom the shrine is intended, his preference is 'the less frequented the better'.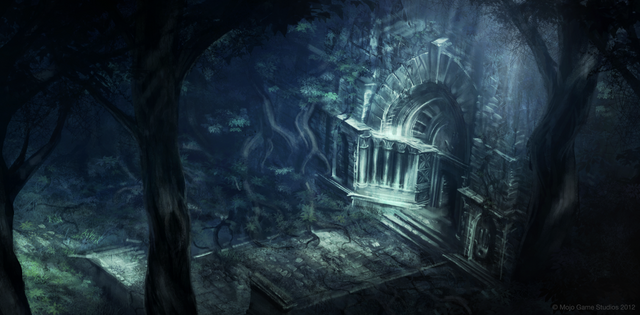 Life is simple, most of the time. Especially when the Guild coffers are not terribly close to empty and work and adventurers trickle in at a low, but steady and manageable rate.
That was how it was when the old crew of Glynn and Shawen began to get 'grounds cabin fever' and decided to follow up on a tale told by some other guild members. A labyrinthine tumble of ruins which lay far away in the jungles between Shieldbreak and Land's End. Rumour-mongering and fools tales to be sure, Mycroft had heard reports of ruins in those jungles before, though tales of 'treasure' should always be taken with caution. Well the rumor was just a rumor, what really piqued Mycroft's interest however Glynn Havasham mentioned the supposed existence of a hidden shrine.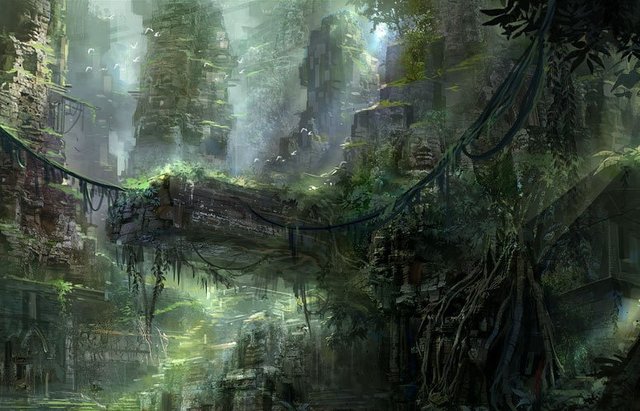 Before too long they set off, taking a simple single horse drawn wagon to lessen the time and arduous nature of the journey. Well some reduction, it didn't take long for Shawen and Mycroft to begin bickering; her blatant mistrust, and razor sharp sarcasm met Mycroft near every turn and after even the simplest statement or inquiry. Glynn was soon in the role of 'peacemaker' as the cart trundled down the forest road and the days rolled by. Indeed Mycroft wondered why-ever they had left, perhaps they could just leave him in the shrine if ever they found it.
Eventually they came to the jungles, the wild lands would allow the wagon no further, and they stowed it in a tangle of brush before checking supplies, maps, and heading into the overgrowth.
They slogged through for a few days, and Mycroft was grateful to expertise of Shawen and her great cat, whom she called "Shmitty"; without whom they would have certainly bumbled off a cliff or into some mire. Not that he was able to express it, nor her hear it, truthfully, their interaction felt more akin to the pestilent and ever gnawing gnats which infested these woods. He wondered what-ever he had done, and how-ever each utterance was able to draw a greater ire. Opting for silence, they trudged onward.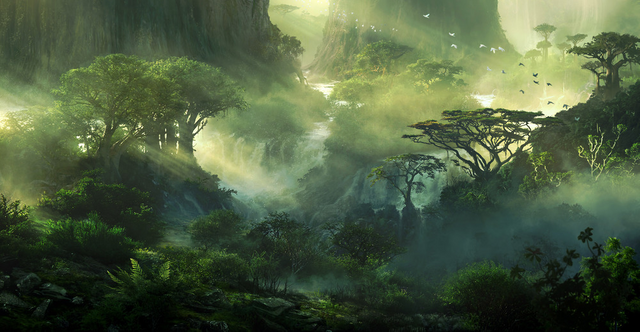 Eventually, indeed ruins they did find, Glynn calling out raised pillars, blunt with age, and Shawen grunting her confirmations. The approached carefully lest beasts had taken refuge amid the tumble, indeed some apparently had, but with a single downwind whiff, Shawen expertly steered them around, they began to make approach on a promising looking half dome-like structure, when without warning, the ground fell away beneath the feet of the three brave, and lonesome, adventurers.
They were hurled beneath the earth amid soils and boulders, one and all scraped and bruised, bumped and torn, but not severely injured. They pulled themselves together, trapped by the earth in an ancient tunnel complex. With exit barred, forward was the only logical choice...
Picking through the ruins they found an assortment of tribal relics, religious artifacts, tumbled tunnels and slippery waterways. The air was muggy throughout, and perhaps this, or something else, affected them, but persevere they did. They eventually entered a darkened chasm, leaving ancient cut-stone for natural cave-like systems. Shawen seemed composed, and her cat content to trot alongside. It seemed a good omen, other than her occasionally muttering something about infiltrating a matriarchal society.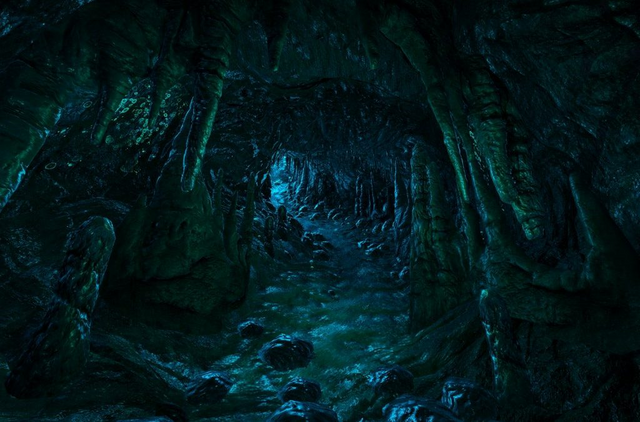 They wondered those caves for some days, not going too deep, and yet finding no obvious routes to the surface. When the darkness became oppressive, Mycroft, against his own misgivings, unveiled his drift globe. Speaking the command word, it bathed them in the warm glow of daylight. He could tangibly feel the retreat of those all-too-many, watchful eyes. The creatures down here were not fond of the light, but indeed hopes of finding a shrine had dwindled. It had appeared they were closing in on one, but the chasm had led them astray, to wander the bowels of the earth for Arawan knew how long...
Eventually they surfaced:
The slightest stirring of breeze led Shawen directly up, and out of a cave mouth, requiring only a short scramble. But relief they did not find. Unfamiliar terrain greeted them- gone were the woods, replaced by a rolling plane; the very sky had an uncanny slant, and near at hand the smudge of a coastal town could be seen.
Mycroft would have sworn it was Land's End at that moment, but he recalled all tales had been of a dreary, sparsely populated place, certainly not one spewing forth a wooded smog, and it had not the look of Saelesstor.
"Well we could likely get a ship to Land's End from there at any rate," Mycroft murmured.
Shawen, stopping short in the task of marking the distant hills and cave entrance, shot him the expected scathing glare, while Glynn took a slightly overlong drink from his particular 'water' flask.
With little other option, it was not long before they set off. Mycroft bit his tongue then, feeling it too soon to mention 'shrine' for clear as black on white there was little evidence of one near at hand.
Perhaps unsurprisingly, the first person they asked about passage to Land's End scratched his head, and gummed out his ear, before replying in an unusual accent.
"Not hear'd of naught such nigh these parts, mayhaps askin the dock'ands?"
While it wasn't unexpected that folks may not have heard of Land's End, backwater that it was, something about that accent sent a chill down Mycroft's neck.
The chill was repeated once more, and slightly further down, when the first burly looking sailor they encountered simply shrugged with a "Naught?" and once more hefted his crate, waddling away. Sailor types had usually heard of the place. The party pulled into a small alley way. Oddly it was Glynn who seemed the most composed.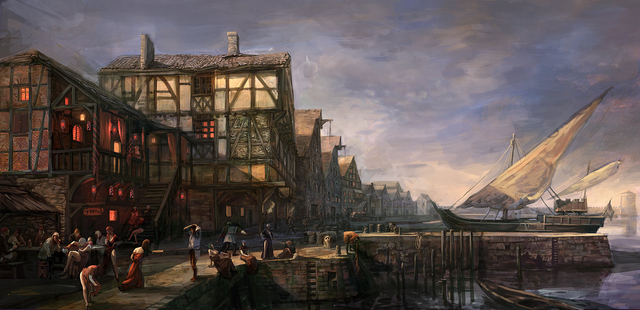 "Clearly this town is of no use to us, nor have they any familiarity of the places we name. Let us name them no further at present, lest we stand out overmuch. I feel a tug of duty, it draws me to waters edge, let us away from this place, on a vessel destined for a city. I would learn more of this strange land."
"You know she hates water Glynn," Shawen said in resentful tones, likely in reference to her cat. It seemed fitting. But facing Glynn's sudden conviction, she acquiesced.
Still skeptical, and unsure why leaving would be a good idea, Mycroft followed them to the docks, and as though Glynn had spoken prophecy rather than speculation, they quickly found a ship ready to depart, needing only a few silvers per head. Mycroft was not the one to look at such an omen unfavorably, there were greater powers in the world after all.
The dockhand looked twice at the silvers, but hefted them once, and showed them aboard...
---
The tale continues another time!
---
Thanks for reading.
---
Credits:
Forgotten Shrine
Jungle Shrine : Jeremy Chong
Tangled Jungle
Under-dark Caves
Unfamiliar Port : Monika Zawistowska
---
Original Character Post:
Mycroft Character Introduction