Dear Steemians,
Merit360 is a special opportunity to work with passionate young people from all over the world to create a positive impact. Crucial to World Merit as a charity is fundraising. In order to attend, delegates must demonstrate their ability to create fundraising opportunities by completing the minimum required fundraising amount of £1200 (GBP). I already have fundraised 594 GBP for the program.
See the fundraising page live today.
https://worldmerit.org/merit360/fundraising/4795505698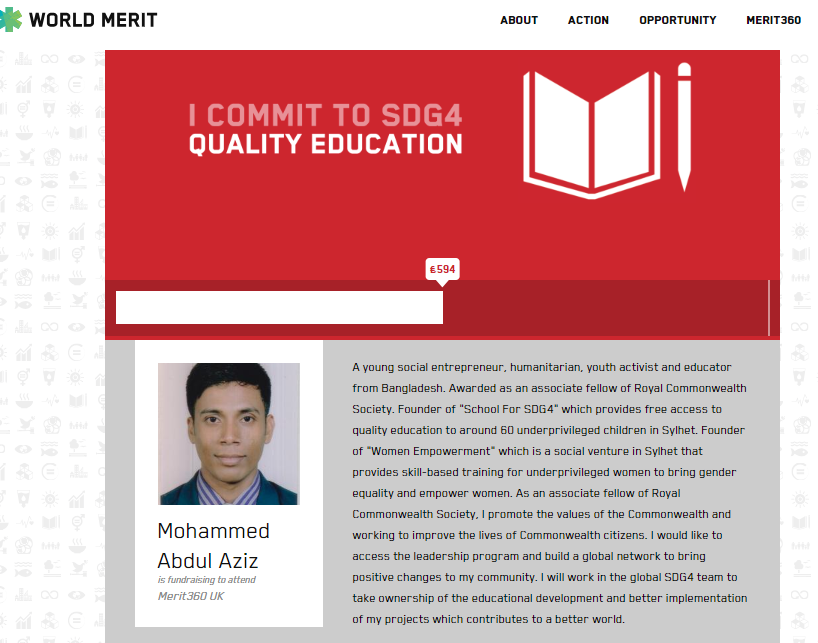 This year Fundraising page.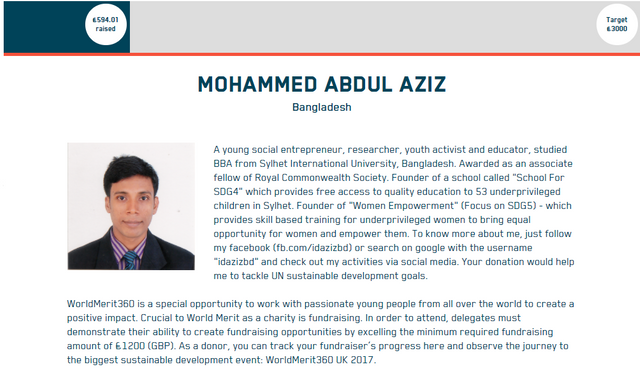 Last year fundraising page.
This year I am going to apply for visa again and hope the UK embassy will accept visa this time.
I had raised around £ 594 online for the 10 days long program participation but The UK Embassy was not satisfied with different conditions. I wish to show my steemit blogging activities this time and hope it is good enough to show my seriousness to work for my community?
Who I am and why I want your support to go UK this year ?
A young social entrepreneur, humanitarian, youth activist and educator from Bangladesh. Awarded as an associate fellow of Royal Commonwealth Society. Founder of "School For SDG4" which provides free access to quality education to around 60 underprivileged children in Sylhet. Founder of "Women Empowerment" which is a social venture in Sylhet that provides skill-based training for underprivileged women to bring gender equality and empower women. As an associate fellow of Royal Commonwealth Society, I promote the values of the Commonwealth and working to improve the lives of Commonwealth citizens. I would like to access the leadership program and build a global network to bring positive changes to my community. I will work in the global SDG4 team to take ownership of the educational development and better implementation of my projects which contributes to a better world.
I am so excited today. Please visit https://worldmerit.org/merit360/fundraising/4795505698 and show your support to me.
Read More about me and my projects
by
@Azizbd
by
@Azizbd
by
@Azizbd
by
@Lindahas
by
@SchoolForSDG4
by
@hungryhustle
by
@Azizbd
by
@Azizbd
by
@Azizbd
N.B: By upvoting this post you are supporting me @Azizbd personally, not my charity @SchoolForSDG4
Please contact me @Azizbd for any information https://steemit.chat/direct/azizbd .
---
Adsactly is a Autonomous Decentralized Society Acting Cooperatively to Leverage You.
|| Twitter || Discord || Steemit ||
---