Greetings fellow Steemians and Steem developers! We have exciting news for all of you. There is not a better way to show our gratitude and appreciation for your support than by constantly moving forward and improving our work. There is joy in us while writing this and a humble pride for all that has been done.
We have a built-in need for progress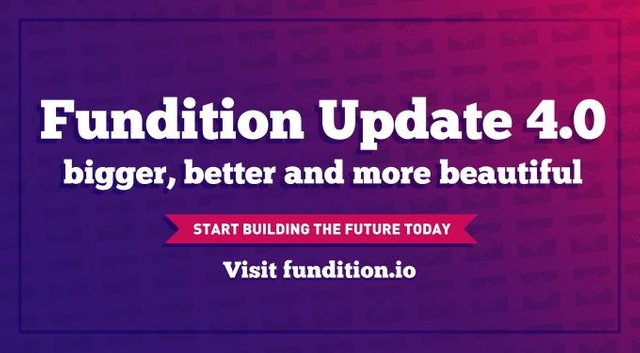 We have been working non-stop to bring you new features and updates. Luckily for you, we did an amazing job and would like to inform you about our API, UI/UX improvements, PayPal donations, and Daily Chest. We have some new team members too and a new project type you can create.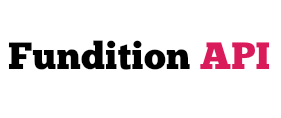 We divided the number of queries per 10 on average which drastically dropped our usage of Steemit.Api and the loading size of data. This benefits every user and the entire steem blockchain.
INSTANT LOADING
AND LESS QUERIES TO STEEMIT.API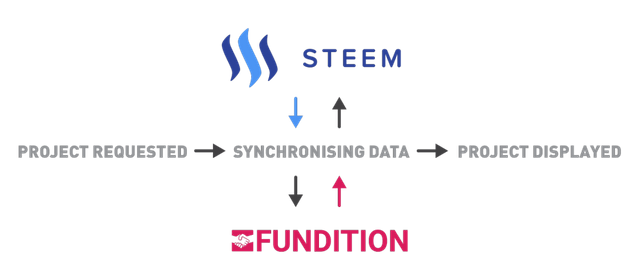 We are listening to you,
and responding to your needs.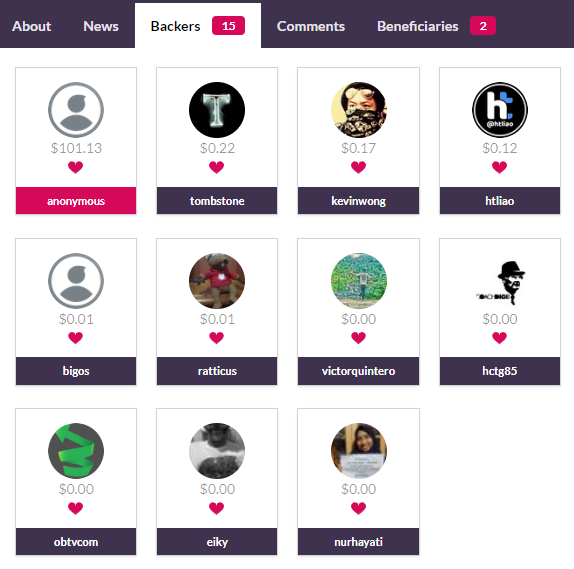 During the last couple of months, we had many users that were confused by the change in the price of their donations or upvotes to projects. Fundition is now recording every donation and payout with its USD value. Donors and supporters (with upvote) will now see the real value that they brought to the founder.
Here is an example. In this image, you see the amount donated by the anonymous user. That amount is shown in USD and will not change until he makes another donation.
HOW DOES IT WORK?
First, a user requests a project. If the project is older than 7 days we load it from the blockchain and calculate the upvote value and if the project got direct donations, we load them from our DB. We check if the project contains updates and if it does, we also check their date and if they are still active, the data will be fetched from steemit. The important part is the load from blockchain of only needed updates which makes the query lighter. Upvote values will be displayed at the date of the payout of the update.
Steemit is now our backup
Whatever happens to our servers, everything can be retrieved within hours with no loss of data.

Homepage with new info
Since the homepage is the first thing users see when coming to fundition.io, it is important to us that the most important and valuable information is there. From now on, total weekly updates and raised funds since the creation of Fundition will also be presented.

Search Bar improved
Our search bar now allows you to search for your favorite projects by author. You no longer have to spend much time in searching for everything a certain author has done, just type his name and you will get instant results and see all the lovely projects that are waiting for your support.
Lazy Loading fixed
There was some lazy loading in the past but we have fixed it and now all the news and images are appearing when they should and are visible when they should be.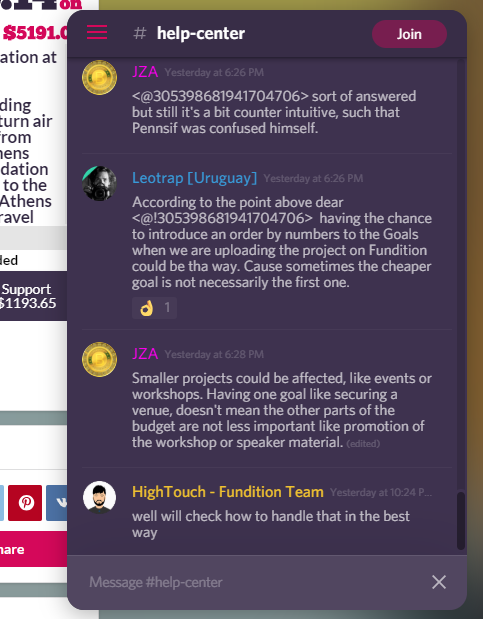 We have created a simple and user-friendly way to contact our help center. While browsing through fundition.io, you can now start a chat conversation with us and get help no matter on what part of the site you are.
There is a blue discord icon in the lower right corner of each page on fundition.io and when you click on it, a small chat window will appear like shown in this image. That chat will always be available to you.
When that window opens, go ahead and type your question. Our team members will be glad to help you with anything you need. Our help-center is ready for you and all your inquiries.

Probably the most important update this time is the implementation of PayPal donation system. This will make donations from non steemit users easier. We are proud to be on the blockchain but are aware that not all people are. Now, you can share projects with your friends who are not on the blockchain but would like to help and make a donation. This is not reserved only for them, of course. If you are a steemit user and have funds that you wish to transfer, you can do it too.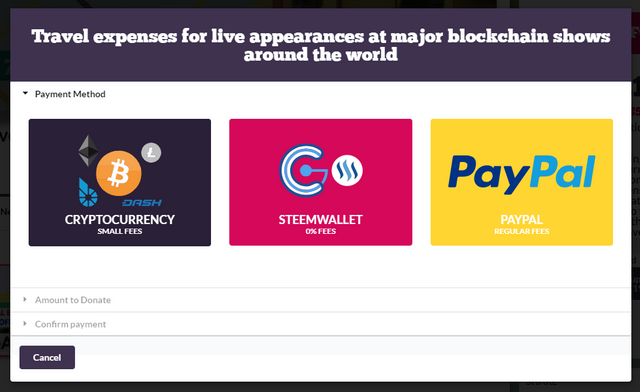 How does it work?
You make a donation to the fundition association, in return we send liquid STEEM to the founders wallet. Fees for Each transactions under 2500$ are 3.4% of donations + 0.25€. Here is an example of one donation:
Donation Amount 25,00 USD
PayPal Fee-1,28 USD
Net Amount 23,72 USD
SteemPrice 0.800370 USD
As you can see, with your donation of 25 USD, the founder will receive 23.72/0.800370 = 29.636 STEEM. Given that crypto fluctuates, the calculation was done with current prices and is subjected to change depending on the price of Steem but the fees before conversion stay the same.

Our golden chest stays the same. When you log into fundition.io, you will see a golden chest in the upper right corner, next to your username. Simply click on it and reclaim sp/steem in your wallet on Steemit
The news is that our daily chest full of prizes will be waiting for you every day. The chest is full of steem and heart power and you have a chance to win some of it each 24 hours. It will pop up in your screen when you visit fundition.io every day.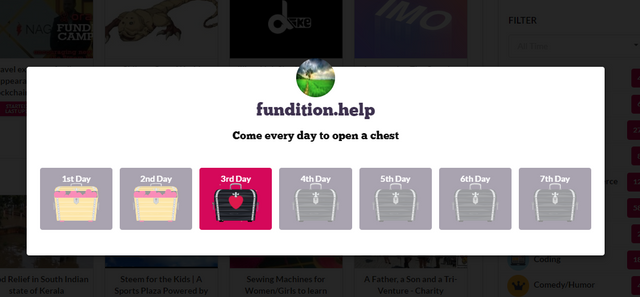 By clicking on the chest, the reward will be transferred to your account. Do not forget to come and claim it every day, it would be a shame that you miss on free prizes.

We are excited to tell you that from now on you can create a project that is AUTOMATICALLY RESET. We now have recursive projects too that will make it easier for founders to set the specific project once and have it repeated.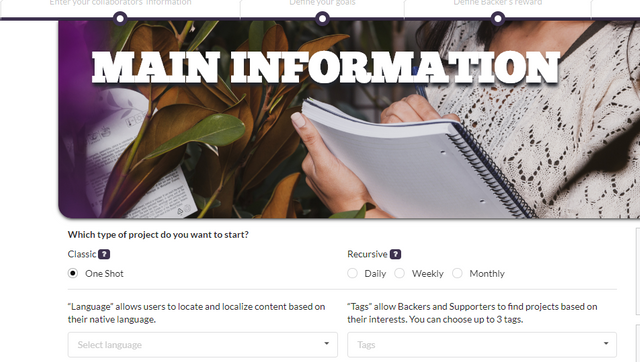 What is the difference?
When you choose Classic type, your project will be done in a normal style, like all projects have been up till now but when you choose Recursive and pick daily, weekly, monthly it will repeat itself on that chosen basis. Imagine you are an artist and need monthly support to continue working on your project until you finish it or you need help with funding your school fees or some other example where project and funding are continuous, this will make it easier for you.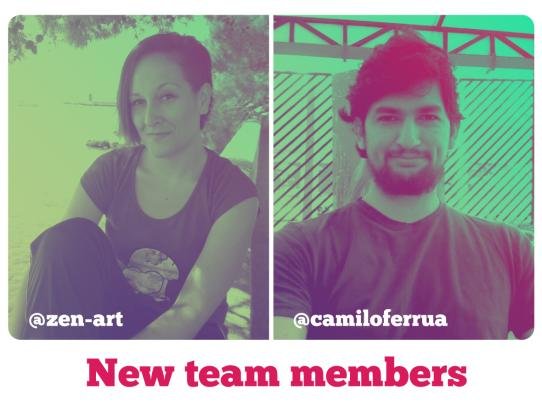 With all this great news about improvements, we almost forgot to tell you about our new team members. Allow us to present you with two great additions to Fundition family, Petra and Camilo. Petra, whom you can find on steemit as
@zen-art
, is our new Editorial Director and Camilo whom you can find as
@camiloferrua
is our new designer. We are aware that people are visual beings so we picked the best of the best to make sure that the first thing people see in Fundition amazes them in every way. Fundition family is proud of its every member and loves them dearly. We cannot wait for you to meet these two new ones and love them too.

We are what we are because of you and we will remain working on creating a better future today. A better future for all of us. As always, we are open for your suggestions and valuable feedback and will help with whatever we can, whenever we can. Together, we will achieve greatness and move forward with constant improvement.
Until our next big update,
Donate and spread the love!
Your Fundition team.

Join a community with heart based giving at its core