Photography Basics - Part II - Depth of Field. Aperture and other Factors.
Greetings, friends!
Continuing the series of tutorials about the basics of Photography. This time, I'm going to write about what we call Depth of Field or DoF and about Aperture - the most commonly mentioned factor. But not the only one!
Depth of Field means
To what visual depth do all things in our frame look acceptably sharp/ are on focus. Optical focus is a matter of distance
and we can't have everything there. You realize this is true about our natural sight, too, right? Try focusing on the tip of your fingers with arm outstretched as far as you can but also, at the same time, try to observe how far off objects fall out of focus until you shift you gaze there. Then the arm, hand, and finger will fall out of focus. We can quickly shift it and we are accustomed to scanning our surroundings, but a photography frame is a moment in time. There is no shift of focus within a photograph.
Here is a demonstration: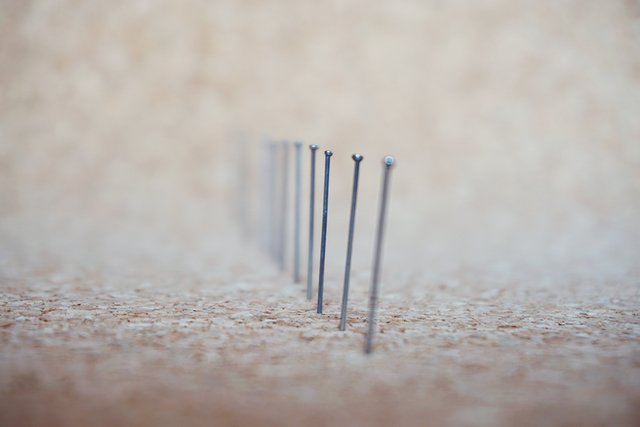 Aperture value here is 5.6 (or we may say the "F number". As in "F 5.6")
Focus is on the third pin and those in front and those in the back are out of focus. The Depth of Field in this frame is relatively shallow.
Now, when people are beginners in photography and they learn of DoF, they mostly associate it with the Aperture. Since it is the thing that sells ;) So it is most talked about.
Aperture is
The opening that those metal pieces inside your lens will create, same as the pupil of the eye. So on that depends how wide a beam of light is getting in and touching our sensor or film (whatever light sensitive material).
Lower F numbers mean wider opening. Higher F numbers mean tighter openings. And more sharpness of image as a side effect of less diffraction of light. Wider openings make the DoF shallower - because of greater diffraction of light.
So, cheaper entry class lenses have openings as wide as F 3.5 when zoomed out at the maximum but when they zoom in the most you can open is F 5.6 (tighter). Cheap prime lenses have values of F 1.8, though - that is pretty wide open and can create much shallower Depth of Field. Higher class zoom lenses start from F 2.8 (pretty wide, too, although not as wide as F 1.8 or F 2).
Let me continue my example and talk about F values as I go: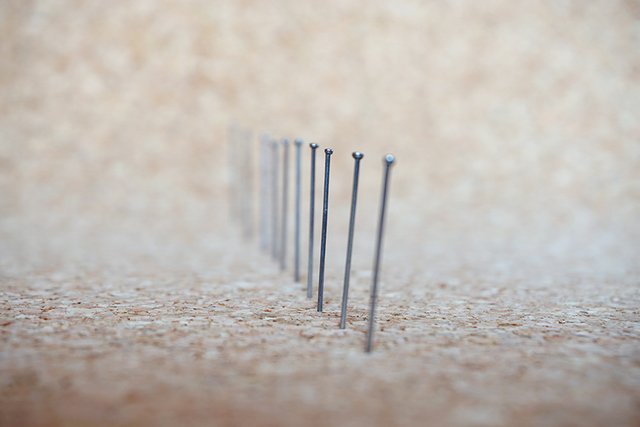 F 8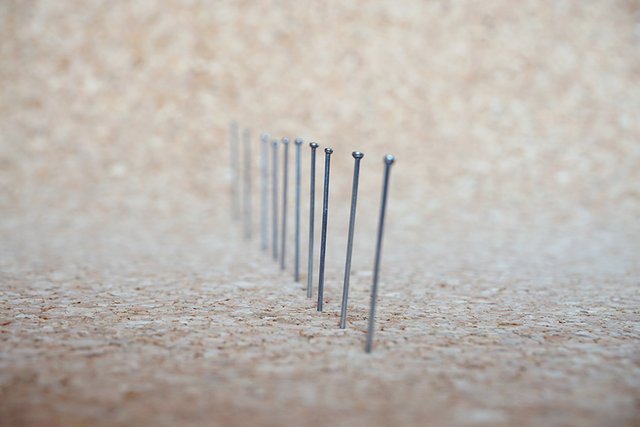 F 11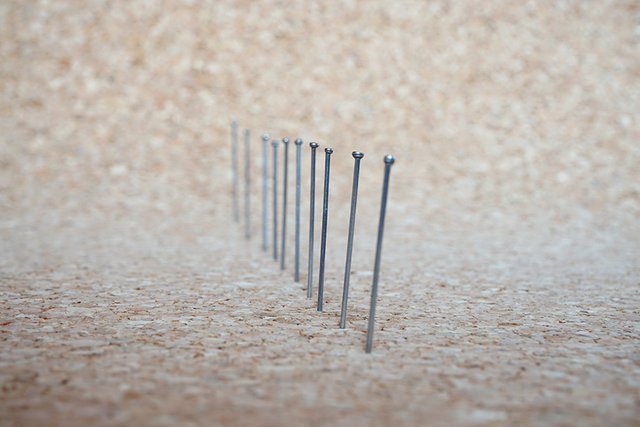 F 16 (but not the interceptor)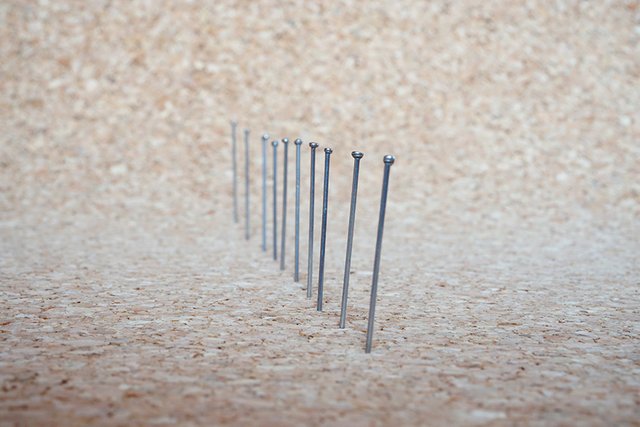 F 22 (also talking about Aperture values and not about air force)
Do you see how pins in front and behind the 3rd one become more distinct as we gradually close the Aperture? I know you do.
There are two more lessons here:
First One - To maintain the same Exposure...
(take a look at the first tutorial in the link below)
Part I - Exposure.
... while maintaining also the same Light Sensitivity value - ISO 100, I reduce the Shutter Speed by half each time. Because F 8 is twice as dark as F 5.6 and so my Shutter Speed goes from 0.5 seconds to 1 second - twice as longer; then F 11 is twice as dark as F 8 and Shutter Speed goes from 1 second to 2 seconds; then F 16 is twice as dark as F 11 so Shutter Speed goes from 2 seconds to 4 seconds; finally, F 22 is twice as dark as F 16 so Shutter Speed goes from 4 seconds to 8 seconds. True story.
Second One - Why is Depth of Field still shallow?
Even though it changes somehow, it remains so that you cannot see all of the pins as sharply or even close to the sharpness of the 3rd one. Well, because
Aperture is only one of the main three factors.
The other two being how much we zoom (focal distance - the greater the zoom, the shallower the DoF), and how close we are to the subject we focus on in relation to the distance between that subject an the background. The closer we are, the shallower the DoF.
As you can see, even though I use F 5.6 in the beginning, DoF is small because I am shooting from a close position. And using my lens's maximum zoom.
That's it! Waiting for your comments and a discussion.

Images were also added to the gallery of free images for editorial use on the Steem blockchain.
Those conditions apply only for what was specified. Please, learn more about the project.
If you like what I'm doing and you wish to support the initiative, consider backing me. That will improve both quantity and quality.
Also, there are files for print and/or for commercial use as rewards. For personal use like desktops or wall decoration, too.
Also, each month there is a calendar in PDF as a Reward for Backers. Check out the ones for January and February which you can still get.
Or the fresh one for March.

Other News:
Our book Voices in the Darkness e-book is out! It's alive! It's electronic! It's supernatural!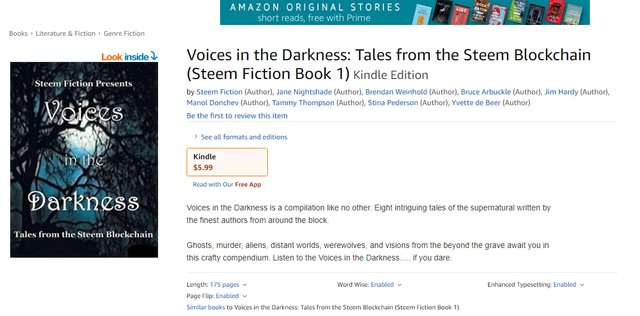 And it's also paperback now!
Voices in the Darkness paperback

Stories authored by:
@janenightshade, @improv, @felt.buzz, @jeezzle, @manoldonchev, @stinawog, @giantbear, @blueeyes8960
Huge thanks to everybody involved, to our ninja editor, to the initiator @jeezzle and the @steemfiction, and to everybody else supporting our work!

Yours,
Manol