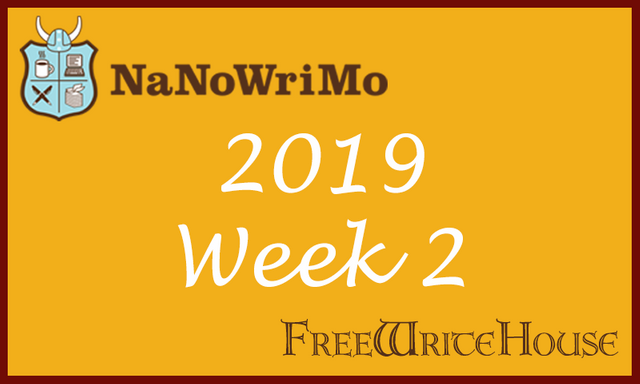 Hello Freewriters!
Welcome to the beginning of Week 2 of NaNoWriMo. Our brave freewriters are well on their way to writing 50,000 words in the month of November.
The FreeWriteHouse is here to support everyone slogging through daily word counts with upvotes, comments, and a little SBI incentive to keep writing.
As of today, Thursday November 7 these are the writers we know are participating:
Week 1 prizes
On last weeks update post, only @mariannewest, @kaelci, and @wakeupkitty put links in the comments to their posts for us all to go cheer them on. They're also the only ones eligible for the SBI rewards this week. Since there are three and I promised 10 SBI I'm upping it to 12 so each get four SBI shares. Keep writing and sharing! You can do it.
If you decide to join, please comment on this post and we'll add you to the list.
You can find out more about National Novel Writing Month, or NaNoWriMo, on their website here.
For those who aren't taking on the challenge this year, please swing by and offer your support to your fellow writers!
The Good Stuff Revisited
How to get rewards for participating in NaNoWriMo:
Once a week I'll post a NaNoWriMo update post on the FreeWriteHouse account. Normally it will be at the beginning of the writing week, but I'm getting a slow start this week. So this means today and on the 8, 15, 22. You'll recognize it by the snazzy thumbnail image I made. 😆
All you need to do is Post links to your updates in the comments of the weekly post for as long as you are still participating in the challenge.
Easy right? You're already doing so much, I don't want to burden you with more.
Every NaNoWriMo writer that posts at least one update during the week will get upvotes and be eligible for the SBI shares being given away each week. If you post more updates you might get more upvotes, it all depends on resources.
Here's how that part works: I'll be giving away a minimum of 10 SBI shares each week. So right now we have five writers so each would get two shares for a total of ten. If we have more writers join I'll up the amount so that everyone gets at least one - BUT your post must show you are participating in the challenge. How you do that is up to you.
Any questions? Ask in the comments!
Looking to Publish after NaNoWriMo?
If you're looking to take your novel to press, consider joining our Beta Readers group to get valuable feedback!