"The French fried potato has become an inescapable horror in almost every public eating place in the country. 'French fries', say the menus, but they are not French fries any longer. They are a furry-textured substance with the taste of plastic wood."
― Russell Baker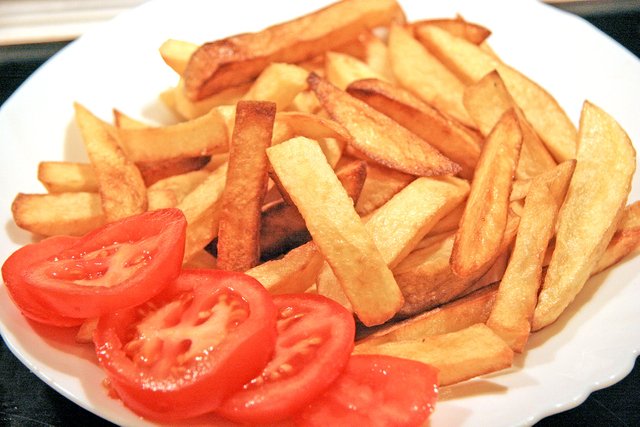 Don't get me wrong, I don't eat fries too often (that's the reason I don't have any deep fryer at home). Maybe once in several months. But when I do, I definitely prefer them made at home, from good potatoes and cooked with fresh oil (have you ever seen the color of oil in fast food restaurants?) So, what it takes to make great crispy french fries? Let's see!
What you need
Potatoes as much as you need;
(The pros recommend Russet Burbank or Maris Piper (follow the link for more great instructions how to choose the best potatoes);

Vegetable oil (refined, several quarts);
(In my humble opinion, sunflower oil is the best for cooking the fries, some recommend corn oil, grapeseed or groundnut oil, but I really wouldn't recommend olive oil or canola);

Kosher salt or coarse sea salt.
Instructions
Peel and rinse the potatoes (if these are thin skin you may want to leave the skin).
Cut each potato lengthwise into halves, then cut each part lengthwise again into oval disks and cut each disk into uniform sticks (4-5).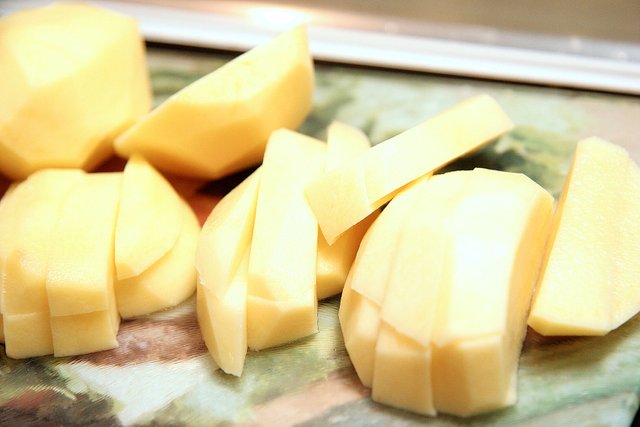 Put the sticks into the bowl and cover with cold water and let them soak from 20 minutes up to a night. Note: if you are really hungry you may skip this part, just rinse them several times with fresh cold water, draining after each rinse. Put the sticks on a paper towel and let them dry for some time.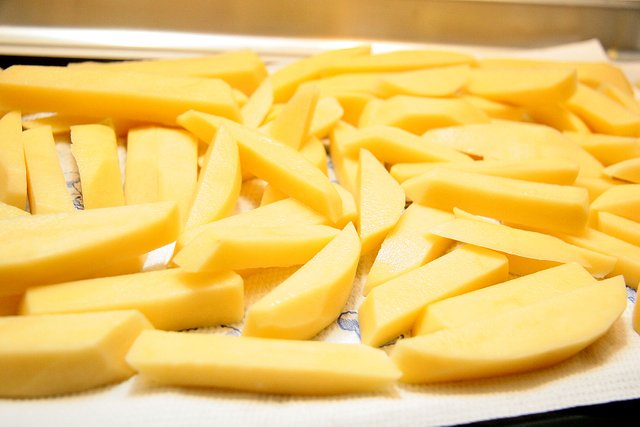 Preheat the deep pot or frying pan with an inch of oil and put the potato sticks in it. If your frying pan allows add at least 2 inches of oil, so you can cook more fries at once. That's perfect if you are able to set the temperature to 300-330F (150-165C), if not just preheat the oil with medium-high heat and fry the sticks for 4-5 minutes, until they become soft.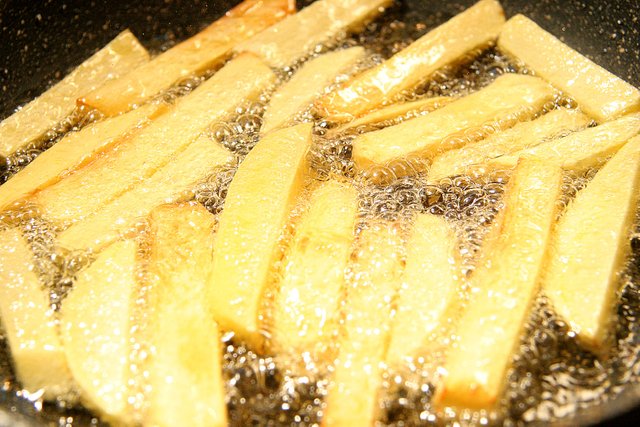 After 5 minutes take them out and drain the fries on a paper towel. Increase heat to 400F (200C) or the highest heat, put them into the frying pan again and cook them until they are golden brown (another 4-5 minutes). Alternatively, if you don't want them too much crispy, you may skip the last part and just cook them until they are golden brown.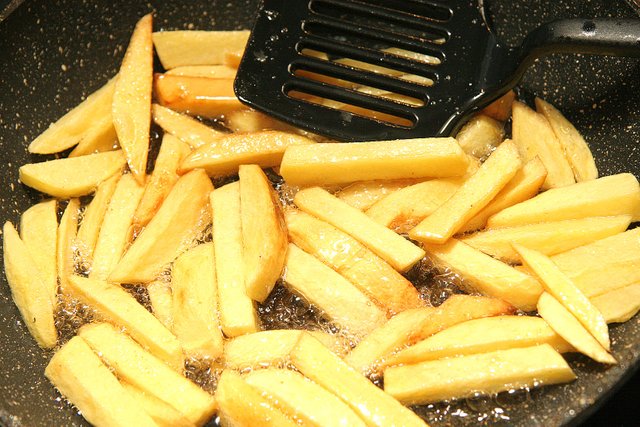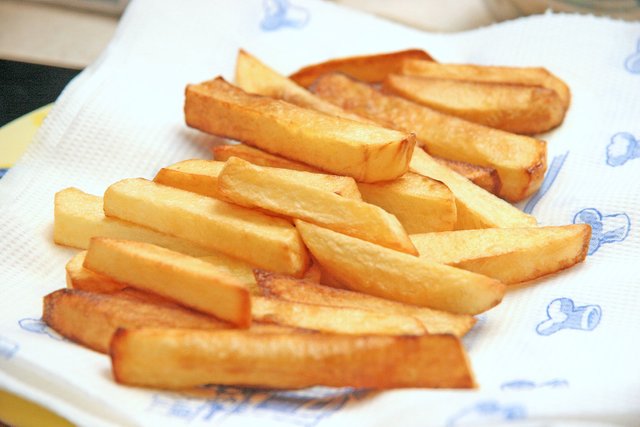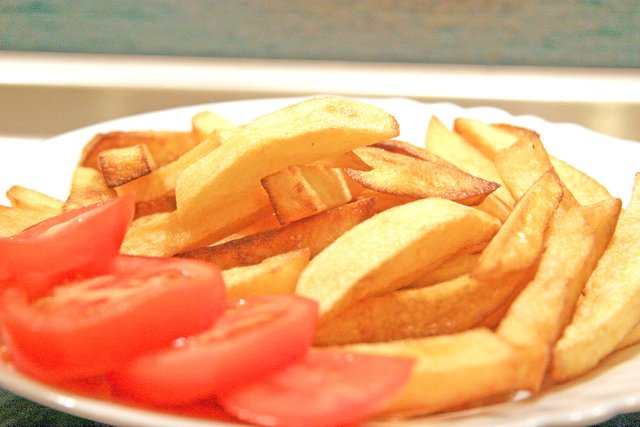 Drain on fresh paper towels, serve (don't forget some vegetables for a healthier look) and enjoy!
BON APPETIT!
---
My latest food posts that you might like:
How to Make Beautiful and Tasty Mayonnaise Easily (An Original Recipe and Photoshoot)
Breakfast of Champions: Hot Open-Faced Ham And Cheese Sandwiches
Thanksgiving Is Coming: A Delicious And Healthy Oven Roasted Turkey Thigh
Heavenly Crepes With Cottage Cheese, Sour Cream and Delightful Berries (Exclusive Recipe And Photoshoot)
Roasted Duck With Green Apples (Something For A Special Occasion)
A Killer Recipe: How To Cook Beautiful Amanitas (Original HQ Photoshoot)
Juicy Roasted Chicken In The Oven: Just Another Perfect Dish With Pasta and Oranges
---
You can find a lot more various food recipes in my blog as well as other posts on various topics.
If you liked my post, please don't forget to upvote, follow and comment.
Cheers and have a great day!
Sincerely yours, @richman
---
*** Want to boost your post? Use steemboost ***