Amanita muscaria, commonly known as the fly agaric or fly amanita, is a mushroom and psychoactive basidiomycete fungus, one of many in the genus Amanita. Native throughout the temperate and boreal regions of the Northern Hemisphere, Amanita muscaria has been unintentionally introduced to many countries in the Southern Hemisphere, generally as a symbiont with pine and birch plantations, and is now a true cosmopolitan species. It associates with various deciduous and coniferous trees. | source
The genus Amanita contains about 600 species of agarics including some of the most toxic known mushrooms found worldwide, as well as some well-regarded edible species. This genus is responsible for approximately 95% of the fatalities resulting from mushroom poisoning, with the death cap accounting for about 50% on its own. The most potent toxin present in these mushrooms is α-amanitin.
The genus also contains many edible mushrooms, but mycologists discourage mushroom hunters, other than knowledgeable experts, from selecting any of these for human consumption. | source
---
Never eat real amanita mushrooms! I've seen many recipes (no joke) about cooking amanitas, so I will repeat it once more: Never eat any kind of real amanitas (cooked or raw). I'm telling you this as an expert in mushroom hunting and a cook. Instead, I'm proposing you this recipe, which is much fun, delicious, creative, healthy and will take just 15-20 minutes at most.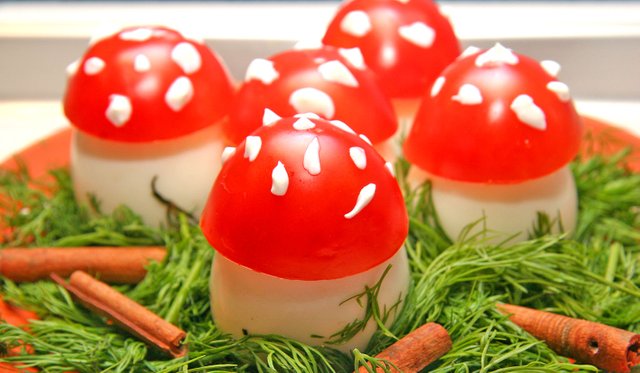 ---
Ingredients:
eggs;
tomatoes;
sour cream or mayonnaise;
some greens for decoration.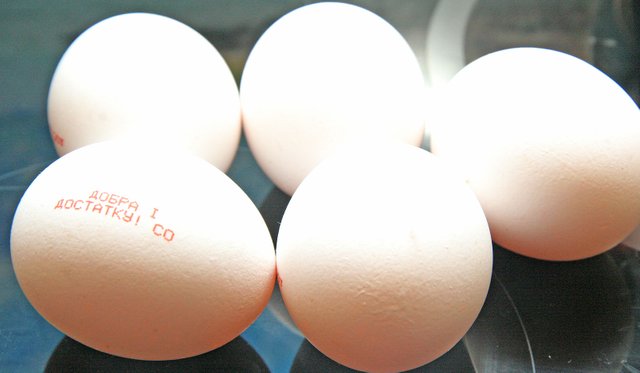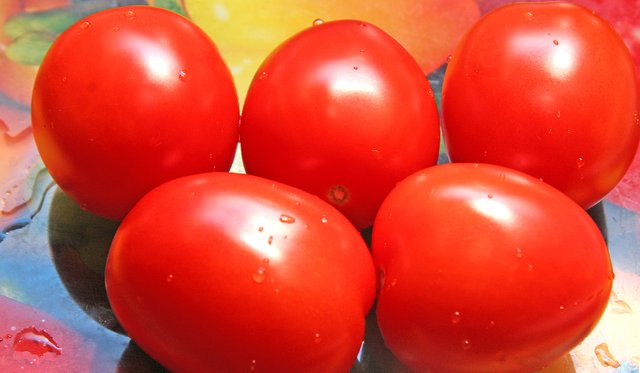 ---
Cooking
In order to cook some beautiful amanitas we will need to hard-boil the eggs.
For some unknown reason there are two ways to cook hard-boil eggs:
put them into a pan, add cold water, salt it and cook for 8-10 minutes;
put the eggs into a pan with salted boiling water carefully one by one with a spoon and cook for 8-10 minutes.
After 8-10 minutes put the eggs under the cold water (very important).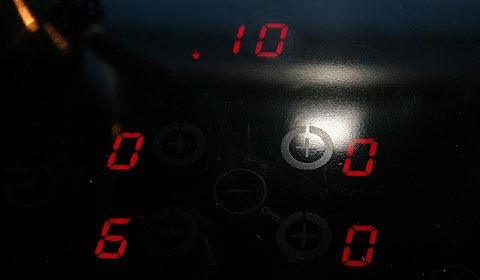 Either way is fine, but the second one is more risky, because the eggs can crack, when you put them into a boiling water. Since I'm a risky guy (haha), I'm using the second method below. When the water is boiling already I'm turning the heat to medium, carefully put eggs into a boling water one by one with a table spoon and set a timer to 10 minutes. Below are the pictures describing the process.
(Actually, to be completely honest I'm not an expert in boiled eggs, so here you will find some real pro tips)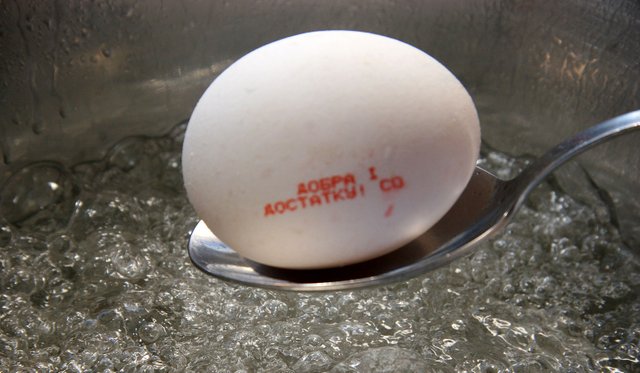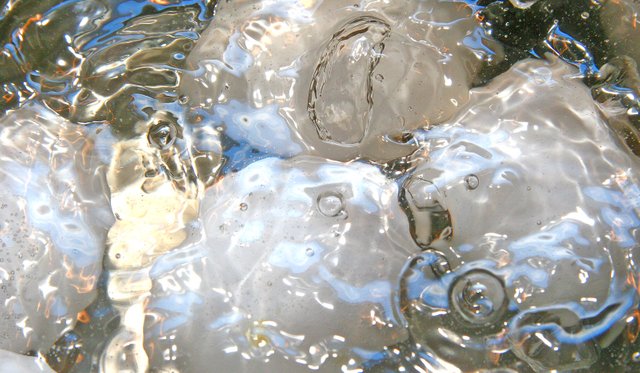 Do not forget to put the eggs under cold water when these are done!
When the eggs are still cooking, take tomatoes (cherries or ordinary ones) and cut the tops (or in half, if you've got cherries).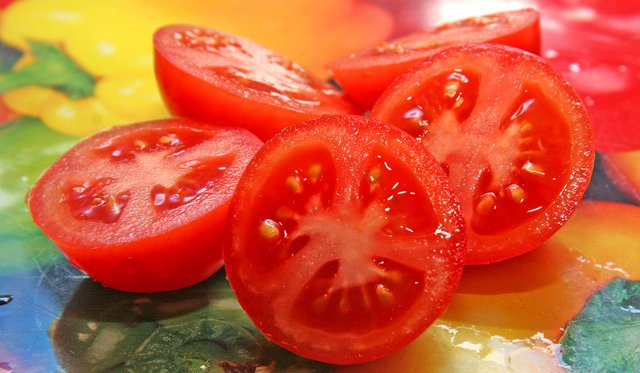 After the eggs are already cooling down in a cold water for some 10 minutes, take them out and peel.
Cut the bottoms and tops from all eggs to get flat surfaces. Stand the eggs, put a half of tomato on top of each egg, and add white dots either with the whites that were cut, or with sour cream (mayonnaise).
Decorate with the greens.
(Also, it will be a great idea to take out the yolks and stuff the eggs (definitely if you have enough time for that) either with some fish (tuna or salmon with some sauce) or just with ham and cheese.)
Voila!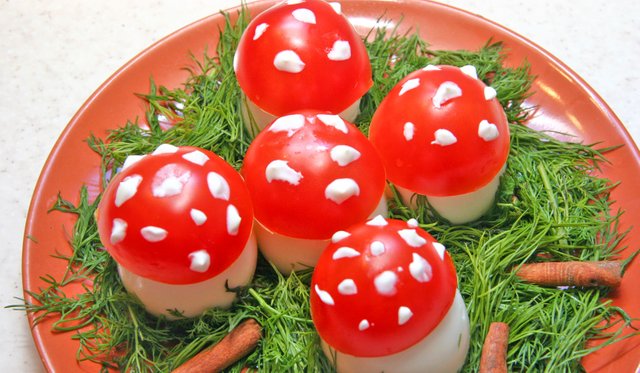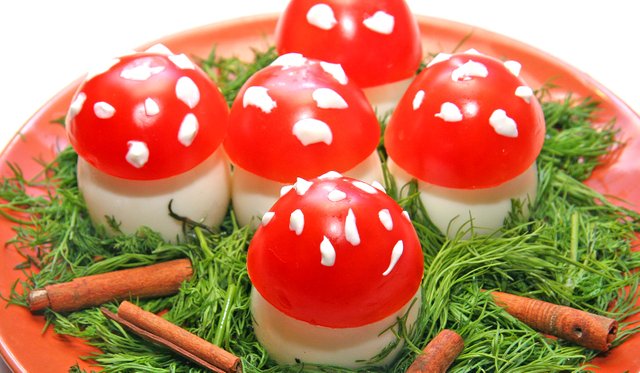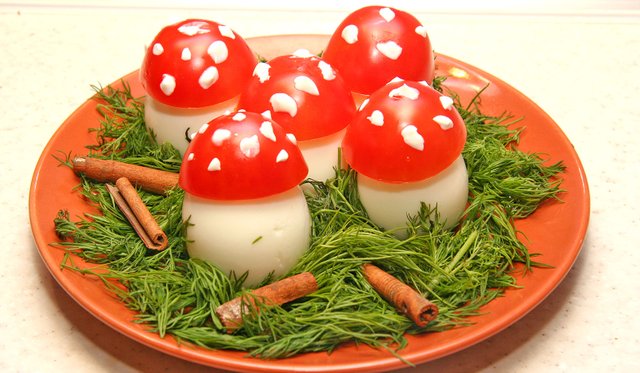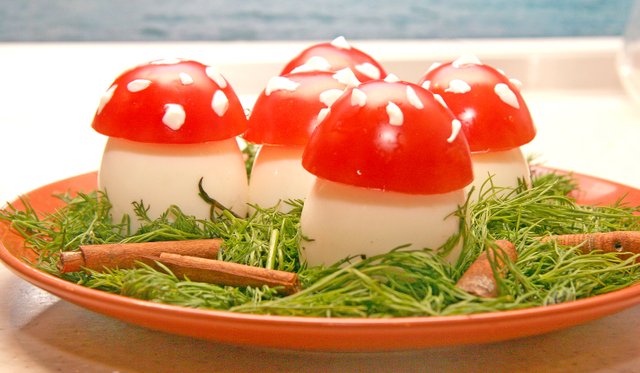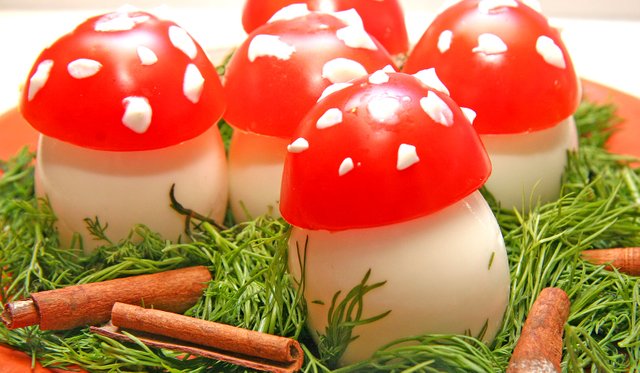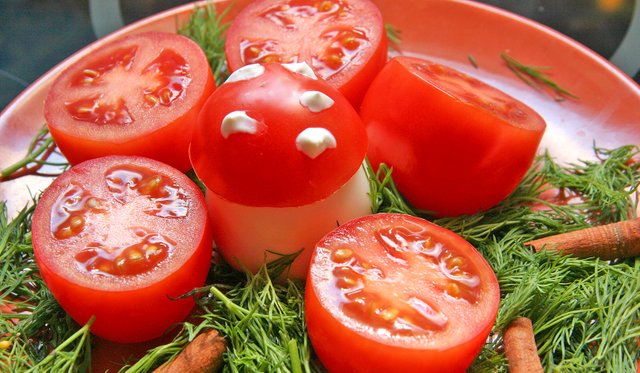 Got one more left. Anyone?
STAY POSITIVE AND BON APPETIT!
---
My mushrooms posts (if you insist):
Mushrooms fried with onions (Easy cooking recipe)
How To Cook A Delicious Mushroom Soup (Step-By-Step Guide With Original Pictures)
Hunting for wild mushrooms (For the benefit and enjoyment)
Also, you might like my other food posts:
Juicy Roasted Chicken In The Oven: Just Another Perfect Dish With Pasta and Oranges
Kyiv's River Grill Restaurant: Review and Photoshoot
Positive Food For Breakfast: Perfectly Fried Eggs with Bacon And Orange Juice (Exclusive Photoshoot)
Scalloped Potatoes With Turkey, Bacon, Cheese and Sour Cream (An Incredibly Tasty Viral Recipe Improved Exclusively for Steemit)
Yet Another Great Recipe of Hot Chicken Wings BBQ
How To Make The Best Pork BBQ Skewers (PORK SHASHLYK ON STICKS)
How To Make A Perfect Fluffy Omelette
From Ukraine With Love: Pork Plov (RICE PILAF WITH PORK)
A Kind of Magic Every Man Can Do: Delicious Pancakes With Honey In The Morning
Crispy Skin Chicken With Country Style Potatoes (easy and incredibly tasty dish)
Steamed Dumplings With Strawberries (Original Recipe)
How to cook delicious tuna steaks fast and easy (Friday night at home ideas)
Chicken wings BBQ with grilled mushrooms, vegetables and chilled wine (Quick and Easy)
Summertime chicken wings BBQ in soy sauce
---
If you liked my post, please don't forget to upvote, follow and comment.
All resteems are specially much appreciated :D
Cheers and have a great day!
Sincerely yours,
@richman
---
*** Want to boost your post? Use steemboost! ***