Grandpa Gotta Cook—Homemade Grilled Individual Pizzas
This week on Grandpa Gotta Cook...
My wife wanted pizza. She never wants pizza. She didn't want it bought at a pizzeria or at a store. She wanted me to make it from scratch. The only allowance—the dough.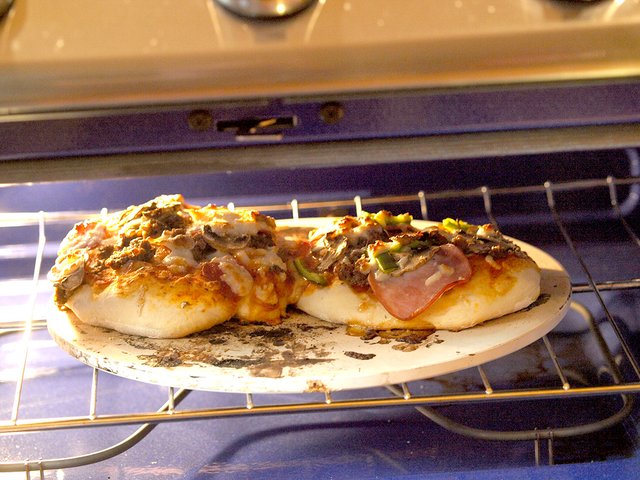 Welcome to this week's episode of Grandpa Gotta Cook.
If you've been following my cooking exploits over the last few months, you've undoubtedly learned a few things. Primary among them being—I'm not a professional, I do okay, I get too ambitious for my own good, and I've got a range of eaters that I need to try to satisfy.
Another thing you should be aware of is, I hardly ever get requests.
Except from the youngest son. He suggests I make the same dish every week. So far, I've been putting that off.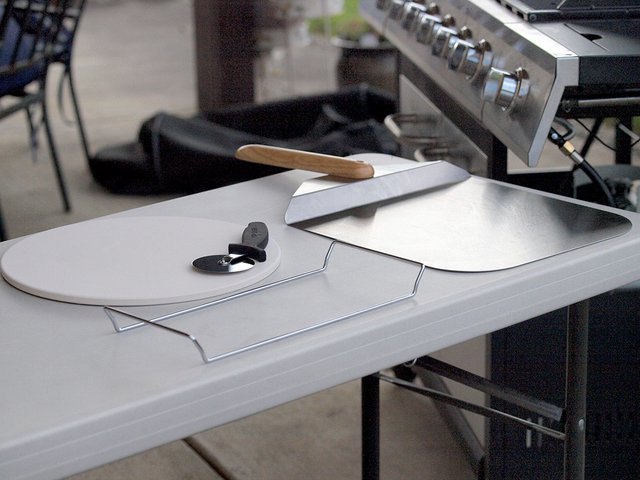 This past week, though, my wife stepped into the food flinging fray and insisted I grill some pizzas. Not store bought, not Papa Murphy's or some other take 'n' bake brand, but make them myself using ingredients from our garden and then buy whatever else I might need.
Like most things I've been endeavoring to do for Food Fight Friday, I'd never baked a pizza on a grill before. I started looking around on the Internet for the best way to do this, and came to the conclusion I should try out a Pizza Stone.
So, I started looking around for them. Local stores didn't have it. Costco didn't carry it. Nor did Walmart. Nope, these things' natural habitat was a home improvement store, in the grilling section. Lowe's didn't have any stock, which left me with Home Depot. They didn't have just the stone, but a set that came with a pizza cutter, serving handle or rack, and a pizza paddle or peel.
What I really wanted was two stones, but they didn't have them individually, and I didn't figure I needed two of everything else, so I bought one set. Normally I wouldn't do something like this, but I can see this becoming a regular thing, if the pizzas turned out at all, because we usually have pizza at least once or twice a month.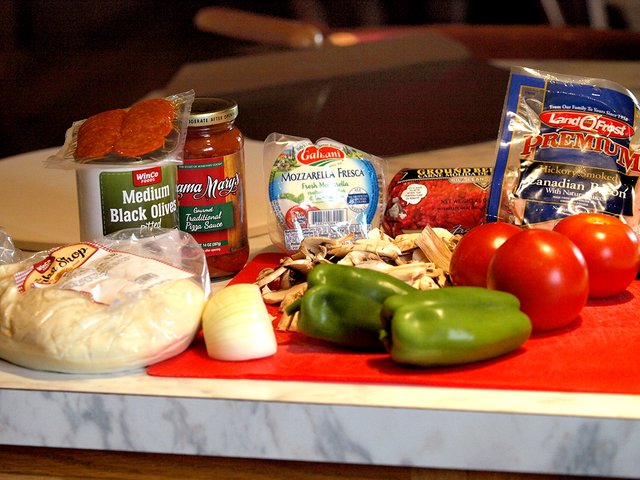 I decided instead of trying to go with one pizza everyone would like, I would make individual pizzas that people could order. This proved to be a logistical error, but more on that in a minute. To provide the variety people would want required having plenty of ingredients on hand. From the garden, there would be onion, green bell peppers and tomatoes. In addition, there would mushrooms and olives (thought the latter didn't get opened). There would be three kinds of meats, including ground beef, pepperoni, and Canadian bacon. To round things out, there was the pre-made dough, some pizza sauce, and fresh mozzarella.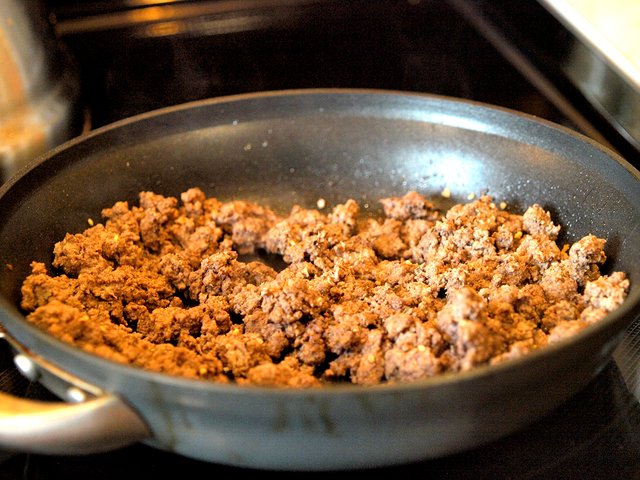 The beef I started cooking in a pan, where it got some salt and Italian seasoning to flavor it up. While that was frying, I spent time heating up the grill, cutting vegetables and trying to get the dough ready, along with the pizza stone. I wasn't able to get all things done before the meat was cooked, so it sat for a while as the rest got prepared.
I had heard that pizza stones can crack in the grill, but that coating it them with oil will help, as well as warming the stone up along with the grill. So, I tried putting on the oil (which I'm not really sure did anything) then put into the grill to heat up. By the time the first pizza was ready to go, the pizza stone was nice and hot.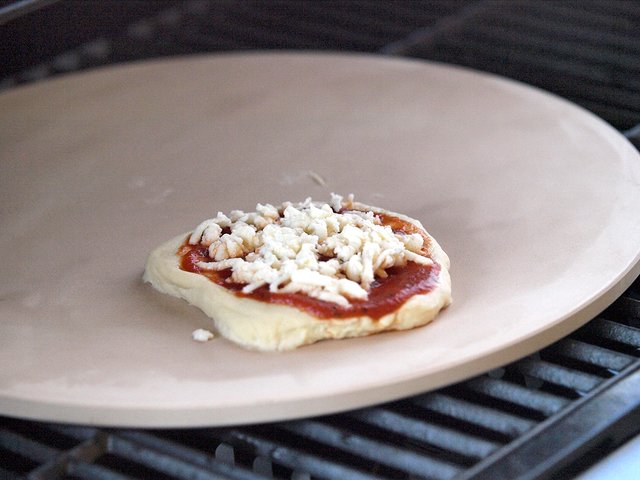 I'd also read that for a crispier bottom crust, put oil on it. So, while I was trying to roll it out (it didn't want to stretch beyond certain limits), it started sticking to the stone. That would be my tactical error. I would solve this issue later on, but not soon enough.
The first pizza to go into the oven was for the granddaughter. She's still figuring out what she likes and what she doesn't, so instead of getting too complicated, we opted for your basic pizza sauce and cheese. Her pizza was also the smallest. Dough instructions said to bake until golden brown. Other information said cook everything at 400 degrees Fahrenheit for 15-20 minutes. I decided to go the time route because with the sauce and cheese it was tough to tell what color the dough was getting.
While the granddaughter's pizza was baking, I did try to make the next one, but I was also concerned about hers sticking to the stone, and with good reason. When I tried to move the pizza with the peel before it was completely done, most of the bottom of the pizza stuck to the stone and I had to try to scrape it off. The oil had only helped to make it adhere more.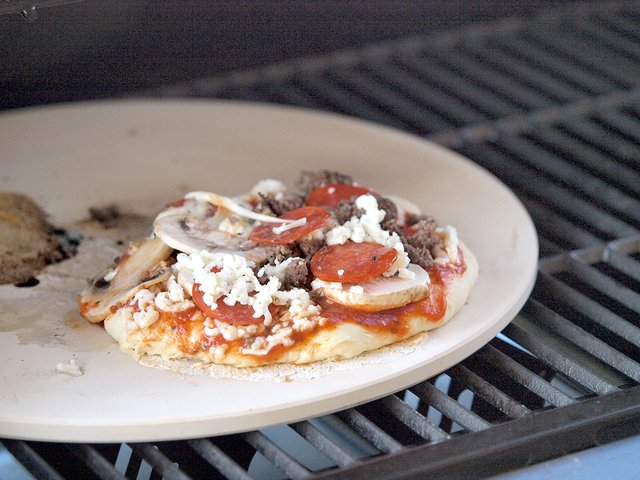 With each successive pizza, the results were similar, only larger and messier because of more ingredients. The next one up belonged to the daughter-in-law. She wanted pepperoni, some beef, sauce, cheese and mushrooms. I put a layer of cheese on top of the sauce and then put the other ingredients down with another layer of cheese on top. I placed her pizza on another part of the stone and tried to move it sooner with mixed results. Apparently the pizza bottom was sticking nearly immediately to the stone (probably due to the heat of the stone and the oil on the bottom of the pizza—instant fusion).
Now, with more cheese in the mix, the freshness of the mozzarella was creating moisture or water which wasn't completely cooking off. It kept things a little moister than I was wanting and the cheese wasn't melting like it should.
The dough also puffed up, too, making everything look bigger than it was to start out with. I'd tried to make things thinner, but as noted earlier, the dough kept snapping back.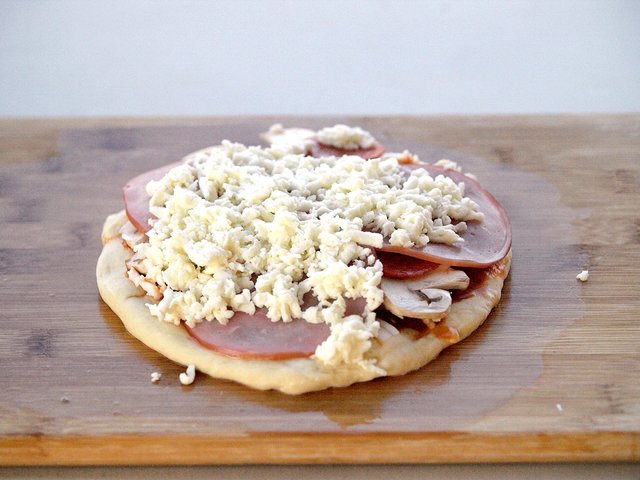 The wife's pizza was the next to follow. She wanted all of the meat, plus pepper, onions and mushrooms, with the sauce and cheese. When it was done, she would top hers off with sliced tomatoes. She wanted a lot of cheese, which only compounded the moisture problem. However, of the first three, her pizza fared the best as far as moving it and keeping it from sticking to the stone, though I'm not entirely sure why.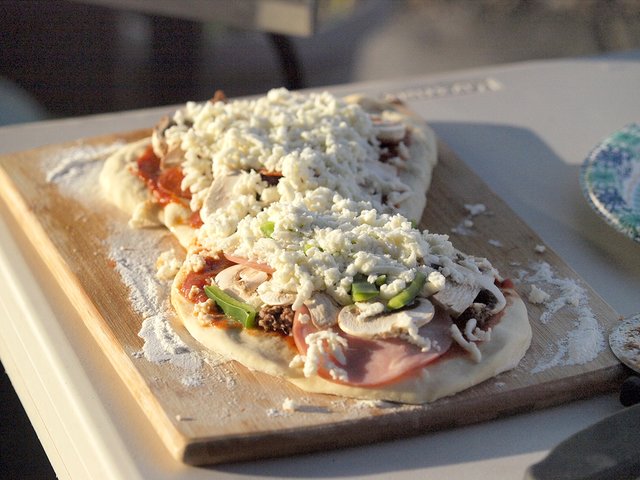 Finally, I did my younger son's and mine last. He wanted everything but Canadian Bacon, peppers and onions, and I would have everything but pepperoni. Again, tomato slices would go on later.
I finally got smart with the tactical error and threw down some flour. That solved the sticking problem completely, which is good, because at the time our pizzas went on the grill, they were stuck together and unwieldy. I managed to get them both on without dumping ingredients. It was part way through the process that I separated them.
Before they were done, I discovered we ran out of propane. After baking three other pizzas for 15-20 minutes each, what was left of the propane from the previous uses ran its course. I had to heat our oven to 400 and finish the rest of the baking there. Our oven apparently heats differently than the grill, because when I pulled out the pizza, the cheese I heaped on top appeared to be gone, the crust was tougher and bloated.
Conclusions
When I do this again, I will cook too larger pizzas with half and half, and one smaller pizza for the granddaughter. I will make sure that there is oil for the crispy crust, but flour to avoid sticking to the stone, and I will probably either have another stone by then, or go and see if the metal pizza pan we have will fit with the stone (the metal pan is quite a bit larger). I like the way the stone distributed heat, though, and the way the pizza crust turned out on the bottom, so I'd prefer a second stone.
Everyone said they really enjoyed their pizza. The granddaughter didn't use words, but wolfed hers down in no time flat (she's 14 months). The daughter-in-law (with her mouth full) said it was really good. My wife enjoyed hers a lot and so did my younger son, though we both ended up with way too much crust. I need to take some time roll it out more.
I will definitely be doing this again, maybe even experiment with crusts (I prefer sourdough) and pizza sauce (though this particular brand was pretty tasty). I'll also make sure to get the olives sliced and maybe throw on some pineapple next time, too.

About This Post
This installment of Grandpa Gotta Cook is published in conjunction with Food Fight Friday. Anyone is welcome to participate. Just talk about food, use the fff tag and post it on Friday.
Images courtesy of Glen Anthony Albrethsen. Images taken with an Olympus E-3 DSLR. Copyright © Glen Anthony Albrethsen, 2018. All rights reserved.