My dear foodies,
As you have learned to prepare aquafaba I feel in one of showing some recipes made with aquafaba, the purpose is that you can appreciate the infinite number of recipes you can make with the best egg substitute, either because you are allergic or because you are vegan and do not consume any product of animal origin, this is the best option to try different desserts or snacks that would not be possible without egg thanks to the advantages aquafaba offers us.
Today we will prepare delicious vegan sandwiches where aquafaba has an important role, besides being very healthy gives us all the nutritional properties of the vegetable protein, just say pass to prepare this aperitif that you can prepare to share with your family or friends.

source

My secrets INGREDIENTS
(for 5 portions):
♡ Gluten-free bread
♡ 4 tomatoes
♡ 50 gr dehydrated soybeans
♡ 2 cloves garlic
♡ 1 lemon
♡ 100 ml aquafaba
♡ 250 ml sunflower oil
♡ 1 cup cooked peas
♡ 1 onion
♡ Salt
♡ Pepper
♡ Soy sauce

PREPARATION
Preparation time: 10min

Cooking time: 45min

Total: 55min

The first step will be to make the vegan mayonnaise, for it we will repeat the recipe I shared in the last post only that this vegan mayonnaise will be seasoned with salt, oregano, and condiments that you choose, this I leave to your liking. After our mayonnaise is ready we will take it to the refrigerator for 20 minutes.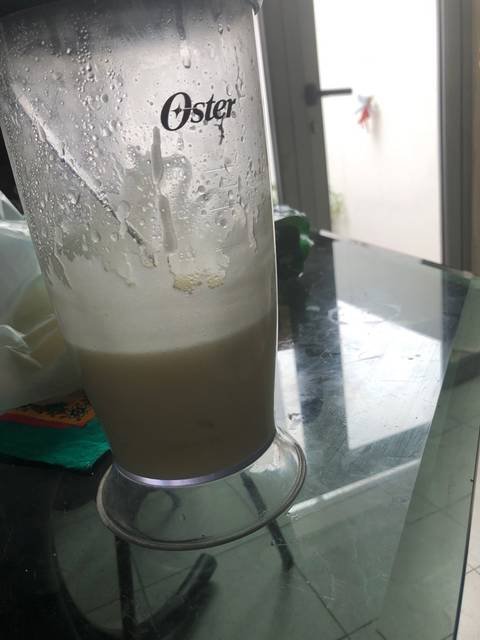 source
In another bowl place the textured soybeans to be dehydrated by placing 4 cups of water with a jet of soy sauce, only 20 minutes will suffice to then drain as much as we can the soy water, we can use a strainer or do it with our own hands.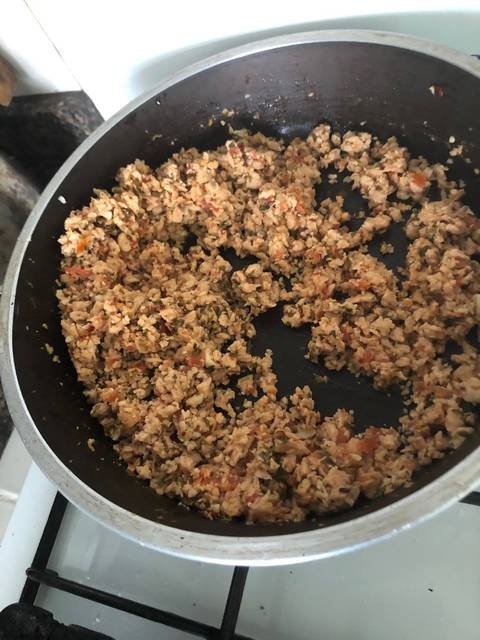 source
The next step will be to choose our best frying pan to sauté the garlic previously chopped with the onion also finely chopped, we will add a good jet of extra virgin olive oil and first brown the garlic and then add the onion, when it begins to crystallize pour the soy dehydrated, add salt and pepper to taste, then while cooking in the frying pan over medium heat and high heat when this taking color and then reserve.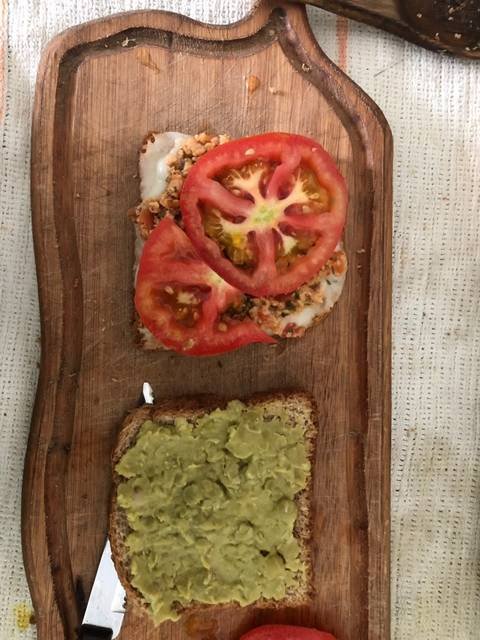 source
Now we will take the portion of previously boiled and drained peas to place them in the blender and process with lemon juice, oil, the idea is that it has a consistency similar to mayonnaise or cream, finally, add garlic, salt, and pepper to season.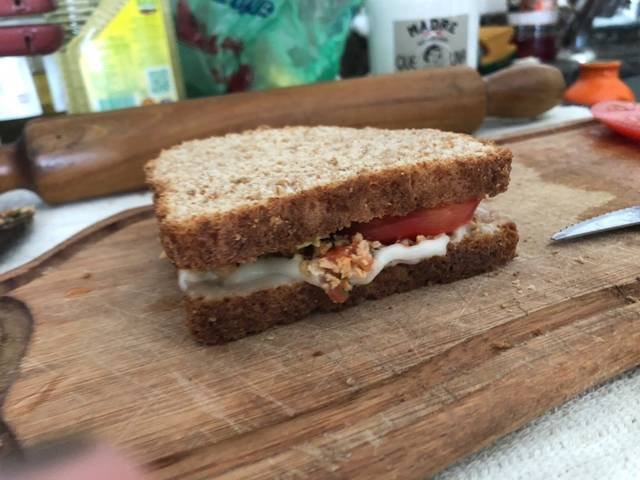 source
When we have everything ready then we can prepare the sandwiches, choose a loaf and spread the vegan mayonnaise, then a layer of soy meat and to finish a few slices of tomato and pea cream, and ready close our sandwiches.
The portion you use to assemble your sandwiches is your decision, if you add more nothing will happen, they will be twice as rich.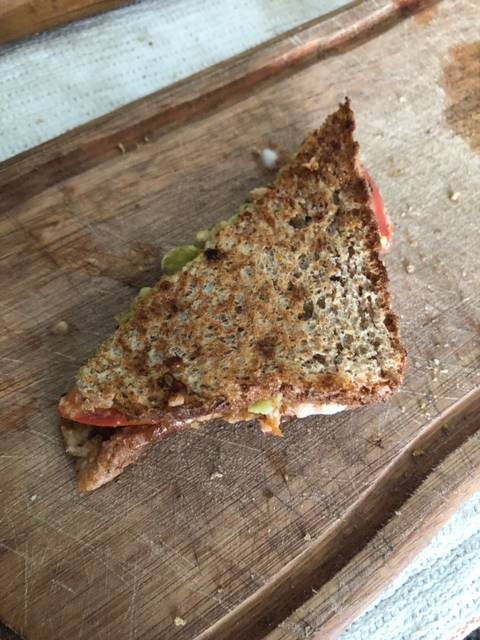 source
I let you try this recipe and tell me what you think! ;)

Benefits of Peas
Discover the benefits of peas for your health.
This grain can be found in many presentations as fresh, canned, dried and frozen any of them is valid and keep the properties of the peas intact, among the properties we have that are like all grains rich in iron, phosphorus, potassium, and magnesium essential minerals to keep our body healthy, helping to prevent anemia and diseases related to poor absorption of iron and other minerals.
source
They are a rich source of vitamins A, B, and C, also has a lot of fiber that helps keep the digestive tract free, having vitamin B1 is rich in thiamine vitamin that is responsible for giving us a lot of energy.
And best of all, because they are delicious they can be used in many recipes that you are sure to like and you can benefit from all of the above. Why ask for more.
Thank you for reading 😊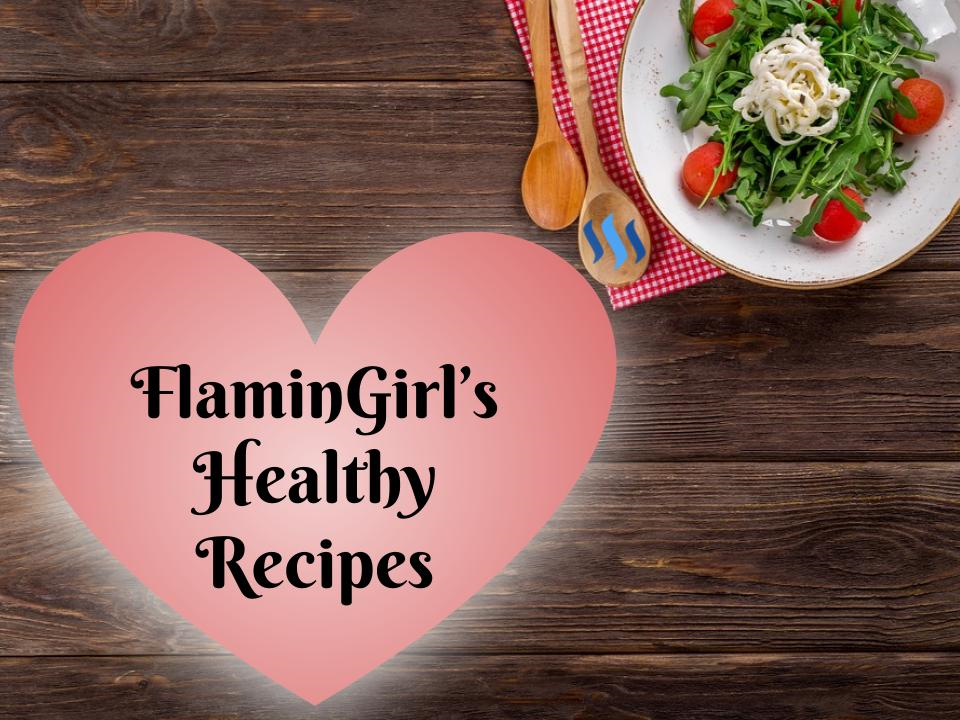 Don't miss the FLAMINGIRL'S LASTEST RECIPES!
. Vegan strawberry mousse with aquafaba
. How to make homemade aquafaba
. Focaccia bread with black olives and cherry tomatoes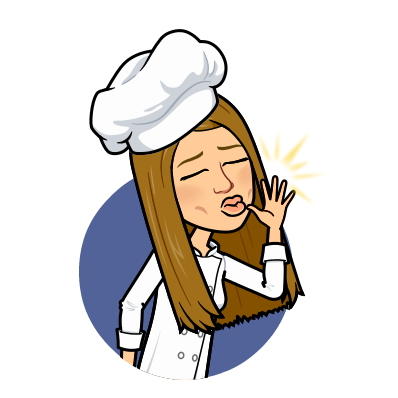 I hope you enjoyed reading this post. If you liked this recipe, don't hesitate to FOLLOW ME, to UPVOTE and RESTEEM.
Thank you for your support, thanks to you I am more and more motivated to write! See you soon for a new recipe!