Mango Coconut Bites "Quick & Easy" | VIDEO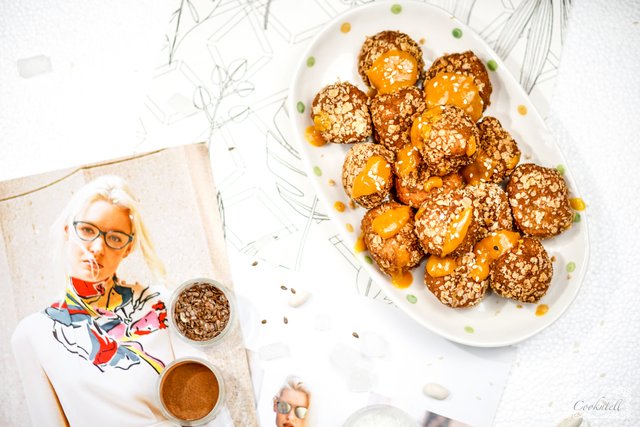 "Uzeti vremena da učinite ono što vašu dušu čini sretnima."
If I have to choose a daily goal, it would be to do what makes my soul happy. Hello my Steemian friends! Today is a very challenging day for me. I've been in pain physically for 3 days.
But despite the odds of fighting against it, I manage to cook food and make my post. For me it is both a meditation and a medicine. In short, it also makes me happy.
Watch this VIDEO for a full recipe adventure!
Wherever you are, I wish you a happy day. Everyday is battle for everyone but we can choose how we react to our daily situations, whether be controlled by it or to control it.
There's a battle to gain peace, a battle to gain health and the most difficult is the battle to gain life.
To those in pain and had suffer for so long physically, my prayers are for you. Praying to be strong in the middle of the batles of life that one day we'd be all in the place where there is no pain, no suffering just pure joy and peace.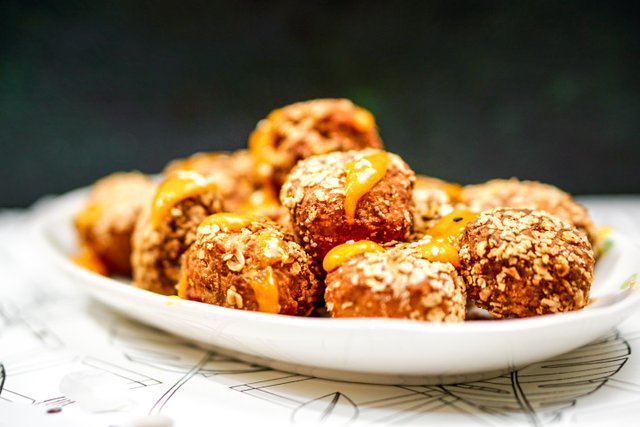 This is different since I'm talking outside the recipe topic here. But what I mostly notice is that, people tend to be fascinated by looking at pictures and tired of reading letters and long words.
So I guess, if you're one of those rare people who likes to read people's story, write your comment in the comment section below and let me know what you think.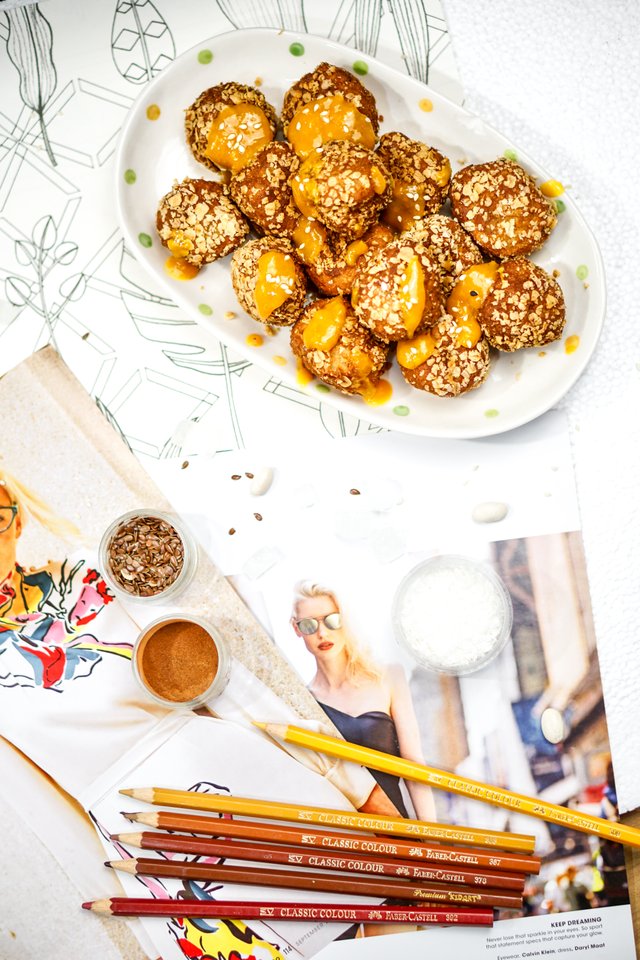 In my kitchen, I just do whatever I want to do and cook whatever I wanna cook. Sometimes, experimenting is your best friend. So people ask me, why do you use both butter and oil? I don't understand. :-)
Well my answer would be, why are people not eating rice alone and always have chicken on the side plate? If you know what I mean.
It's like life is full of rules, but sometimes the best experience is to go against it.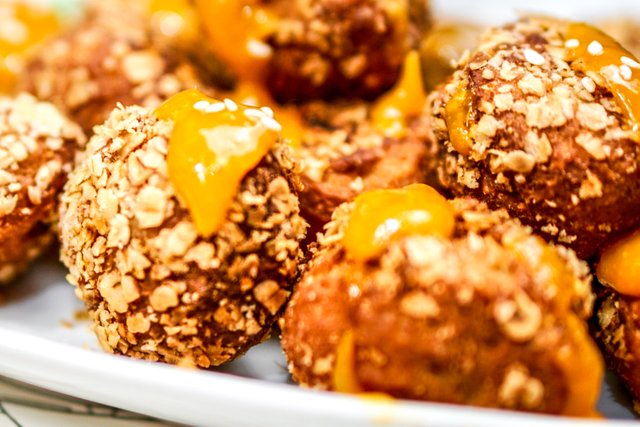 "Guys, English is not my first language so sorry if there's any discrepancies." :-)
INGREDIENTS
340 g pizza dough
1 cup fresh ripe mango bits
3 tbsp coconut cream
1 tsp vanilla extract
2 tbsp coconut sugar
a pinch of salt
1 cup vegetable oil
1/2 cup rolled oats
DIRECTIONS
In a blender, add mango, coconut cream, coconut sugar, vanilla and salt. Pulse until smooth.
Unwrap ready made pizza dough and form small balls using your palms. Pour mango puree into an icing pipping with nozzles and fill pizza ball desired amount.
In a medium heat, add oil into a frying pan. Once oil is hot enough, fry mango bites until golden brown.
Drain using paper towels and serve. Coat with mango puree or shower with desiccated coconut.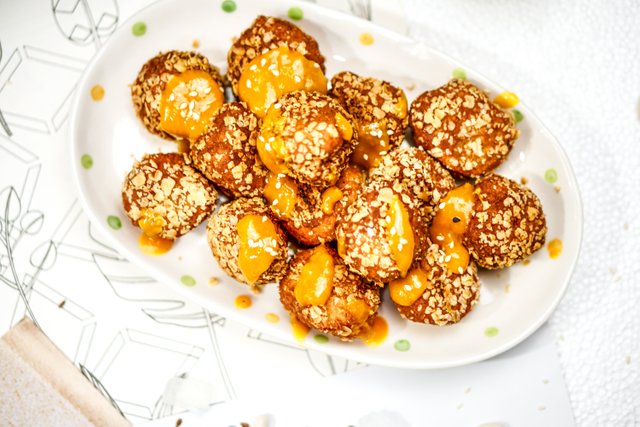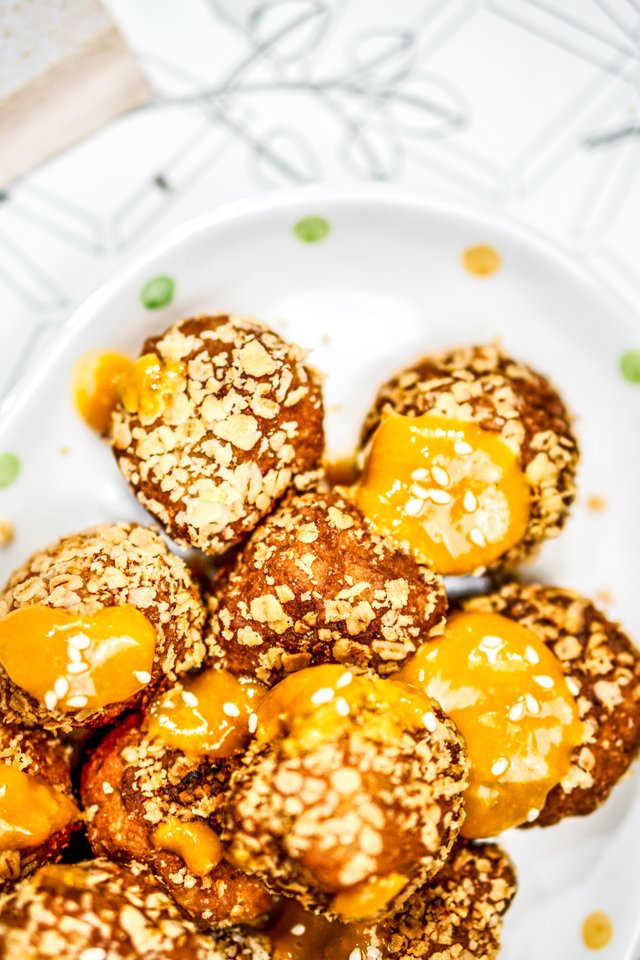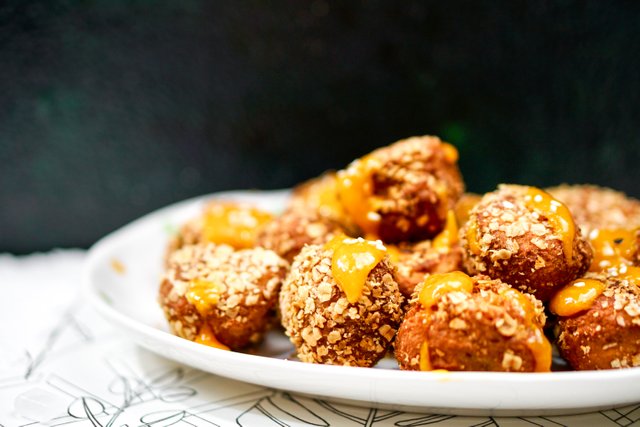 Thanks again for visiting my blog! If you've enjoyed and found this post valuable and if you would like to see more of my cookntell posts daily, then your upvote would be much appreciated!
:-)

See you on the next cookntell.

Love,
Jayne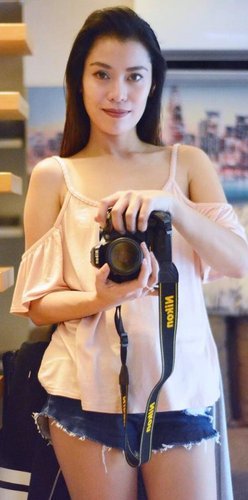 For my daily Cookntell food photography follow at my social sites:
Steemit
Instagram
Pinterest
Facebook
Twitter
Youtube
My Featured Steemit Posts
You can view some of my Featured Contents here:
Curie AUTHOR SHOWCASE/Mozzarella Burst Garden Special Buckwheat Pizza
BUILDAWHALE CURATION DIGEST/Cookies & Cream Mousse
OCD NOMINATION OF THE DAY/"Be Awesome Dragonfruit Smoothie
THE DAILY SNEAK/The Ultimate Chocolate Avocado Tart
DAILY HIT PARADE FOR NEWCOMERS/The Famous Filipino-Style Chicken Adobo
DAILY TRUFFLE PICKS: THE TOP 10 TRUFFLES/Chocolate Chunk Cacao Wafers ICE CREAM with Almonds and Walnuts VIDEO
THE BEST FOOD POST/Dark Chocolate Vanilla Cookies
THE BEST FOOD POST BY "RED FISH"/Pomegranate Choco Millet Cookies/VIDEO
DAILY PAYOUT STATS REPORT/Vegan Chocolate Cake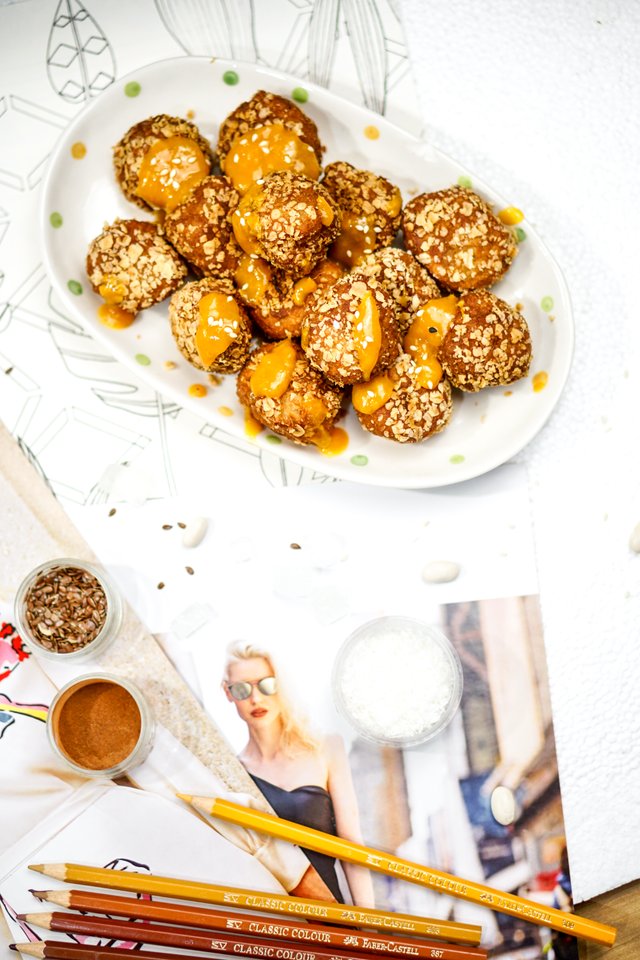 Watch More of My Recipe VIDEOS!
I have to be honest with you guys. I don't really call it vain but I try to watch my food videos a couple of times. It feels like a meditation for me. It is basically the sound and art in the kitchen. The sound of the fork, the spoon, the knife, the cutting board, the water, the mixing, the squeezing, the blending and everything in it sounds like in a grand symphony: a kitchen live music. For me, it is just sooo soothing. It's the reason why I put audio on my videos so you guys can experience a different way to watch too. So I wanna share with you some of videos here:
"Mango Float" Creamy Icebox Cake
Vegan Almonds Avolato
Sakura Sweet Rolls
Baked Chicken Parmigiana
Dark Chocolate Vanilla Cookies
Pomegranate Choco Millet Cookies
Mozzarella Burst Garden Special Buckwheat Pizza
The Ultimate Chocolate Avocado Tart "Quick & Easy"
Vegan Chocolate Cake "Guilt Free"
The Famous Filipino Style Chicken Adobo
Chocolate Chunk Cacao Wafers Ice Cream with Almonds & Walnuts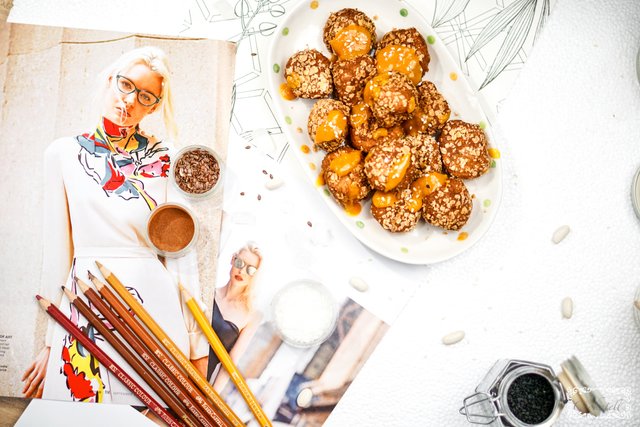 ©Cookntell Photography
All photo contents of cookntell are original photos created by ©Cookntell and cannot be copied or used without the permission of Jayne Alexander. @cookntell


Join us now @steemitbloggers