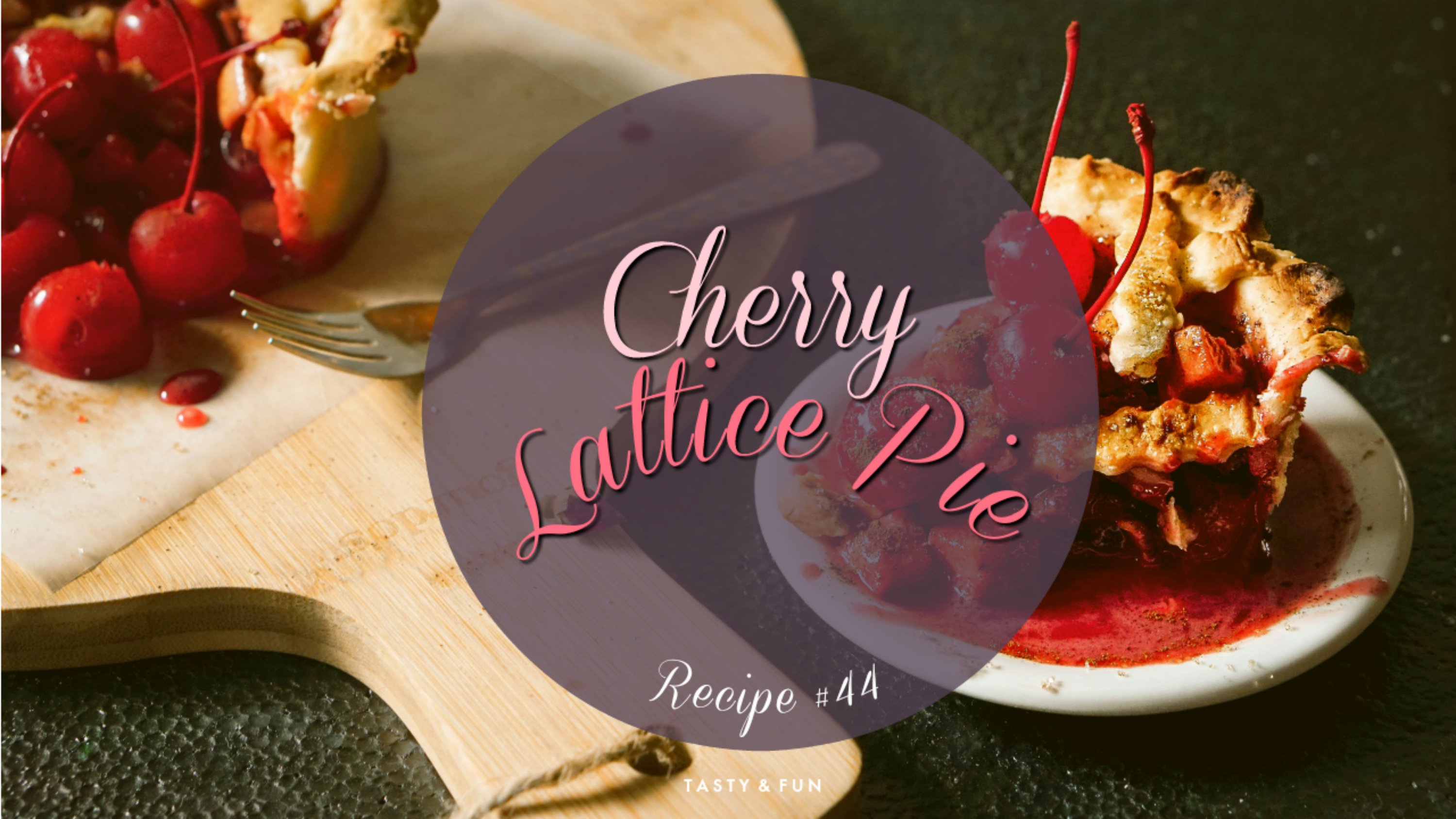 "Sous un cerisier, tous les fardeaux de la vie s'envolent."
Under a cherry tree, all burdens of life fly away. Hello guys! Cheers to a good brighter days. Making moments of bearish a good chance to enjoy the most missed things in life.
Cherries! As they always said, "Life is a bowl of cherries."Well I guess this fruit loves to be on the spotlight, always on top of the pedestal. Cherries for ice creams, cakes, breads and pastries and absolutely for your sweet love.
"Hello! Welcome to Cookntell!"
This is recipe #44
Apple Lattice Pie w/ Mallow Cinnamon Cream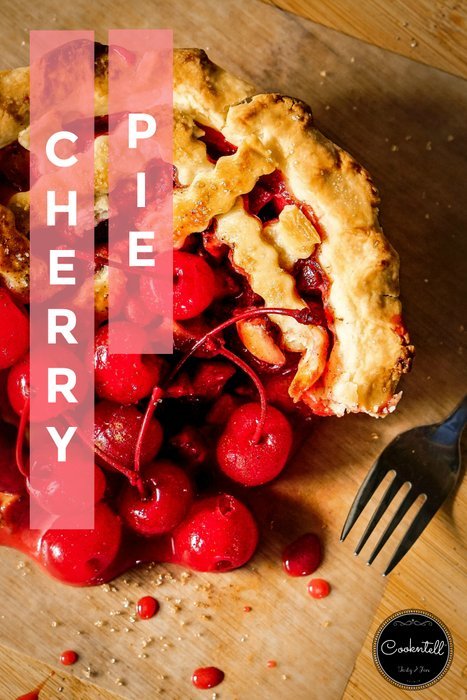 So just today, I finally cut off my usual ritual. I did the photoshoot morning time which is quite different specially when it comes to the outcome of photos.
The shots look fantastic compared to the night shots where I usually use an umbrella lighting. The power of the sun's natural lighting is indeed doing better than white umbrellas with just an artificial light of white bulb.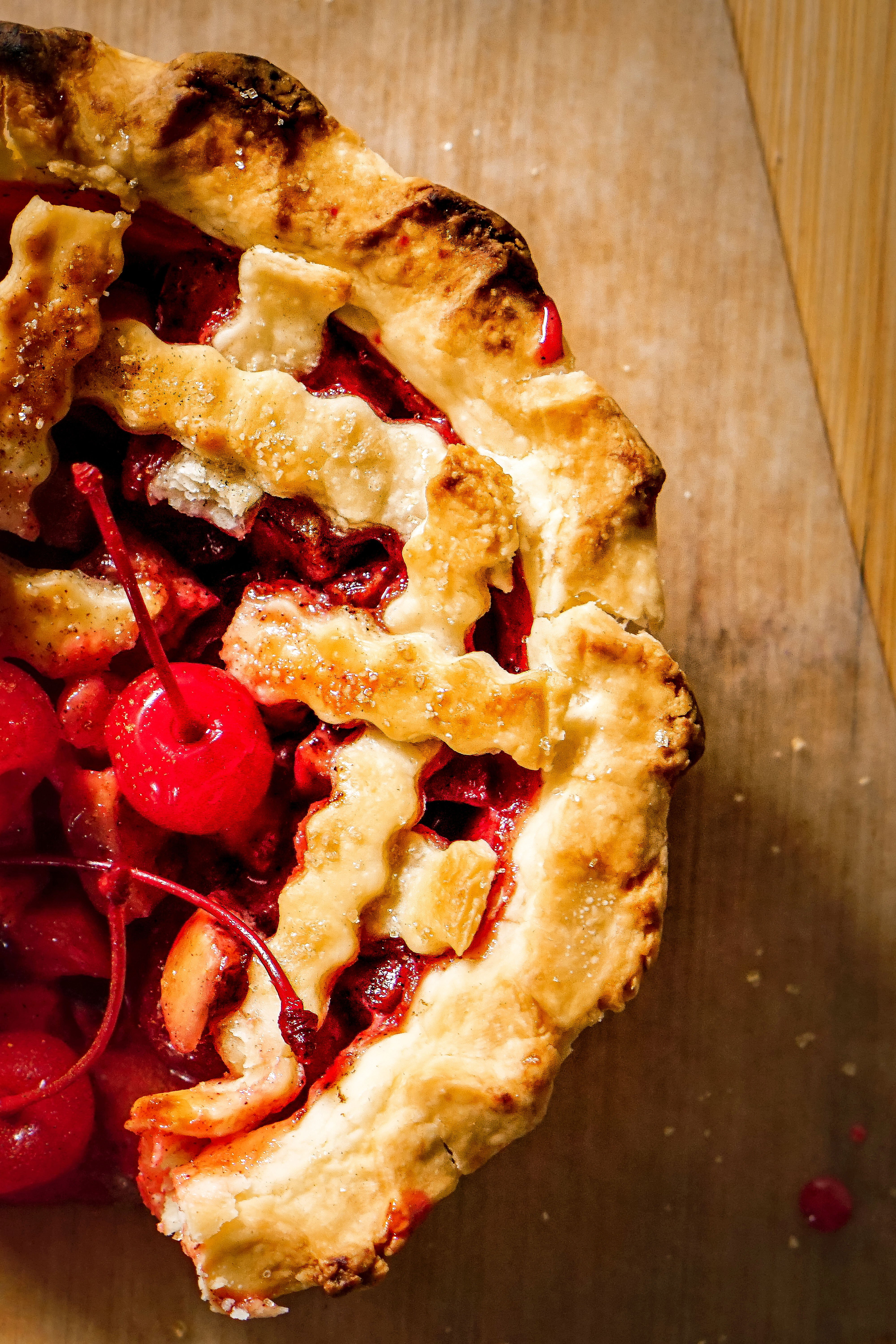 Yah I do love shooting at night because for me it's very convenient since during the day, I have some errands to do. But today, I'm shifting to something new and of course adjusting my day schedule is a must.
How I came up with this? Well, it all started when a friend told me I should use photoshop. But dude, I did and even lightroom. Lol.
Maybe my skills are not quite the superman level yet. :-D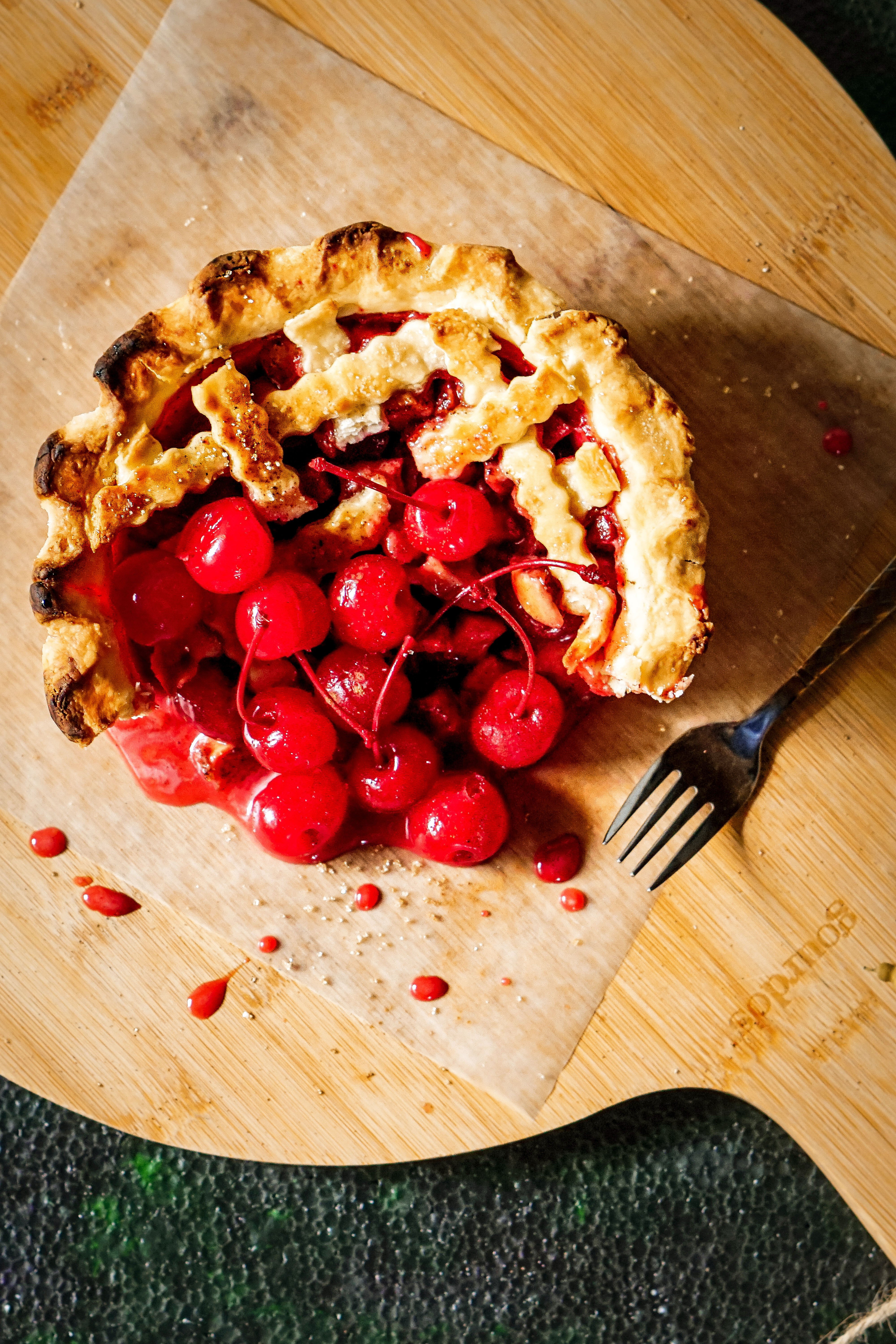 Sometimes I think, maybe it's my camera. So recently, I've been using my Sony Alpha 6300 along with the 50mm f1.8 lens and I see a lot of difference.
I'd say mirrorless cameras are lighter and better for videos which is why I use it all the time for my videos, DSLR's are quite better in regards to photo qualities that works better in low light but at the same time they're bulkier.
As for me, after all the realizations, I decided to not use the Alpha for my next photoshoot and only intend to use it for shooting 4k videos instead.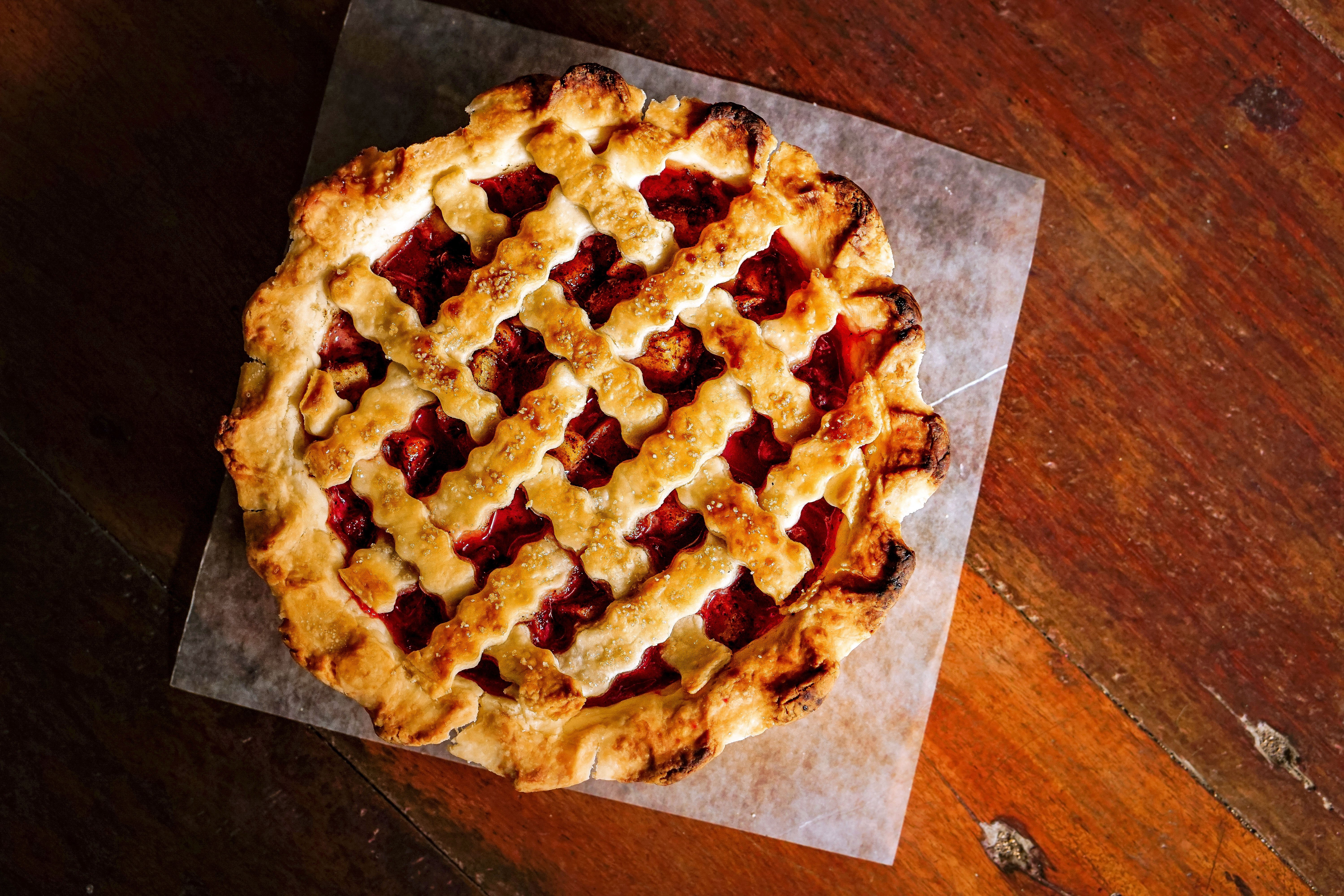 Today seems to be the last day for my baby alpha to work for a photoshoot. I just set it aside for the meantime.
So these are my shots today, using the Sony Alpha 6300 with 50mm f1.8. If you're a photographer, you can see a lot of downsides- mostly chromatic aberrations and the not too sharp and crisp lines.
"I promise, this Apple Pie is just irresistable"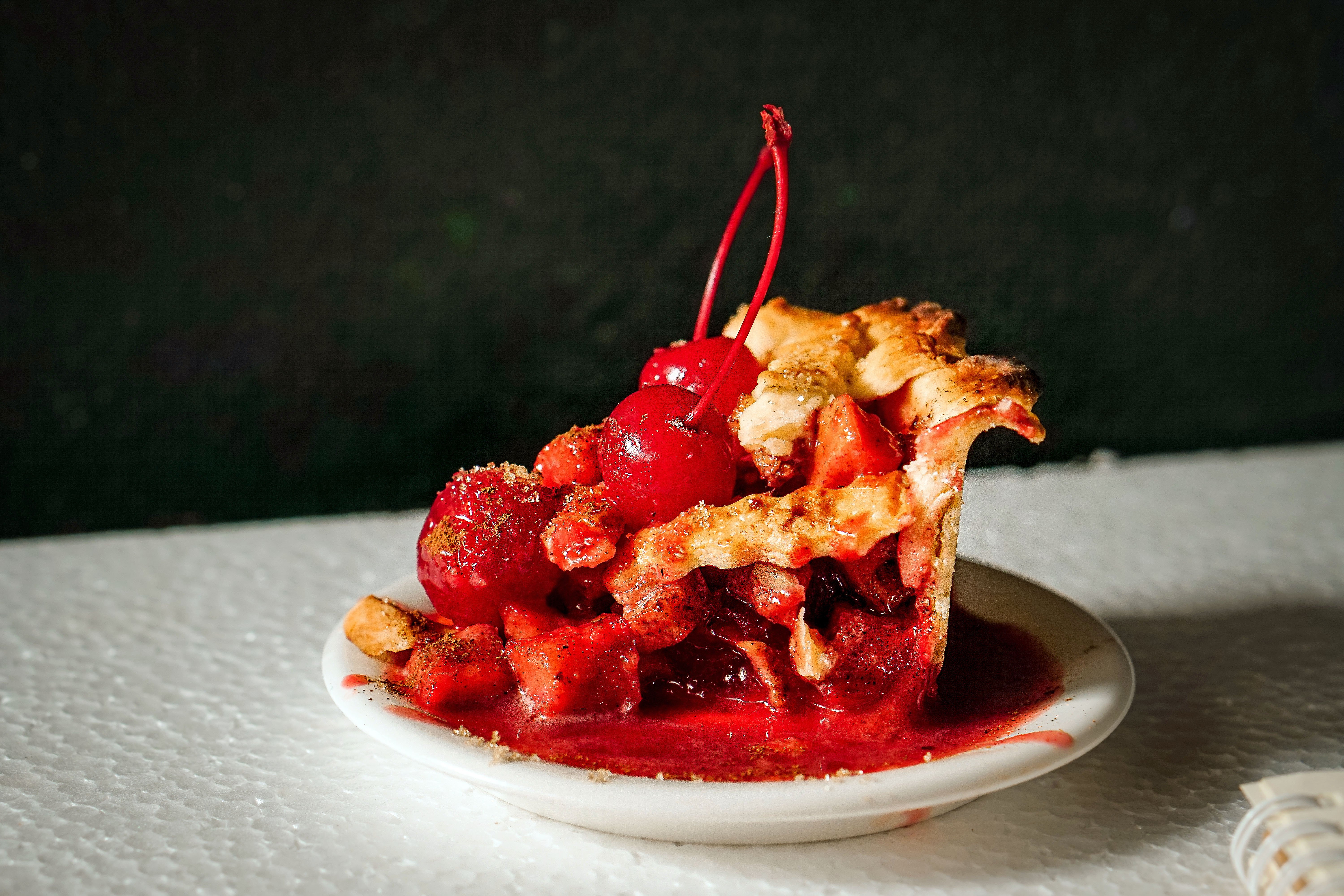 If you agree with me or if you have any ideas about mirrorless vs. dslr, please leave a comment below and let me know what you think about it and your thoughts about what camera is getting a more crisp and better, clearer shots.
Also a great advice would be awesome! That's good thing about Steemit, we all are here to contribute and help the community grow and exceed.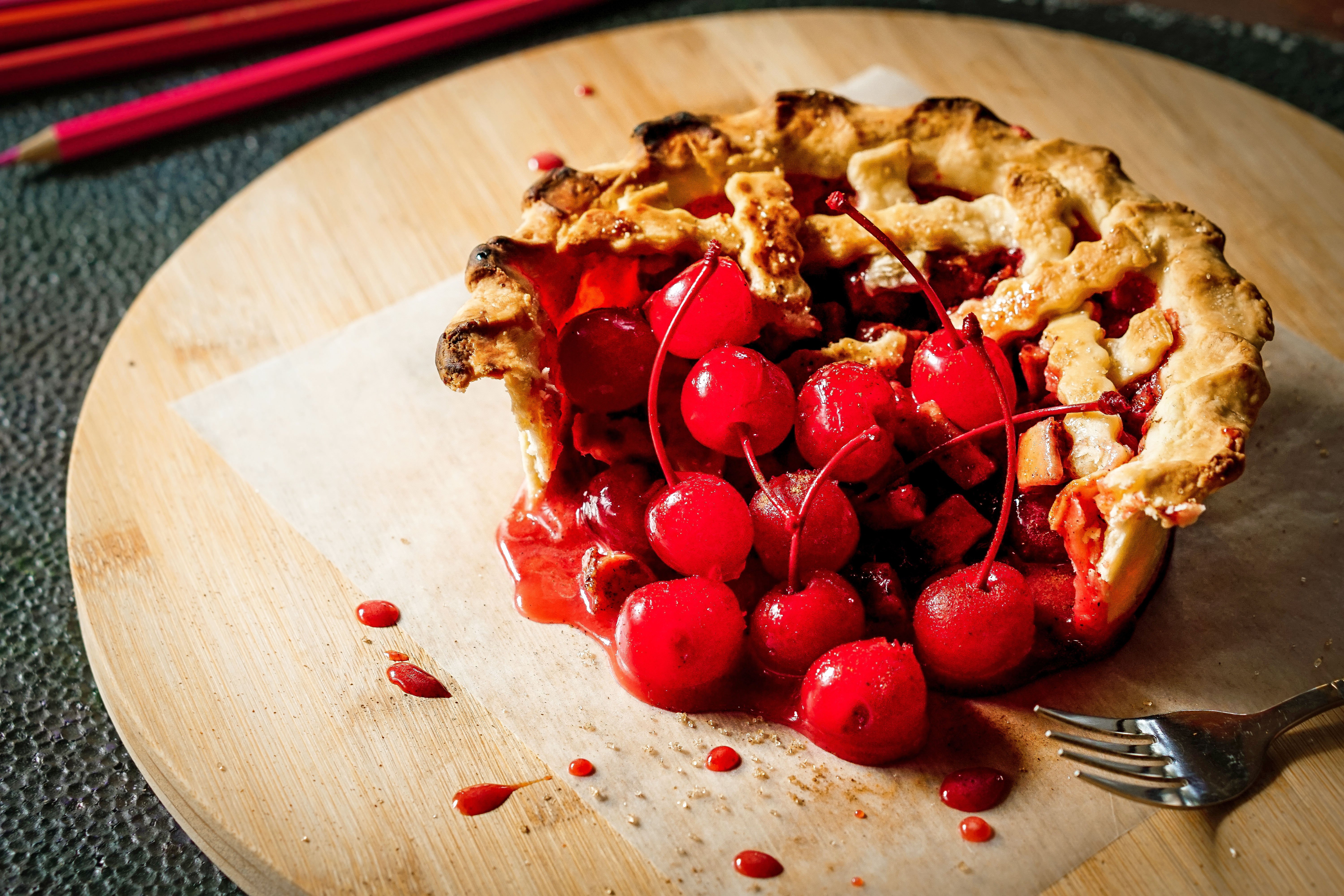 Okay guys, I have to talk about the recipe too. I had lots of fun making this recipe. The idea of combining marshmallows and condensed milk with the cherries and cinnamon dust is just amazing. I thought it's not gonna work but I am very happy with the result.
The taste came out so good that you can't resist the smell of cinnamon and cherry together and the goey chewy marshmallows with the milk, it feels like heaven. Oh-ohw!
Alright so here's my recipe for today. I hope you guys like it.
Have a cherry-on-top kind of day!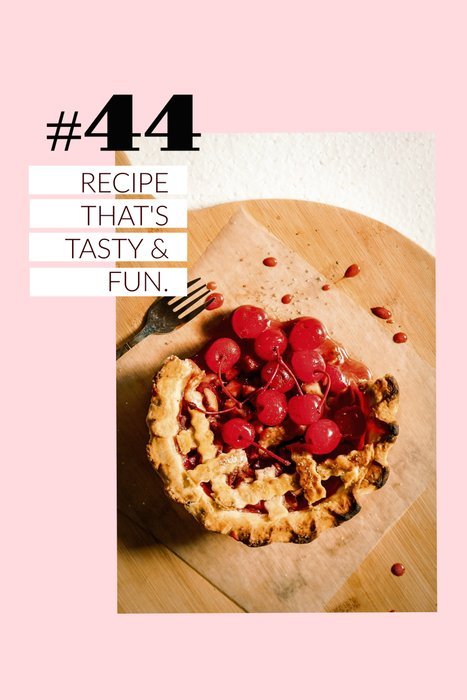 INGREDIENTS
1 cup cake flour sifted
1/4 cup unsalted cold butter
1/4 tsp salt
1 tbsp white sugar
2 tbsp ice cold water
1 apple diced
1 tsp cinnamon
1/2 tbsp brown sugar
a pinch of salt
1/4 cup condensed milk
1 cup marshmallow
1/2 tsp salt
1 cup cherries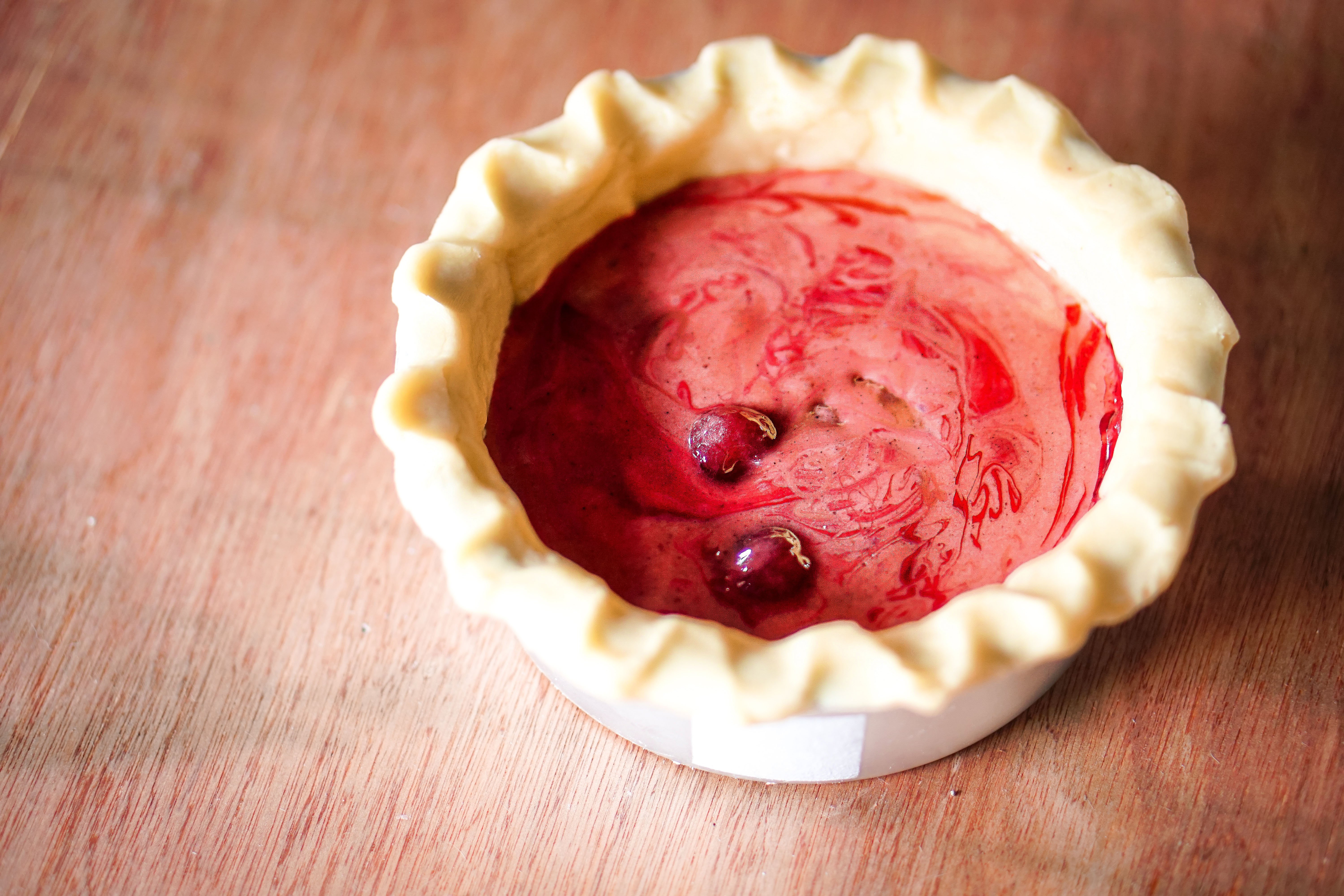 DIRECTIONS
In a mixing bowl, sift cake flour using a strainer. Add cold butter and mashed until combined with flour.
Add salt, white sugar and cold water. Mix until a soft dough is formed. Cover with plastic and refrigerate for 2o mins.
Meanwhile, mix apple with cinnamon, brown sugar and salt.
Prepare your cherry sauce. In a medium, add condensed milk. Keep stiring until soft and a little sticky. Add marshmallows and let it melt. Add salt and cherries. Set aside.
Preheat oven at 180 degree Celsius.
Take the dough out the fridge and flattend it out using a rolling pin.
In a small cake tin, line base with flattened dough making sure all sides are covered. Add and pour the cherry sauce and top with the apple cinnamon mix.
Make vertical cuts using a pastry cutter with design. Cover pie and make lattice using the dough strips.
Bake for 15 mins or until pie is golden brown.
Serve immediately or chill for 15 mins and slice. Serve and top with cherries.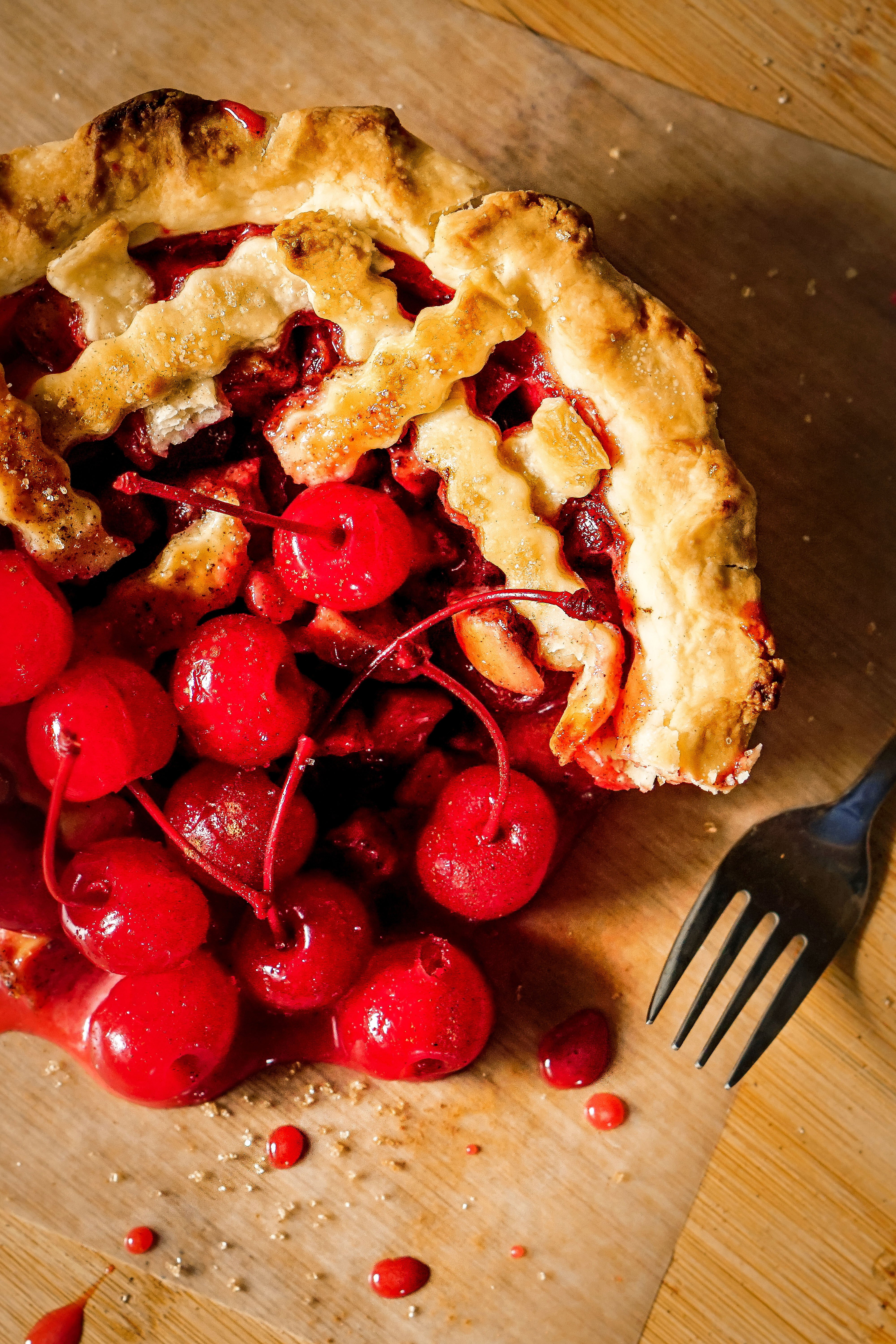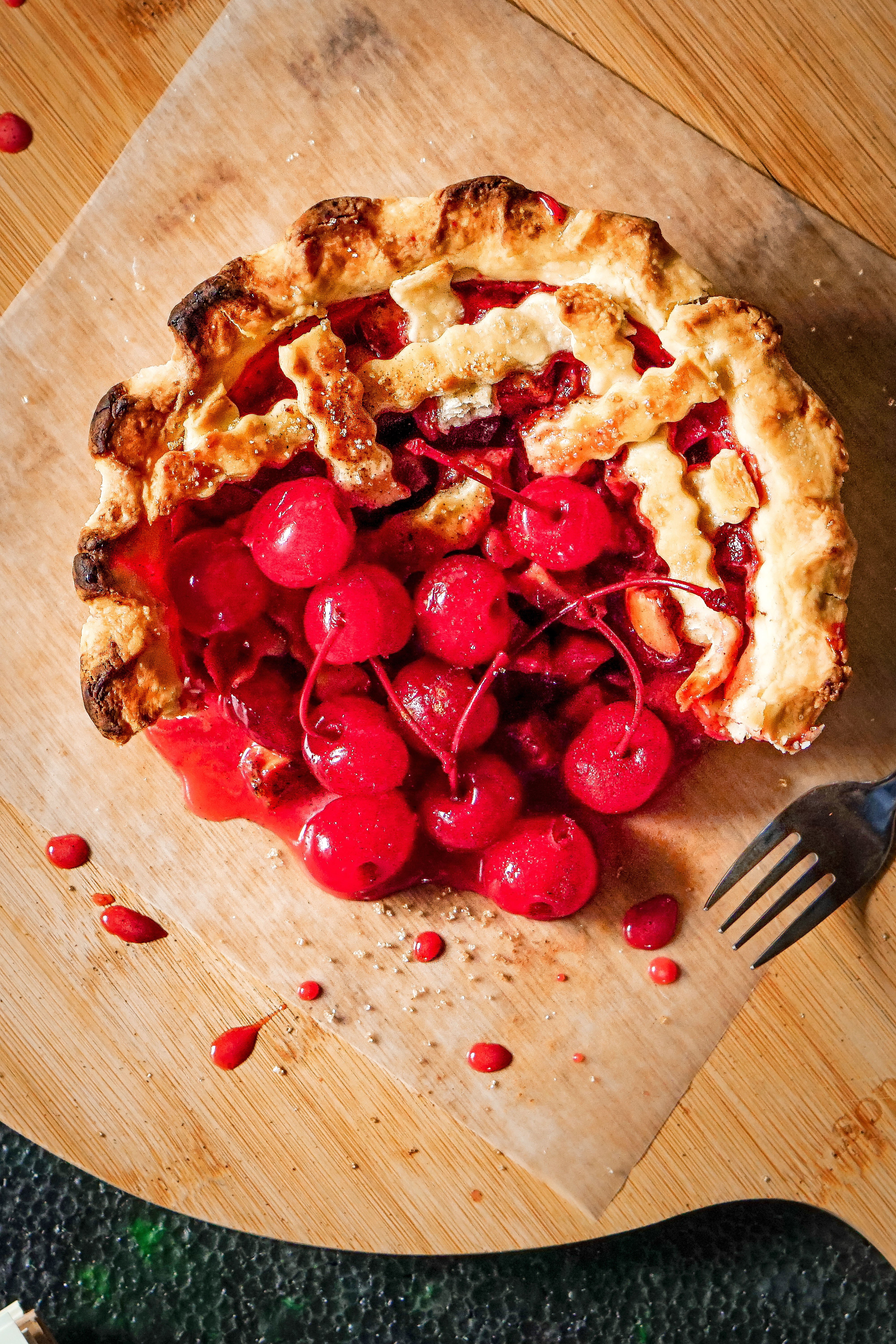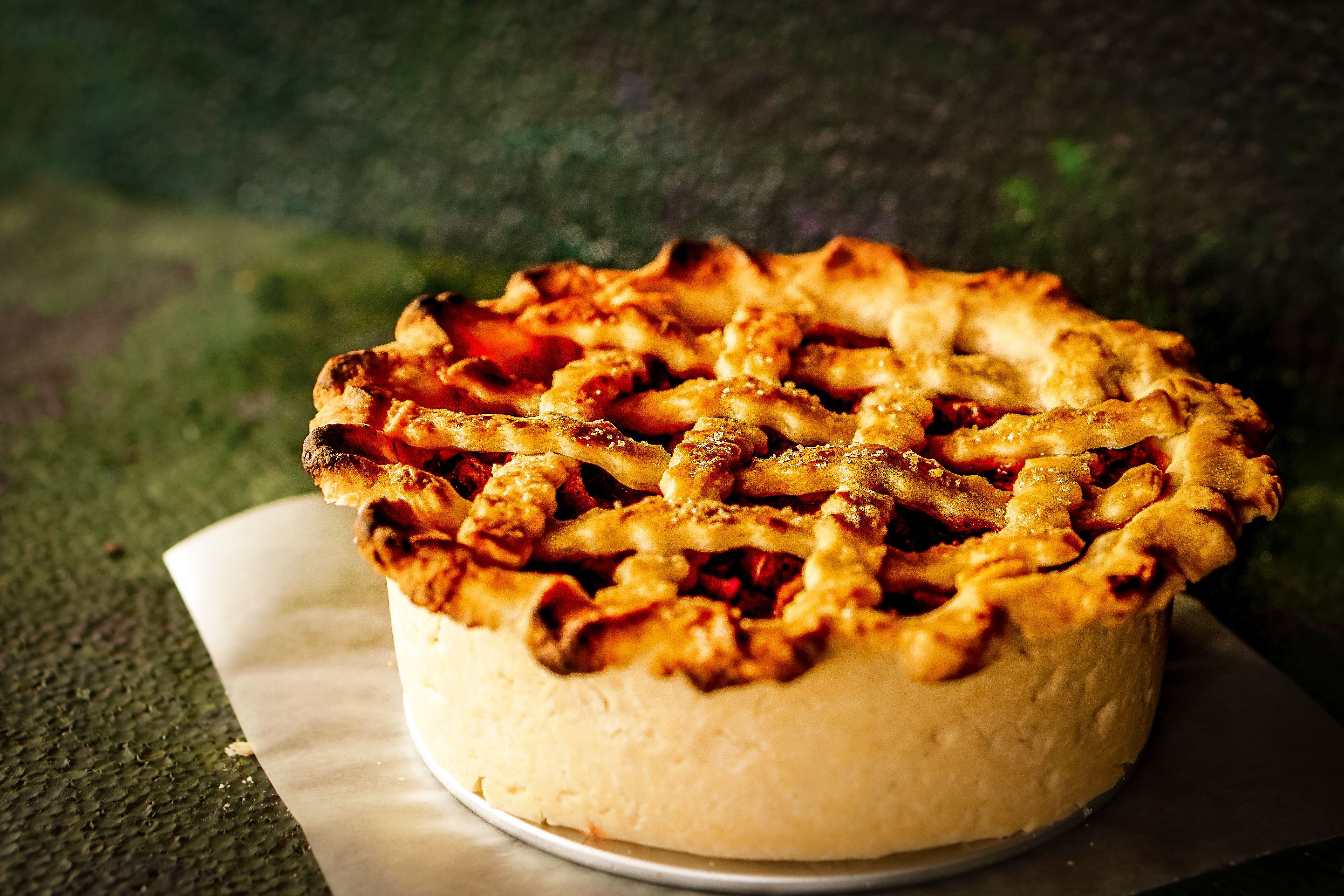 Thanks again for visiting my blog! If you've enjoyed and found this post valuable and if you would like to see more of my cookntell posts daily, then your upvote would be much appreciated!
:-)

See you on the next cookntell.

Love,
Jayne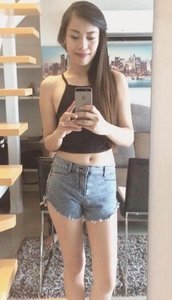 "Guys, English is not my first language so sorry if there're any discrepancies." :-)
For my daily Cookntell food photography follow at my social sites:
Steemit
Instagram
Pinterest
Facebook
Twitter
Youtube
My Featured Steemit Posts
You can view some of my Featured Contents here:
Curie AUTHOR SHOWCASE/Mozzarella Burst Garden Special Buckwheat Pizza
BUILDAWHALE CURATION DIGEST/Cookies & Cream Mousse
OCD NOMINATION OF THE DAY/"Be Awesome Dragonfruit Smoothie
THE DAILY SNEAK/The Ultimate Chocolate Avocado Tart
DAILY HIT PARADE FOR NEWCOMERS/The Famous Filipino-Style Chicken Adobo
DAILY TRUFFLE PICKS: THE TOP 10 TRUFFLES/Chocolate Chunk Cacao Wafers ICE CREAM with Almonds and Walnuts VIDEO
THE BEST FOOD POST/Dark Chocolate Vanilla Cookies
THE BEST FOOD POST BY "RED FISH"/Pomegranate Choco Millet Cookies/VIDEO
DAILY PAYOUT STATS REPORT/Vegan Chocolate Cake
Watch More of My Recipe VIDEOS!
I have to be honest with you guys. I don't really call it vain but I love watching my food videos. It feels like a meditation for me. It is basically the sound and art in the kitchen. The sound of the fork, the spoon, the knife, the cutting board, the water, the mixing, the squeezing, the blending and everything in it sounds like in a grand symphony: a kitchen live music. For me, it is just sooo soothing. It's the reason why I put audio on my videos so you guys can experience a different way to watch too. So I wanna share with you some of videos here:
Mango Coconut Bites "Quick & Easy"
Mango Icebox Cake "Mango Float"
"Mango Float" Creamy Icebox Cake
Vegan Almonds Avolato
Sakura Sweet Rolls
Baked Chicken Parmigiana
Dark Chocolate Vanilla Cookies
Pomegranate Choco Millet Cookies
Mozzarella Burst Garden Special Buckwheat Pizza
The Ultimate Chocolate Avocado Tart "Quick & Easy"
Vegan Chocolate Cake "Guilt Free"
The Famous Filipino Style Chicken Adobo
Chocolate Chunk Cacao Wafers Ice Cream with Almonds & Walnuts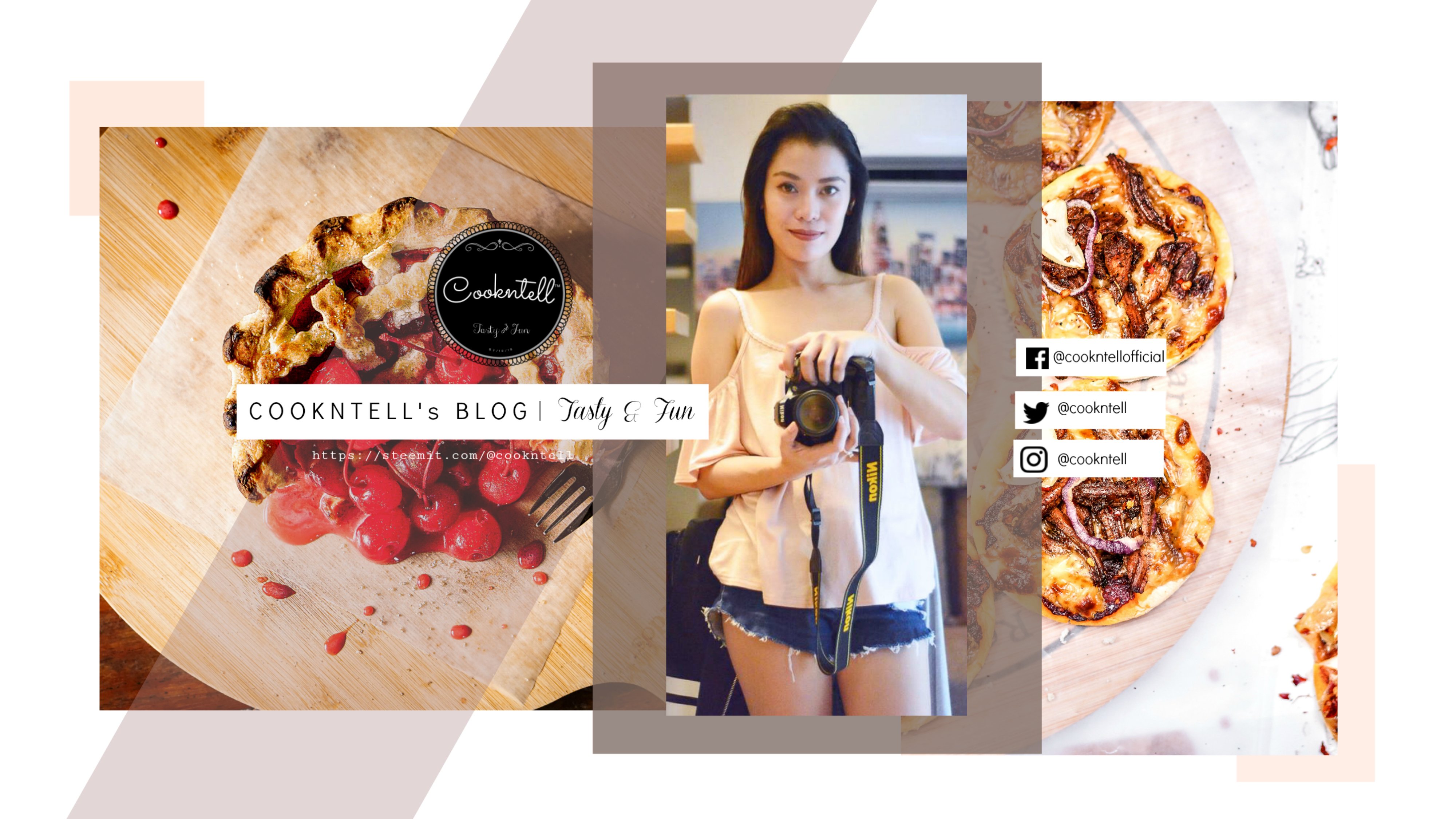 ©Cookntell Photography
All photo contents of cookntell are original photos created by ©Cookntell and cannot be copied or used without the permission of Jayne Alexander. @cookntell
"Thanks for visiting and I'll see you again!!!"

XOXO

Join us now @steemitbloggers