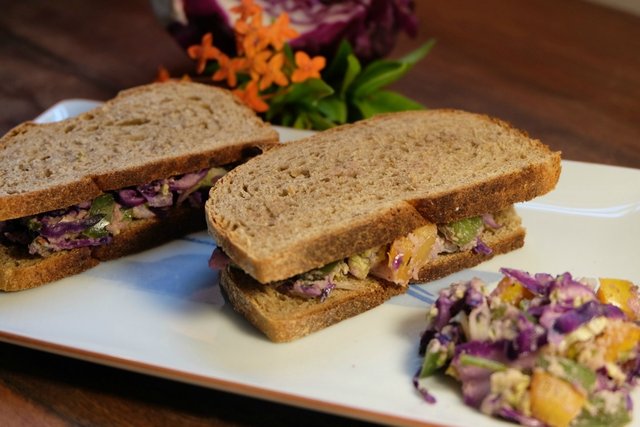 ---
OMG, I think this is the best sandwich I ever made. It's 100% plant-based, crunchy, cheesy, and super easy to make!
INGREDIENTS (SERVES 2)
---
Cashew ricotta
---
1/2 cup raw unsalted cashew nuts
1/2 tbsp apple cider vinegar
1 tbsp fresh lime juice
1/4 cup water
1/2 cup fresh chopped parsley
1 tbsp nutritional yeast (or to taste)
Black pepper and sea salt to taste
Sandwich
---
4-8 slices bread of your choice
1 cup diced bell pepper
1 cup shredded Chinese or napa cabbage
1 cup shredded red cabbage
Black pepper and sea salt to taste
DIRECTIONS
---
Soak cashew nuts for at least 1 hour. Overnight is best.
Combine all cashew ricotta ingredients in a small blender or food processor. Process until smooth, creamy texture. Add more water if needed.
Heat cooking oil over medium-low heat. Stir in bell pepper and cook for 2 min. Then add Chinese and red cabbage. Mix well and cook for 2-3 min or until cabbage starts to release its water. Make sure the cabbage maintains its crunchy texture.
Add cashew ricotta cheese to the cabbage mix. Stir well to combine. Add oregano, salt, and pepper to taste, mix well and cook for another 2 min.
Optional: toast bread slices.
Spoon the mixture on a slice of bread. Cover it with another slice of bread.
FYI: you could also grill your sandwich using a sandwich/panini maker or oven grill instead of toasting the bread. Up to you!
Bon Appétit!
---

---
ALL CONTENT IS MINE
CAMERA FUJI X-M1
---
LET'S CONNECT!
Website - Facebook - Google+ - Twitter - Pinterest - YouTube
---