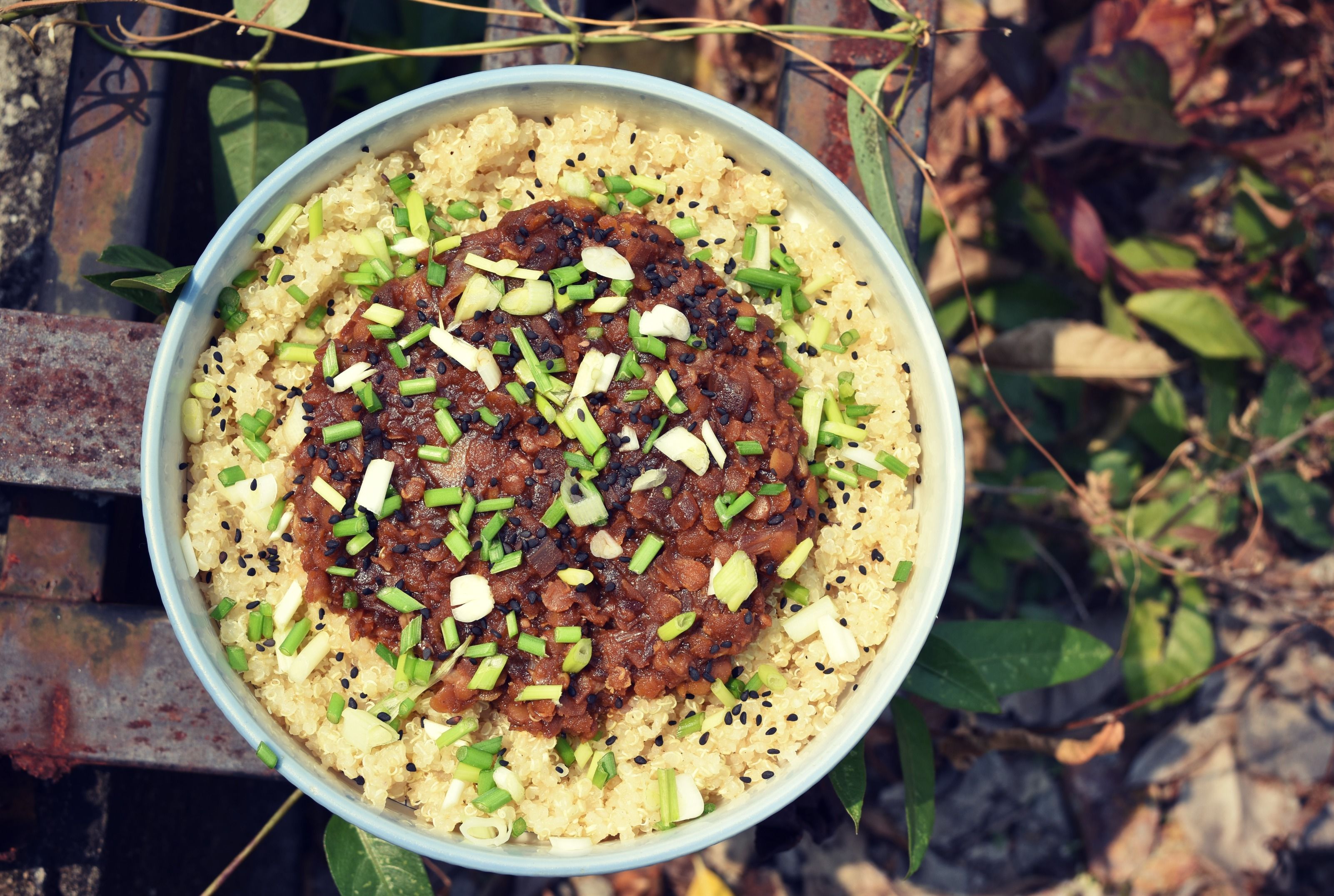 A perfect weeknight dinner. Though I haven't used enough chilis or chili paste to make this a Korean dish, I love fusion food. That's the beauty of cooking... you get to combine flavors, texture, and weird ingredients you got to know through your passion for food and in our case travel too.
Though I have never been to Korea, which is def on the list, we have eaten at so many Korean places before and always left with a happy belly. Sometimes a bit too much on fire, though. I must say they love it spicy.
Just as so many other Asians. I have a friend here in Cambodia who always adds at least ten small Thai chili peppers to her bowl... I call that crazy. Wouldn't survive a heat attack on my mouth like that.
That's why I always love to make chili paste so I can add some to the dish and put a bowl on the table for people, like my hubby, who like more heat.
You can check out my homemade chili paste recipe HERE.
KOREAN-STYLE RED SPLIT LENTIL STEW WITH QUINOA
---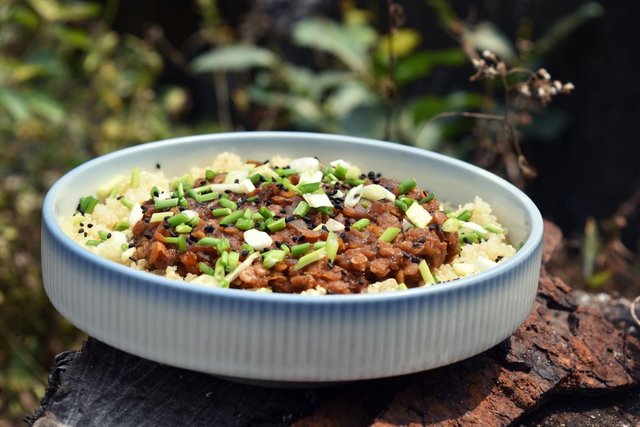 INGREDIENTS (Serves 2)
---
For the sauce:
¾ cup onion, chopped
2 cup napa cabbage, chopped
2 clove of garlic, minced
1-inch fresh ginger, grated
½ cup red lentils
1 cup water
2 tbsp soy sauce or tamari
1 tbsp sesame oil
Chili paste to taste
½ cup uncooked quinoa
1/3 cup spring onions, finely chopped
2-4 tbsp toasted sesame seed, I used black ones
DIRECTIONS
---
Heat the cooking oil in a skillet over medium heat, Saute the onion for 2-3 minutes. Then add garlic and ginger and cook for 1-2 minutes more.
Stir in napa cabbage and cook until it starts to soften.
Then add the lentils, water, soy sauce, sesame oil, and chili paste. Cover and bring to a gentle simmer until the lentils are cooked and tender while most of the liquid is absorbed. This will take about 8 to 10 minutes.
Meanwhile, cook the quinoa according to the instructions on the package.
When ready, divide stew over bowls. Top with spring onions and sesame seeds. Serve with quinoa on the side.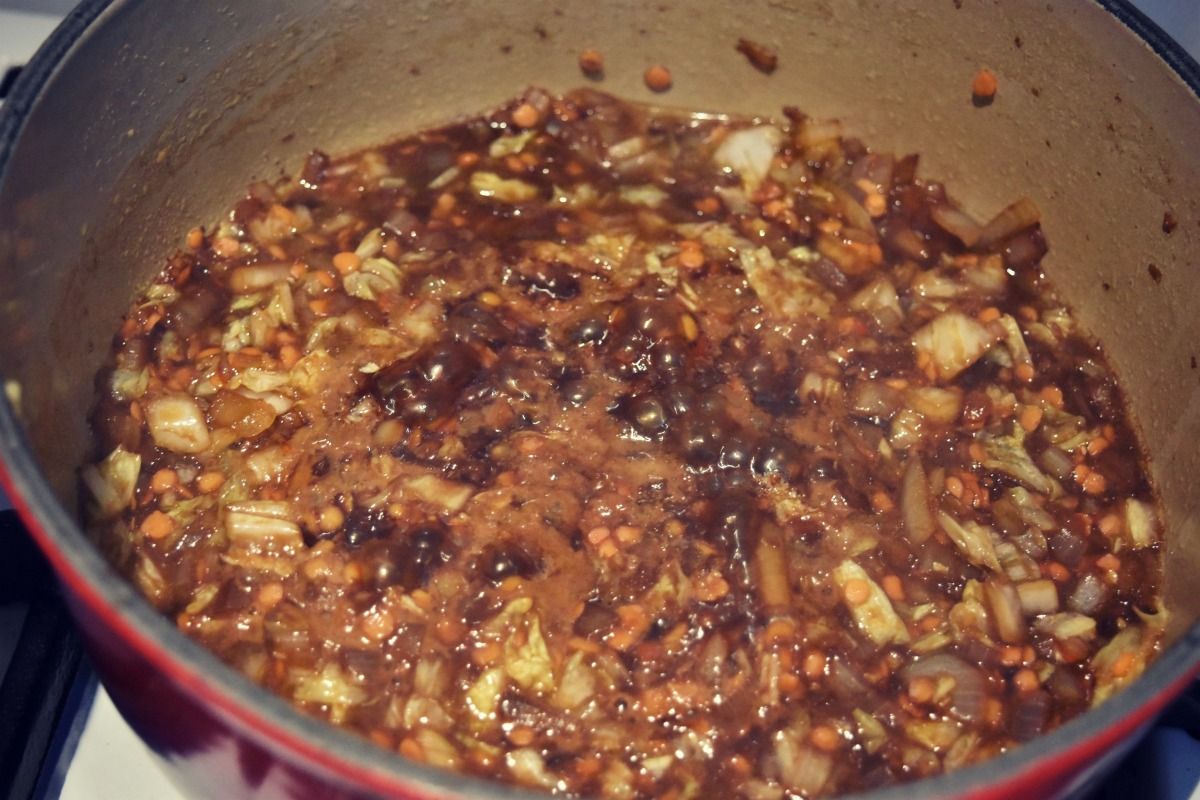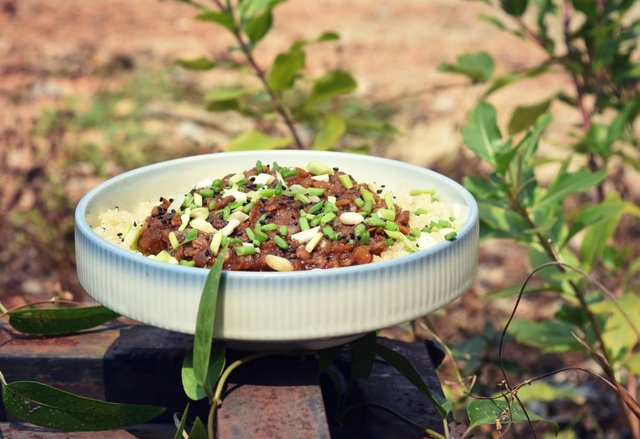 Bon Appétit
---

---
ALL CONTENT IS MINE AND ORIGINAL!
PICTURE(s) TAKEN WITH NIKON D5600
---
LET'S CONNECT!
Website - Facebook - Google+ - Twitter - Pinterest - YouTube
---
FYI: For green smoothie tips, tricks, and recipes, download my FREE green smoothie eBook HERE!